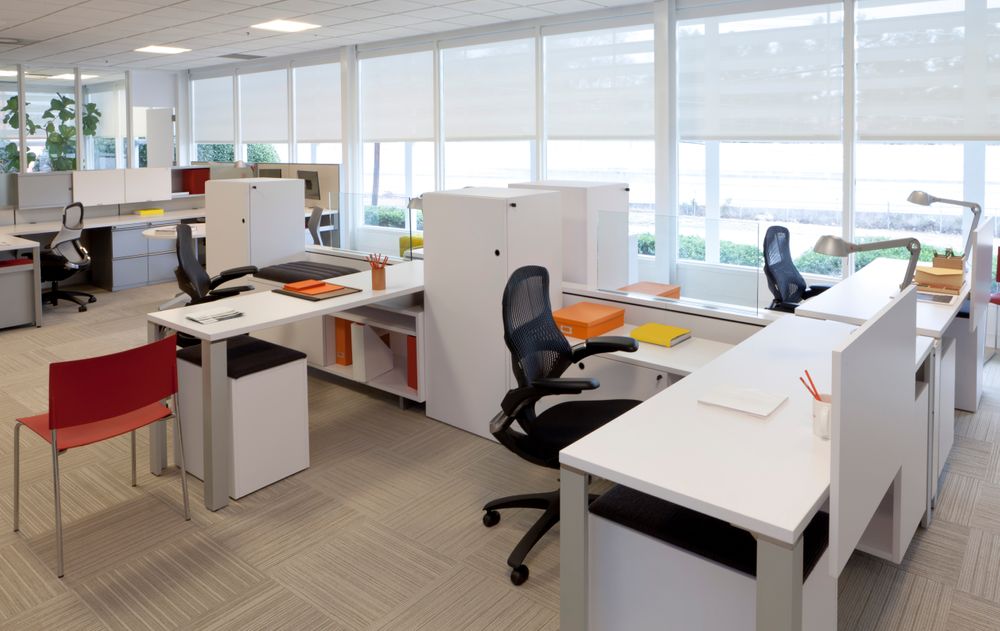 Is your office space properly meeting your needs? Perhaps you need to divide your workspace for increased efficiency and higher productivity.
If you ask yourself the questions, "What do I want from my office space?" and "Is our office meeting our needs?" and the answer is, "No, not really." It's time to reconsider how you've configured your working space.
There are many benefits in an open concept office workspace, from enhanced collaboration and teamwork to maximizing floor space. A significant disadvantage, however, is distractions—the increased level of audible and visual interference—that open concept can create.
If efficiency and productivity are coming into question, perhaps look at dividing up the space, setting up separate zones both for individuals and their desk work as well as conference and admin space and other segments of your work experience.
Dividing up an ample space into smaller, dedicated zones may be what you need to provide an adequate foundation for office efficiency and productivity.
Mobile Whiteboard Dividers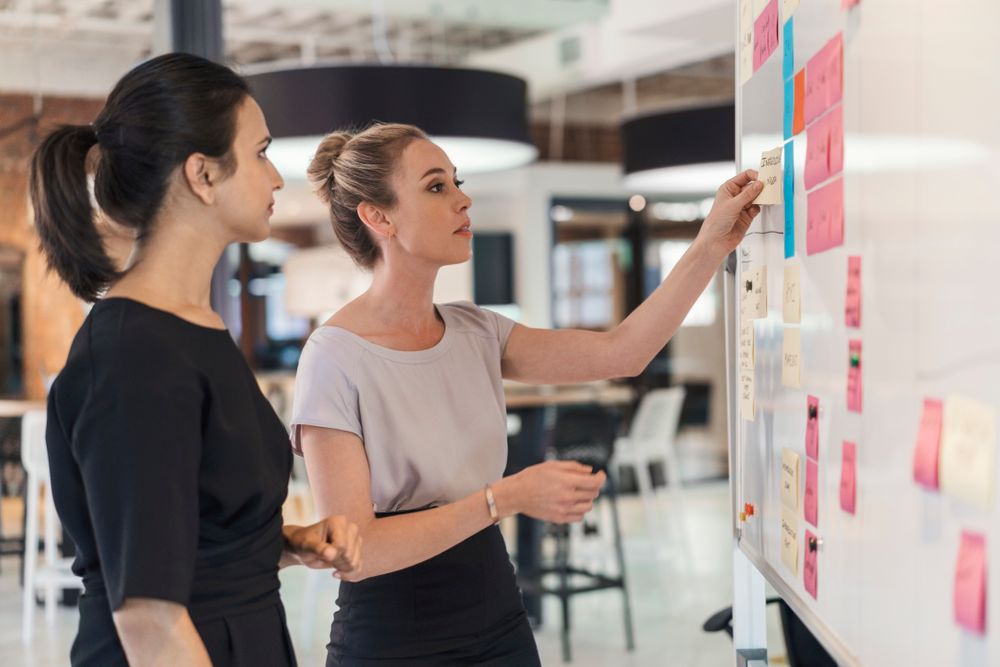 Functional and very versatile, mobile whiteboard partitions are convenient for a variety of reasons:
They typically roll on casters and can be designated for either hard or soft flooring
Most have casters that lock for stability so the boards won't move around once positioned
They provide valuable planning and collaboration space—a sizeable additional writing surface—to aid with teamwork and, ultimately, productivity.
You can find mobile whiteboards that are double-sided. Both sides may have a magnetic whiteboard or one side may have pin-able fabric. Many also come with convenient adjustable flip chart hooks. In this case the dividers are equipped with the requisite magnetic pen tray to keep your non-permanent pens and brushes handy.
Mobile whiteboards are large enough to reduce open areas into smaller and quieter zones. They can also facilitate focused "pods" of communication and collaboration.
Mobile whiteboard dividers can enhance the workspace. Better yet, some units can actually be linked together to form any shape and define the space more fully.
Choose a U-shaped Desk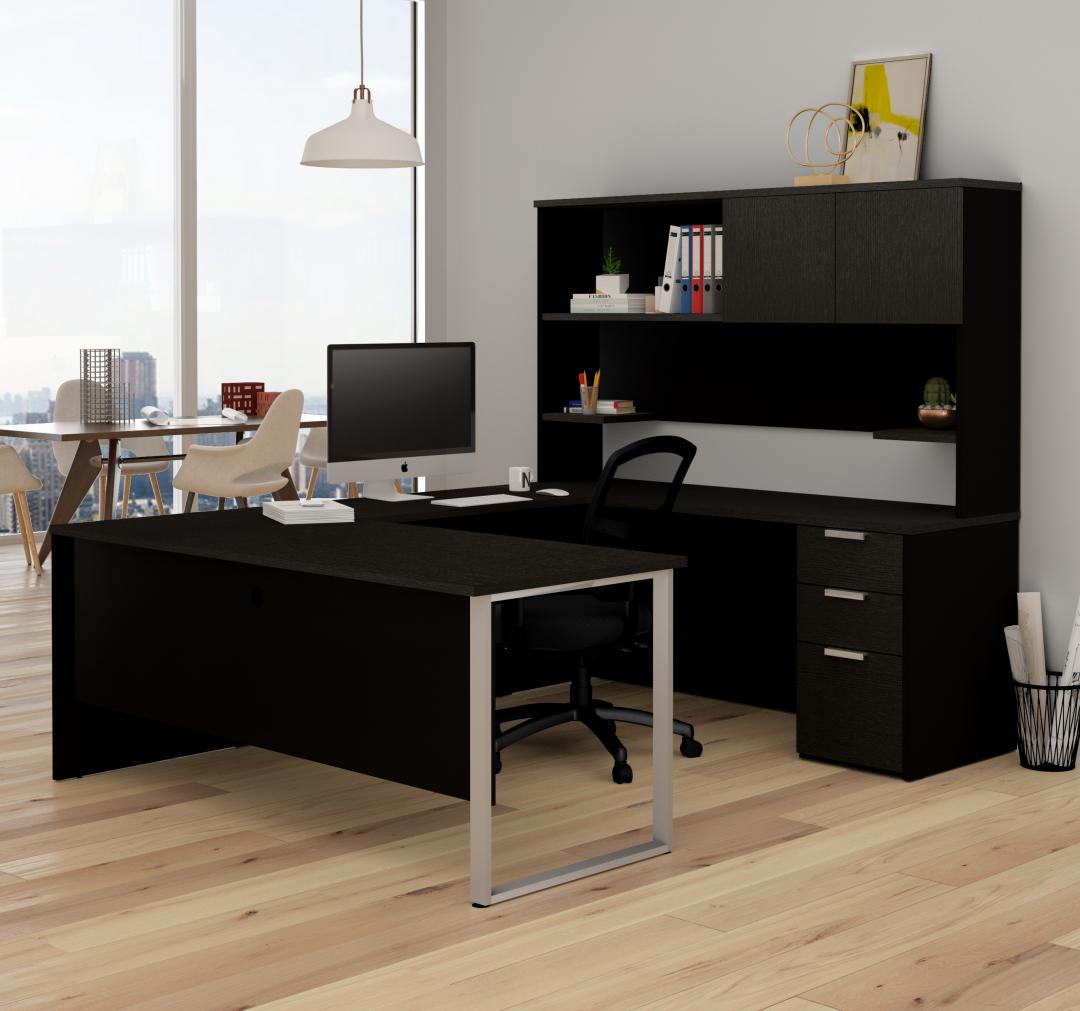 For desk workers short on space, U-shaped desks are very popular because they provide a large work surface without occupying too much space in the office. Additionally, they can be configured to suit a variety of storage possibilities—hutches, desk drawers, and shelving—to keep your office more organized and functional.
If you deal with a lot of paperwork or host clients frequently, the abundant workspace offered by a U-shaped desk provides for needs such as storage, work tasks, and meeting with others without feeling cluttered or overwhelmed.
The beauty of a U-shaped desk is that it keeps your work, computer, equipment, documents, files, office supplies, and personal mementos within comfortable arm's reach.
It can also dramatically enhance the professional aesthetics and layout of your workspace.
Open Shelving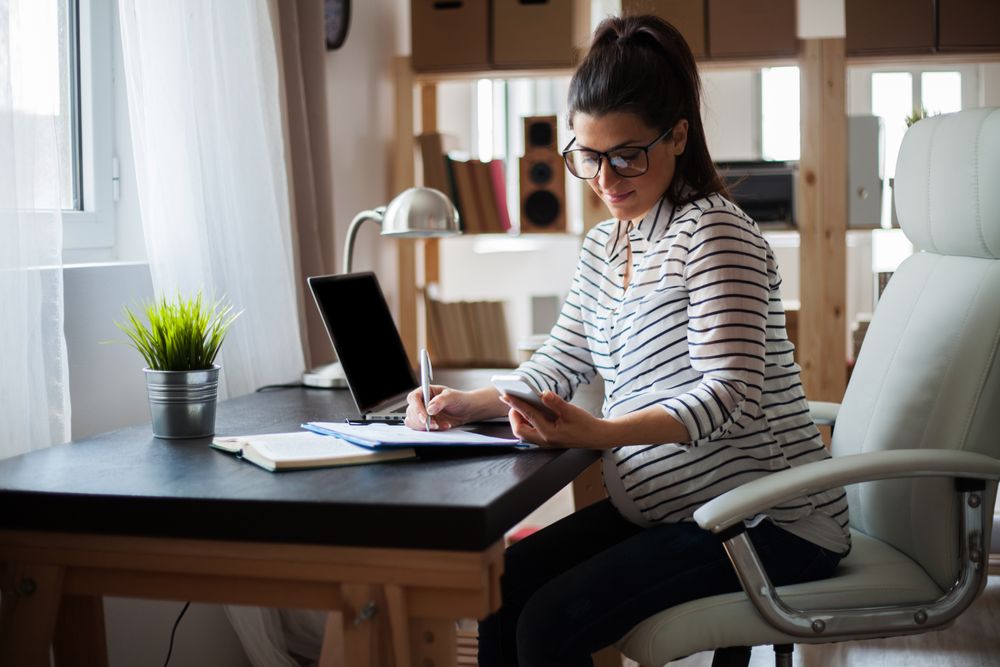 Shelving can go a long way to create a simple and functional room divider.
Open office spaces have their benefits—great light and a sense of spaciousness. However, they do require effective organization to be appropriately functional. A room divider is a great way to organize an office workspace without losing that sense of spaciousness.
A complement to modern design, open shelving is one of the best and easiest ways to create a room divider. In addition to providing ample storage, open shelving units are great for displaying objects and accessories.
Open shelves are continuous, providing flexibility as you arrange your office elements practically and creatively. With many units, you can incorporate complementary closed storage for items you don't want in full view. Baskets, bins, and other storage vessels help maintain organization while keeping essential documents and other paperwork close at hand.
To organize an open shelving unit, locate larger items and closed storage at the bottom of the unit. Keep average size books in the low to middle shelves. Place smaller items on the upper shelves to keep that open feel. Mix in a few decorative objects to personalize your office divider to create a visually pleasing yet highly functional addition to your office space.
Desktop Privacy Panels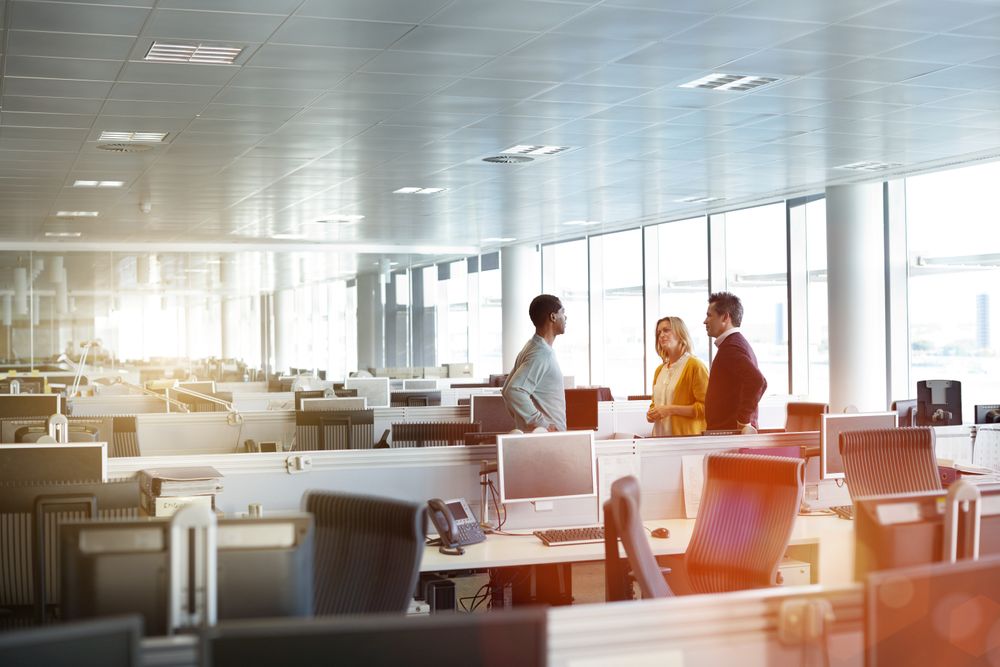 An affordable, very practical, and effective option are small privacy screens that can be added to open concept workstations to provide a little privacy between coworkers.
Desktop panels can transform your workplace by creating an effective separation between desks. They provide each employee with their own space and valuable privacy. They're a great alternative to cubicles and help maintain the light and openness in which most people prefer to work.
The panels can be placed on a desk or table. They come in a wide variety of colors and materials, including lively colors or prints. Desktop panels are a flexible option as they can easily be removed and rearranged as your office needs change. For this reason, they are a versatile and affordable investment.
The main advantage of modesty panels is to provide employees with more privacy. People will probably feel more comfortable and relaxed at work if they do not get the feeling that their desk and activities are visible to everyone.
The panels are an excellent way to reduce noise levels and distraction in the office. The privacy they provide can help significantly with worker concentration and organization, resulting in increased productivity.
Many models are made of a pin-able material and can provide employees with a space to pin professional reminders and notes as well as family pictures and other personal items. The panels create a vital sense of individuality and private space, in lieu of a cubicle or an office.
Modular Office Partitions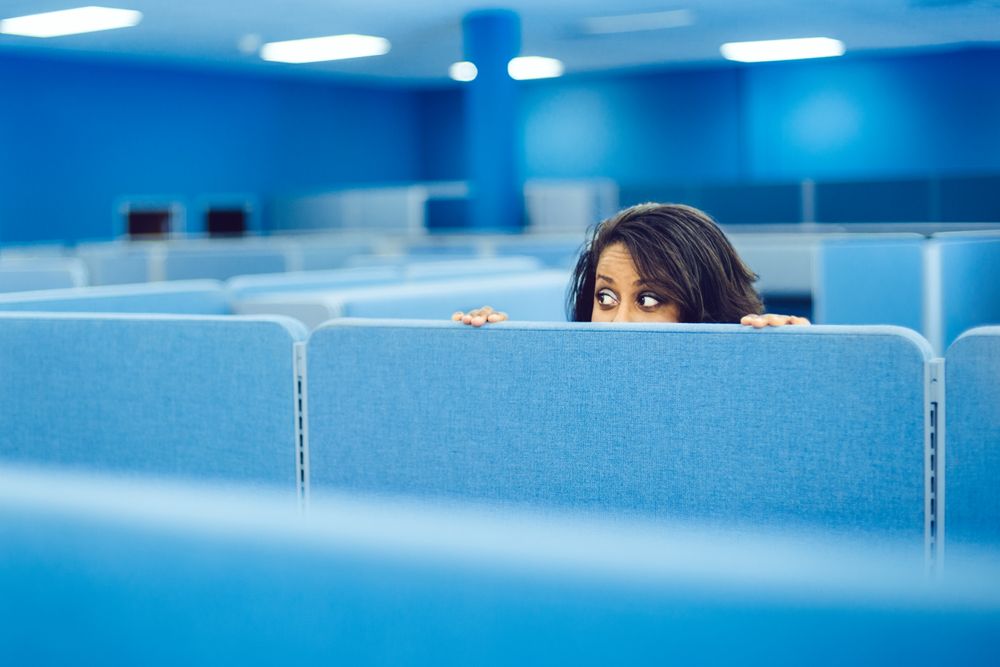 Outside of desktop privacy panels, modular office partitions are one of the most affordable ways to create privacy in your open concept office, waiting area, or break room.
Modular office partitions are freestanding room dividers that can be connected to other room dividers to create a temporary wall as small or as large as you need. They effectively create a visual barrier and partition an entire room.
Many offer sound dampening capabilities as well as the ability to be positioned at any angle you need, not just 180- and 90-degree configurations. They're an ideal solution for workplaces that require a mobile and easily adjustable layout.
Modular walls can be set up, taken down, and rearranged as you require. They're ideal for creating cubicles or offices for temporary workers. They can also be used to break up a single large area into separate sections, bringing order to what may have been a confusing, inefficient environment.
They can be custom-ordered to fit any decor, from traditional wood paneling to contemporary metal-and-glass surroundings. To objective observers, they will look like part of the building's permanent architecture.
Glass Partition Walls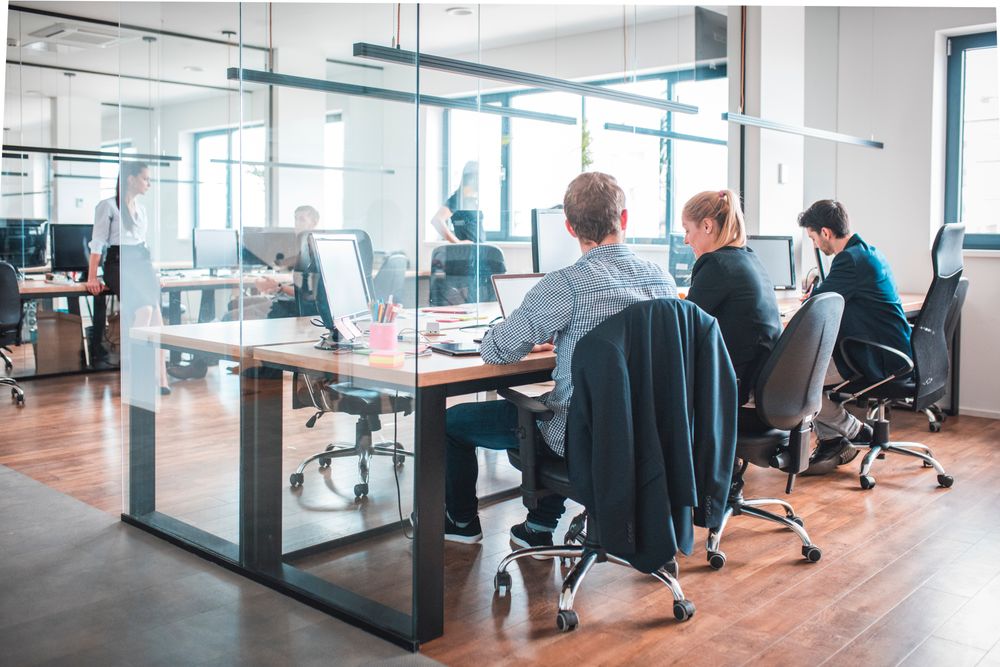 An abundance of natural light is invigorating in any space. Light is vitalizing! It makes sense, then, that workers will be in better moods and more productive when bathed in natural light as opposed to artificial.
Glass helps to maximize natural light, reducing the need for artificial lighting. This will result in lower electric bills, increased energy efficiency and a lower carbon footprint.
A sleek decor utilizing glass partition walls helps to identify your business as modern, cutting-edge, and progressive.
When installed in lobbies, gleaming glass looks elegant and sophisticated. Office workstations enclosed by glass suggest integrity and literal transparency as well. Clients can get a sense that your business is honest and trustworthy, indicating that management has nothing to hide. Likewise, glass-walled conference rooms are light and open as well, rather than appearing secretive.
Glass office walls foster communication and collaboration, as everyone can be more easily seen. An executive office surrounded in glass makes her more approachable and less distant from staff.
Glass is also acoustically sound. With the absence of distracting noise, employees can keep their focus and concentration while trusting that their conversations remain confidential. In a comfortable and open atmosphere, creativity flourishes as does productivity.
Less costly than conventionally built walls, glass partition walls offer flexibility as you can change the office layout often as they can be dismantled and reassembled as your needs change. This flexibility also makes moving your company easier since you can take the partitions with you.
Even though the walls are glass, you can still ensure privacy using glass that's patterned, tinted, frosted, or otherwise textured. With a variety of surfacing options, you can customize the glass for your private offices and conference rooms.
Glass continues to look good far longer than traditional materials and integrate beautifully with all manner of commercial office furniture—vinyl, fabric, metal, or wood.
Categories
Business