Dimensions
Width
Height
Depth
Weight
1684 mm
1150.6 mm
622.3 mm
124.3 kg
Width
Height
Depth
Weight
66.3 in
45.3 in
24.5 in
274 lbs
Key features
Quality laminated particle board compliant with TSCA Title VI with a melamine finished top for scratch and stain resistance
Modern silver pulls for a sleek look and leg levelers to compensate for uneven floors
Queen folding D25 foam mattress is included (80 x 60 inches, 4.7 inches thick); mattress is vented and flippable, it is 100% hypoallergenic, and its cover material is 100% Polyester
USB/power outlet inside the cabinet to charge electronic devices once the bed is open
Cabinet is free-standing with easy-open folding doors and includes a narrow shelf for storing your belongings
Open bed extends 89 inches from the back of the cabinet
Mattress meets the requirements of 16 CFR Part 1632 and 1633 Federal flammability (open flame) standards
Assembly required (2 people recommended); box spring not required
Cabinet Bed backed by the Bestar 10 Year Manufacturer's Warranty, folding bed mechanism warranted 2 years, and mattress 1 year
North American made with local and imported parts
Description
This Cabinet Bed is a space-saving solution ideal for a multipurpose bedroom. The cabinet comes with modern silver pulls to create a sleek look. When the cabinet is closed, you have a beautiful sideboard that blends into your space. The included Queen foam mattress provides comfort to anyone using the bed. The cabinet comes with a USB/power outlet to charge electronic devices and keep them nearby. The narrow shelf is ideal for holding your belongings. The cabinet is free-standing, and the open bed extends 89 inches from the back. Assign a clearance of 30-36 inches around the open bed. This Cabinet Bed is backed by the Bestar 10 Year Manufacturer's Warranty, the folding mechanism is warranted 2 years, and the mattress 1 year. North American made with local and imported parts.
Great for the money
02-06-2021
Quite well thought out design paint finish on the doors could have been better but overall well built. PS; Takes a long time to to put together!
was very easy to put
01-06-2021
was very easy to put together and i like the design of it
This product is fantastic. Took a while to build. But the instructions were great. As with other reviews... Lining up the doors perfectly seems impossible. But i got them close enough. It gave us a lot more space which was the goal. Mattress is pretty comfortable but we did get a topper for it.
Annette B.
Verified Buyer
26-03-2021
Delivery was very quick
26-03-2021
alexandra d.
Verified Buyer
26-03-2021
Really happy with the product. Haven't used the bed yet, but it looks very sturdy and supportive.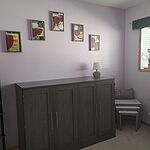 Margaret K.
Verified Buyer
26-03-2021
Love my cabinet bed, takes no room and looks so sharp. Only issue we had screws missing , had to go buy them. Needed to get it set up for company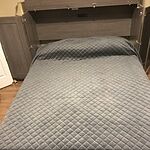 Looks exactly as shown online. Was a little difficult assembling and finding one bar that is kind of hidden with the mattress. As an extra bed in a spare room, it looks great and is very easy to open. The bed takes up little room and there is still room for my office. Great purchase.
Costco purchase, Pur Queen Cabinet bed...
27-07-2020
Excellent Cabinet. Well made and easy to put together. Had only 2 small issues, one with the placement of the interior plug jack. The other was with trying to align the front doors. Overall, happy with my purchase.
My bed away from home
26-07-2020
Hi. It's perfect for us; except the color, l order the rustic brown , it's more like a soft cream color with touches of beige streaks. But l love it either way. Easy to assemble. Classy look.
Clear instructions, comfortable mattress. Perfect for our guest bedroom.
This piece was easy enough to set up, although the instructions could have been named better. It took myself and a friend 2.5 hours to set up completely. Overall very impressed with the quality of this piece. The mattress is nice and firm.
Easy to put together. My 14 yr old daughter and I put together. Works great. Looks amazing
Happy Customer
Verified Buyer
04-07-2020
This unit is beautiful, sturdy, and comfortable. Folds up easily and is perfect for our space.
It's a handsome bed with shortcomings
01-07-2020
I purchased this from Costco and received it earlier than expected. Putting it together was fairly easy. I assembled it myself within 3 hours. The final product looks great. No one can tell that it's a bed and I got some compliments from others who saw it over video conferences. The mattress is comfortable to sleep on. I added a mattress protector to keep it clean. Since I have a small room, it's actually my bed for daily use, not just a guest room. Some of the steps are not right, in my opinion. For example, the step that tells you to put the bed into its final place before putting in the bolt that would attach the bed to the frame is backwards. You need to put those on BEFORE you put the bed into its final place if you have a tight fit. I end up having to move the cabinet out of its place to put those in first and then put the cabinet back into its place. The first week, the bed was nice and quiet. After one week, it squeaks when I move.
K MacRoberts
Verified Buyer
01-07-2020
This is a fantastic Company to do business with, I had a small crack in a door and they immediately send a replacement no arguments or problems of any kind. I love this cabinet bed, great price and product.
Great product!
01-07-2020
I had ordered this product from Costco and very happy with the purchase! The bed was shipped quickly and was all intact. The bed took 2.5 hours to put together and we didn
Pur Queen Cabinet bed with mattress
29-06-2020
Product arrived right after 10 working days. Over 4 hours of work, and the bed was ready to use. Everything fit perfectly, product look great. Mattress very firm, but we like it, we slept very well on it. Un of the plastic button who covers the screws are missing. Not big deal. Overall, very please with the purchase, it is saving lot of space.
Most affordable option for a cabinet bed
27-06-2020
An affordable option. For a cabinet bed, which saves a lot of space. We put a TV on top and all the kids games systems so that we have the option of having guests without needing another bedroom. The material is very... Inexpensive so it damaged easily while shipping but Bestar was quick to replace the broken bits and customer service was polite and helpful. The replacements arrived quickly. Aligning the doors was very difficult and the unit does not sit flush against the wall due to the power cord but if you don't install it and cut out the baseboard it looks quite seamless in the room. Would like to see them redesign the plug.
Happy with this bed
27-06-2020
We are happy with this cabinet bed. It took some time to put together - about 6 hours. We were missing 6 little screws for the door hinges. The cabinet looks good. The mattress is really comfortable. The frame of the bed is heavy duty and is of good quality. Great bed for the price.
Great mattress and great quality. It is a great addition
Great value for a reasonable price
25-06-2020
I am happy with my cabinet bed! Easy assembly, saving space, easy operating, matress included! Good value for price. Higghly recommended.
The bed is fine I just wish the would send all the right parts, had to use my own screws on some of the parts that where not there.
Love this product. It took a little time to build, I will recommend to mark/ label the bags that the parts comes in that will Associate with the wood pieces to make the assemble faster & more accurate.
Good over flow bed
25-06-2020
Good quality for the price and easy to follow assembly instructions. Mattress is very firm but that will keep the company from overstaying their welcome
PERFECT BED FOR ANY ONE, ANY AGE WHO IS DOWNSIZING
25-06-2020
A bit of a challenge for we two seniors to assemble, but with the professional online help available we had no problem.
Best Purchase in a Long Time!
25-06-2020
I think this was one of my best ideas in a long time. Got rid of our guest bed and put this in it's place. Now we can use our guest room as a sewing room for my wife and can even workout in there. The bed was not difficult to put together for the two of us, and seems to be made well. I was surprised how comfortable the mattress is!
C Urbanski
Verified Buyer
25-06-2020
This is a great space-saving alternative to a wall mounted murphy bed. It's easy to assemble in about two hours (you will need two people to assemble it), you don't have to cut out the baseboard to put it in place like you do with a traditional murphy bed, and it looks great. The mattress is firm, but comfortable, and will be perfect for guests.
We are very happy with the cabinet bed. My husband and I were able to assemble it very easily In just under 4 hours. The mattress is just ok. For a few nights it is fine. It
Perfect compact wall bed!
17-04-2020
Perfect size for a smaller bedroom. Allows the room to be used more completely. I'm over 65 and found I was able to assemble myself, pretty easy actually, just took my time. Highly recommend.
Quite a long day!
14-04-2020
Put it together by myself, not recommended, 10 hours, doors didn
Katie Leonis
Verified Buyer
10-04-2020
Great Piece for Guests
10-04-2020
We bought this bed to go in our office. It is the perfect size, and looks great. It did take some time to put together, but since my husband is detail oriented, he was able to do it in a couple of hours without any difficulty. It does take an extra person to help with the heavy assembly. The mattress is firm, not at all like a pull out. The little shelf with USB port is just an added bonus. The long board at the bottom arrived with the holes upside down (rough edge up). My husband called the company, they were more than polite, and helpful, and sent out the new piece right away. Unless complicated assembly is not your thing, I highly recommend this product.
The total assembly took about 4 hrs for 2 people, but it was pretty straight forward. The mechanism works, and the folding and unfolding is very smooth. The bed feels comfortable. The only problem is that the doors are not lined up. We have tried multiple ways to make two doors aligned at the same height, but always ended up with one door about 1/4 inches lower than the other. Overall, it is a good purchase and saves a lot of space.
Retired Suzi
Verified Buyer
09-03-2020
Convenient Cabinet Bed for Office/Guest Room.
09-03-2020
This cabinet bed was the perfect solution for the guest bedroom/office in our retirement apartment. The bed was very easy to assemble. The mattress is light enough for me (an elderly woman) to open up. The mattress is very firm and well supported. The inside shelf is convenient for guests to use to keep their phones charged, store watches and flashlights. The outside top shelf is convenient for either decorative items or even file boxes. There is a space at the back that we fill in with a large pillow to keep the pillows for the heads from falling off and behind the bed. It's a nice looking piece of furniture and appears well made. We can recommend it highly.
Nice piece for extra bed
01-03-2020
It is particle board. Not too difficult to put together, just time consuming. Take it slow. Looks nice in office and ready for overflow company in seconds
Kim Stueve
Verified Buyer
01-03-2020
I was looking for something that would fit in an office/guest room. I love that it is a beautiful piece when not in use as a bed. It
Great deal at Costco
29-02-2020
The Best Buy out there. This bed is perfect. Easy to assemble.
Good design, solid, comfortable and definitely a space saver.
Attractive piece
26-02-2020
The cabinet is beautiful and good quality. Love the shelf and phone charger. Mattress is acceptable considering it is a folding one. The only complaint I have is, when the bed is open, there is quite a large space at the head that pillows will fall in. I found a large but narrow cardboard box that I slip in between the cabinet and the mattress.
Flexible beauty
25-02-2020
This queen cabinet bed has been the perfect solution to a room that is used by guests and it's my project room, too. When we have guests - we open the bed and they have a comfortable queen sized bed for sleeping. The bed can be 'stored' away when not in use and the room becomes a sewing and project room.
Great for an extra bed without taking up room
24-02-2020
Love the space it takes. Makes a quick extra bed with no trouble.
Guest queen bed with nice cabinet
24-02-2020
Nice quality for a guest bed. Easy to assemble. One minor problem was a missing door handle but, once the company was notified, it arrived within a few days by courier.
costcobuyerpro123
Verified Buyer
23-02-2020
Queen Cabinet Bed
23-02-2020
We purchased the white cabinet. It went together easily, all the parts were there. It looks very nice in our small guest bedroom. The only disappointment was the mattress itself. Although it was memory foam, it was very firm and not at all comfortable. Tried to put a topper on it, but then the bed would not close back into the cabinet.
Starr Swindt
Verified Buyer
23-02-2020
game changer for a smaller house
23-02-2020
This is a game changer for a smaller house, I was able to make my craft-room into a guestroom so easily with this bed, remember it takes assembly.
Just as described
23-02-2020
Great product. A few parts missing but sent immediately from company. Lots of assembly required.
Exactly as advertised
22-02-2020
Amazing value, quick delivery and easy installation.
Boxes
Box 1
Width
Height
Length
Weight
1160 mm
155 mm
1640 mm
47.17 kg
Width
Height
Length
Weight
45.67 in
6.10 in
64.57 in
104.00 lbs
Box 2
Width
Height
Length
Weight
384 mm
104 mm
1796 mm
31.3 kg
Width
Height
Length
Weight
15.10 in
4.10 in
70.70 in
69.00 lbs
Box 3
Width
Height
Length
Weight
409 mm
206 mm
1171 mm
12.25 kg
Width
Height
Length
Weight
16.10 in
8.10 in
46.10 in
27.00 lbs
Box 4
Width
Height
Length
Weight
620 mm
109 mm
1237 mm
33.57 kg
Width
Height
Length
Weight
24.40 in
4.30 in
48.70 in
74.00 lbs
Warranty
10-year warranty
Our furniture is warranted to the original owner against defects in materials or workmanship. These defects include all the imperfections that can affect the use of the product. As is most often the case, our warranty covers the normal use of the product. To this effect, note that except for the Outdoor collection, our furniture is not intended to be used outdoors.
Our warranty is expressly limited to the replacement of components and furniture for the period specified on the product sheet, and it does not include labor or assembly costs.
For more information, read the complete Warranty policy.
Shipping and Returns
Free Shipping on all Orders
Enjoy free shipping to most locations in Canada and the contiguous United States. Exceptions apply to certain restricted areas.
Once your order has been shipped, you will receive a tracking number by email. We suggest you track the delivery to plan for the arrival of your furniture. The merchandise will be delivered in front of your home or office. If the boxes are large (box dimensions can be found on the product page), we suggest you get help to move the boxes inside.
30-Day Satisfaction Guarantee
We hope you'll fall in love with your new furniture! However, if you aren't fully satisfied with your product, we have you covered with our 30-day return policy for all eligible orders. Don't recycle your boxes just yet! Items eligible for a return must be in their original condition and packaging.
It's easy to initiate a return! Send an email to our customer service team's returns division at [email protected]. Please include your order number in the email. Proof of purchase is required for all returns.
If the item is returned in its original condition and packaging, we will refund the price of the item at the time of purchase. A 20% deduction will be applied to cover restocking fees.
For more information, read the complete Shipping Policy and Return Policy.
Ideal for any Room
Their small size makes them perfect for any room. Bestar's cabinet beds can be moved around at will since they are not anchored to a wall. No need to worry if you want to move your cabinet bed somewhere else!
Ingenious Design
Do you need an extra bed? Open the cabinet and pull the bed out. When folded, the cabinet has the appearance of a beautiful sideboard. It's the perfect solution to transform any room into a guest room!
User-Friendly
Bestar's cabinet beds are easy to use. Simply open the folding doors and the front panel. Then, you can pull out the first part of the bed, flip the legs down, and unfold the rest. See, easy peasy!