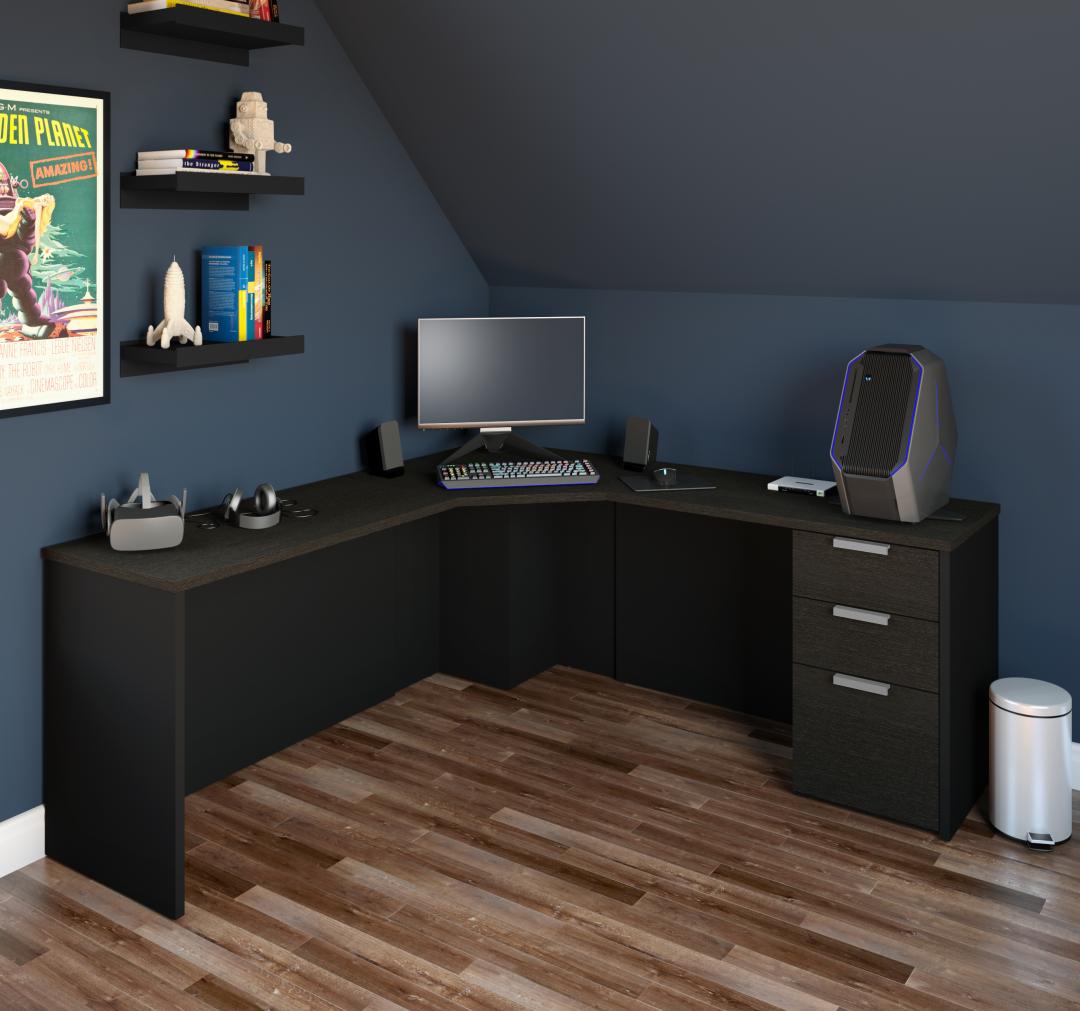 Creating a home office where you enjoy spending your work day doesn't have to be difficult. Choosing highly functional, attractive, and comfortable pieces of office furniture is where the process begins.
Your home office should be a place that inspires organization, creativity, and productivity – a place where you enjoy spending your time!
Whether you are in your home office all day, every day, or only a few hours a week, an inviting workspace will make a huge difference in how you approach your work. Not only will it be a pleasant place to spend your working time, it will increase your organization, efficiency and productivity as well.
L-shaped Desk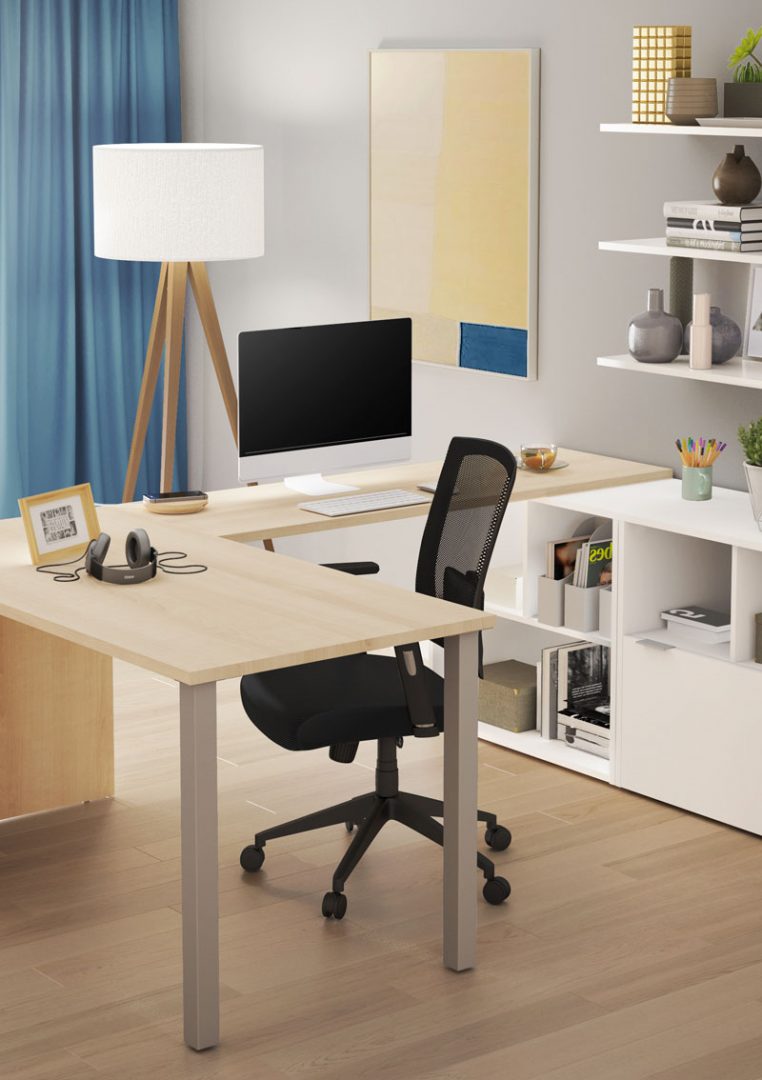 The right desk is key to being productive and comfortable in any office environment, including at home. A great desk allows ample surface space. It leaves you enough room for total organization of all desk work related items – paper, pens and pencils, printer, fax machine, and other supplies and equipment.
Most importantly, all the necessities are within easy arm's reach. An L-shaped Desk is a practical and attractive solution to keep office supplies at a worker's fingertips, helping to facilitate productivity with comfort and ease throughout the workday.
Ergonomic Chair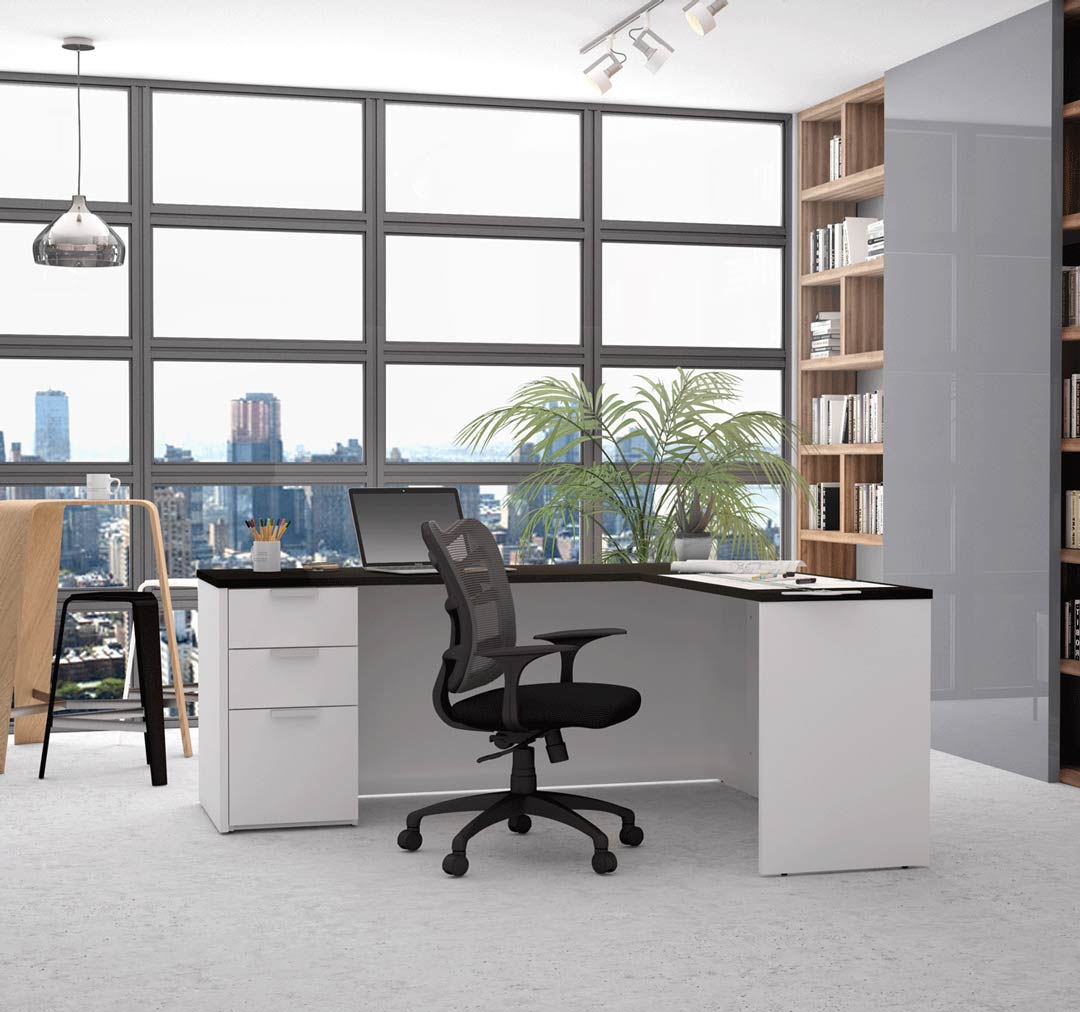 There's very little so important to productivity than comfort. The right office chair is integral to promoting physical health, well-being, and ultimately, productivity, at the office.
In contrast, the wrong chair could easily result in increased worker fatigue, soreness, and even injury, antithetical to a healthy and productive experience at work.
A good, comfortable office chair will encourage the occupant to sit for hours! You should love the chair you sit in, otherwise you'll never want to sit at your desk.
Bestar offers an exceptional choice of comfortable and ergonomic office chairs to promote back health while increasing productivity and efficiency. Each of our chairs helps desk workers maintain a healthy posture when seated through lumbar and pelvic support and the ability to customize chair settings to maximize comfort.
Standing Desk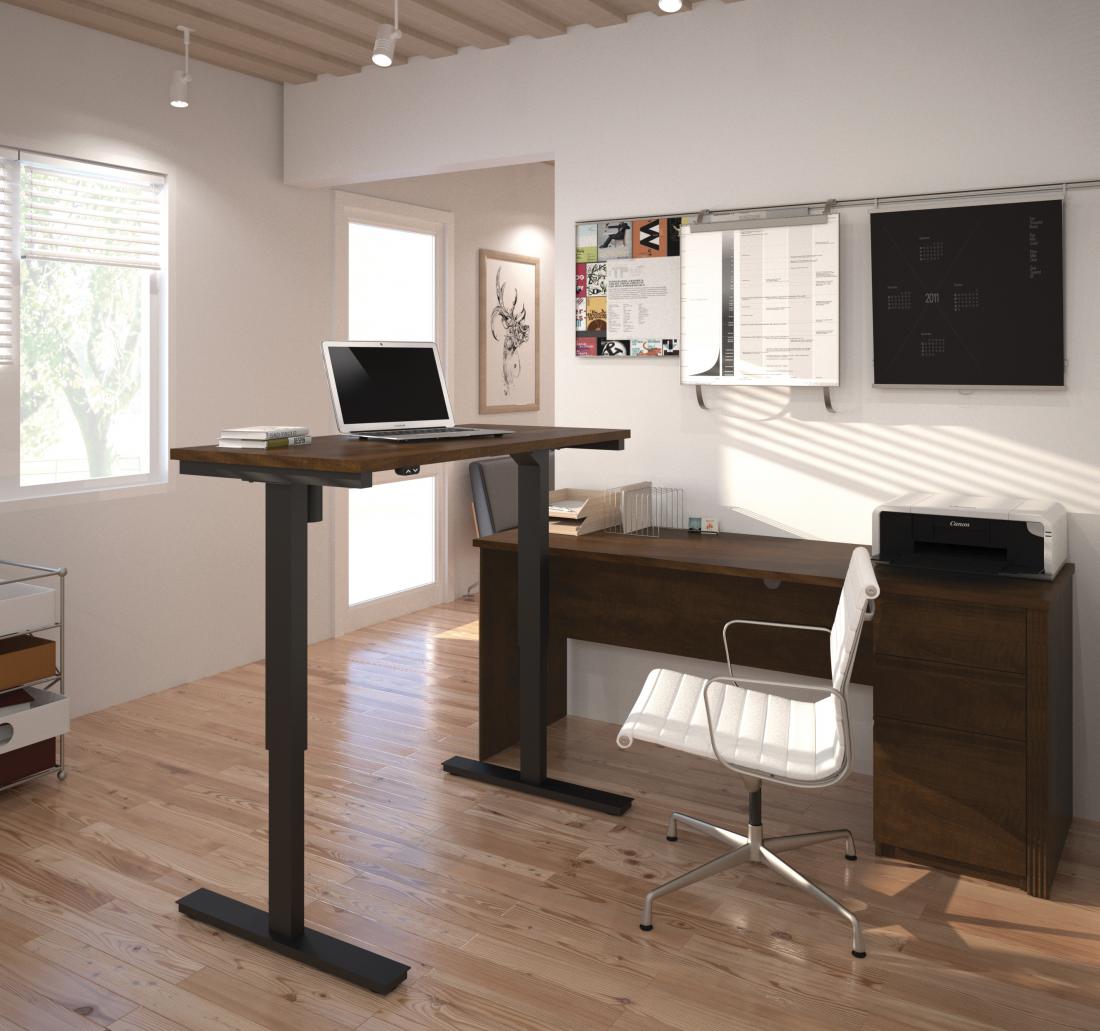 Employees who work hours upon hours of desk work every day are more likely to complain of chronic pain. Issues such as postural imbalance, repetitive strain injuries, and a sedentary lifestyle – or, 'sitting disease' – are more common than ever before.
Research confirms that common seated postures can be responsible for backaches, headaches, fatigue, and poor concentration – issues that affect not only physical health but workplace productivity as well.
Fortunately, there's a solution to help reverse the physical discomfort and damage caused by sitting day after day: the standing desk.
Including a Standing Desk into your home office will allow you to alternate from seated to standing while at work and help to counter the adverse effects associated of hours spent sitting at a desk. Even just 30 minutes at a time (4 hours a day or more) standing while at work can have significant impact on the health and body of desk-bound workers.
Hutches and Storage Cabinets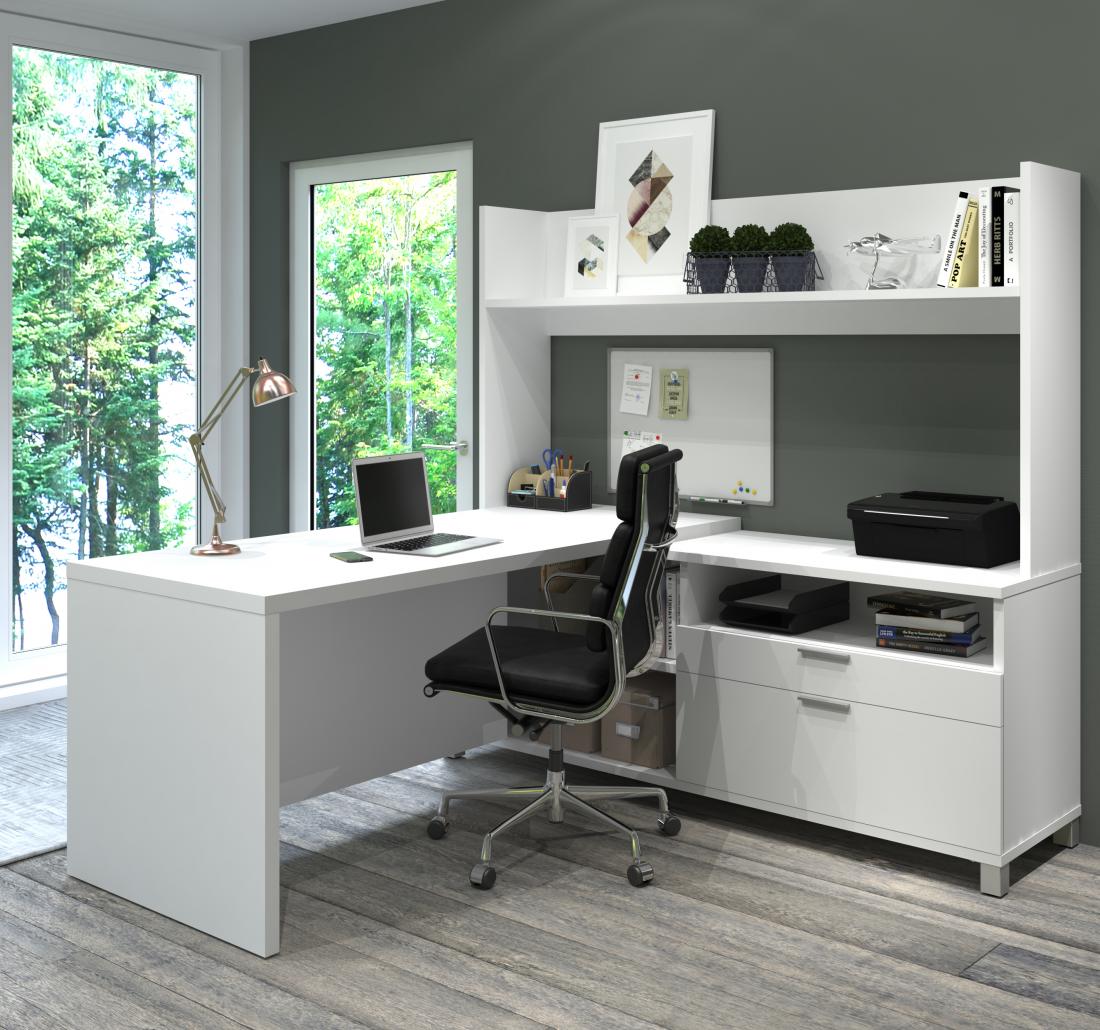 Storage is essential when it comes to creating and maintaining a productive workspace in the home. With Bestar and our selection of matching pieces of furniture and office storage, you can easily combine your desk with a hutch or a storage unit to store your documents, paperwork, notebooks, accessories, electronic devices, and more.
Hutches offers a variety of configurations to suit your office and working needs. The smart design allows you to adapt your office to your liking. A hutch combines well with an L-shaped or Standing Desk to keep everything you need at work organized, easy to find, and within easy reach.
Say goodbye to unsightly clutter! A highly functional Storage or File Cabinet will keep all important items convenient, yet in their place and out of sight.
Have an awkward nook or corner? Consider a unique corner unit, outer or inner, to maximize your available space while maintaining a professional and consistent aesthetic.
Accessories for Organization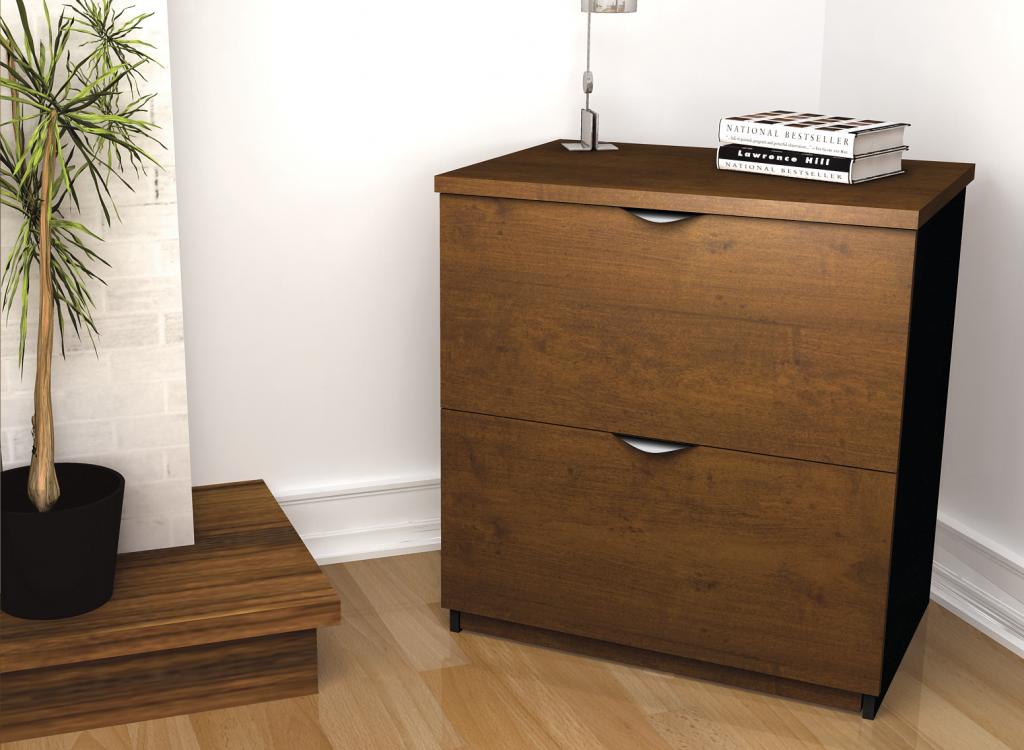 Supplement your other office furnishings or add a little extra oomph to your decor with convenient and versatile accessories.
Geared to enhance productivity in your home office environment, there are a variety of small pedestal and cabinet designs as well as keyboard trays, floating shelves, and corner units to help better configure your office furnishings into the space, big or small.
A small Hutch or Credenza can be incorporated into your existing office configuration to enhance organization, storage, and productivity as you need it.
Categories
Home Office