Ensure that your working environment maximizes comfort and productivity, beautifully and efficiently.
Working from home is a unique opportunity to enjoy comfort and efficiency. If the office or workspace is too casual, however, or if it isn't effectively separated from the home environment, productivity could be compromised.
While comfort is essential in any office, an office that is too comfortable may seriously get in the way of getting things done. It's crucial to find a way to separate yourself from the rest of daily life in the home and to promote a sense of vital boundaries — "off limits"—to all of the other goings on, noise, and potential interruptions.
To be sure that you include everything you need in your new office, it's essential to know what the space will have to achieve and what demands will have to be addressed.
Ask yourself these questions before you begin:
What kind of work will I be doing in the workspace?
Will clients be visiting me in the office?
Will there be colleagues and collaborative work taking place?
What will I need to store?
What type of equipment will be needed?
When will I be doing most of my work?
Will I be making conference calls or video conferencing?
The next step is setting up the space. Where is your office going to live? Contrary to what you may believe, it doesn't need to be that large. Ideally, though, it should be separate from the more heavily trafficked areas of your home.
Look for underutilized spaces, such as a spare guest room or awkward nook under the stairs. Evaluate how the area can be dedicated for office use and can be transformed effectively and attractively into "your space."
This new office is where you will keep all of your work. You will no longer be searching in the other rooms of your home for documents or paperwork. The name of the game is efficiency, so everything work related will be kept in your new workspace.
You will also want to keep the non-office space in your home free of your work stuff. The separation will promote and encourage healthy work-life balance and will allow you to relax at home when not working.
One of the biggest challenges for those of us who work from home is the loss of definition between work life and that of home and family. To help combat this lack of distinction, it will be important to establish set hours to work. It will also help you be more productive and organized throughout your day.
The 5 most important things to consider when you're setting up a home office
Lighting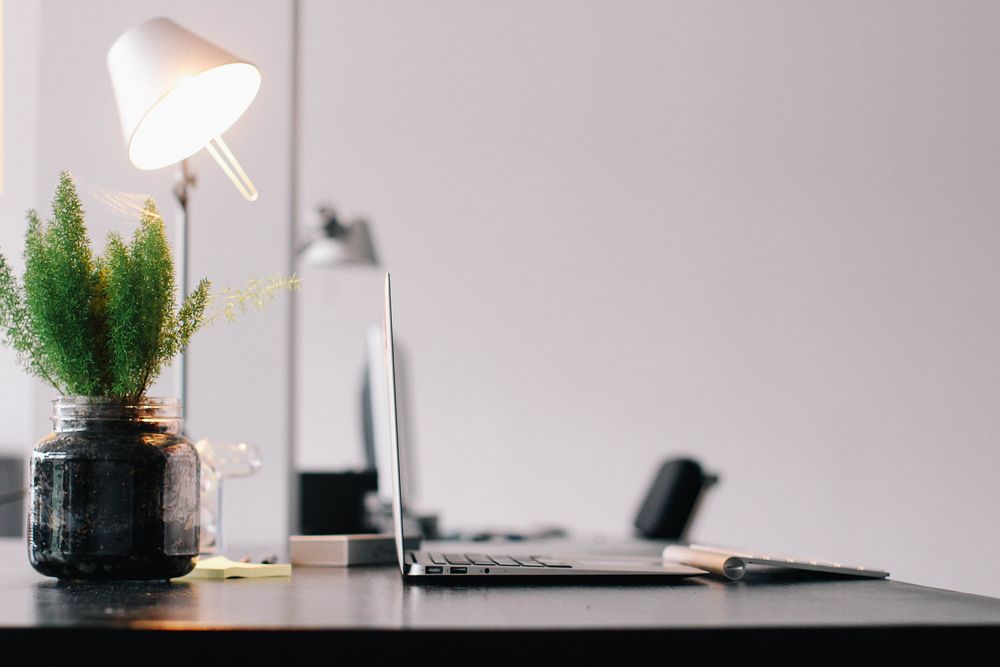 Good lighting is so important. There are several great lighting options out there, but the more you can incorporate natural daylight, the better.
If possible choose a space with a window. Daylight is the most evenly balanced source of white light available, in that sunlight contains an almost equal proportion of each color of the spectrum. It is, however, never constant throughout the day. The type of light it provides changes based on where you live and time of day, among other factors.
Natural daylight isn't always an option depending on the space that's available to you. If none is available, a combination of overhead and task lighting will be required.
A high-quality task light is essential for late nights or cloudy days. If your home office is in a basement or a room without windows, look for daylight-replicating light sources that provide quality, energy-efficient, full-spectrum lighting.
For most eye comfort, a yellow-cast illumination is best. It is the color of brightness, and midway through the color progression from cool to warm.
Don't place overhead lighting directly above computer screens, and don't put a computer screen directly in front of a light source. It causes glare and eyestrain.

Privacy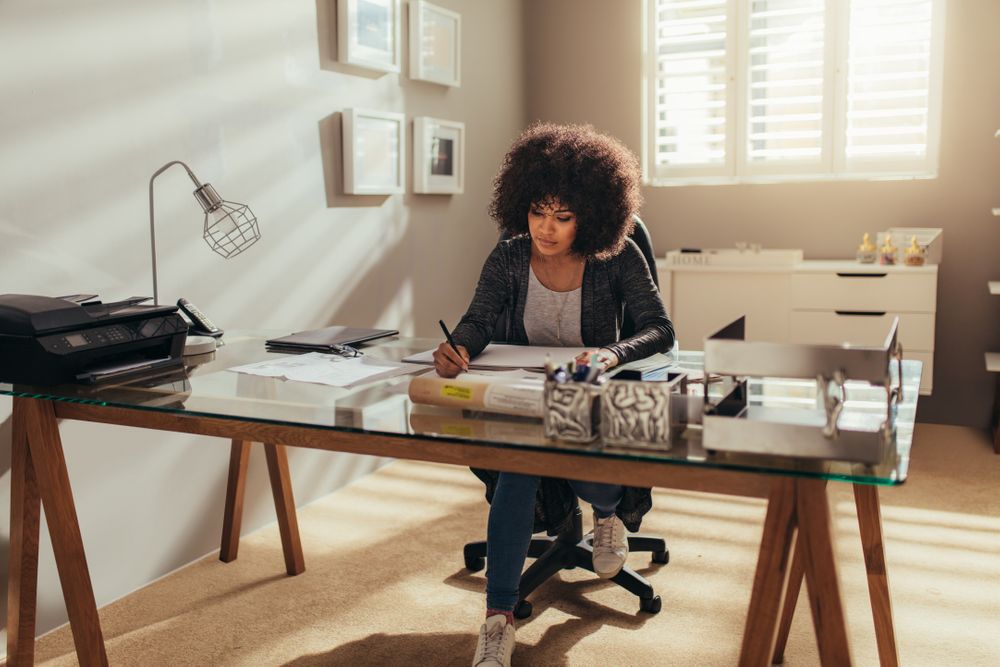 It doesn't matter who you are or your tolerance for chaos, it's challenging for just about everyone to work effectively in a cacophony of noise and interruptions. As you consider office spaces, put privacy at the top of the list of priorities.
Look for portable room dividers or screens to help shield your work area from nearby household activities. A bookcase that effectively doubles as a room divider and ample storage is another practical alternative if a separate room isn't an option.
If you are limited to a space with no door, consider adding signage — "Quiet Please" or "Mom is Working!"—to remind others in the house that the space is in use and that it is, in fact, "work time."

Furniture Layout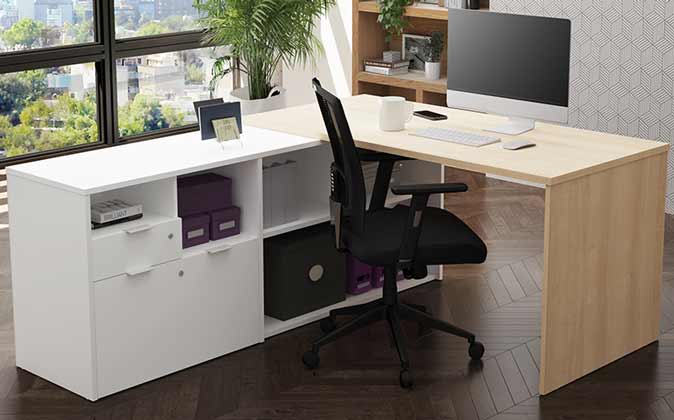 Take stock of all work-related items, equipment, accessories, and anything else you know will need space in your office. Consider carefully how to incorporate it all while at the same time maximizing your desk and storage space.
Keep in mind the tried and true rule of thumb, "a place for everything and everything in its place" to help guide your organization process. If you have carefully thought through your work surface and storage requirements, you should account for the space you'll need.
Your desk is where you'll be spending the bulk of your time. The desk surface will support your laptop or desktop computer and all work-related items for most of the day.
So, choose wisely. Consider an L-shaped desk to efficiently accommodate all of your office equipment and supplies and keep them easily within arms reach.
If you have the space and require more room to work as well as meet with clients, a U-shaped desk allows for a very professional presentation while providing a ton of storage and surface area.
Regardless of the style of desk you choose, what is essential for productivity is a piece that keeps you, and your work organized, preventing the disorder and chaos of disorganized piles.
Think, too, about how your workday might look. Be sure to include a wireless hub so you have the flexibility to work at your desktop or on your laptop from your desk, your chair or a table, and at both standing and sitting heights. Accounting for a flexible work style can enhance your creative problem-solving and thinking ability as well as your productivity.
Look for attractive and simple solutions such as pen cups or trays to keep writing tools in one place, as well as memo and business card holders to keep everything tidy and it's own dedicated place.
There are so many options for storage; the challenge will be exploring what's most effective for your work style and your flow of paper and documents.

Equipment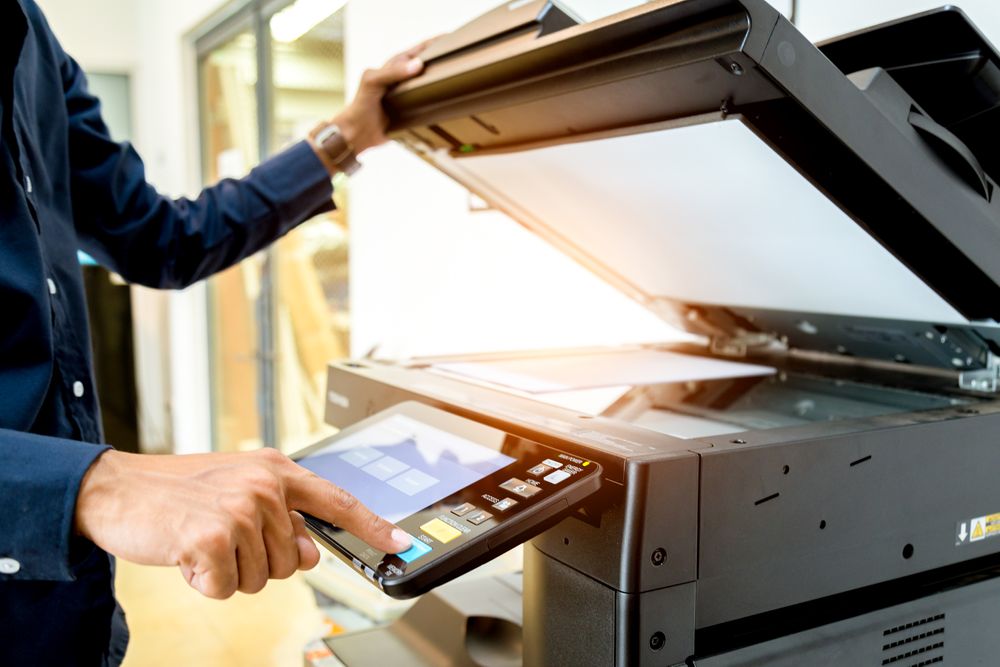 Speed and efficiency are important when working at home. But that doesn't mean you need to fill your office with every manner of office equipment.
Make your decisions thoughtfully, particularly when it comes to the equipment you'll need frequently and that which you won't. For instance, for big-ticket and large scale items, question whether things like that cumbersome color copier is vital or if your neighborhood office supply can do the job.
Perhaps you'll need a separate phone line for your office to ensure there's no conflict between home and business lines. Be sure that your phone, landline or mobile, has the capability for messaging, conferencing and speaker functions.
Be sure you invest in the fastest and most efficient equipment available, so you're not wasting time waiting for things to work.

Ergonomics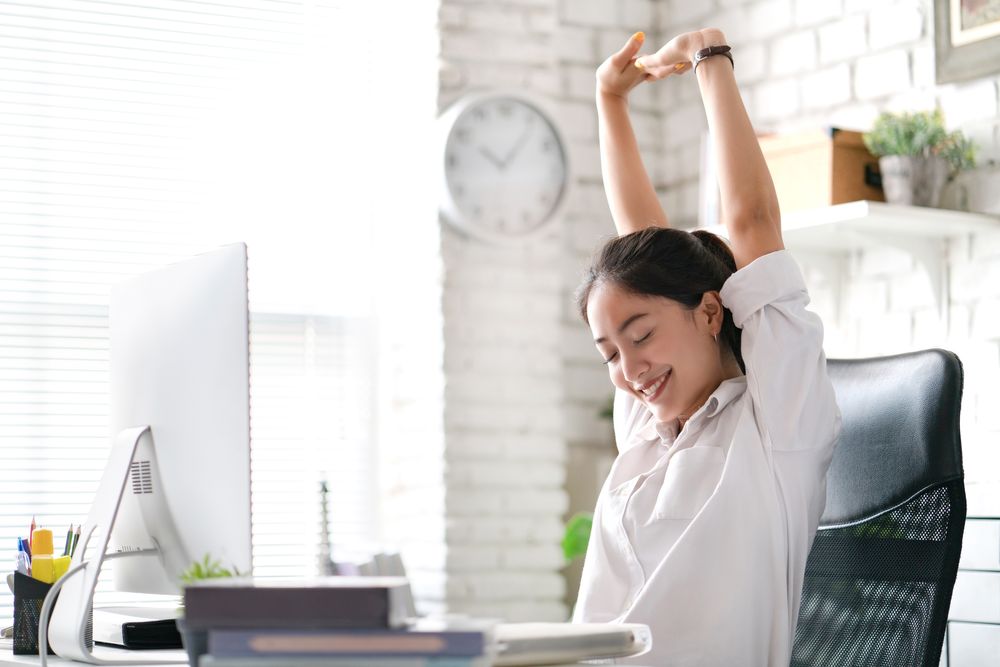 You'll spend a lot of time sitting at your desk working. Managing your comfort and safety while at work is, and the furnishings you choose should be designed to support your health and well-being while in use.
When looking for your perfect chair, be sure to prioritize ergonomics to ensure your body is appropriately supported and positioned throughout the workday.
Fortunately, there are a number of terrific options. With the increase in desk work over the past several decades, most chair manufacturers have made significant improvements when it comes to comfort, adjustability, functionality, and safety in their chair designs, particularly when it comes to computer users.
You can explore the possibility of footrests, ergonomic mouse instruments shaped to fit your hand and soft keyboard pads that allow relaxation for the wrist.
Ergonomically designed office equipment enhances the experience at your desk while making your time at work that much less stressful on your body.
It's important that the time you spend at work is comfortable. If you feel good in your chair, and at your desk, within easy reach of the essential items that make your work possible, it's a guarantee that your time spent will be more efficient and productive.
Categories
Home Office