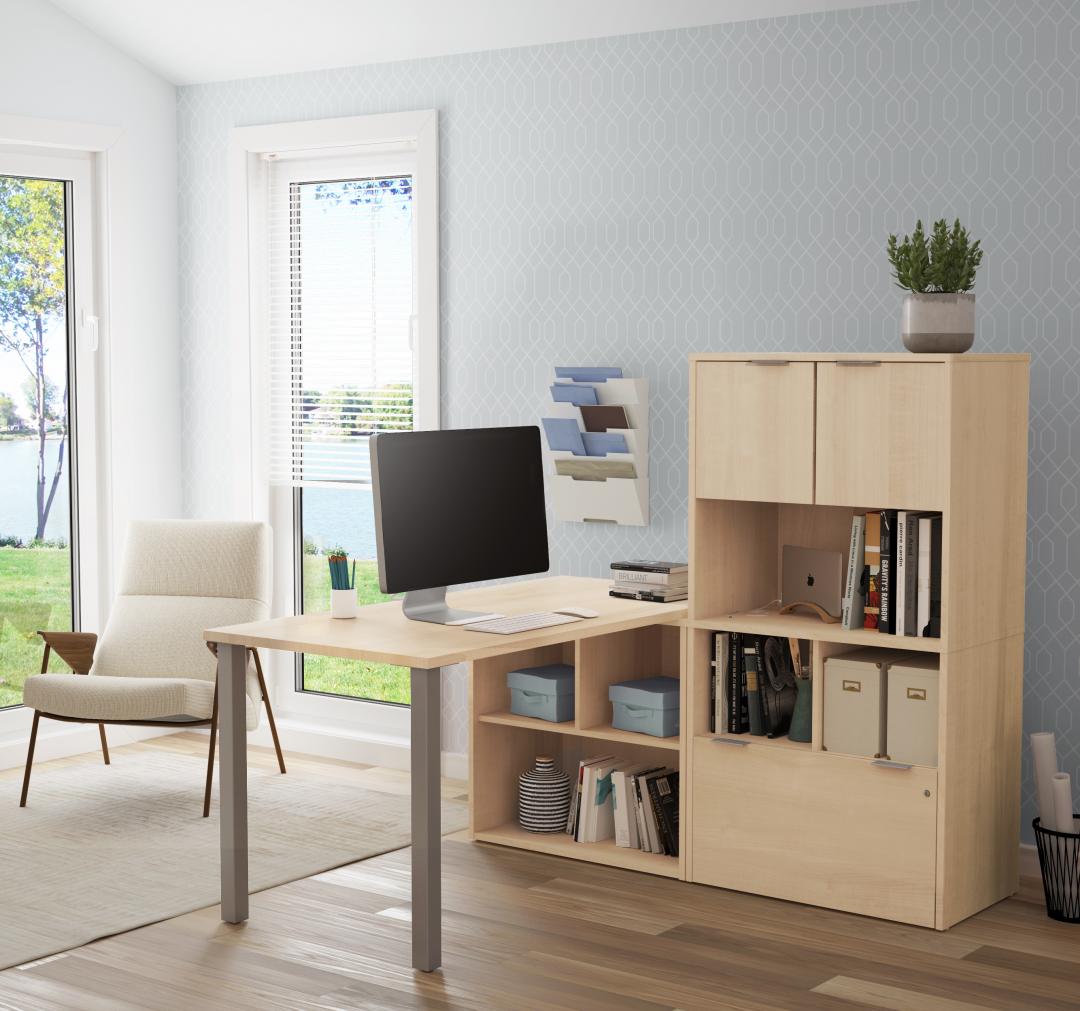 Multi-purpose office furnishings that change function as you need it – better bang for your buck and enhanced productivity, too.
Tidy your space — boost productivity.
You want your clients to experience that "wow" feeling when they walk into your office. Employees should be proud to work in such an inspiring, tidy, and organized workplace.
Your office setup must also support your workflow and make it easy for everyone to be productive, creative, and engaged. Style and function, you want it all!
On the other hand, an office jam packed with furniture only detracts from client comfort and satisfaction and employee contentment and productivity.
No matter the size of your office, it's neither practical nor efficient to include every possible piece of furniture that you may or may not need at some point.
There is a simpler, more stylish alternative. Opt for fewer furnishings that offer more useful, multi-purpose functionality.
Save office space and money and have everything you need, now and in the months and years ahead.
Many Bestar office components have several uses. Stylish Pedestals and File Cabinets that double as attractive support for the printer; Credenzas that multi-purpose to accommodate desk work; and beautiful storage pieces that offer all manner of uses, from hutches to shelving.
Bestar furniture pieces are made of high-density M2 particle board panels that are unlikely to sag under the weight of your belongings. All Bestar furnishings are built with thoughtfully chosen materials – solid, durable, and eco-friendly.
Here are several Bestar office storage options specifically geared to provide a diverse range of purposes to help accommodate the ever-changing needs of any office.
Bookcase: Attractive Display and High Function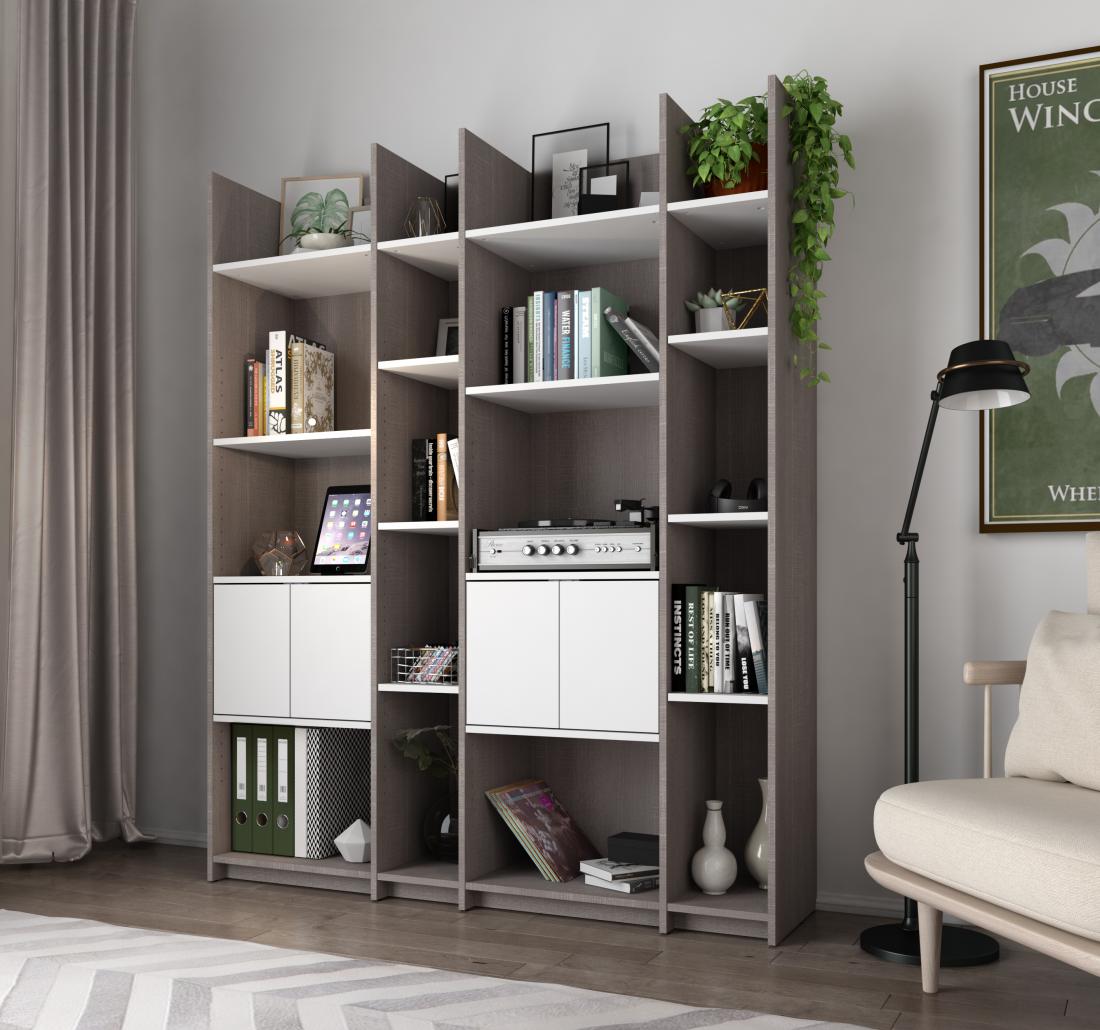 Creative, customized, and practical storage to minimize clutter in your office.
An attractive Bestar Bookcase provides a place for every item. Choose from a variety of styles, designs, and sizes for a bookcase that will quickly adapt to the unique needs of your office.
Fully customizable, most Bestar bookcases provide for a variety of configurations to ensure that you're able to make the most of your office space.
Display in open shelves, or hide away documents, files, and other items behind doors for a unique design.
A Multi-tasking Credenza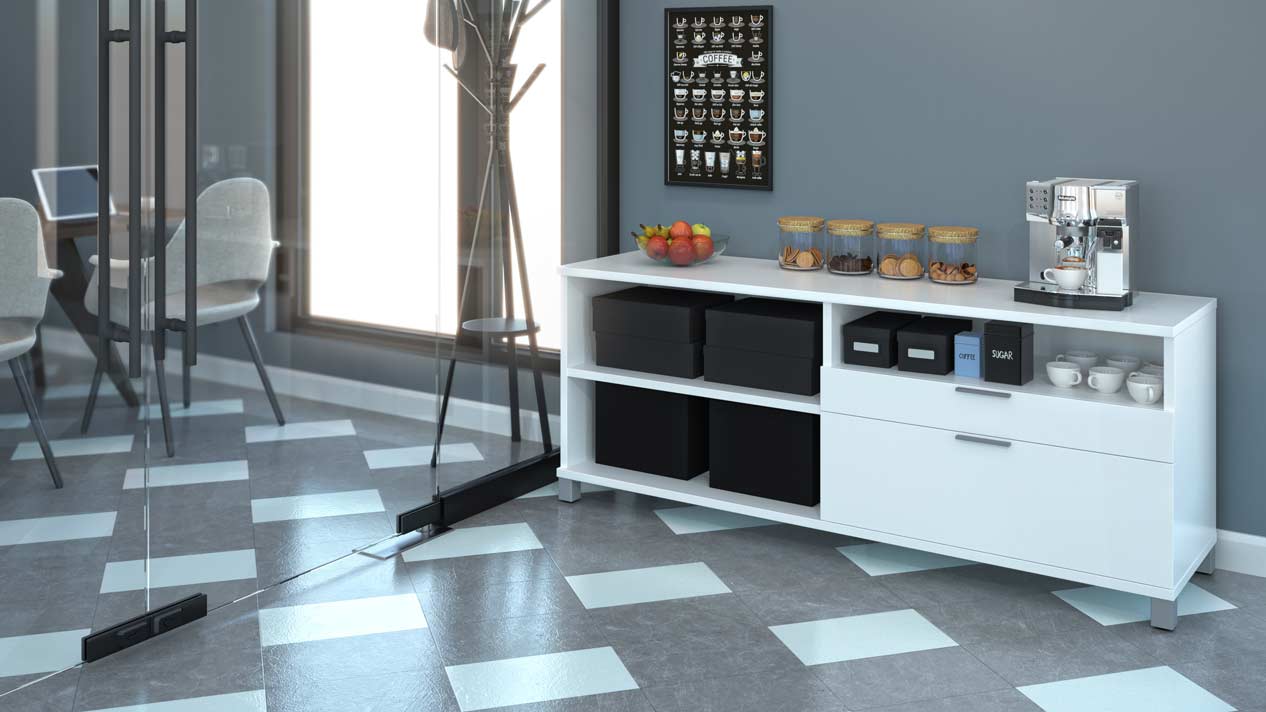 A unique and versatile Bestar Credenza provides your office the perfect unit for a variety of different applications.
Our range of credenzas can address many of your storage needs and help you to keep other works surfaces tidy and organized.
Incorporate it into your desk and work configuration to enhance desk work productivity – keep files and documents neatly stored, yet at the tip of your fingers. Store stationary, printers, electronic devices, books, and so forth within reach, yet out of the way.
Need a convenient and low-profile coffee station? A credenza easily accommodates all the necessary supplies and accessories, keeping your station tidy, organized, and easy to keep clean.
The Hutch: Versatile, Functional, Attractive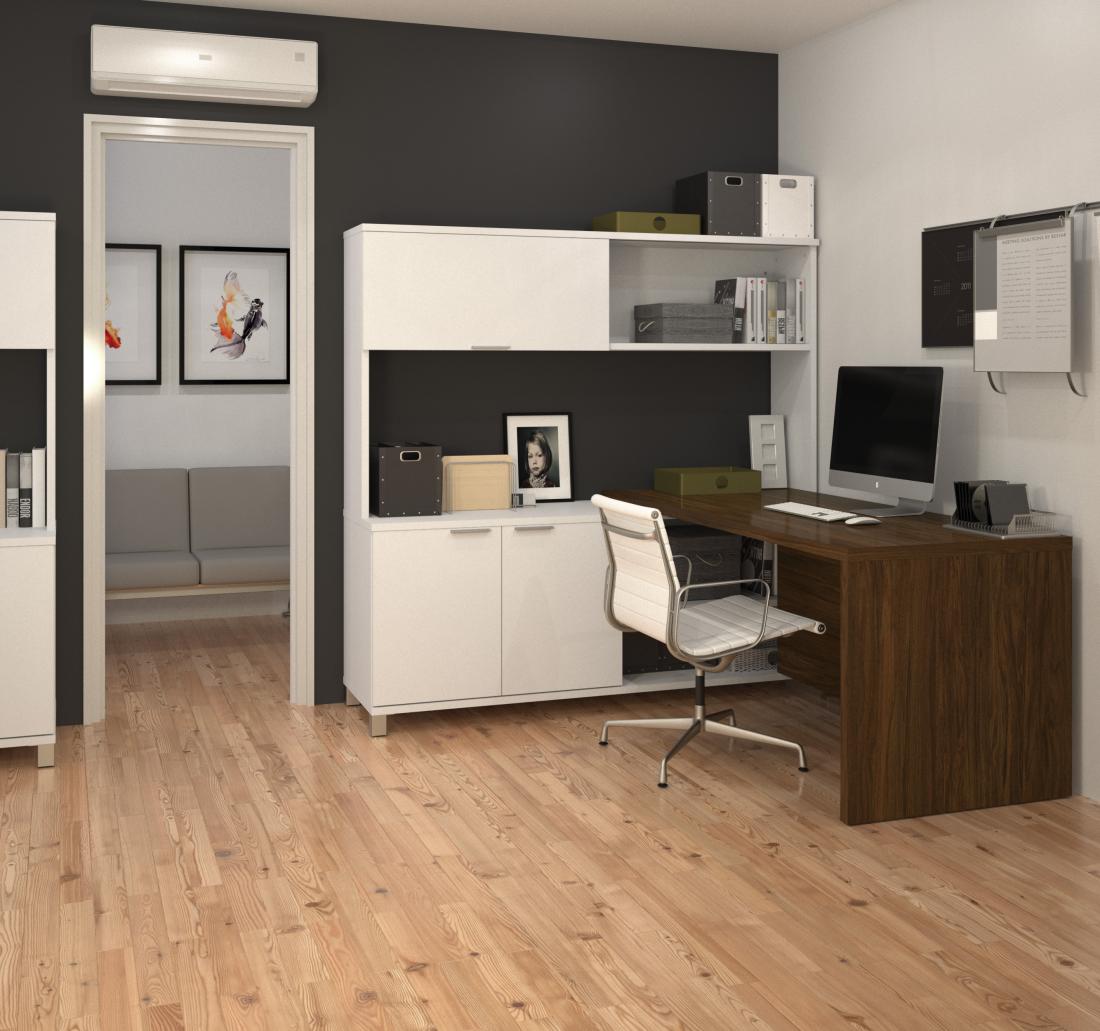 With infinite configurations available, Hutches by Bestar are a great way to optimize your workspace, get and stay organized, and amp up your productivity.
With a large selection of sizes, you are sure to find the right hutch for your office setup. The smart design of our hutches allows you to adapt your office to your liking.
Stand-alone, or as part of an office suite configuration, our selection of matching office furnishings, let you easily combine your executive desk with a hutch or a file cabinet to maximize organization.
Stylishly store your papers, notebooks, electronic devices, and more. Adding storage to your office is so easy with a Bestar Hutch.
Storage Cabinets: Sleek, Stylish, Organized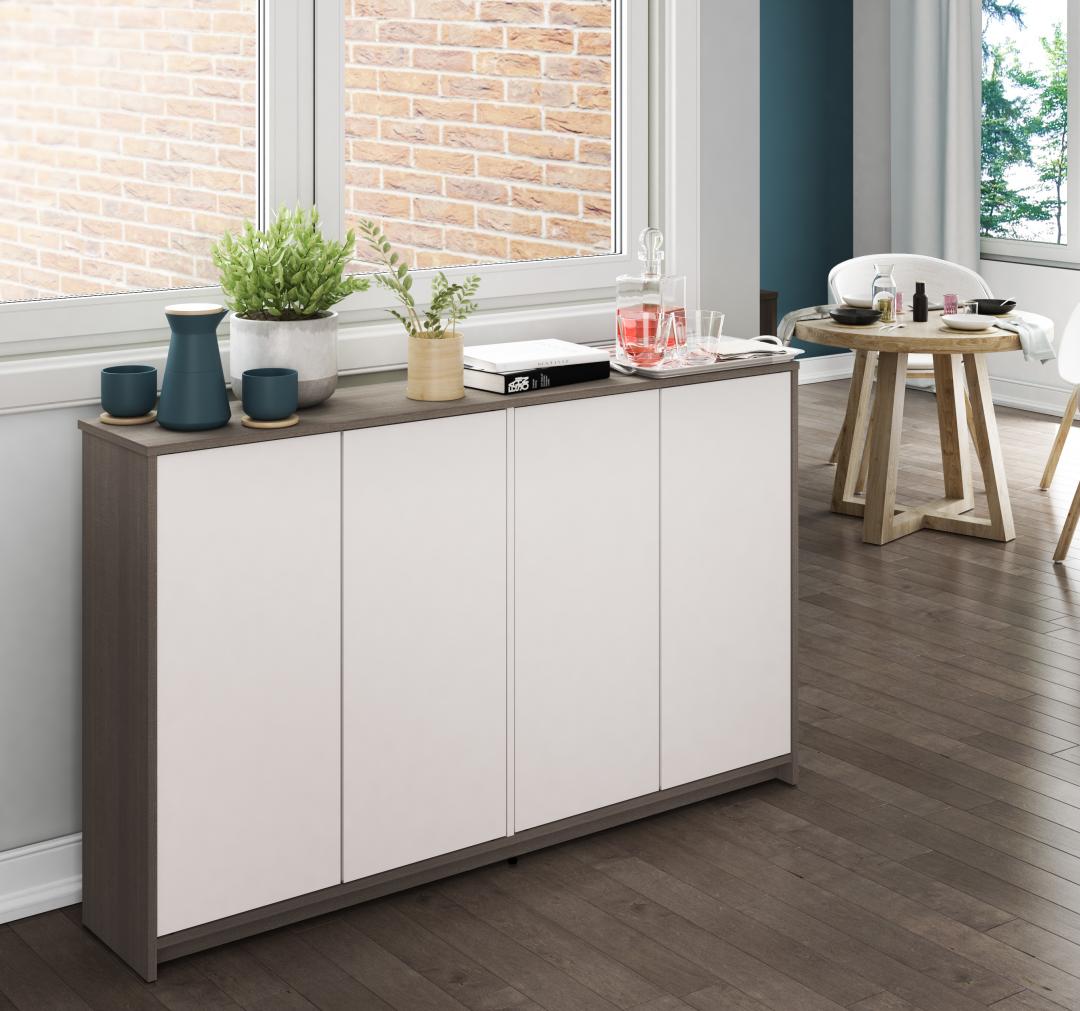 Maximize every square foot of your room with Bestar's Small Space units!
A combination of beauty and function, our storage cabinets take on a lot of the office heavy lifting. Ample storage space within its doors, configure the shelving to suit your organization needs.
Easily incorporated into more extensive collections to complete a full organization suite, your employees clutter woes should be addressed efficiently and effectively within this stylish storage solution.
Made of high-density M2 particleboard panels, feel confident that the surface of these units will be unlikely to sag under the weight of your belongings.
File Cabinets: Multi-functional Style and Storage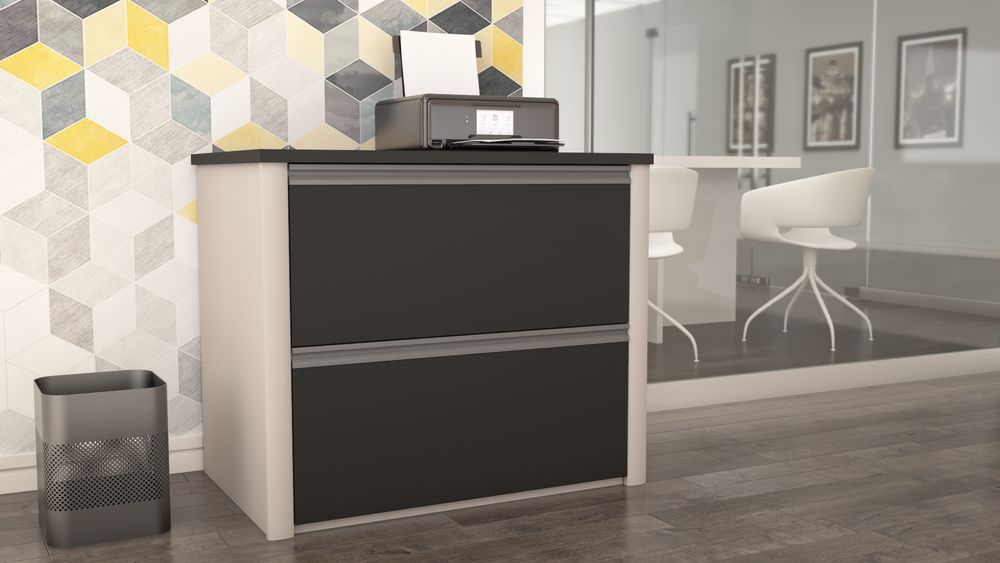 Our timeless modular Pedestals and File Cabinets will fit in any office, large or small!
Keep your documents at your fingertips. A Bestar File Cabinet, as attractive as it is functional, helps to keep your desk clutter-free. It will effectively carry your many files and documents but can also double to support a printer or other vital accessories – stable, durable, and utilitarian while still looking great.
All Bestar file drawers feature a legal/letter filing system. No need to worry about ordering the right format, you get them both!
Whether freestanding or incorporated into a larger Bestar Collection, our pedestals and file cabinets carry a considerable load while looking stylish and attractive in any office setting.
Categories
Home Office