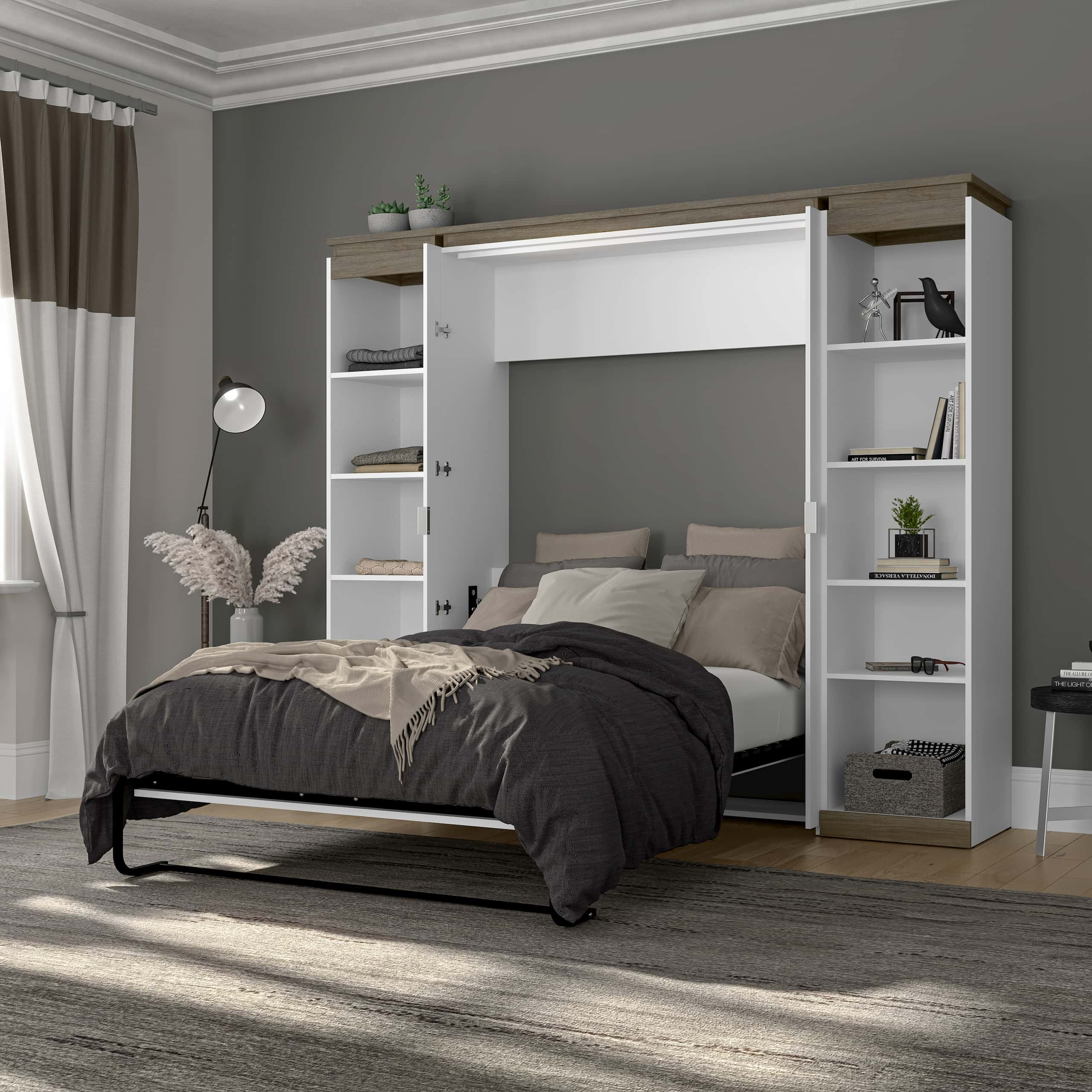 2021 has finally arrived! Although 2020 was an unusual year, 2021 is an entirely new year with new goals, challenges, and aspirations. Since many of us will continue to work from home and spend most of our time in our houses, it's important to find ways to keep your home in order this year. That being said, have you considered furniture solutions that work with your space and your needs? One solution is to opt for multipurpose, space-saving furniture, such as Murphy bed with a bookcase. Keep scrolling to find out how this furniture solution can make your life easier!
Your Space Will Be Organized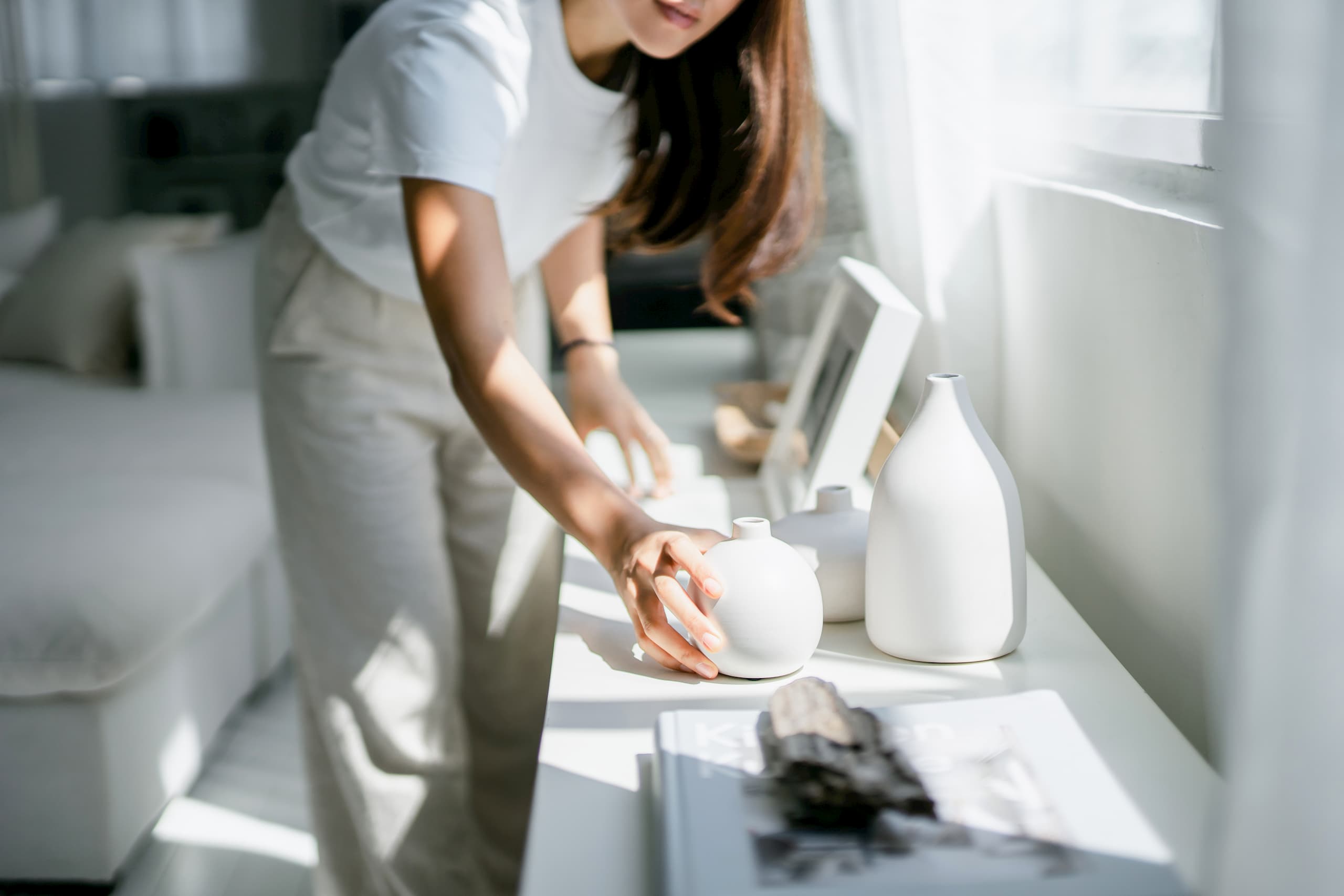 Keeping your space organized can be challenging. You need room to do all of your activities, but you also need storage options to keep your space tidy. Opting for a Murphy bed with a bookcase will help keep all your belongings neatly tucked away and organized. When the bed is folded up, it stands as a large, beautiful cabinet and takes very little floor space, giving you plenty of room for other activities.
Do you need room to store your kids' arts and crafts supplies? Or what about shelf space for your movie or book collection? A Murphy bed with a bookcase can help keep your space organized thanks to the storage cabinet. The cabinet's durable built-in shelves make it possible for you to store everything away effortlessly.
You can also choose from a variety of different Murphy beds with storage options that work with your space and your needs. For example, you can choose a model that has two shelving units (depending on the space you have). However, you can always add a separate shelving unit later on if you require additional storage. No matter what you choose, you can be sure to find the right fit for you!
You'll Have a Completely Versatile Space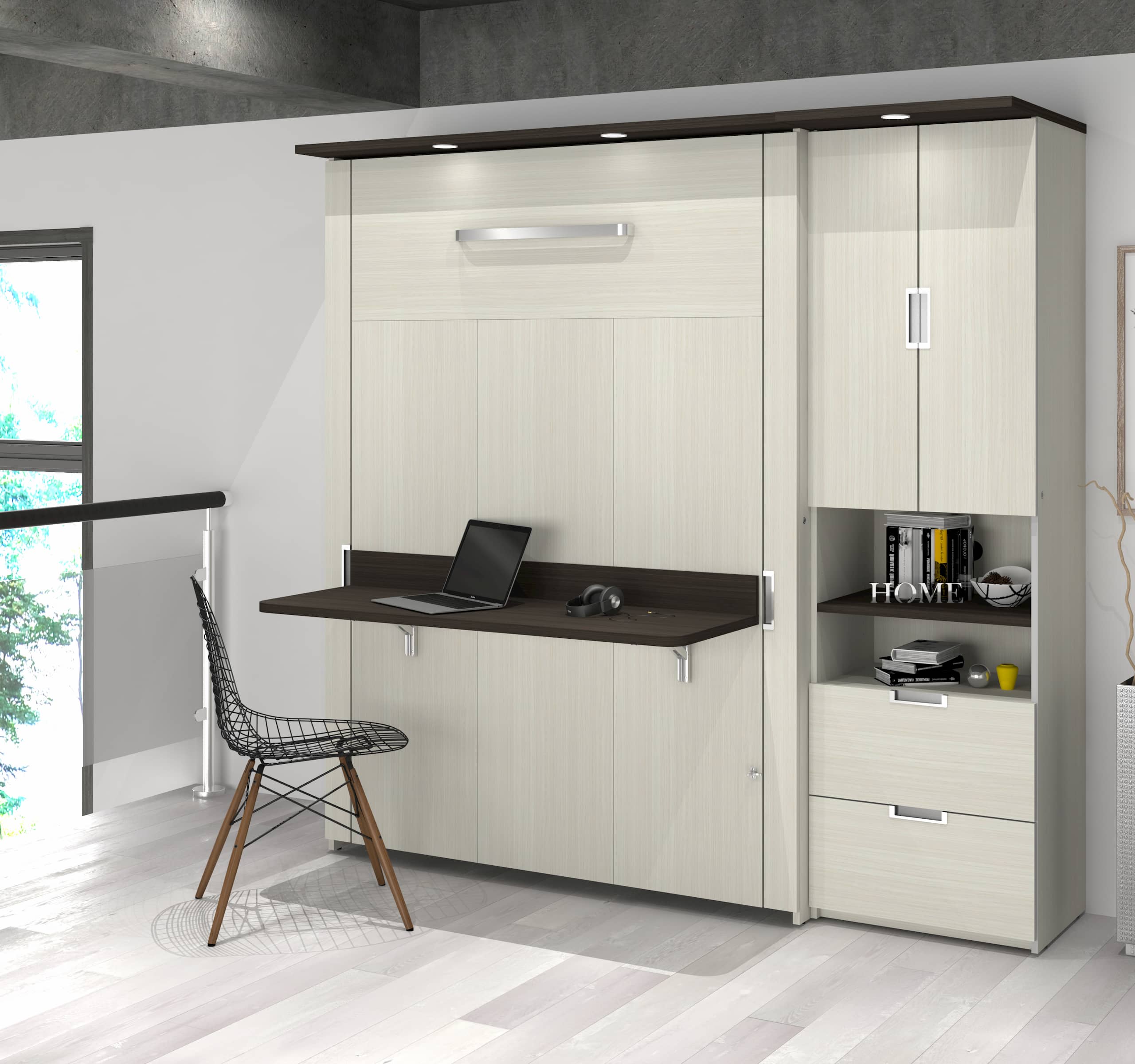 In addition to organization, a Murphy bed with a bookcase is also a great multipurpose addition to your home. You'll save space and create a completely versatile room for you and your entire family to enjoy!
Whether you want to set up a home gym, a guest room, a workspace or even a kids' game room, you can create the ultimate multipurpose room when you opt for a Murphy bed with storage options. The furniture's open and closed storage compartments can house media, games, linen, work supplies, and even small gym equipment. Everything you need will be within reach and available at a moment's notice.
Are you looking to create a workspace/study space for you or your kids? If you are, then you might want to consider a Murphy bed with a desk. During the day, you or your kids can get work done easily using the desk feature. When the day is over, clear the desk by putting all supplies away in the storage compartments. You might also be wondering: What if I'm hosting a family movie night and I need to use the bed? No sweat! Fold the desk up, pull the bed down, and get cozy for the movie. Switching between activities has never been easier!
You'll Enjoy Comfort, Convenience, and Safety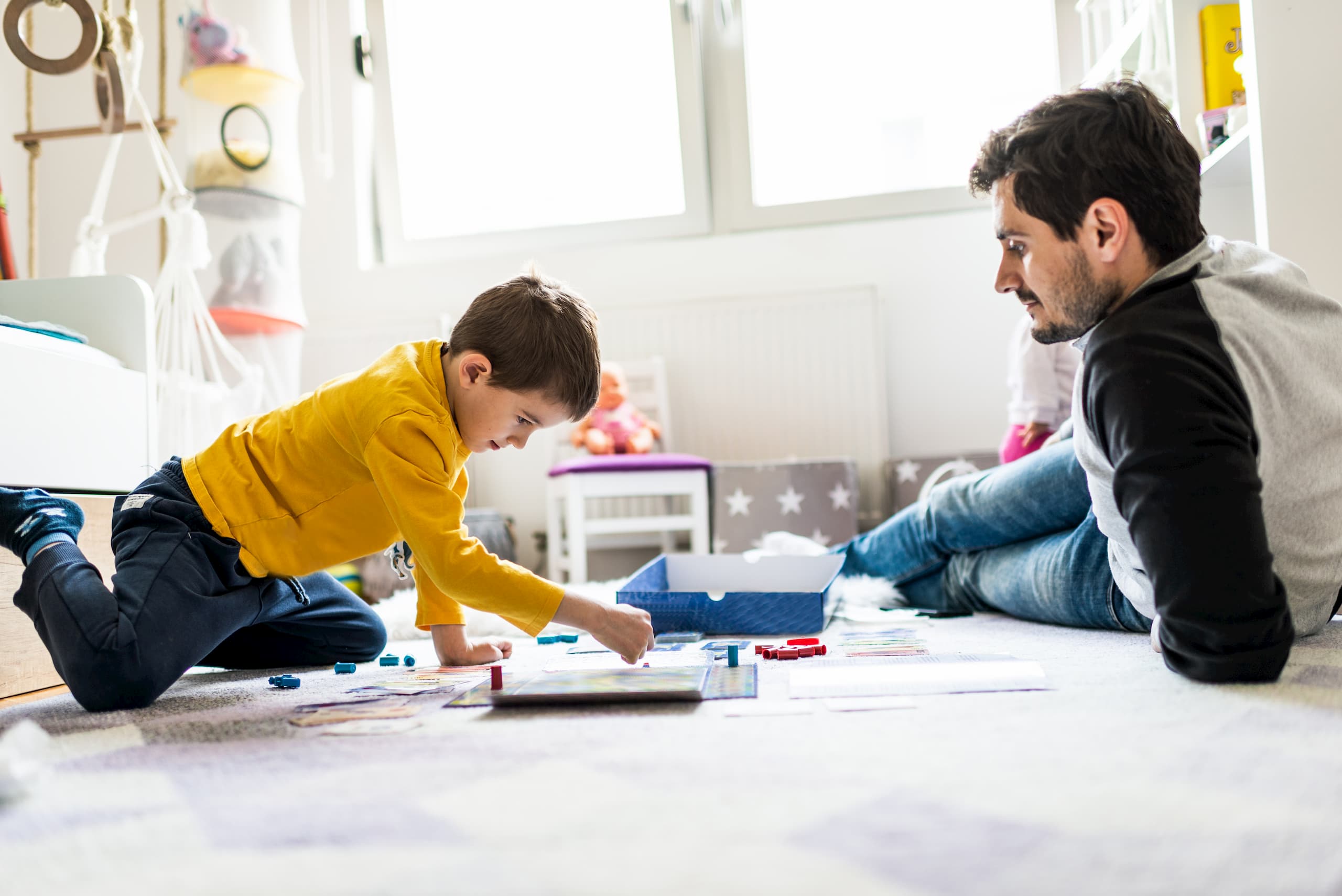 Creating a space that's safe, comfortable, and practical is essential, especially since we're spending most of our time at home these days. If you're looking to create this type of space at home, then a Murphy bed with storage options is definitely an option.
Properly installing your Murphy bed is the first step to creating a convenient and safe multipurpose room. Once the cabinet has been carefully anchored to the wall, the Murphy bed is safe and easy to use. In addition, the dual piston system makes it possible for users to safely and easily fold the bed up and down at any time.
Another key feature is that Murphy beds with storage options can accommodate most standard mattresses and support up to 1000 pounds (including the mattress). This means you can find a mattress that is 100% comfortable for you. You can even leave the linen on the bed when folding it away—simply remove the pillows and fold the bed into the cabinet. Comfort and practicality go hand in hand!
You Won't Have to Choose Between Quality or Style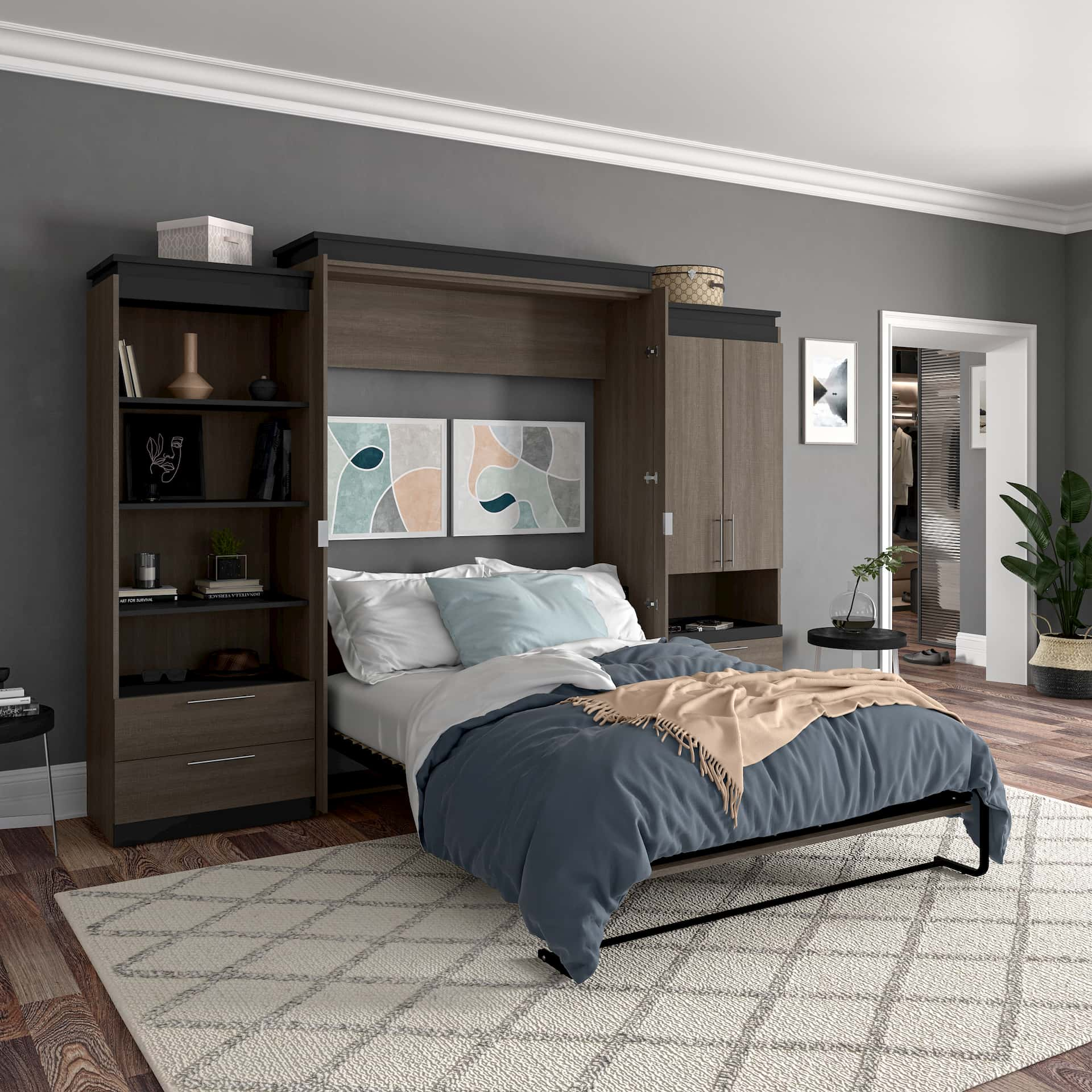 We understand how important it is to find furniture that not only lasts but also works with your space. Luckily, Murphy beds with storage options provide both quality and style!
In terms of quality, Bestar Murphy beds with storage options are made from quality materials for lasting durability. The storage unit's shelves are sturdy and generally support anywhere from 15 to 30 pounds of personal belongings, such as linen, books, work supplies, and so on. You can be sure that all your items will be safely (and neatly!) stored away until you need them.
You might be wondering: is there a Murphy bed with a bookcase that will work with my décor? Murphy beds with storage cabinets are available in a variety of designs and colors, which means you can be sure to find the perfect fit for your space. If you're looking for furniture with clean lines, then you might consider a Murphy bed from the Orion Collection. The stainless steel handles and two-tone finish from this collection give a modern flair to any space. However, if this isn't quite the look you're going for, don't worry! There are plenty of different styles and designs that will work with your décor. If you want to add a dash of personality to the room, you could look for small decorative items to include in your décor.
Now that 2020 is behind us, we can finally start to focus on a new year. One way you can celebrate 2021 is to find furniture solutions that work with your space and your needs, such as a Murphy bed with a bookcase. You can easily maximize space, get organized and enjoy your home to the fullest this year!
Categories
Home