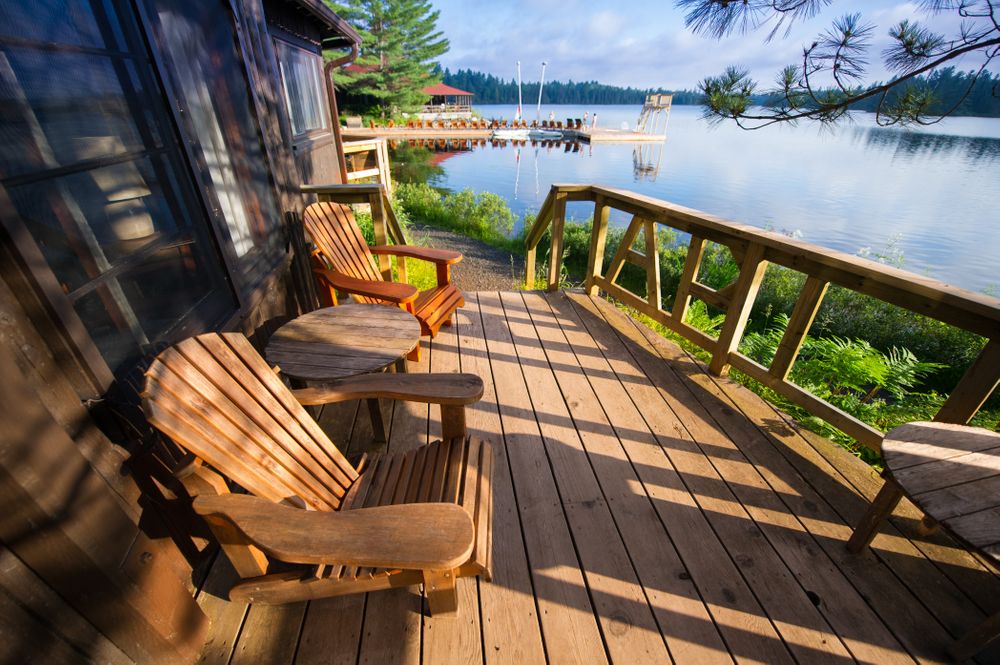 Summertime! The perfect opportunity to consider how you can boost your decor at the cottage or add a little restful cottage style to your home.
When we refer to cottage style, we're often talking about a type of decor that promotes the mood and feeling of time spent at the cottage—rest, relaxation, time with family, and effortless casual style.
Cottage style easily integrates with your eclectic tastes. Any living space can hold the promise of becoming the cottage you love—warm, comfy, and stylishly lived in.
You can mix old and new; rare and inexpensive, and simple and ornate pieces without worry about a specific decorating genre. It's a style that encourages pulling together what you love.
And whether you live in a ranch, a condo, or a suburban bungalow, or spend time in your actual cottage, it's easier than ever to bring your favorite cabin look home.
So how do you transform your favorite place into the dream cottage space you've been envisioning? And how do you do it without breaking the bank?
Whether you're decorating for your cottage or bringing a relaxed cottage style into your home, there are several ways to achieve it—thankfully, anything and everything goes!
How to transform your space with cottage style?
Cottage style relies on a few standard features that harken family memories, comfort, rest and relaxation, and easy, well-loved vintage style. To achieve a cottage aesthetic, follow a few tried and true rules of thumb:
Reuse, repurpose, recycle.
Mix 'n match.
Wall beds and daybeds
Antiques and collectibles.
Reuse Vintage Items
One of the defining characteristics of cottage decor is that pieces can be adapted from one use to another.
Vintage pieces can be revived with new life with a good cleaning and a coat of paint.
For instance, a bench might serve as a coffee table, an old kitchen cupboard can hide towels in a bathroom, or a kitchen table might be repurposed as a desk.
Really, anything goes! Reuse a section of old picket or iron fence works as a headboard; old milk crates can be stacked for rustic shelving. Look for old wooden windows to convert into rustic picture or mirror frames.
Visit thrift or second-hand shops to stock up on dishes. Rather than a matched set, you can show off a variety of shapes and designs that add interest to your cupboards, shelves, and dining table.
Rule of thumb: the piece just needs to look old, well used, and loved with signs of wear-and-tear.
Furnishings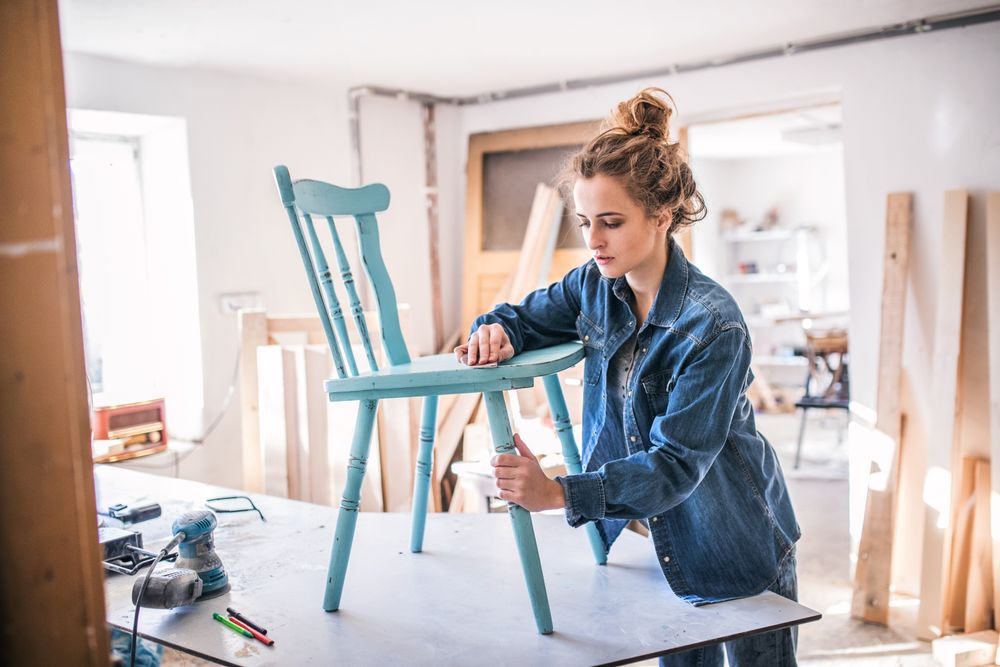 The furniture in a home decorated in cottage style is often recycled.
Furnishings tend to be mixed and matched, purchased from a flea market, or collected from family rejects. Think coordination rather than matching to achieve an overall effect that is charming and comfortable.
Want a piece to coordinate more cohesively into your decor? Paint or recover to help it fit into your scheme.

Vintage hutch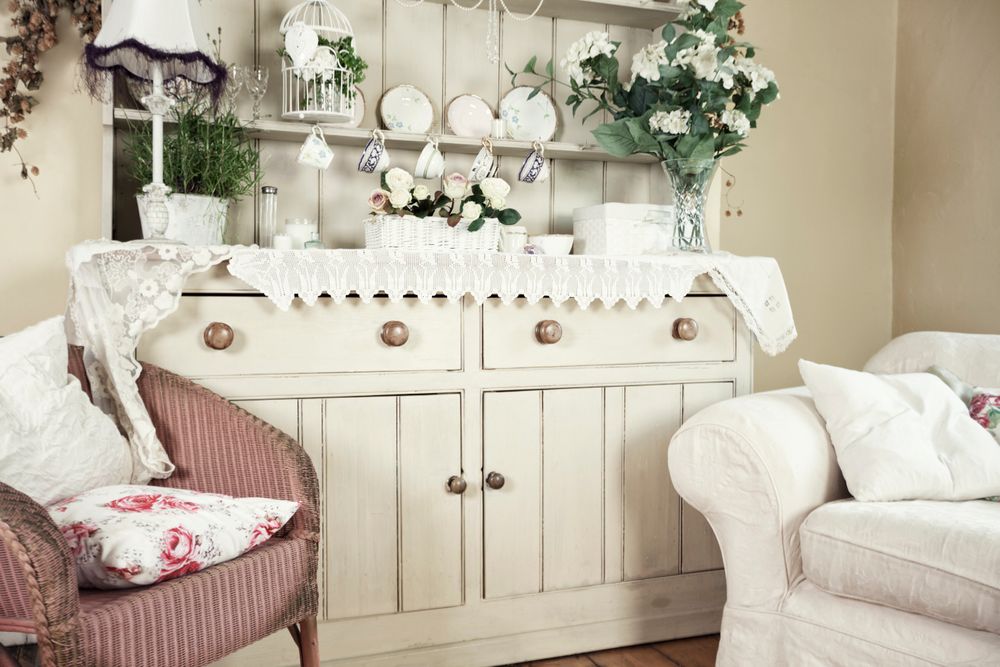 In keeping with cottage style, an old kitchen hutch can either be left as is or transformed with paint and a creative touch.
Store dishes, certainly. But it can also be used as a dining sideboard, storage for towels or linens in a bedroom, or in the living room for the television and other entertainment components.

Traditional butcher block in kitchen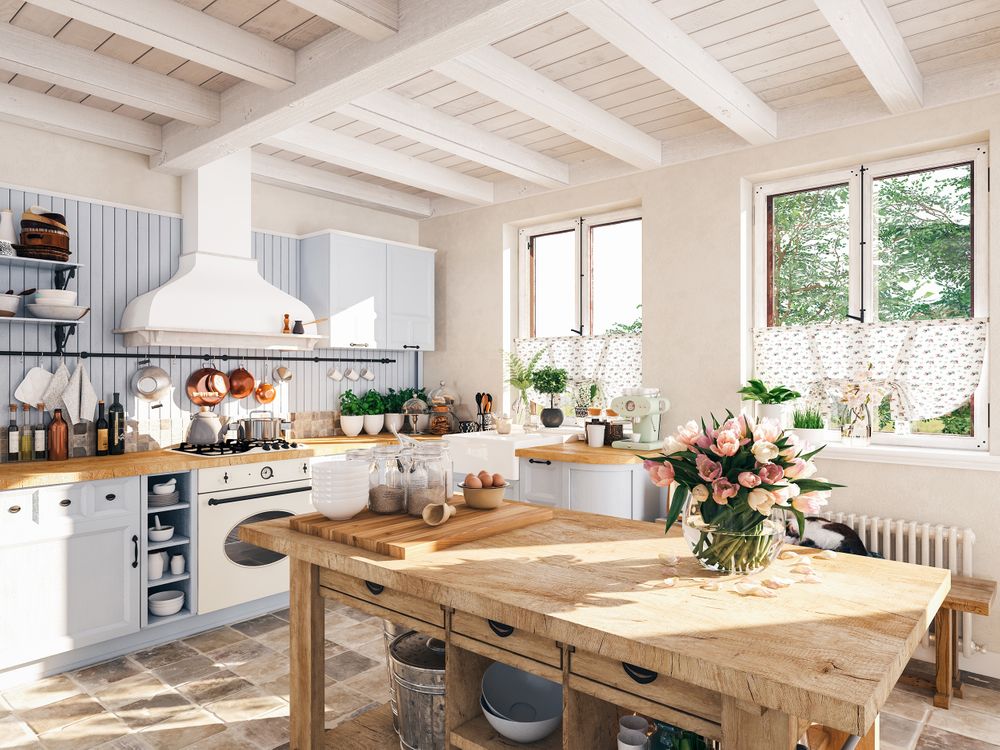 A chunky, vintage, traditional old butcher block can effectively take the place of an island in a smaller kitchen.
A stylish piece that would probably share a compelling story going back generations could it speak, can provide solid additional counter or prep space under a window or alongside your cabinetry.

Wall Beds for attractive and practical efficiency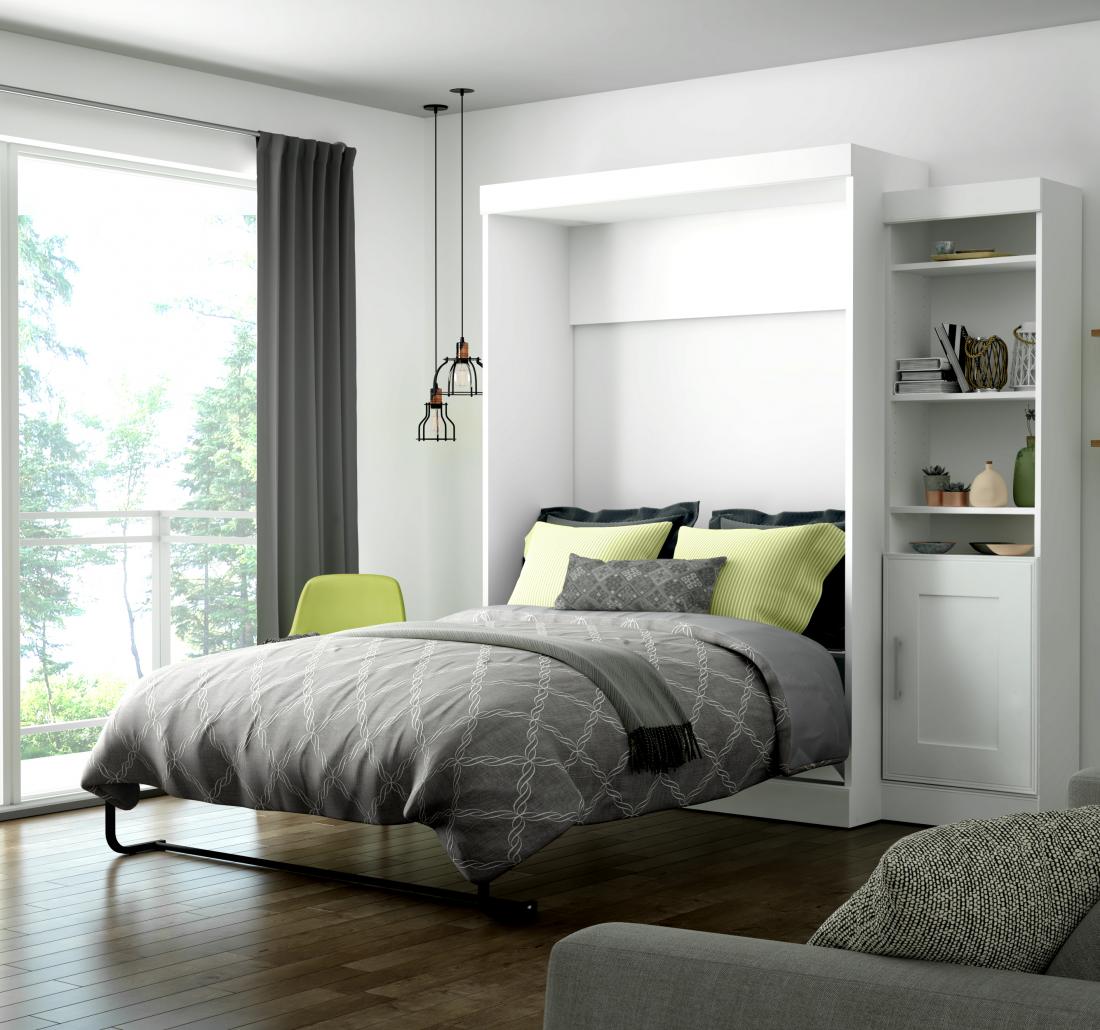 A convenient and comfortable wall bed allows any room to be transformed into a multi-purpose space for additional guests—for instance, office or family room combined with an easy guest room when needed.

Daybed on the porch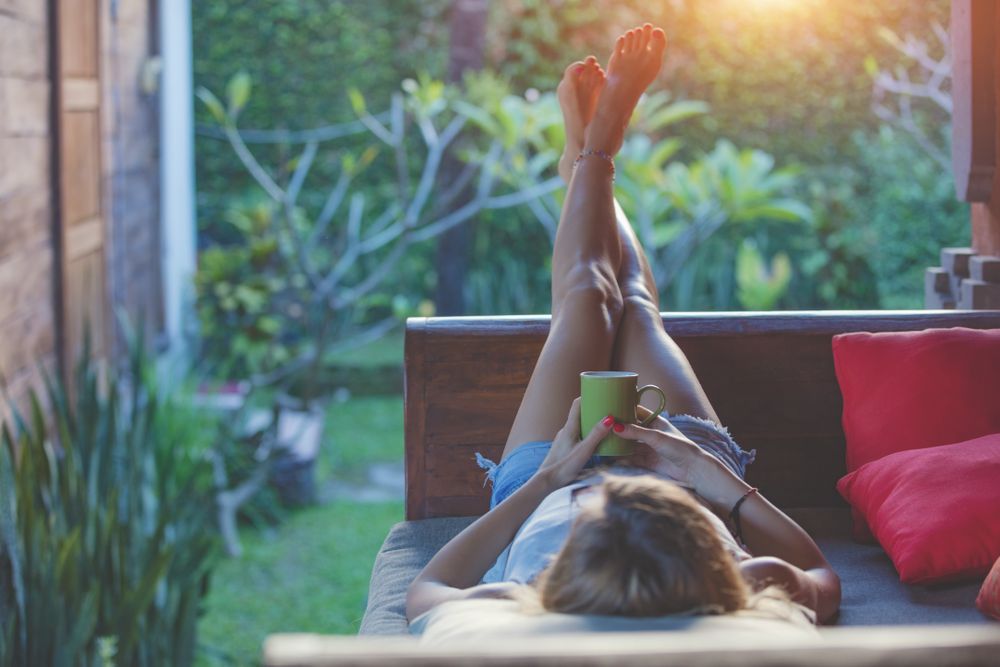 There's nothing more cottage-y than the experience of relaxing, or even sleeping, outdoors in a screened room or porch.
Offer more sleeping options, while providing comfortable seating out of the heat of the day and away from pesky insects and mosquitos.
A daybed, clothed in vintage sheets and patchwork quilt provides for the perfect space to kick back, protected from the elements while still enjoying the joys of nature outdoors.
Flooring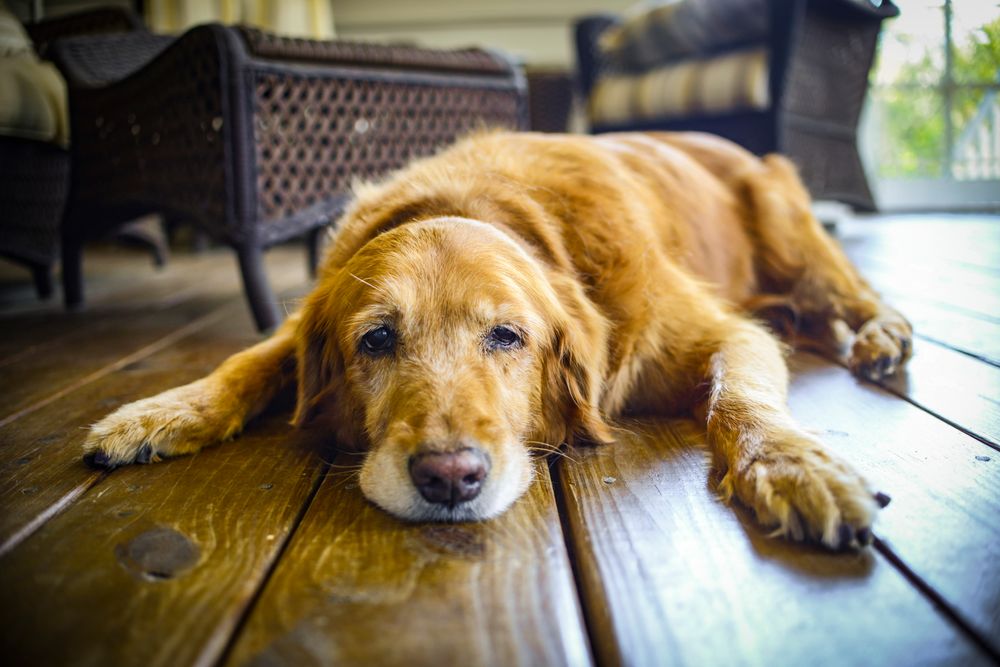 Cottage floors are often beautifully imperfect—informal, well used, and marked with nicks and scratches.
People love the impact of a well-worn floor so much they pay their flooring installers to bash the floorboards with chains and hammers.
Bare wood or what is referred to as pub floors are a great option. Soft and prone to dings and marks these floors take on a well-used cottage look quickly and easily.
If the wood floors are unattractive, stained or damaged and you can't afford to replace them, they can be painted to give a warm, cottage feel. Add patterns stenciled on, to add interest, add old-world charm, or define areas of the room.
Bare floors can be covered with vintage throw rugs. While carpet may be more challenging to integrate into a cottage style, covering any flooring with vintage area rugs is another way to get the cottage look.
Fabrics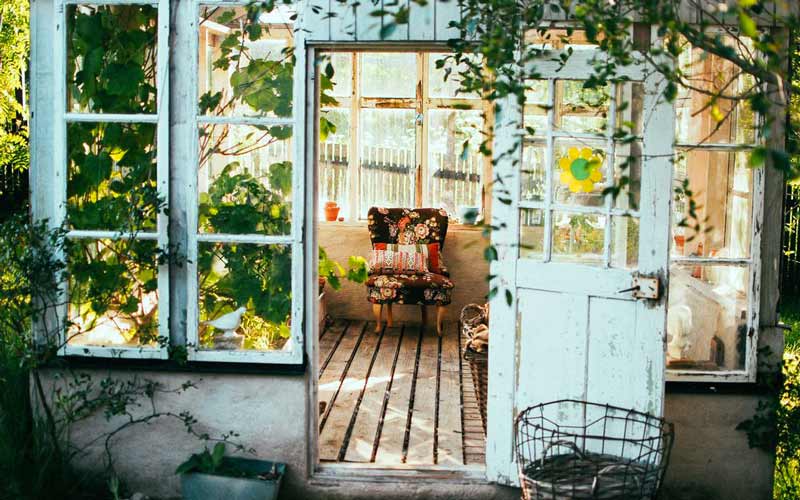 A combination of fabrics—colors, prints, textures—is a standard defining feature in cottage decor.
It typically calls for a mix of fabrics used for slipcovers, upholstery, curtains, draperies, table skirts, pillows and more.
Coordinate a variety of prints like floral, stripes, checks, and plaids for a coordinated look.
Slip-covered furniture is also trendy in decorating in a cottage style, offering relaxed and easily updated furnishings.
Throws for getting cozy can be tossed anywhere.
Color, Pattern, Theme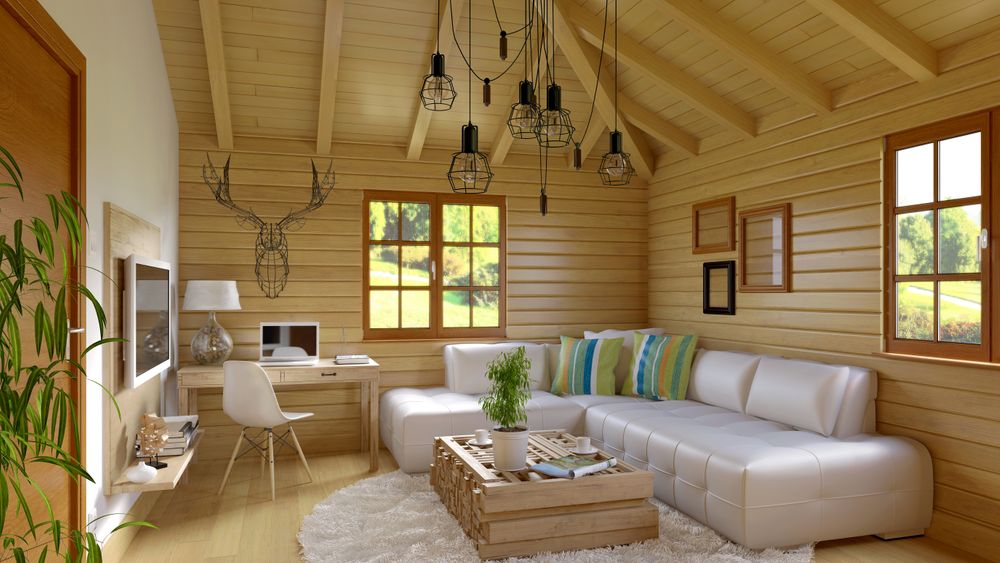 Fortunately, there is any number of colors and patterns that can be incorporated into a cottage style setting. However, for best results, it's good to have a unifying theme.
For instance, the popular rustic cottage approach, with twig or rough-hewn wood furniture, works well with forest colors—greens, rust, burgundy, and golden tones.
Buffalo and other plaids provide a familiar and historic warmth, particularly with wood surroundings.
The cottage at the lake is great for beachy colors and tones of soft blues and sandy beiges with lots of fresh white.
Going for more of an English Cottage aesthetic? Pinks, blues, and greens in floral prints fit the bill.
Accessories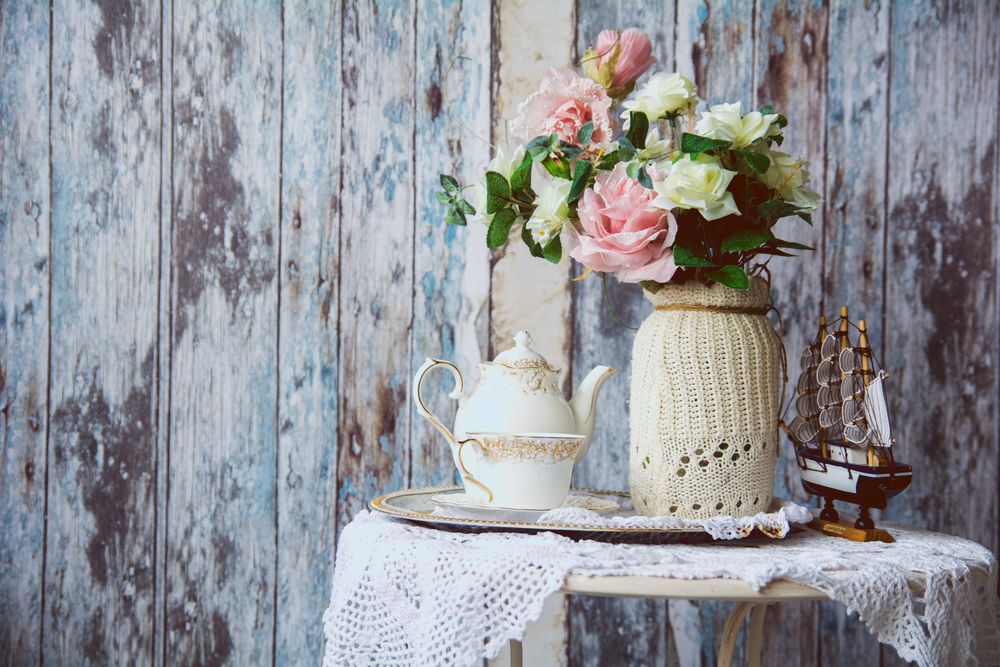 The beauty of the cottage is that it begs for eclectic accessorizing!
And, as almost anything goes in cottage style, pretty much any unique thing can serve as an accessory in a cottage or cottage-style home.
So, be on the hunt wherever you go.
Charming plates, old hats, musical instruments, unique frames, and heirloom tchotchkes become objets d'art in a comfortable cottage room.
Antique shops, garage sales, grandma's attic, and flea markets will now reveal a treasure trove of all manner of decor both useful and simply fun and ornamental.
Have a bedroom with no closet? Screw in some decorative hooks and voila! Only at the cottage do the things you hang contribute to the overall effect—random clothes, a beach bag, a sweater. It all looks good.
Lighting and Windows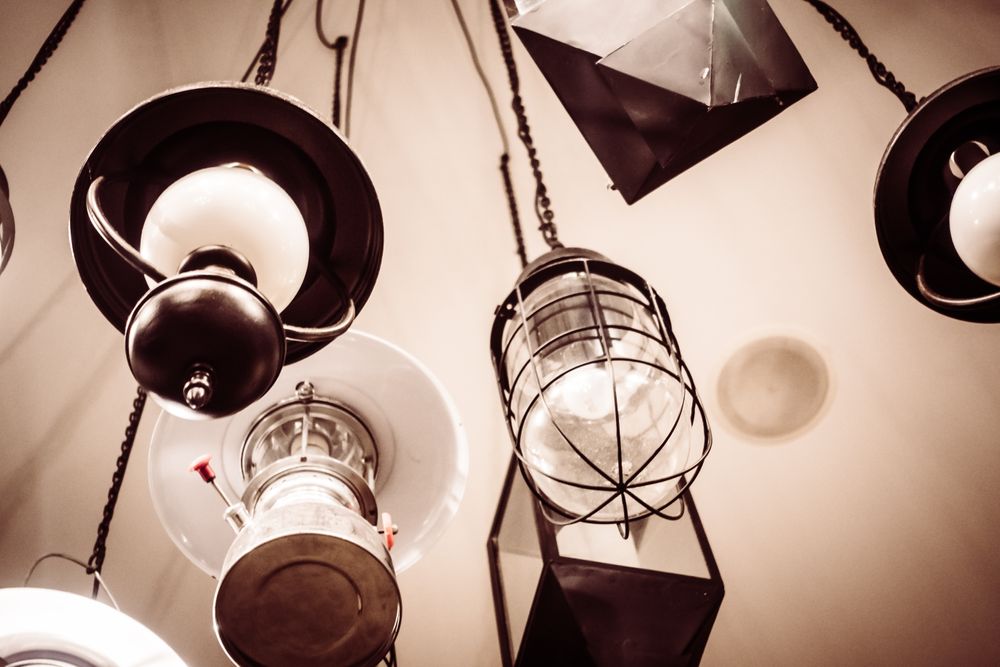 Turn a vintage tin can, vase, or jug into a one-of-a-kind lamp. An old lantern? Perfect!
Not sure you want to tackle wiring a fixture? Take your vintage find to a lamp store to have it transformed at minimal expense.
The more unusual your item, the more fun you'll have when it's wired up and enhanced with a cute shade.
Casual, informal, and comfortable above all, cottage-style windows should be light and airy.
Don't bog down your windows in heavy treatments—less is more at the cottage! Consider lace instead of heavy drapes or sheers instead of opaque panels.
For privacy, if you need it, pick simple light shades that can hide away during daylight hours.
If privacy isn't an issue, don't feel pressure to include window treatments in your decor—leave them bare!
Valances can be sewn in fabric or made of grapevines. Swags of lace help soften the look.
Whether you're decorating the cottage or just incorporating cozy and comfortable cottage decor into your home, start collecting your favorite style of treasures, tchotchkes, and hand-me-downs to create your unique version of cottage style!
Méta:
From furniture to window treatments, here are some tips to boost your decor at the cottage or add a little restful cottage style to your home.
Categories
Design