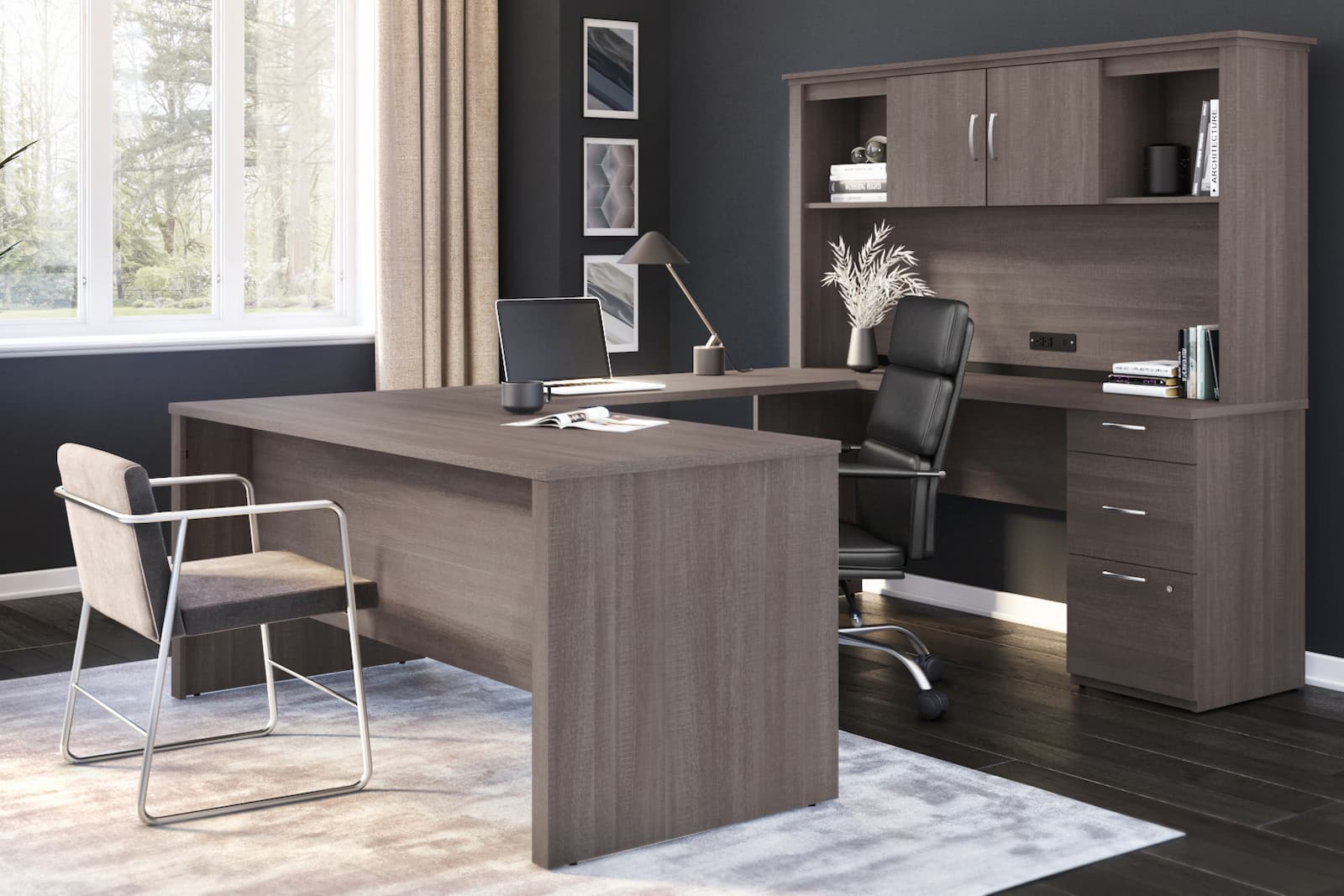 Taking the leap to upgrade your workspace is always a great way to boost productivity and efficiency at work. It also gives you the chance to change the decor, layout, and even location of your office space. However, your office upgrade starts with finding a desk to support all your work needs. If you're looking for a sophisticated, efficient desk, then a U shaped executive desk should be on your list.
These desks are great for anyone looking to elevate their workspace, all the while ensuring complete productivity and organization. Bestar has an array of U shaped executive desks with different styles and designs. Are you in a corporate office or are you still working from home? No matter where your office is, you can find the perfect desk for your needs and your space. Take a look at our U shaped executive desks today and see which one is just right for you!
Professionalism at the Office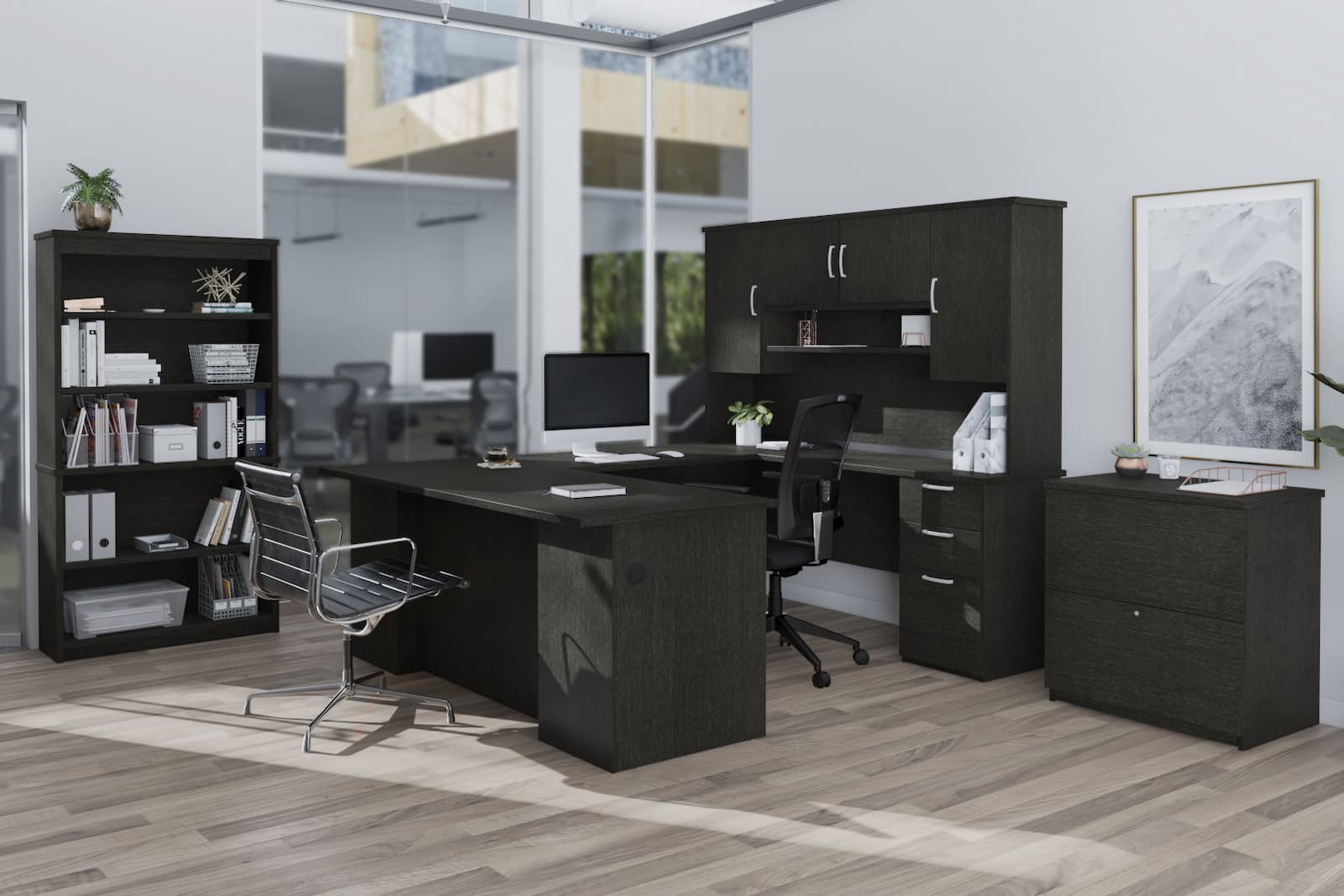 When working in an office, you need plenty of space to work, all the while ensuring complete professionalism. The key is finding the right setup to create a truly professional vibe. If you want to elevate your office space, then a U shaped executive desk might be exactly what you're looking for.
For instance, U shaped executive desks are great for executive office spaces because they can accommodate all corporate activities, such as client meetings. Clients will feel comfortable in a space that represents utmost professionalism the moment they step into your office. Holding meetings comfortably and efficiently in your revamped office space will be a breeze!
Moreover, the large work surface acts as three separate desks combined into one large desktop, providing ample space to read, write, and work. You can easily place an extra monitor on the desktop for additional support during your workday. There's also plenty of space for your morning (or hourly!) coffee. You don't need to worry about wear and tear on your work surface because Bestar desktops resist scratches, stains, and wear. Your desk will be looking as good as new, no matter how much work reaches your desk.
Last but certainly not least, you can add additional furniture pieces to match your U shaped executive desk in your corporate office space. Need storage space for your binders, client proposals, dictionaries, and so on? The solution: a bookcase or file cabinet! You can quickly reach for a client's file and store it away neatly when you're done with it. These additions will ensure optimum productivity, all the while providing a completely professional atmosphere for you and your clients.
Dedicated Work-From-Home Space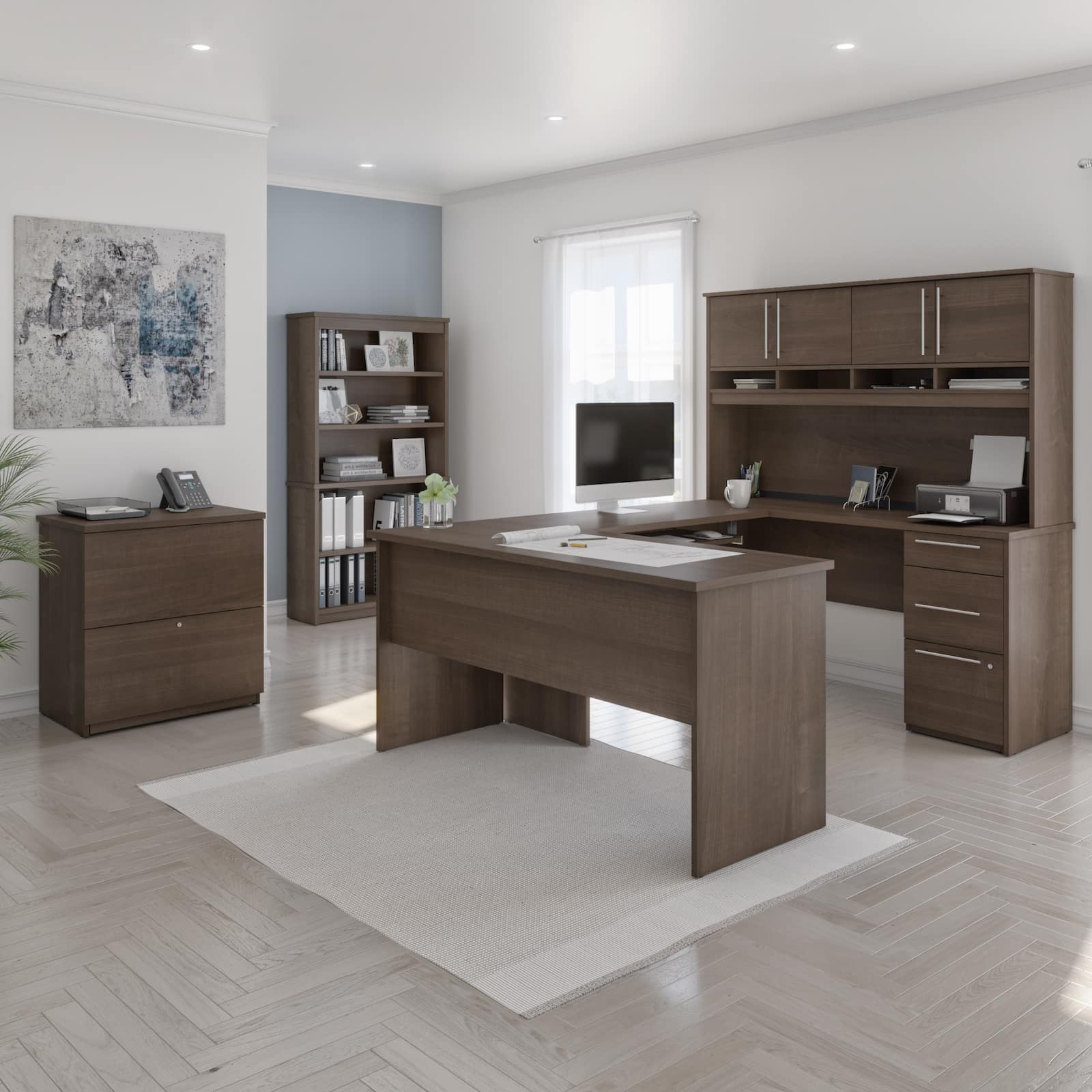 Are you looking to give new life to your work-from-home office space? Or maybe you want to create an entirely new home office to work in? Great! With a U shaped executive desk, you can design a professional and efficient space that's entirely devoted to your work.
Since our U shaped executive desks are very large, you'll want to be sure you can dedicate an entire room to your home office. For instance, a spare room or a basement space are ideal options for adding a U shaped executive desk. This way, you'll have plenty of space to arrange your office just as you like it.
There is an array of U shaped executive desk models to choose from that will work with your space in terms of size and style. You can choose between two-toned finishes and solid designs that will bring your dream office to life. Whether you're looking for a simple desk or a desk with storage options, you can rest easy knowing there's a desk specifically for your work-from-home office. You'll have a space that's efficient, practical, and exactly how you imagined it!
Not quite sure where to put your desk? No problem! Since most models are fully reversible with finished backs, you can put your desk practically anywhere in your space. Place it near the window to soak up sunlight, in a corner for privacy, or in the middle of the room to keep you in the center of the action. If you often have Zoom meetings, you can add a virtual background if you want to keep your space private, all while maintaining professionalism. Does it get any better than an entirely tailored work-from-home space?
All-Day Organization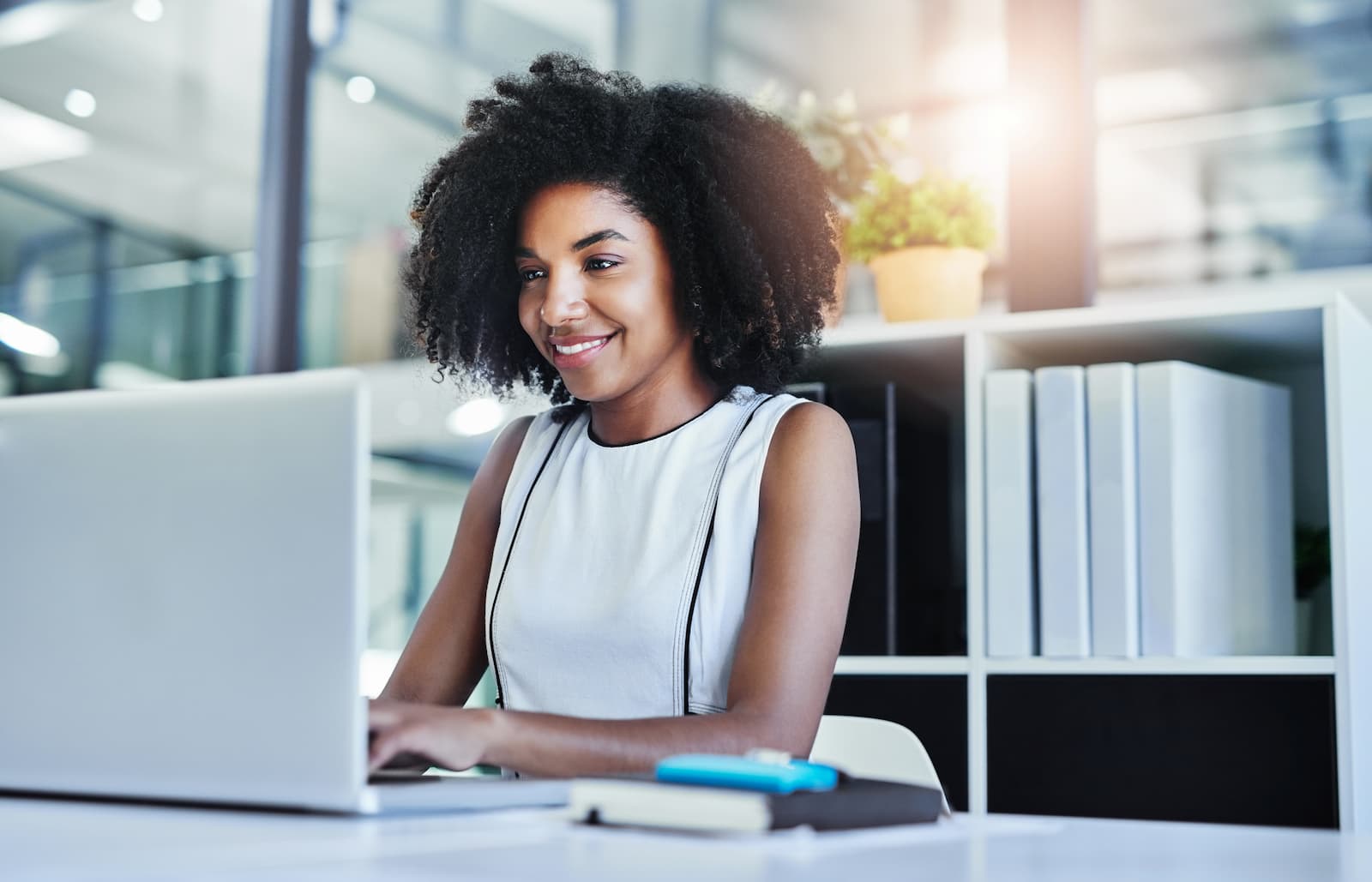 When you're working all day (and sometimes night), it's crucial to stay on top of things. That's why having an organization system is extremely helpful—if not vital—in an office space. Fortunately, U shaped executive desks are ideal for keeping your office supplies organized and tidily stored away. There's never been a better time to get organized!
Having everything you need on hand and within arm's reach will make your workday go much smoother. Our U shaped executive desks come equipped with a variety of storage options. You can choose a desk that has a credenza or a hutch with storage compartments for all your supplies. These are excellent options for storing supplies such as your printer, arranging your files, and so on. It's even easier to stay organized throughout your workday with closed or open storage compartments. You'll be able to keep your supplies hidden away (or on display for quick, easy access).
Moreover, since the large desktop offers plenty of space to work, you can place your must-have work supplies close by. Keep your computer, phone, notepads and writing materials neatly and spaciously on your desk. Also, most models also have wire grommets available for your phone and computer cords to be neatly arranged. If you're looking to take organization to the next level, check out practical and efficient office decluttering ideas. Put an end to disorder in your office, once and for all!
No matter if you're working at home or at the office, your space should offer all the benefits of a productive, efficient workspace. If you're thinking about redesigning your office space or creating an entirely new office, you should certainly consider our U shaped executive desks. Comfort, style, professionalism, organization—all you need to upgrade your office in just one desk.
Categories
Home Office