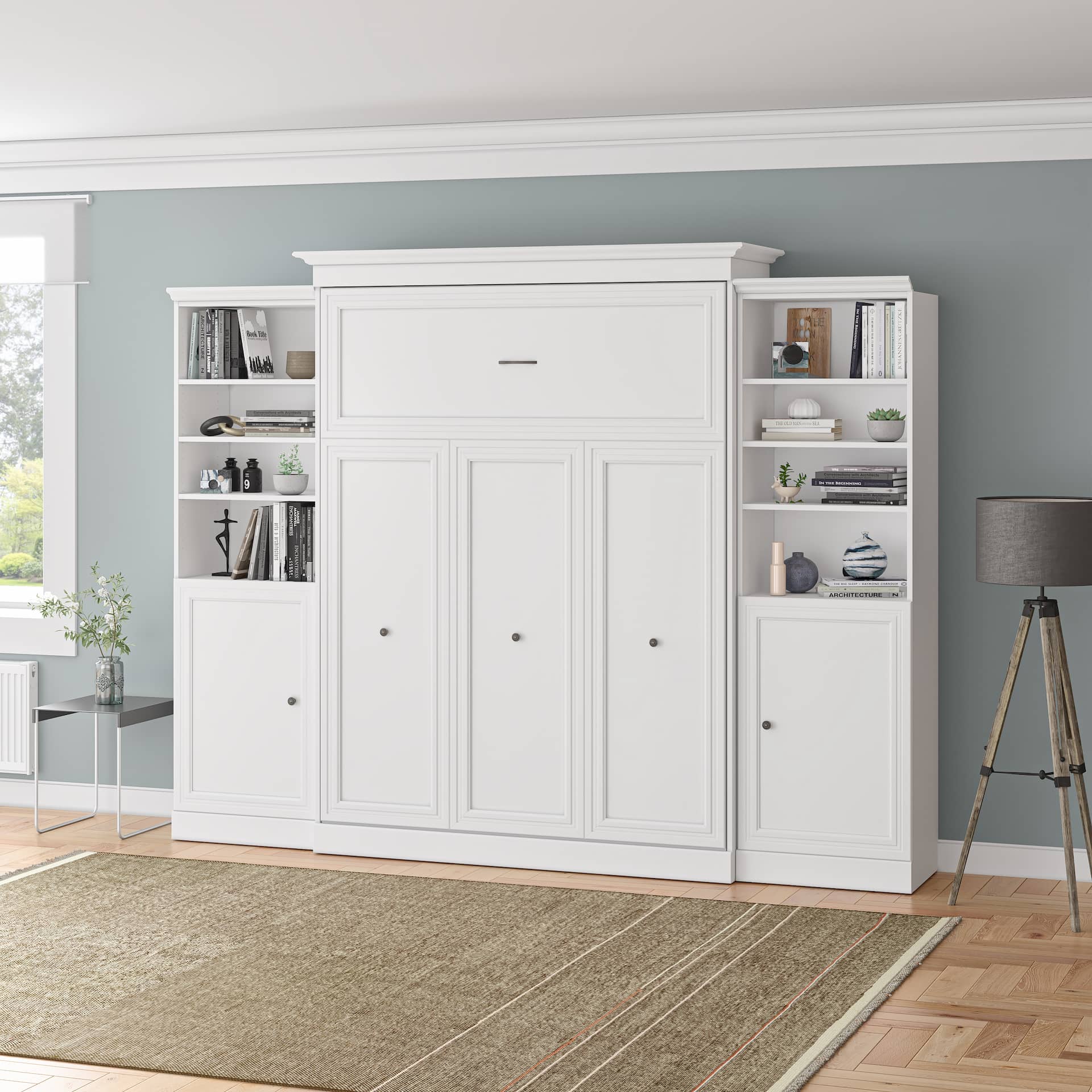 Whether you're a first-time home owner or you're finally buying your forever home, moving into a new home is truly an exciting process. However, it can also be a stressful time, especially if you're not quite sure how to furnish your new home. Murphy beds, office desks, living room storage, shelving units—there are so many options to consider. You need to find a way to organize all your belongings throughout your entire home, without creating clutter or overcrowding your space. It's equally important to be aware of the space you have, so you can focus on choosing the right furniture to furnish your home.
Although furnishing a new space can be overwhelming, it doesn't have to be when you know what you're looking for! With all the furniture possibilities out there, it might feel like you don't know where to start. Thankfully, Bestar has amazing furniture solutions that will make this process a lot easier. Ready to get your new home furnished and move-in ready? Keep reading to learn more about the essentials you need for your new home!
Bedroom Furniture That Goes the Extra Mile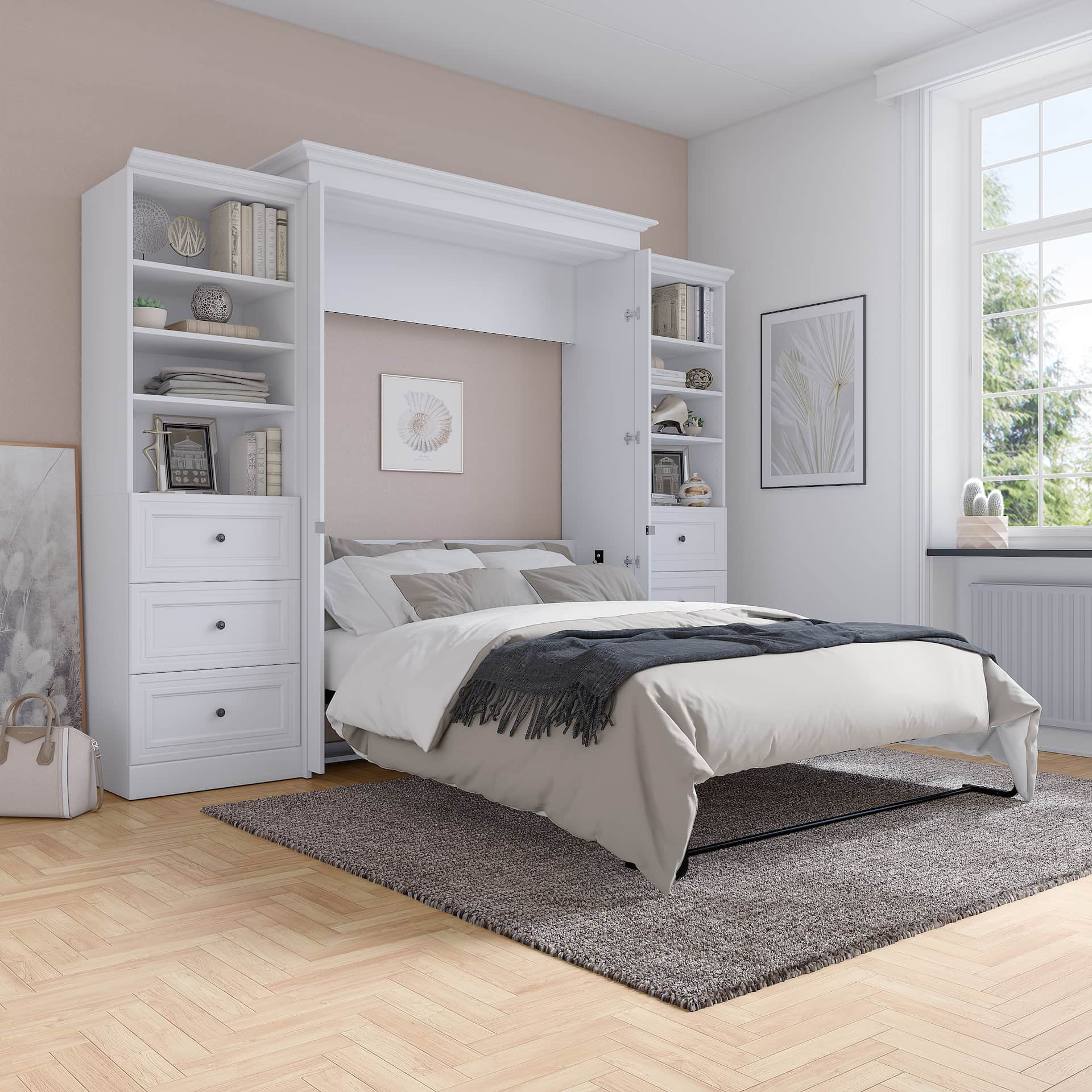 Let's start with essential bedroom furniture. Whether you have one or multiple bedrooms in your new home, you need to think about the kind of furniture you're looking for. Do you need extra storage for your belongings? What about creating an inviting guest room? Or maybe you have a small bedroom, so you need furniture that works well in a smaller space? Luckily, Bestar has solutions for all types of bedrooms.
Small Bedrooms and Guest Spaces
If you want to maximize space, you might consider opting for a Murphy bed. These beds are truly a dream and are perfect for saving space even in smaller rooms. What's more, Murphy beds are easy to use. First, start by clearing the floor space in front of the cabinet. Next, pull the bed down from the cabinet and make sure the folding leg is firmly on the ground. Need to close the bed? No problem! Easily lift the bed and push it into the cabinet, and you're done! You can even keep your bedding and pillows on the bed when it's folded away. How practical is that?
All depending on the space you have, you can even choose a model with shelving units. These units will hold your most precious belongings, such as decor, photos, books, and even bedding. You'll have plenty of storage for your things, all the while saving space in your room. Clutter free is key!
In addition, Murphy beds are also great options for guest bedrooms because you can create a multipurpose space. Since the bed can be easily opened and closed, you'll have ample room to do other activities, all the while accommodating overnight guests. When you need to use the bed, clear the floor space and pull the bed down. As for safety, Murphy beds must be installed by a qualified professional to ensure the bed is securely anchored to the wall.
If you need additional storage with your Murphy bed, you might consider a wardrobe. Bestar has wardrobe storage options that come in different sizes and styles, so you can find a model that works with your available space.
Organizational Bedroom Furniture
Moving into a new home can also mean finding space for all your belongings—including your extensive shoe collection! Have you always dreamed of having a large closet? Well, now you can with a closet organizer. Bestar has organizers that come with shelving and clothing rods, which are perfect for storing your belongings neatly and efficiently. Some even come with a shoe rack and cubbies, so you can finally have space for your all shoes and clothes.
All depending on the space you have, choose a corner model or a walk-in closet organizer to save space and create a secluded closet area. If you need a smaller organizer, you can even go for a 19.5-inch unit that will fit nicely in even the smallest bedrooms. There are tons of unique styles and designs to choose from—all you need to do is pick which option works for you!
Ergonomic Home Office Furniture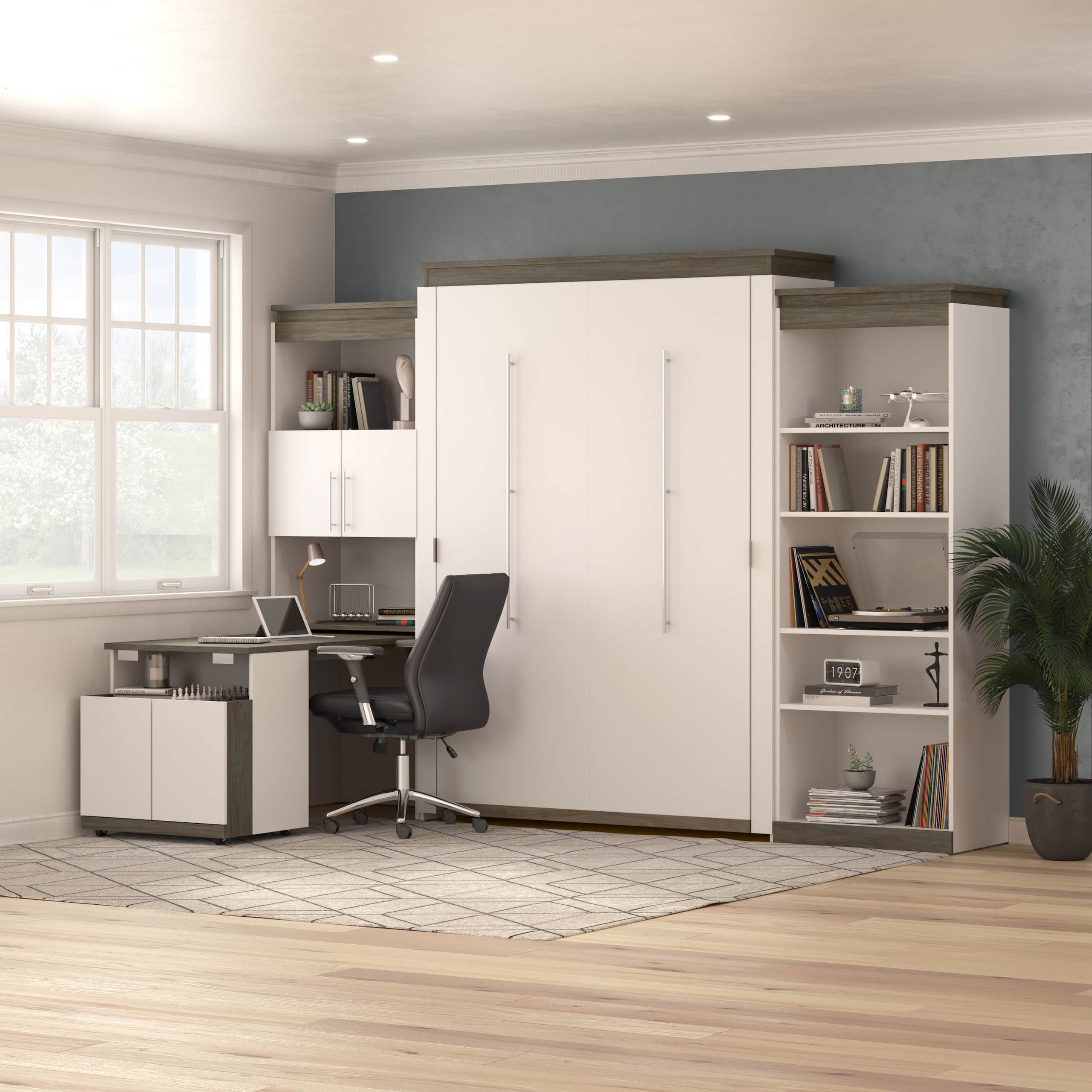 Have you always wanted a home office? Now that you're moving into a new house, it's the perfect opportunity to create your dream office space. Bestar can help you design a professional office space with ergonomic furniture.
Dedicated Home Office Space
Do you have an entire room in your new home for an office space? If you do, Bestar has ergonomic furniture that will save space and give your office that professional vibe you're looking for. You can arrange a functional space by adding a computer desk that breathes productivity and sophistication. You can choose a desk configuration that works with your space, such as an L shaped desk or a U shaped desk. We also have standing desks, so you can get your work done efficiently and comfortably. With a Bestar standing desk, go from sitting to standing simultaneously with the push of a button. Enjoy the freedom to stretch and stand at your desk, all the while focusing on the task at hand. No matter which desk model you choose, you can place your desk in the middle of your space, in front of a window or even in a corner for additional privacy. It's up to you to decide!
Once you've decided on a desk, you can think about furnishing your home office with matching furniture to create a cohesive space. You can shop office storage from the same collection as your desk, or you can browse the Office Storage section of the Bestar website to find what works for you. Add a bookcase for your dictionaries, a filing cabinet to keep your client files organized and confidential, or a shelving unit to proudly display your awards and certificates. Let your creativity run free in your new home!
What About a Multipurpose Space?
If you're planning on arranging a home office in a shared living space, you might consider opting for a Murphy bed with a desk. Whether your home office will be in a guest room, a living room, or even in the basement, you can design a multifunctional space fit for work and play!
A Murphy bed with a desk is a fantastic idea because it creates a multipurpose space. When you're finished work for the day, all you need to do is clear the desk, and you can use the bed. You can choose between two different models: one with a built-in desk and the other with a fold-out desk. The model with built-in desk can accommodate a laptop and various office supplies and can be folded down when not in use. As for the fold-out desk model, you can pull out the work surface when you need to use it. When your workday is over, simply clear the desk and fold it back into the unit. A Murphy bed with a desk is a practical and sophisticated solution that allows you to carry out all your activities!
Versatile Furniture for Your Living Room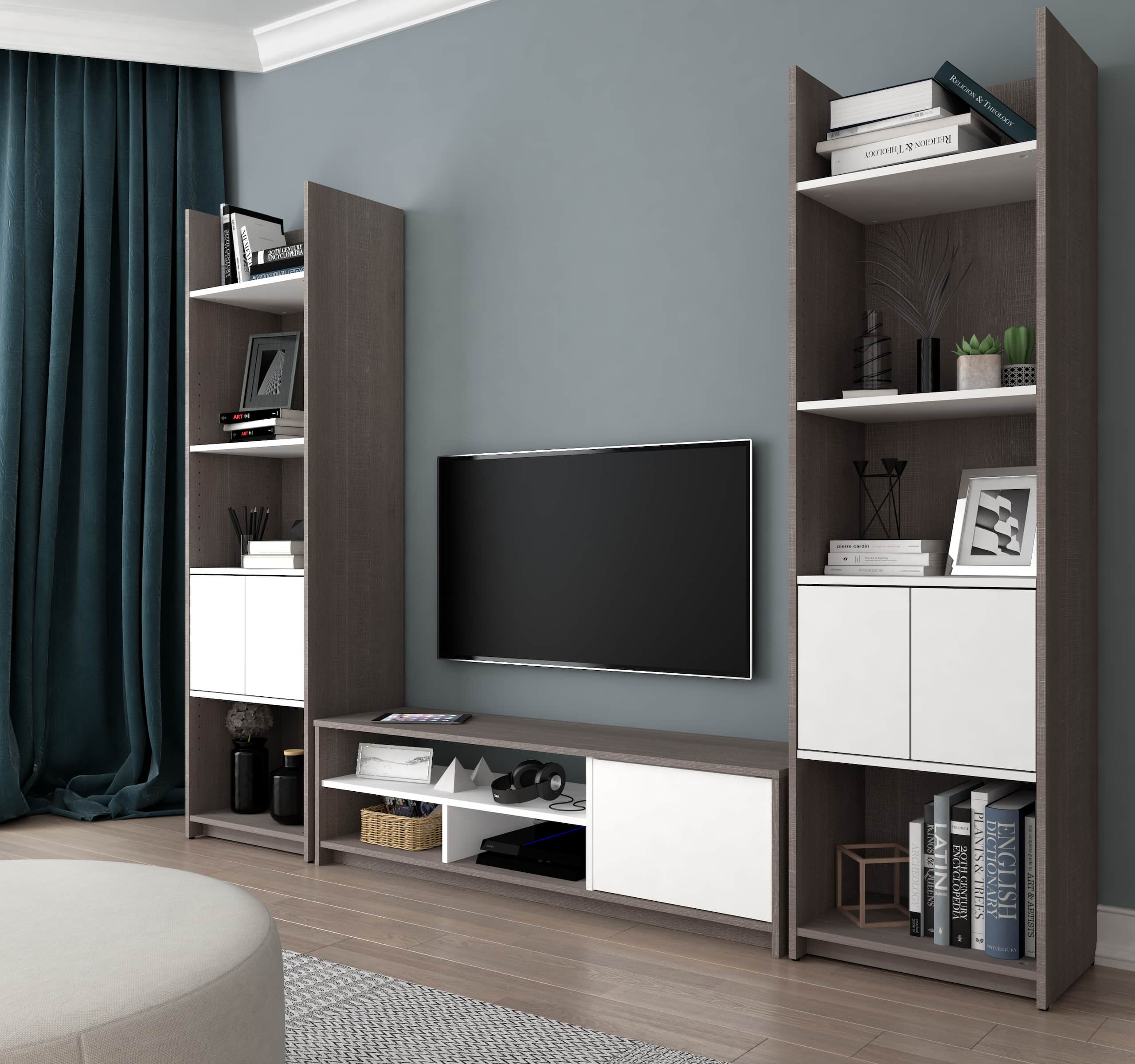 Furnishing a new home also meanings creating a living space where you and your family can come together, relax and spend quality time. To do so, you can opt for living room furniture that checks all the boxes on your list at Bestar.
All-in-One Solution
Think of your new living room as a blank canvas; you can add anything you want to it! Once you have an idea in mind, you can decide what furniture to add. If you're not quite sure what you're looking for, why not consider a Murphy bed with sofa? This is a great option for any size space because it's a sofa and bed! When you want to use the bed, all you need to do is remove the couch cushions, and pull the bed down. The bed will rest on the base of the sofa when lowered. If you want to clear the floor and use the sofa, simply push the bed back into the cabinet and put the cushions back on the couch. You'll have a multifunctional space that's perfect for sleepovers, movie nights, and much need TLC after a long day at work. You'll have a place to sit and sleep, without reducing floor space in your living room!
In addition, these beds have compact-space-saving designs, which work for any size room. All depending on the space you have, you can consider a Murphy bed with a couch that has shelving units to store your games, books, media, and even bedding.
What's more, Bestar Murphy beds come in different colours and designs, making it easy for you to create your dream living room space. Thinking about a unit with brushed nickel handles for a modern touch, or maybe a cabinet with crown moldings for a sophisticated look? No matter what you have in mind, Bestar has just what you need!
Clever Storage Furniture
A great way to keep your new living room in top shape is to opt for storage furniture that saves space and looks amazing. For instance, you can create a smart entertainment centre in your living room with a Bestar TV stand. You can choose a simple TV stand or one with a shelving unit, giving you ample space to store all your media accessories, movies, and more. Take advantage of the grommets for wire management and durable shelving for all your media. Now you can comfortably host weekly movie nights in your new home!
If you're looking for another clever furniture piece to add to your new home, go for a lift-top coffee table. The table top raises from 17 to 25 inches, so you can eat or work from the comfort of your couch. Moreover, the large compartment underneath the tabletop can hide away all your games, magazines, papers, and remotes. Everything will be close by but out of sight. Now isn't that clever?
Efficient, Space-Saving Storage for Around Your Home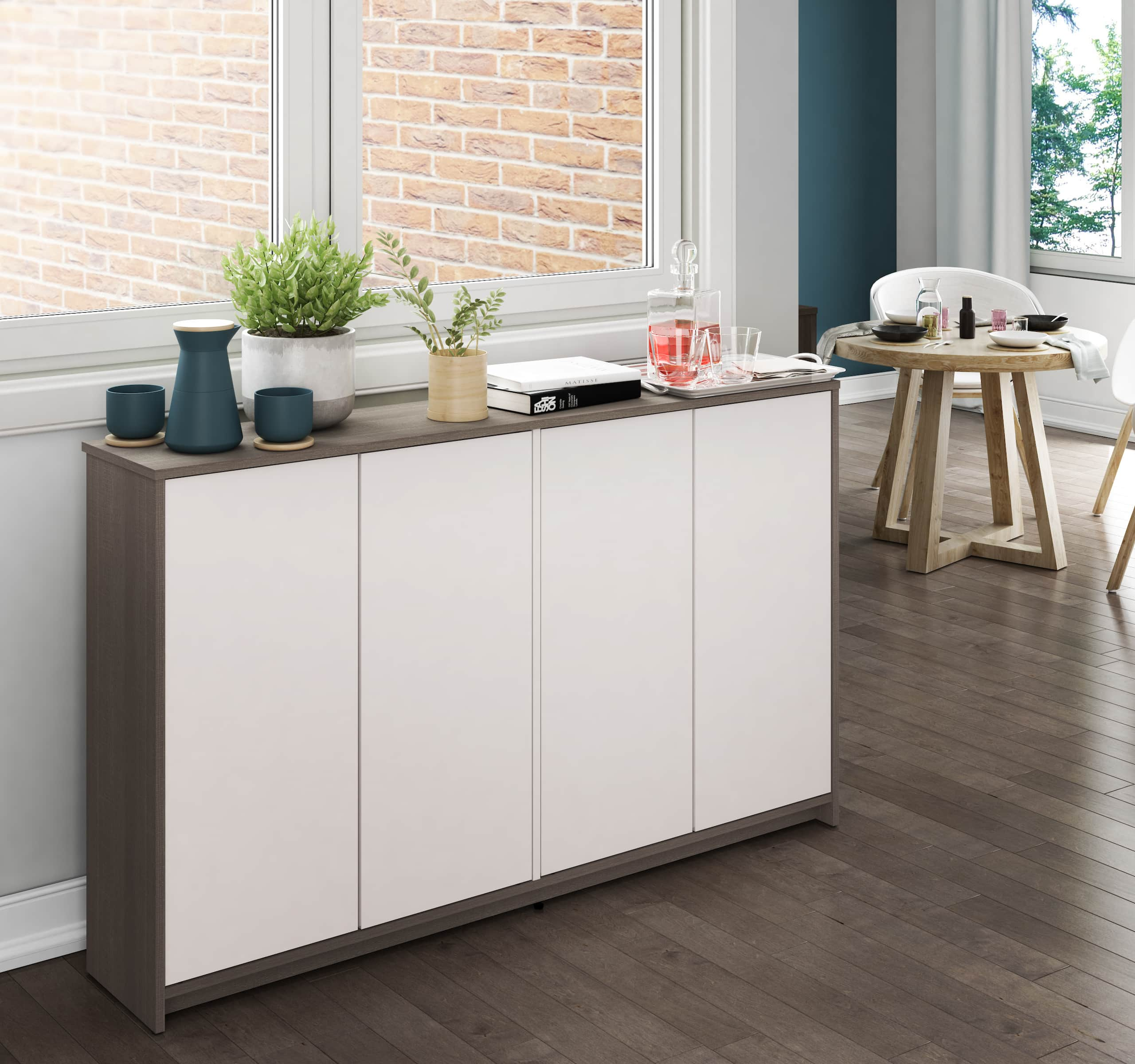 When furnishing a new home, you also need to think about all the other spaces in your new home. You have the mudroom, the entrance, the basement, the bathroom, the laundry room—the list goes on! It can seem impossible to find furniture options for these spaces when you first move into a new house. That being said, Bestar has plenty of practical, space-saving solutions that will meet your needs perfectly!
Options for Here, There and, Everything
Do you need space for your dishes in your dining room, but want something compact for your space? Maybe you're thinking about a small unit for all your kids' craft supplies outside the playroom? What about adding a space specifically for your plants around the new house? Great! Go for a storage cabinet or shelving unit. Some models are designed specifically for corners (great for even smaller spaces!), while others use height to maximize space. For instance, a narrow shelving unit would fit amazingly beside a washer or dryer in a laundry room (not to mention keep your space organized!)
While furnishing your new home, it's equally important to think about style and design. Thankfully, Bestar offers an array of styles to help you create a cohesive space. Choose from a variety of finishes, colors, configurations and heights that work with your new home. Whether it's for your bathroom towels, laundry detergent, crafts, or even kitchenware, you'll find storage furniture that saves you space—not to mention keeps your new home looking great!
Moving into a new home is an exciting time, but it can also be hectic, especially if you're trying to find ideas on how to furnish your home. That being said, Bestar has great furniture essentials that will make the big move easier. With the array of possibilities at your disposal, you're sure to find the perfect pieces for your new home. Enjoy an organized and stylish home that you'll love from the moment you move in!
Categories
Home