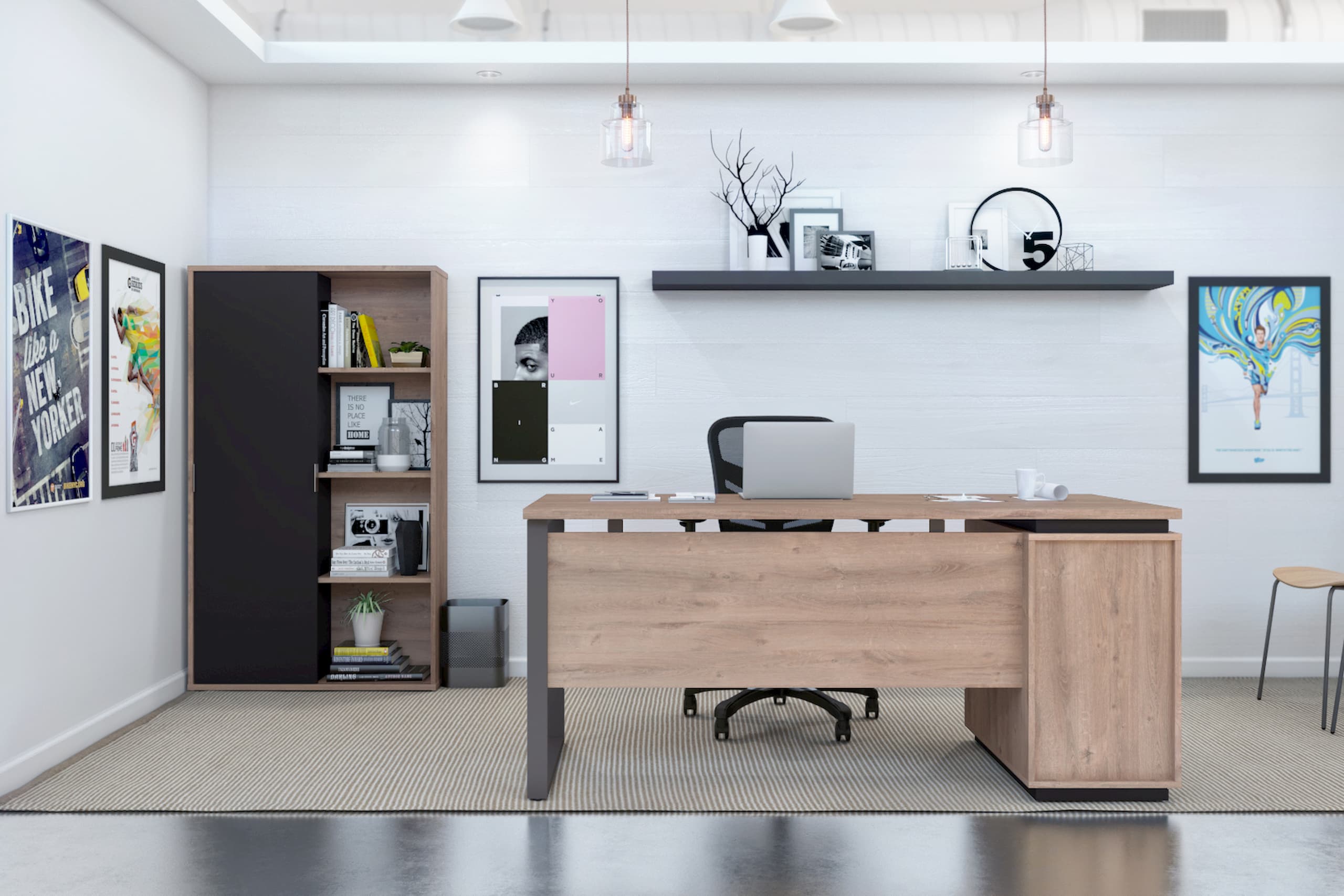 Among the best home office furniture in the USA, Bestar offers quality, style, and affordability for a beautiful and productive space.
The home office has evolved considerably over one short year. Workers are looking for great selection as well as great prices to create the most comfortable and productive home workspaces possible.
Given the unprecedented circumstances of the past year, it should come as no surprise that 88% of organizations required or encouraged their employees to work from home. That's a huge transition for many sectors and workers that, until the COVID-19 pandemic, relied on a conventional workplace. 
While businesses will make decisions to return to the workplace based on their unique needs and business model, many people will see the change to work-at-home become a permanent one.
That means that the demand for home office furniture in the USA will only continue to grow. Brick and mortar furniture retail businesses will always have their place, but more and more, home office workers are looking to outfit their dream office from online sources. Shoppers looking for office furniture in the USA are searching online to find the variety, selection, and prices that suit their style and budget best.
And there's never been a better time to find precisely the home office furnishings you're looking for. Finding great office furniture in the USA, and the perfect pieces for you and your office space, are as easy as the swipe of a finger.
Bestar offers options galore! They also offer a huge selection of among the very best and high-quality office furniture in the USA.
Do you want to work more comfortably and efficiently in 2021? Here's how you can create your dream home office – with affordable furniture, conveniently shipped right to your front door.
Home Office 2021 – The 10 Must-Haves
If you've transitioned to remote work, you need a versatile and productive home office to do your best work. A thoughtfully designed home office helps to maintain a healthy work-life balance where we can more easily separate our daily responsibilities and demands.
As you shop for the best home office furniture in the USA, Bestar makes it easy. We offer an extensive and versatile selection to suit any style or decor.
L-Shaped Desk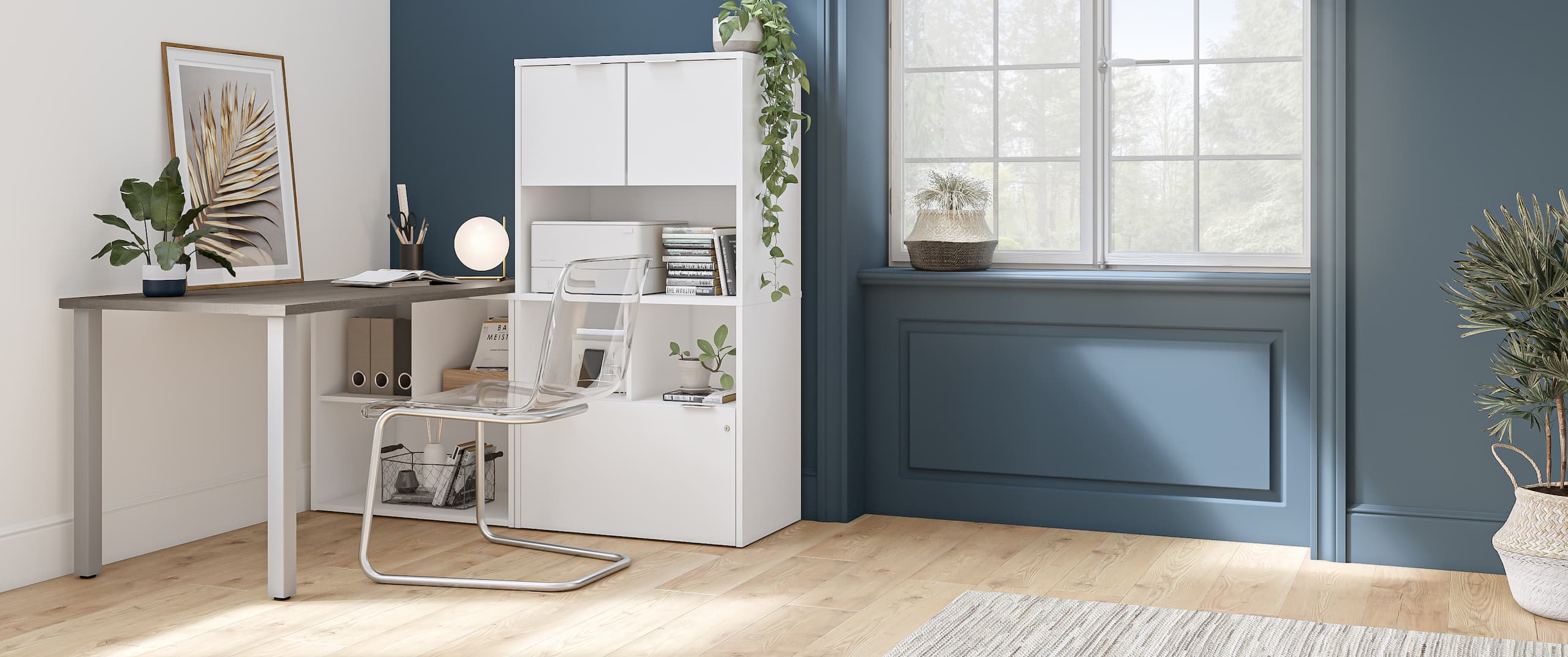 Due to the unique shape of an L-shaped desk, this kind of desk makes great use of any corner. Moreover, in a small office, it offers a ton of workspace without compromising the room's limited square footage.
If you're familiar with a traditional desk, you know it can be challenging to reach the entire work surface, or it easily gets cluttered. With an L-shaped desk, however, all of the surfaces, as well as the ample storage, are easily within reach.
Enjoy two separate, distinct surfaces with the L-shape – no more piles and stacks of files and documents. Staying organized and tidy is just that much easier.
Do you share an office with your spouse or partner? Maybe you help the kids with homework in your office? An L-shaped desk allows you to work at one side of the desk and someone else at the other, with plenty of room to spare!
Bonus: additional storage options can often accompany your extra surface space.
U-Shaped Desk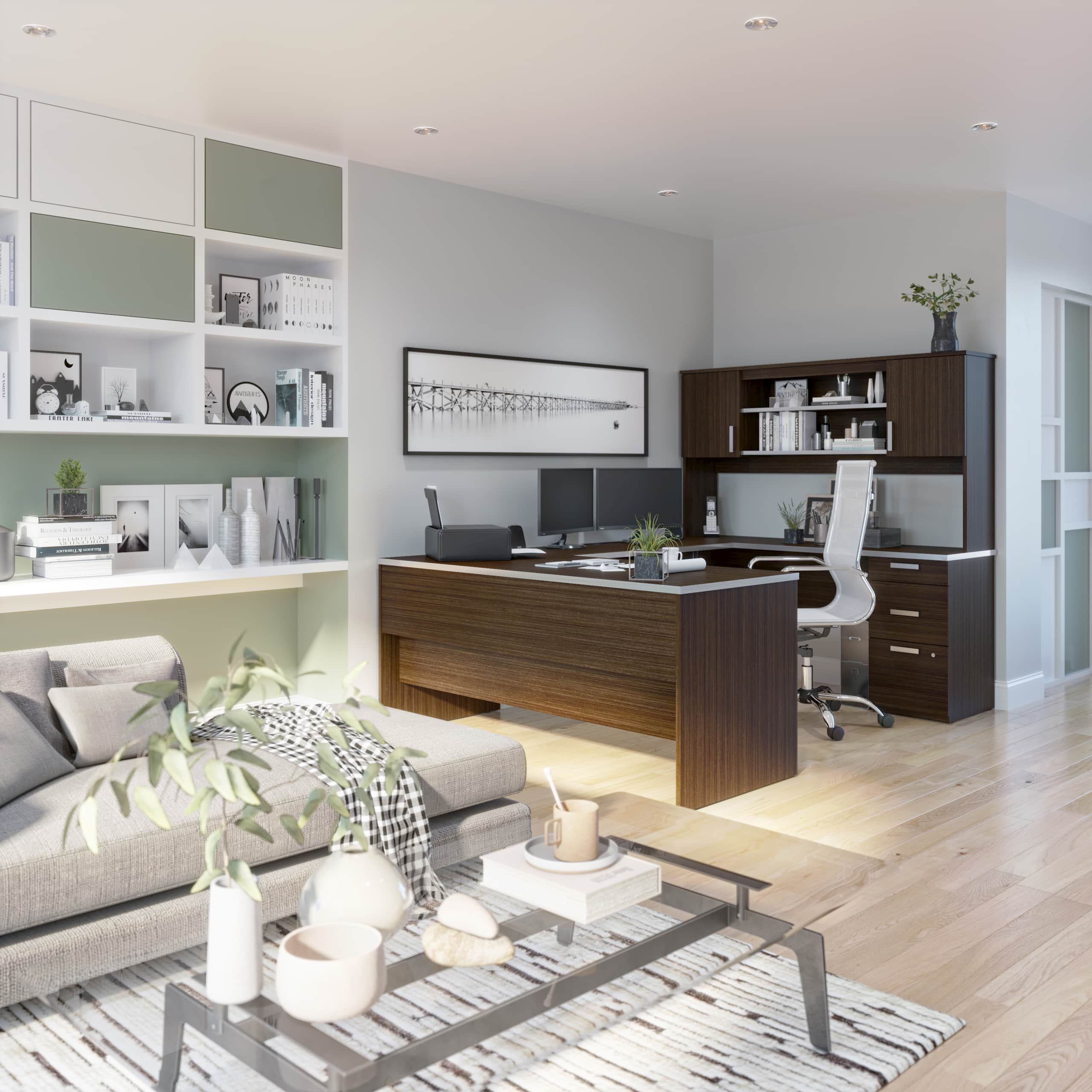 Much like the L-shaped model, a U-shaped desk offers seemingly unlimited work surface and storage space. And, while you might think it's too big for a home office, you might be surprised by the space-saving virtues of a U-shaped desk.
As with the L-shaped variety, the U shape allows for collaboration and sharing without feeling cramped. A quality U-shaped desk will help you maximize the room's square footage as you stay super-organized and productive with the ample surface and storage space.
Ergonomic Office Chair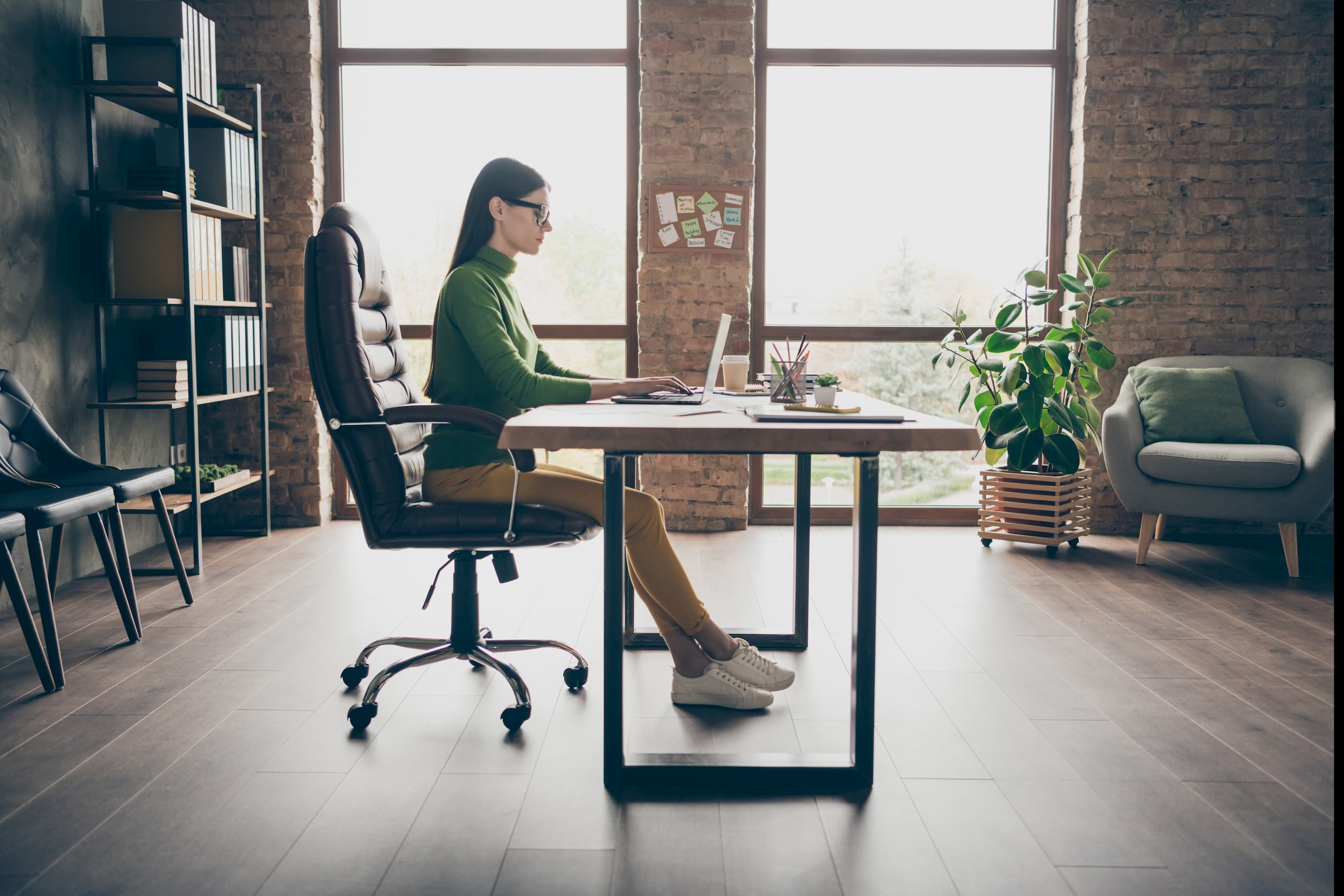 Fundamental to your comfort throughout the day, which impacts your productivity and efficiency, is a good office chair. 
Designed to comfortably and adequately support good posture when seated, even for a prolonged time, a good chair will help prevent potentially debilitating back, neck, and shoulder pain. A good ergonomically designed office chair is always worth the investment!
Standing Desk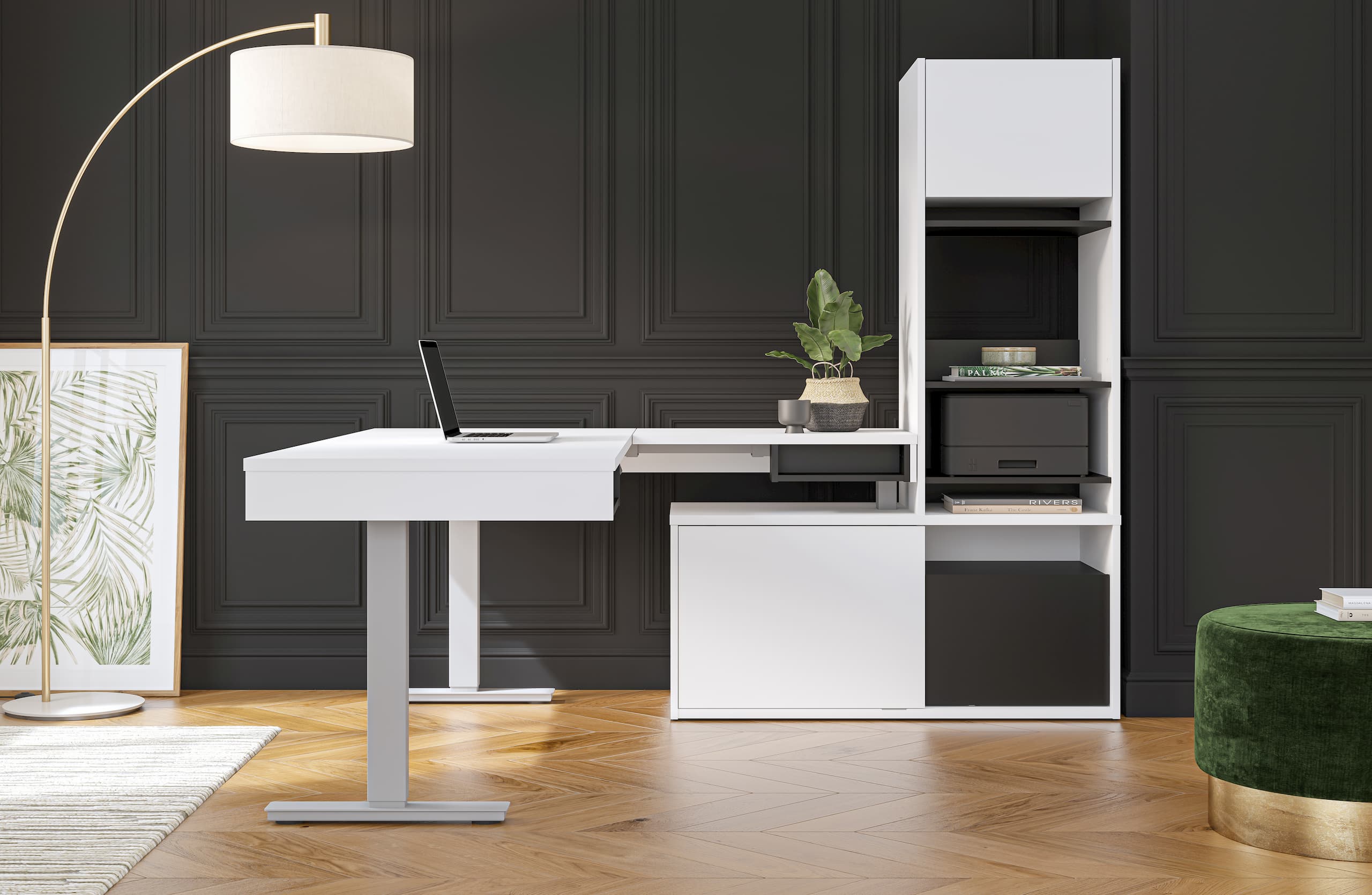 Designed with health and ergonomics in mind, a standing or stand-up desk offers many benefits to help enhance your comfort and productivity.
Prolonged sitting at a desk contributes to a variety of health issues including back, neck, and shoulder pain as well as increased risk for heart disease, obesity, and Type 2 Diabetes. There have been a variety of studies exploring the impact of standing for a portion of the workday. The "Take-a-Stand Project," for example, found that including even an hour of standing while at work helped participants experience a 54% decrease in neck and upper back pain.
Standing at work rather than sitting all day can burn about 50 additional calories per hour. If you opt to stand for three hours during each workday, you might burn up to 750 calories a week or about 30,000 extra calories in a year – approximately eight pounds of fat.
Standing for a portion of the workday is known to improve mood and energy levels, too. With all the positive benefits of working at a standing desk, it's no surprise that it positively impacts productivity as well. You can't underestimate the importance of physical comfort when it comes to your ability to do great work.
Hutch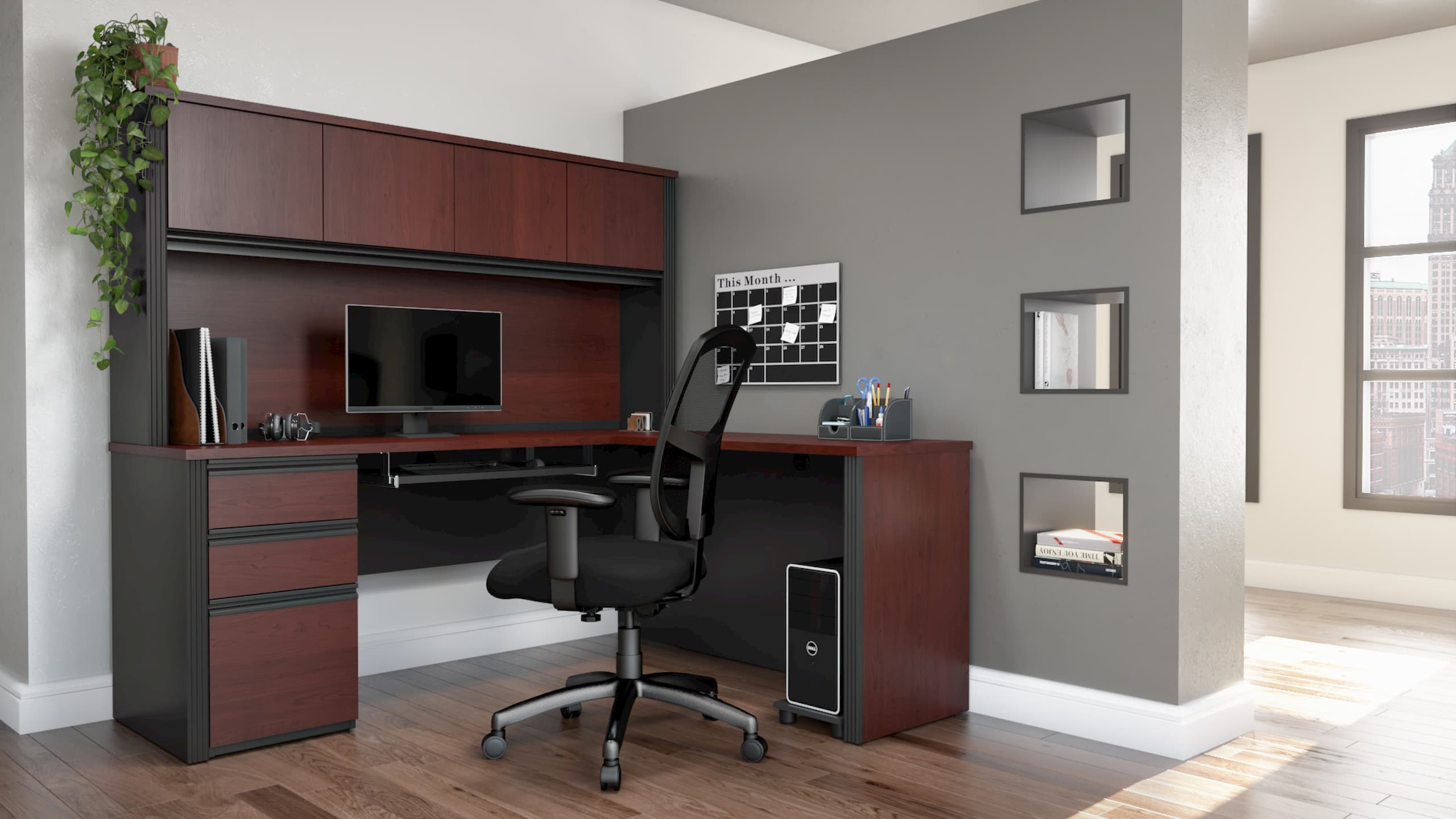 An easy, affordable, and attractive way to increase your office storage is to include a hutch. Immensely versatile and functional, it's a simple and efficient unit that has the power to transform your experience at work.
The ample storage will help minimize clutter and keep your desk organized. At the same time, it provides ergonomic value to your desk — no more reaching for office essentials beyond your level of comfort and safety.
Shelves and Bookcases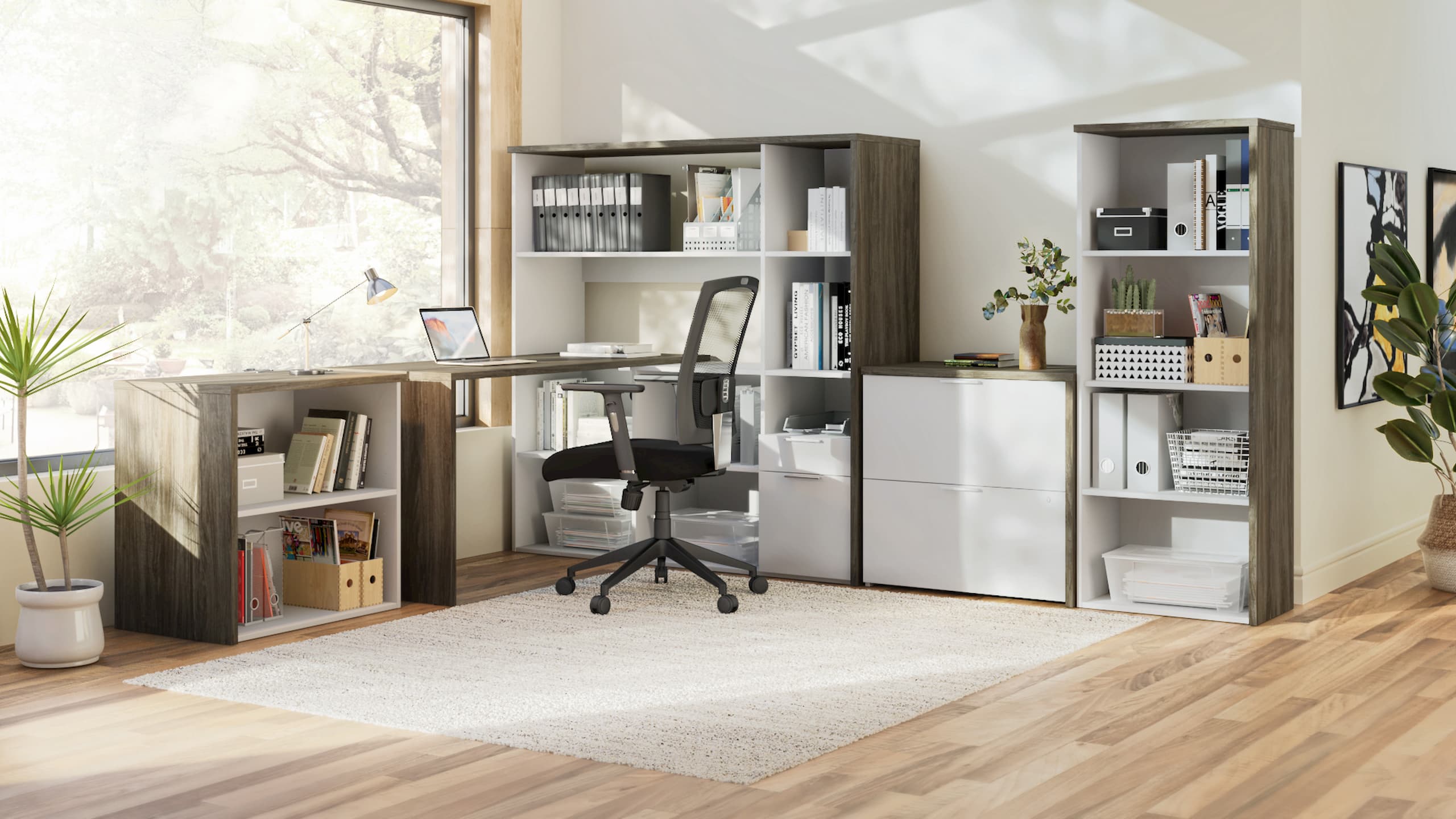 Despite the obvious benefits that good shelves and bookcases offer, they're not often given the attention they deserve.
Fundamental to your office organization and tidiness, good quality shelving keeps your floor free of boxes, piles, and other materials and all of your office essentials. You can also include items that just make you happy — family photographs, kids' artwork, and more – on display but out of the way.
File Cabinet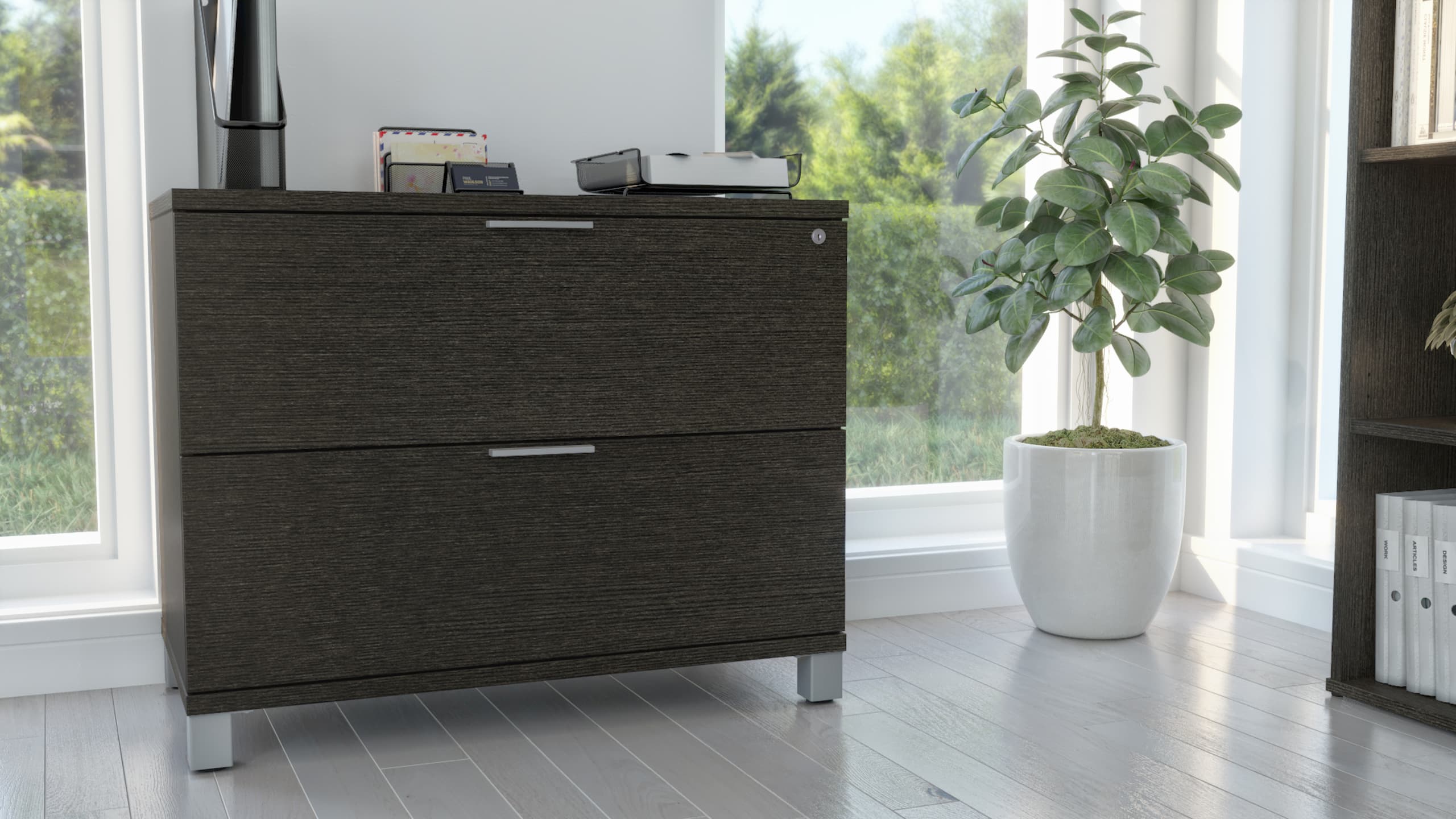 Without a doubt, a good filing cabinet is a must when it comes to ultimate office efficiency and productivity.
Strong and durable, your filing cabinet helps to keep essential documents in order and easy to find. A file cabinet also provides much-needed security to those items that need to be locked away and out of sight.
Murphy Bed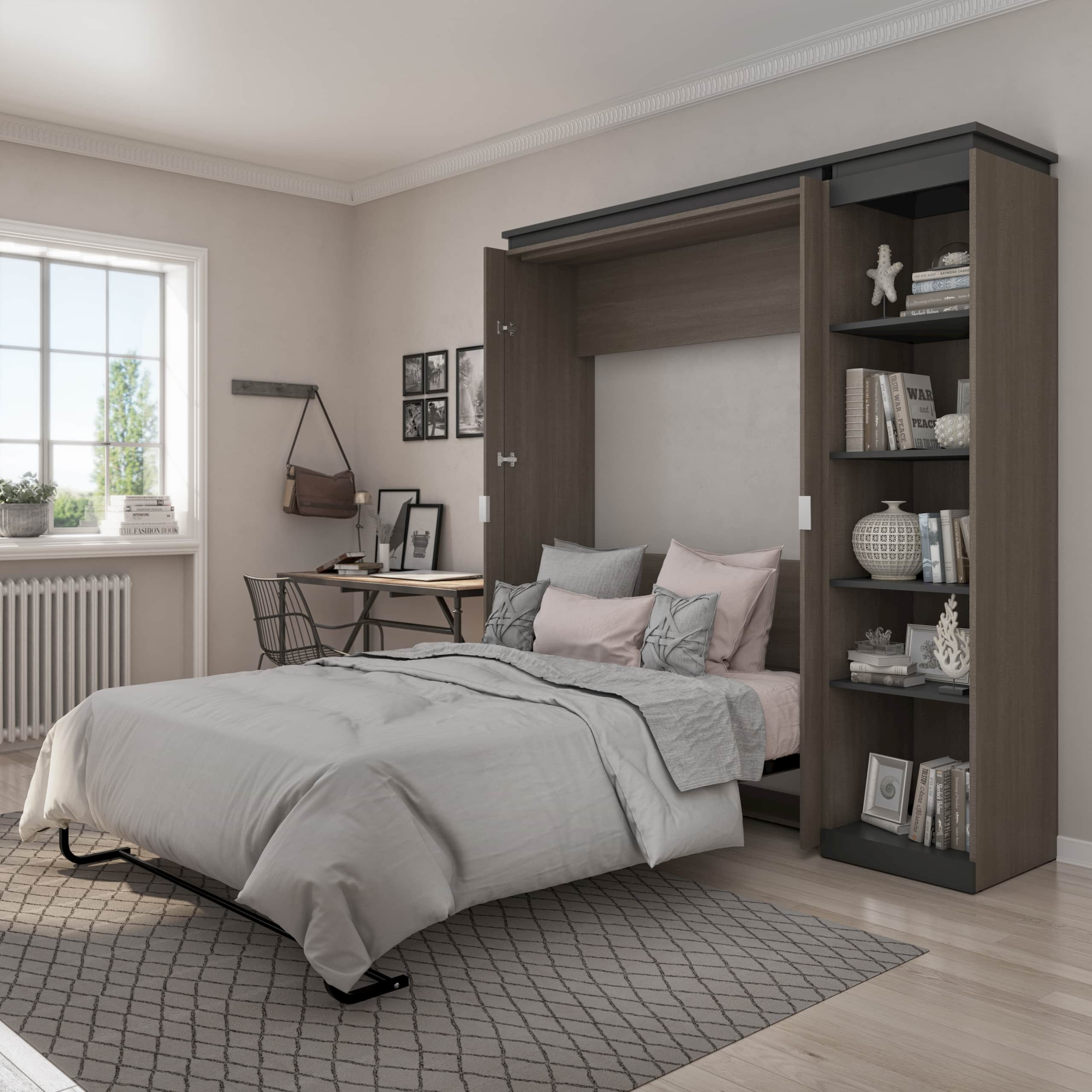 If you've had to convert a room in your home – guest room or spare bedroom – to a functioning home office, you know the importance of creating a multifunctional space. You still want to be able to host guests, after all. 
Perfect for occasional yet wonderfully comfortable sleepovers, a Murphy bed is a fabulous space-saving way to make a home office functional and productive while still being multi-use.
Executive Desk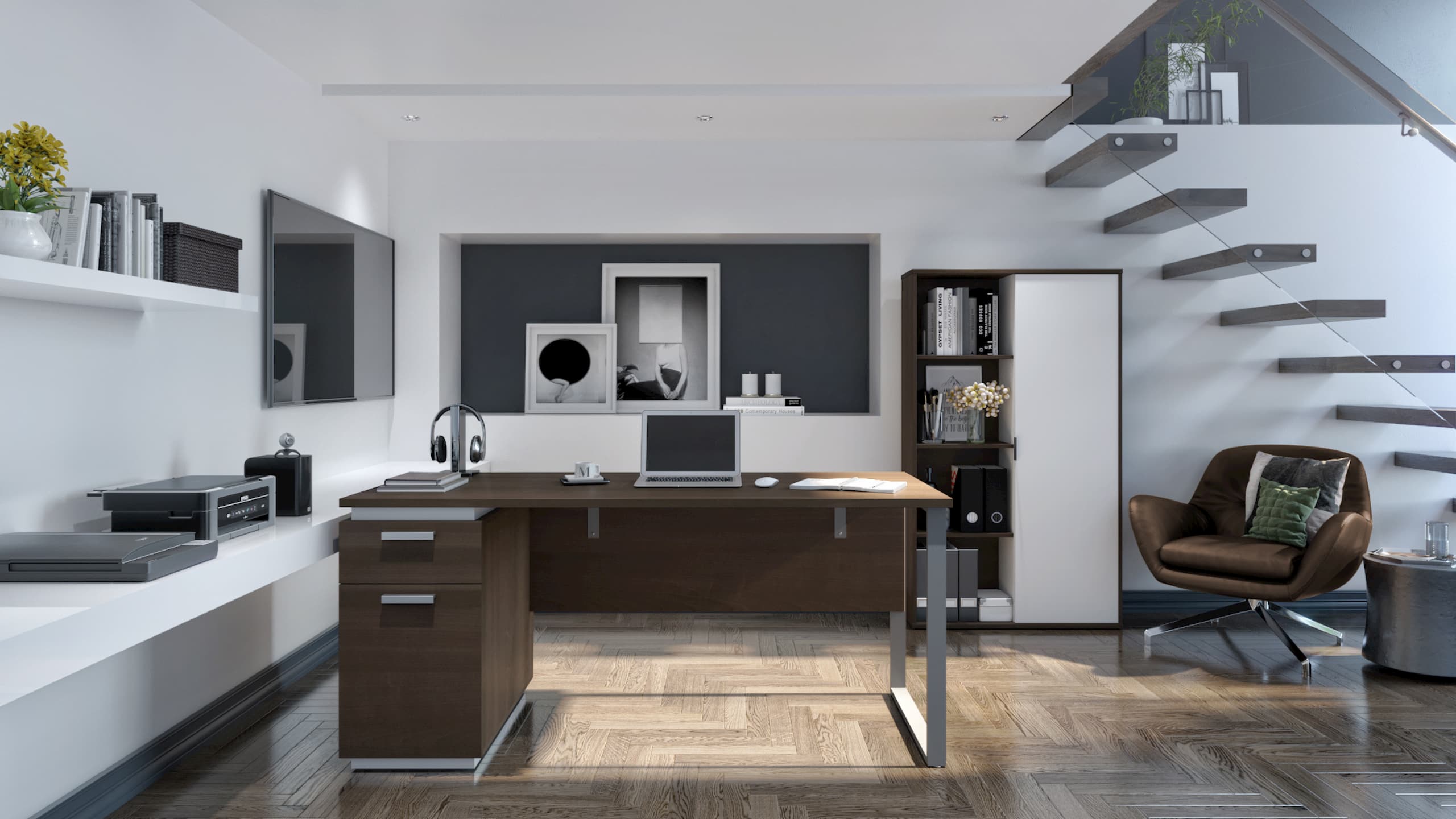 An executive desk tends to be more costly than other styles, but when you choose an executive desk, it's evident that you value your image.
More a symbol of status than other models, this desk style will help inspire confidence in your customers, clients, and colleagues – proving that you are at the top of your game. An executive desk conveys professionalism and success.
Practically speaking, an executive desk offers a ton of work and storage space.
Wireless Charger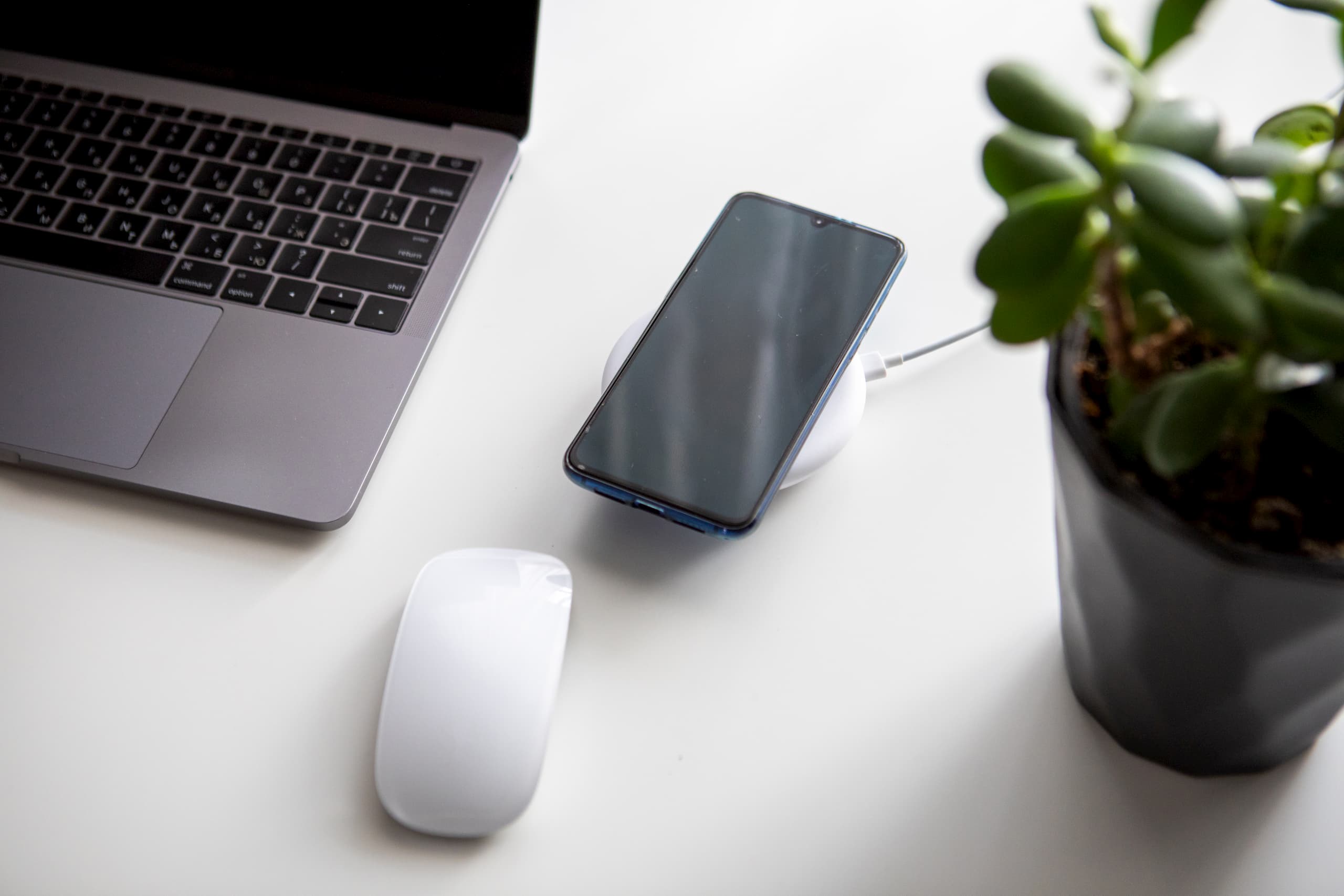 While perhaps not a piece of office furniture, a wireless charger is a great space-saving addition. Enjoy less cord clutter; universal compatibility no matter the device, safer connections, and no overheating issues.
Categories
Home Office