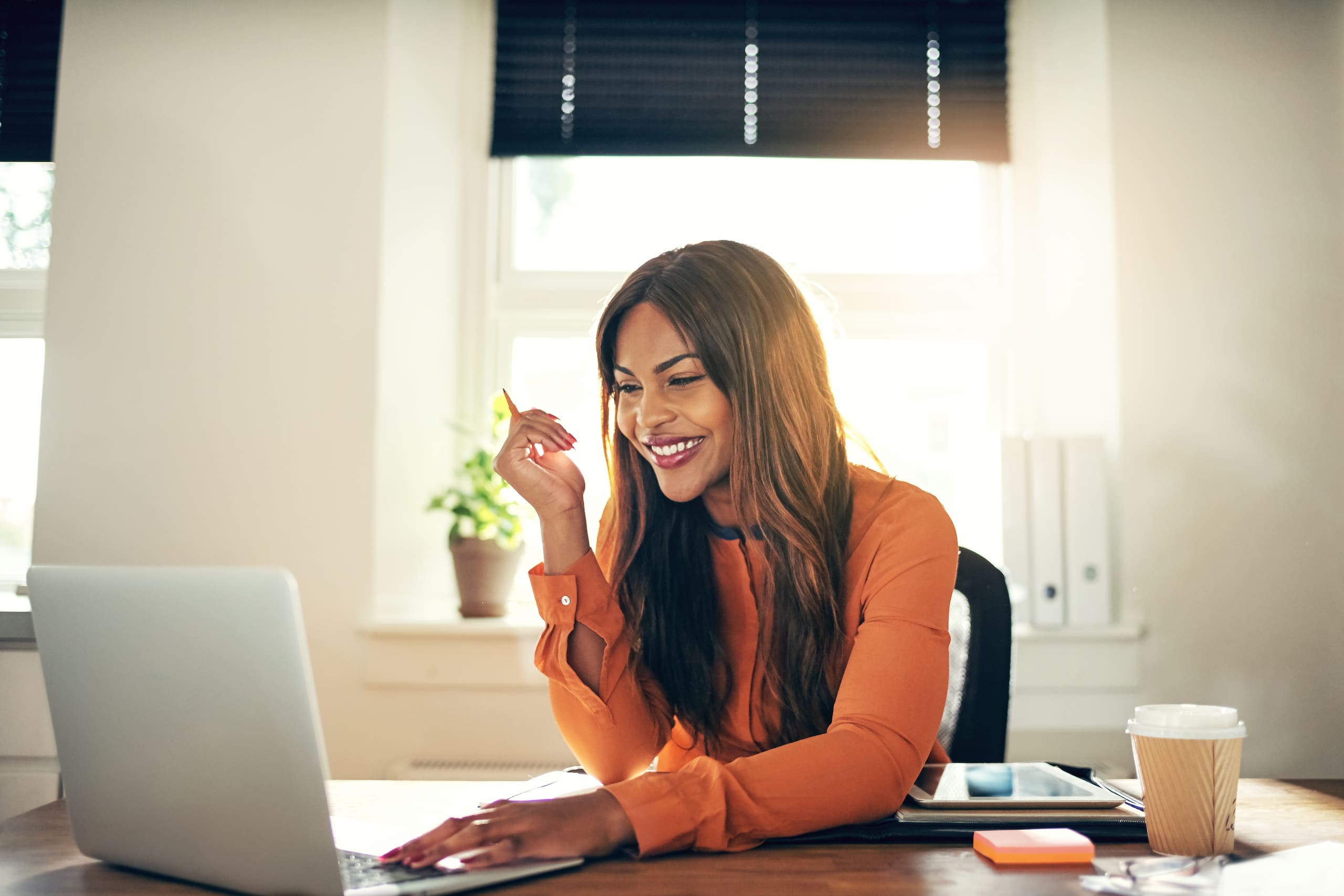 Since many of us are working from home these days, having a practical and comfortable home office is crucial. The huge number of distractions makes it difficult to stay on task, but, if your office setup is the right one for you, being productive should become much easier. Now is the time to remodel your office space to make it yours. Consider all your needs, and you can then get started on creating your perfect home office. From storage solutions to the perfect chair, you need to decide exactly what will be ideal for you.
Of course, knowing what you want is a vital step, but you should also be aware of your budget. With such a huge variety of computer desks out there, it can get complicated to find the right one for you and for your budget. To know your desk options according to your budget, keep reading.
L Is for Lots of Room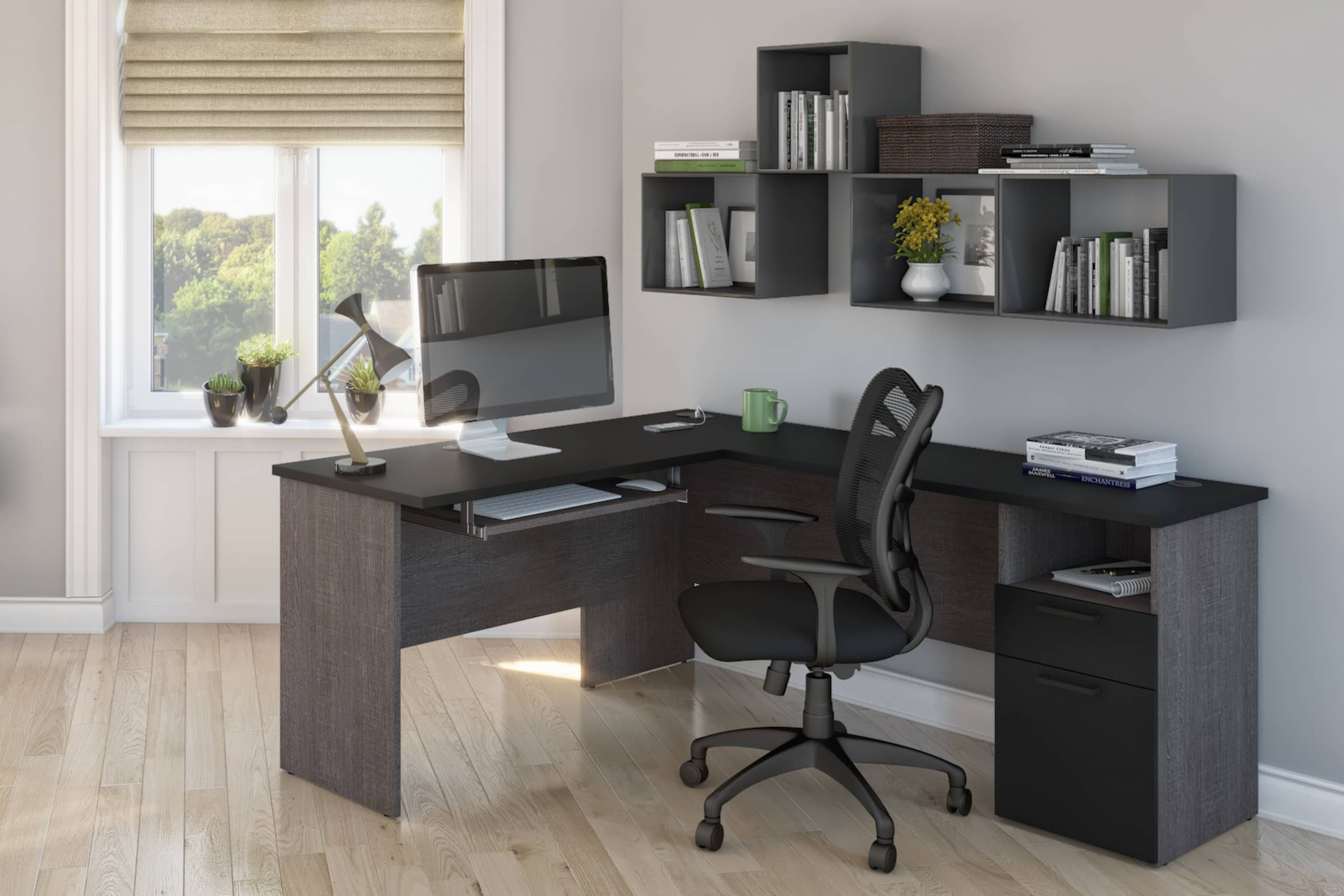 Your first option for a computer desk is an L-shaped desk. The great thing about these desks is that they come in a variety of configurations. From credenzas, to pedestals and hutches, you can truly decide which add-ons suit you best. Since they are bigger, they are usually more expensive than a small desk or a desk shell. Nevertheless, their prices can vary, allowing you to find a budget-friendly option. Bestar's options for an L-shaped desk can start as low as $410 and go up to about $3,725.
If you need a lot of space, an L-shaped desk is likely one of the best options for you. Their shape allows you to work on many projects at once without having to pile up your paperwork. You can spread out as much as you want and keep all your documents and supplies on hand.
L-shaped desks can also be good for pain. Indeed, some of them come with a keyboard tray. It allows you to keep your keyboard and mouse close to you, and, since it is lower than the desk surface, you can relax your shoulders when typing. Strain in your shoulders can get overwhelming and distracting, but a keyboard tray can help.
The different storage solutions that can come with an L-shaped desk, or that you can add to it, are usually a hutch, a file cabinet, or a pedestal. This means that you have an array of options to choose from, and you can truly get the best one for you. If you need more work space, you should get an L-shaped desk made up of a return table and a credenza. The credenza offers storage compartments and drawers, and its surface gives you space to spread out or to install your work equipment. No matter what you need, you can probably find an L-shaped desk that will work for you.
Come on, Stand Up!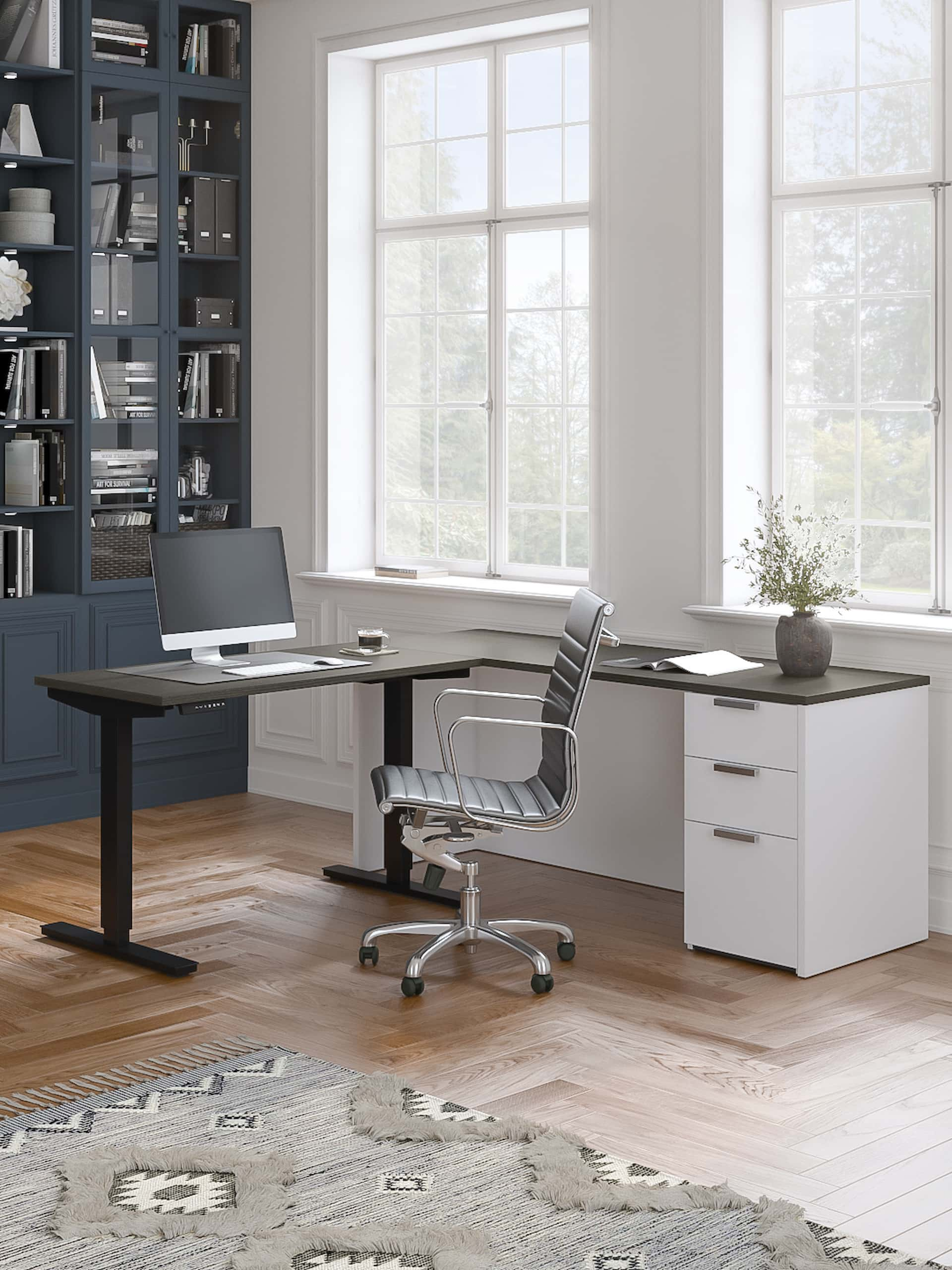 The next type of computer desk that you can choose is a standing desk. They have been growing in popularity in the last few years thanks to their ergonomic design. Unlike a small desk, however, standing desks can be more of a significant expense. Still, in the long run, a standing desk will be a worthy investment. On the Bestar website, you can find a standing desk ranging from $835 to $3,975.
Two main types of standing desks exist: simple ones, that only have a small surface area, and bigger ones, which come with storage. Of course, if you pick a small one. They are less expensive but are still very ergonomic. A small standing desk is perfect if you don't have a lot of free space in your office but still want to enjoy the benefits of a standing desk.
The larger ones are often L-shaped. You can have a massive L-shaped standing desk, which is made up of one big platform that lifts. You can also find ones where only part of the L-shape lifts. These have more storage space. They are best if you have a lot of papers and documents. You can stay organized much more easily. You can even use the storage spaces to hold your bigger work equipment such as a printer.
Standing desks are different from regular desks because you can lift them anytime you want. This way, you can alternate between sitting and standing throughout the day. Thus, your posture can improve, and the pain in your back and shoulders can be relieved. By moving more during the day, you can also improve the circulation in your body, which is great if you tend to have cold extremities.
Some standing desks also come with one or two monitor stands. This is ideal because your monitors are raised to your eye-level. Your neck will hurt less since you will not be looking down constantly.
Think Small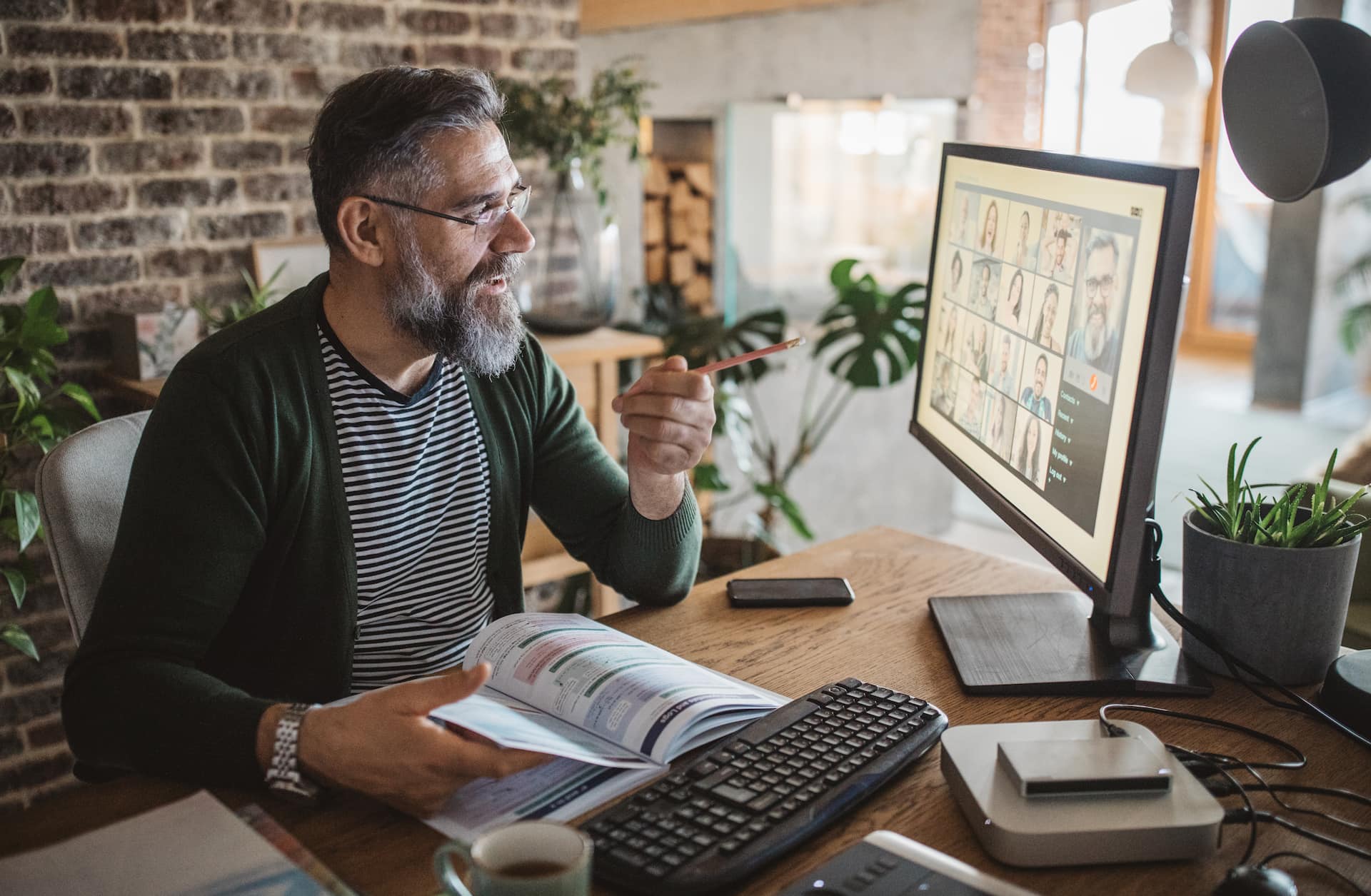 The last type of computer desk that you could choose is a small desk or a desk shell. These are much more compact than some of the other options on this list. They are great if you don't have as much space in your office. A small desk is also a great option for students that lack space. These desks are great for a smaller budget with options ranging from as low as $220 to about $950 on the Bestar website.
A small desk is one of the best options if you have a tighter budget. Since they are smaller, they usually cost a bit less than the bigger options. If you work mostly on a computer, a small desk could work great. Some of these desks have storage, so you can choose the best one for you depending on how much storage space you need. You could also get additional storage solutions like a mobile pedestal if you realize you need more storage down the road. If you have more paperwork and work supplies, having storage space will help you stay organized. This way, you won't have to look for your items constantly.
Even if these desks are on the smaller side, they still provide you with plenty of space to work. If you are a minimalist, small desks are even better since you have space for all your essentials like your keyboard and notepads, but your desk doesn't take up much space.
Before remodeling your home office during these teleworking days, evaluate your budget. You can then consider all your options for a computer desk to find the best one for you. Once you do that, you are set. Working from home efficiently and comfortably will be easy as one-two-three.
Categories
Home Office