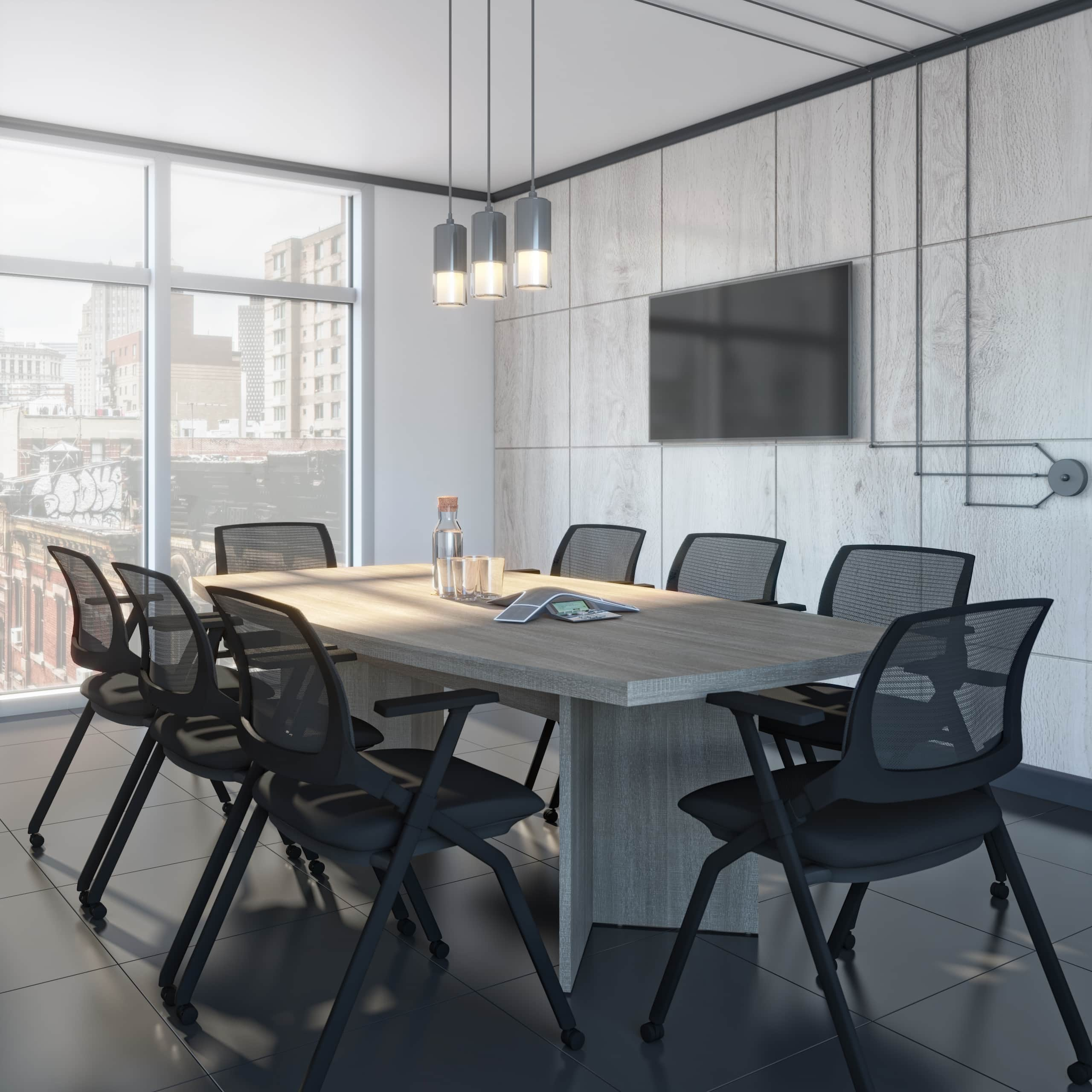 Have you ever looked around your workplace and noticed that the furniture suddenly seemed insufficient, outdated, or both? It's a more common problem than you might realize. We all want our businesses to grow and evolve, but many overlook the need to upgrade commercial office furnishings to keep up with ever-changing demands.
Whether you work in a large corporate office or a small business setting, choosing the right furniture for your workplace is an important step toward fostering a productive environment. Fortunately, there are plenty of options available that are built specifically to withstand the rigors of a commercial office. It's just a matter of recognizing the exact needs of your organization and selecting furnishings those demands.
Let's take a look at some things you'll want to consider when outfitting a commercial office:
Desks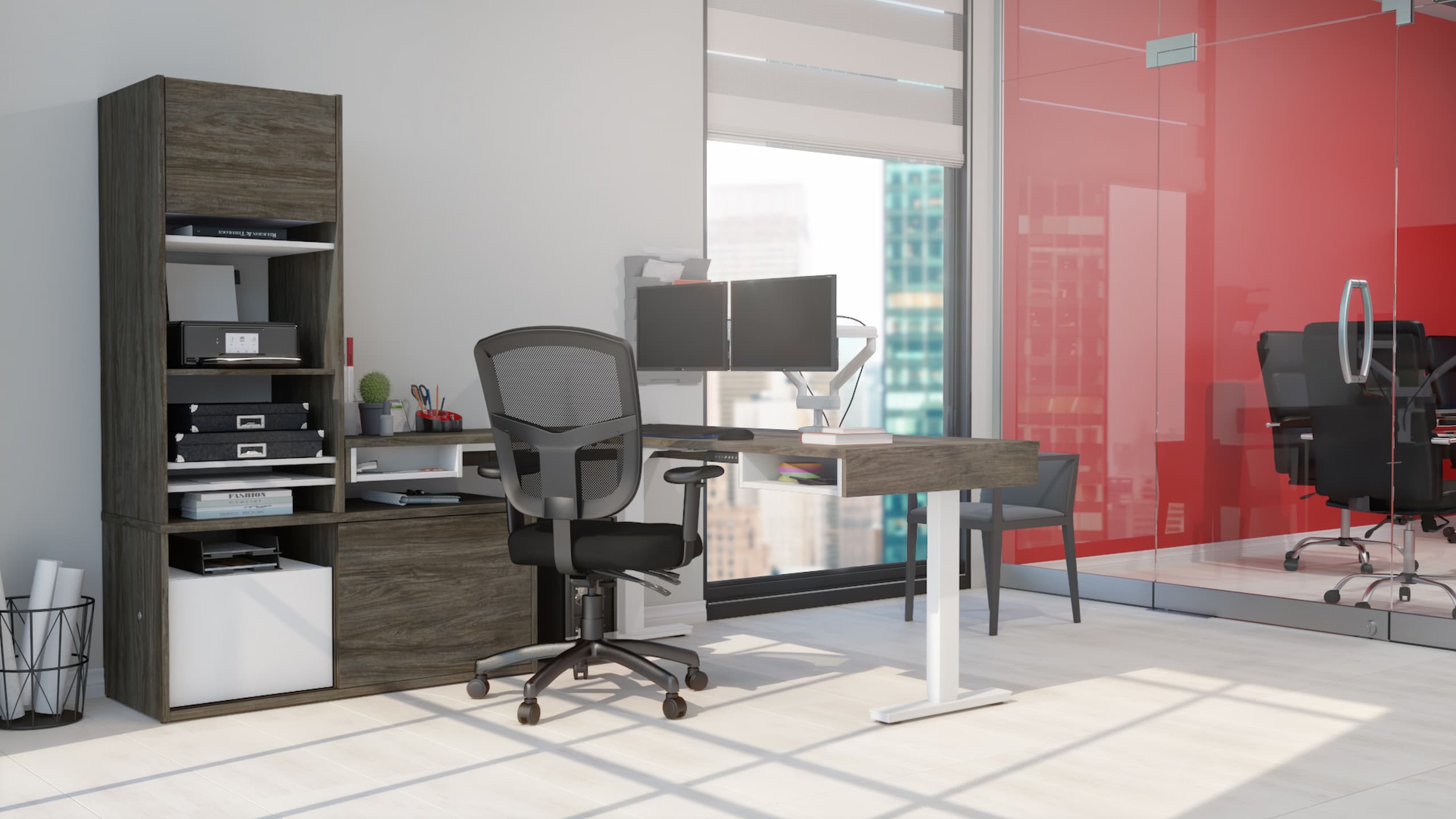 Desks are typically the first thing people consider when setting up a commercial office, and for good reason. Office workers spend most of the day at their desks, so it makes sense to invest in something that's both durable and practical. It's important to look for a computer desk that's designed for use in a commercial office – there are plenty of good home office desks on the market, but many aren't built to withstand a 40-plus hour work week. Consider the materials of your desks; a melamine finish can resist scratches, stains, and wear. This is an ideal feature for a bustling workspace.
Size and shape are two more key factors to consider when setting up your commercial office. Generally speaking, a 48-inch desk should be the minimum for a single person workspace. If the job requires extra equipment, such as multiple monitors, 60-inch and 72-inch desks are preferable because they give the user a little more room to spread out. Executive desks usually fall into this category because they include built-in storage for paperwork, office supplies, and more.
L shaped desks and U shaped desks are creative ways to maximize work area without sacrificing too much floor space. If you have clusters of teams working together on common projects, try placing four L shaped desks together as a way to encourage collaboration. You can also position L and U shaped desks in a corner to free up space in the middle of the room.
Height adjustable desks – sometimes referred to as standing desks – are a great option that gives users the flexibility to change positions throughout the day. These will be a little pricier than traditional desks, but studies have shown that workers who spend a portion of their day standing are healthier, happier, and more productive. Electric desks have buttons that raise or lower the surface, and some feature programmable presets that let users instantly select their favorite heights.
Finally, you want to consider specific features that will make life easier for whoever will be working at the desk. Most commercial office desks include wire management grommets to keep the surface free from cords and cables. Others have built-in storage like drawers and shelves to help organize files, supplies and reference materials. Keyboard trays are very useful if your business utilizes desktop computers but may not be necessary if most employees work on laptops.
Chairs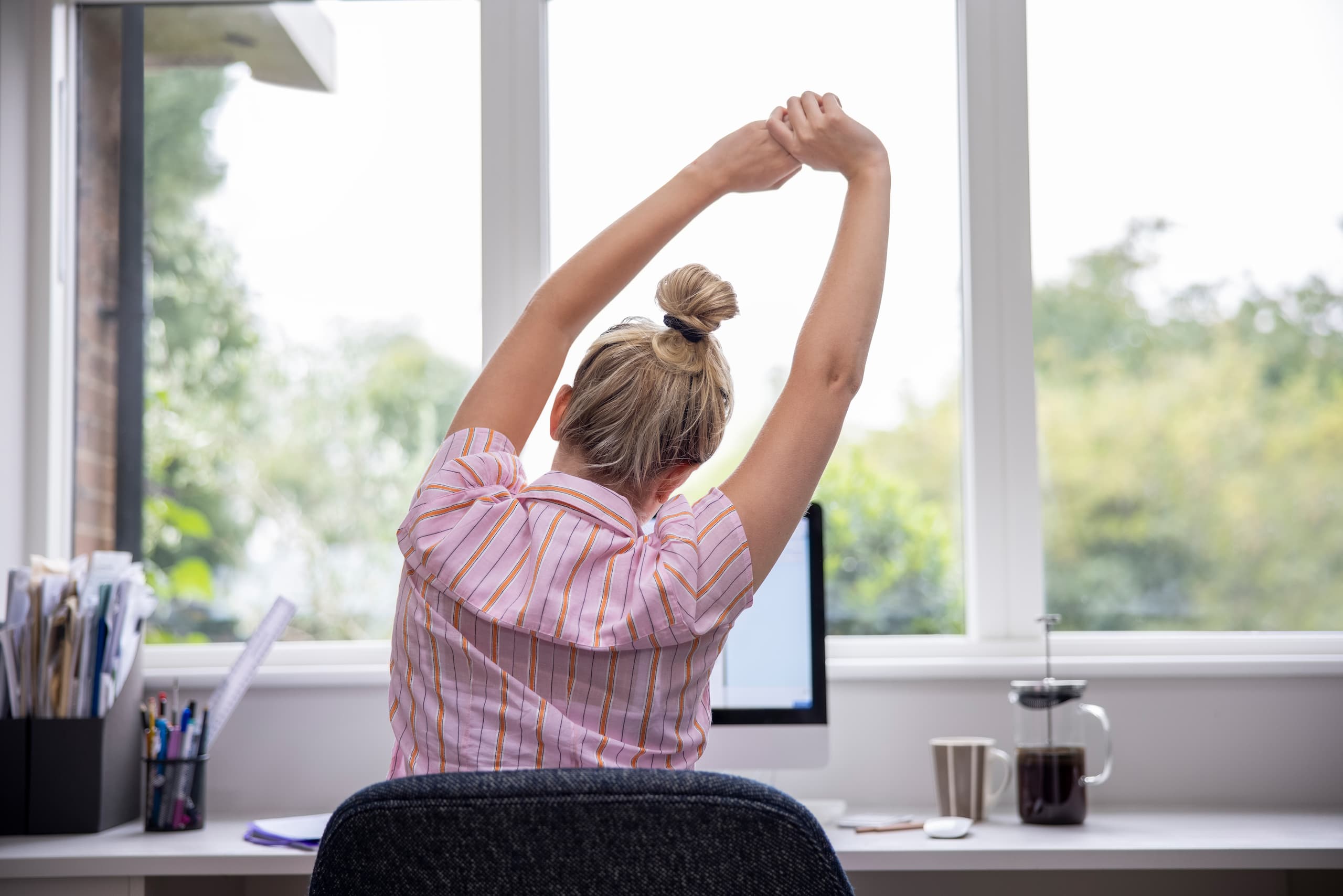 A high-quality commercial office chair is the unsung hero of any workspace – professional or otherwise. An ergonomic seating solution is of paramount importance when the user is spending eight hours a day or more at their desk. Anything less can quickly lead to discomfort in the back, shoulders, and neck, which is not only bad for long-term health, but is also sure draw focus from the task at hand.
Adjustability makes all the difference when it comes to determining which chair model is best for the commercial office. People come in all shapes and sizes, so a one-size-fits-all approach to office seating doesn't make much sense. Multifunction desk chairs allow users to select the ideal height, angle, and tilt tension for their body. Most of these chairs will also have adjustable armrests so the elbows and forearms can rest in the most comfortable position while typing.
Mesh is a popular upholstery choice for commercial office chairs as it's lightweight, breathable, and less expensive than genuine leather. Black mesh chairs also have a basic, professional look that complements virtually any style of office furniture. No matter if you prefer traditional, contemporary, or a different style, a black mesh desk chair will never look out of place.
Storage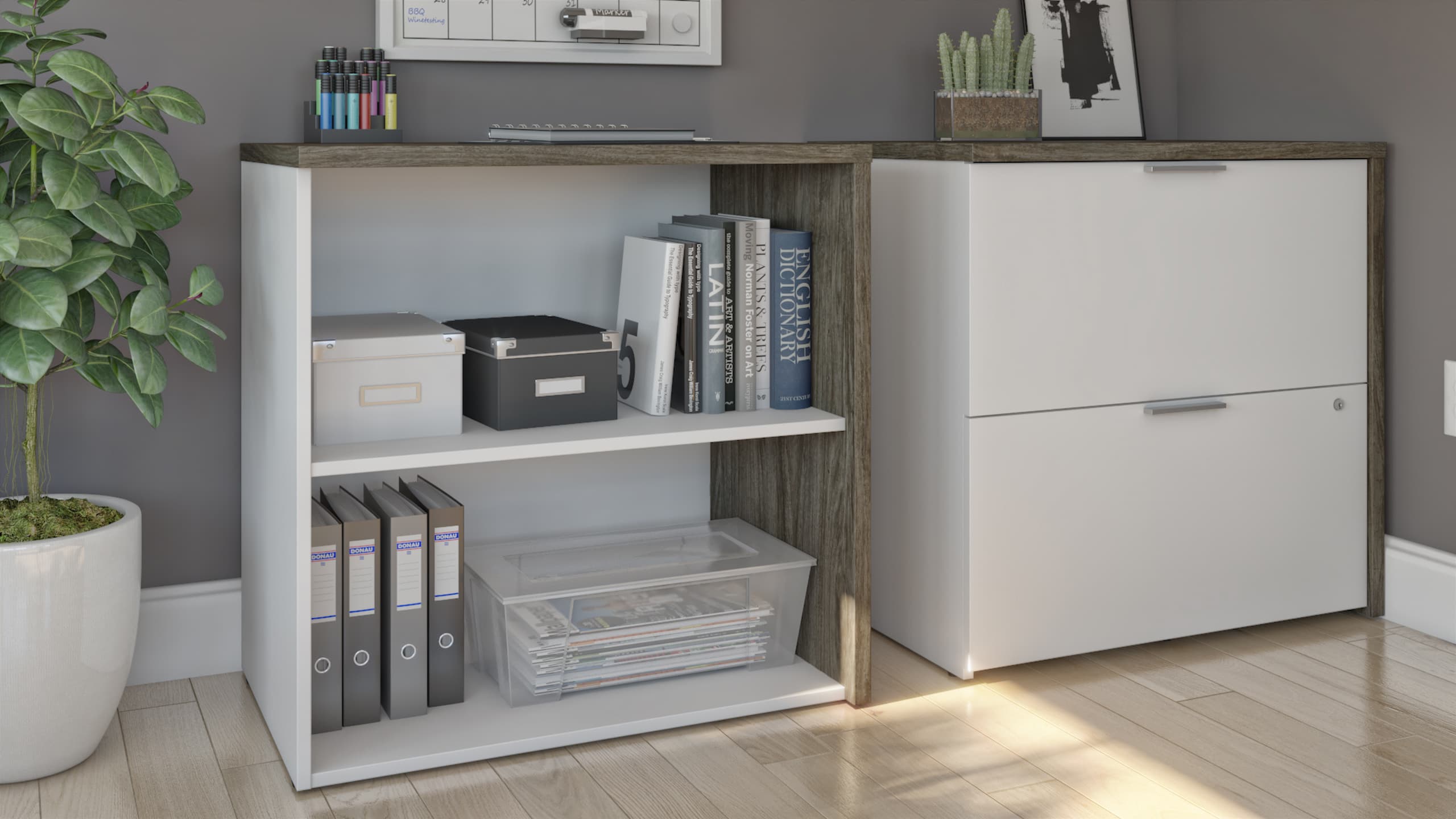 Finally, no commercial office is complete without the necessary storage solutions. We touched on the benefits of having computer desks with built-in storage above, but there will always be additional files, office supplies, reference materials, and other miscellaneous items that don't fit inside a small drawer or cabinet.
Lateral filing cabinets are a must-have for any commercial office thanks to their ability to organize large volumes of paperwork. Leaving documents spread out all over your workspace doesn't just add clutter; you take the risk of misplacing important information. Most lateral file cabinets feature two horizontal drawers and one lock that secures both drawers. Depending on the contents of the files, you'll be storing, it may be wise to look for a model with locking drawers.
Bookshelves are another common item you'll find in most commercial office spaces. These storage solutions come in a variety of shapes and sizes to accommodate your specific needs. Have a lot of reference materials? A tall bookcase offers ample storage capacity, and you can even place two or more side-by-side to create a large storage wall. Narrow bookshelves and l bookcases are better suited for individual workstations as they give the user the ability to store a few books or display plants, pictures, and decorations.
File cabinets and bookshelves aren't just practical additions to main office areas either. It's always a good idea to keep a few storage pieces in conference rooms, training areas, and lobbies so common areas don't become overrun with unnecessary clutter.
Style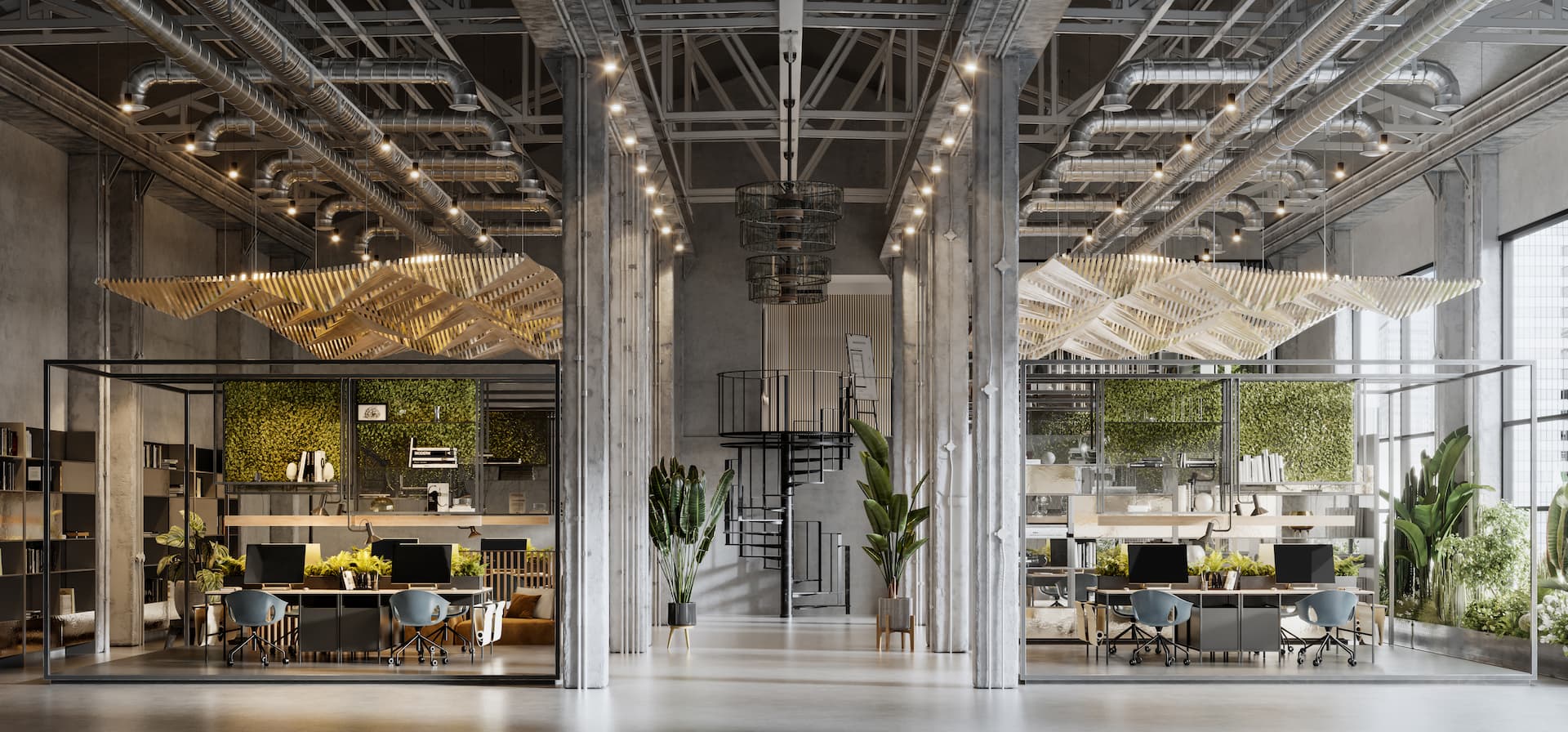 Now you know what furnishings you need, but how do you want your commercial office to look? Above all else, you want your workplace to convey a sense of professionalism and sophistication. We recommend neutral finishes like white, gray, black, or wood grain for an appearance that will stay in vogue for years to come.
Design can come down to personal preference and what makes the most sense for your business. A cutting-edge tech company might opt for modern or contemporary commercial office furniture to reflect a more innovative outlook, whereas traditional furnishings are a great way for an established business to highlight its years of expertise.
Categories
Business