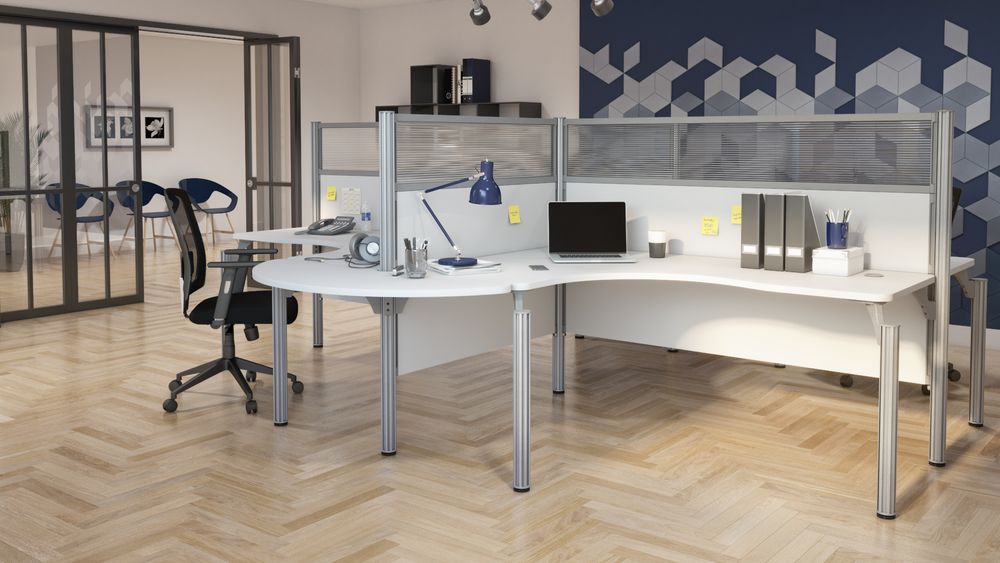 A thoughtful office design combined with the range of versatile Bestar office furniture will help your office be attractive, comfortable, productive, and at its best.
The success of your business relies on the efficiency and productivity of your employees.
The comfort and ease with which your employees can perform their work ensure that they're at their most productive while in the office—vital to your bottom line.
It's more than simply providing a desk and shelving.
Each work or common area in your office should accommodate in the best way possible the tasks associated with the room, including those spaces where workers meet, refuel, and relax.
Better designed spaces for your management, as well as your other employees, will enhance both the productivity and morale of your team, making for a more content, effective, and profitable workplace overall.
Here are some ideas to help inspire you to more efficiently redesign the most important spaces in your office:
The Lobby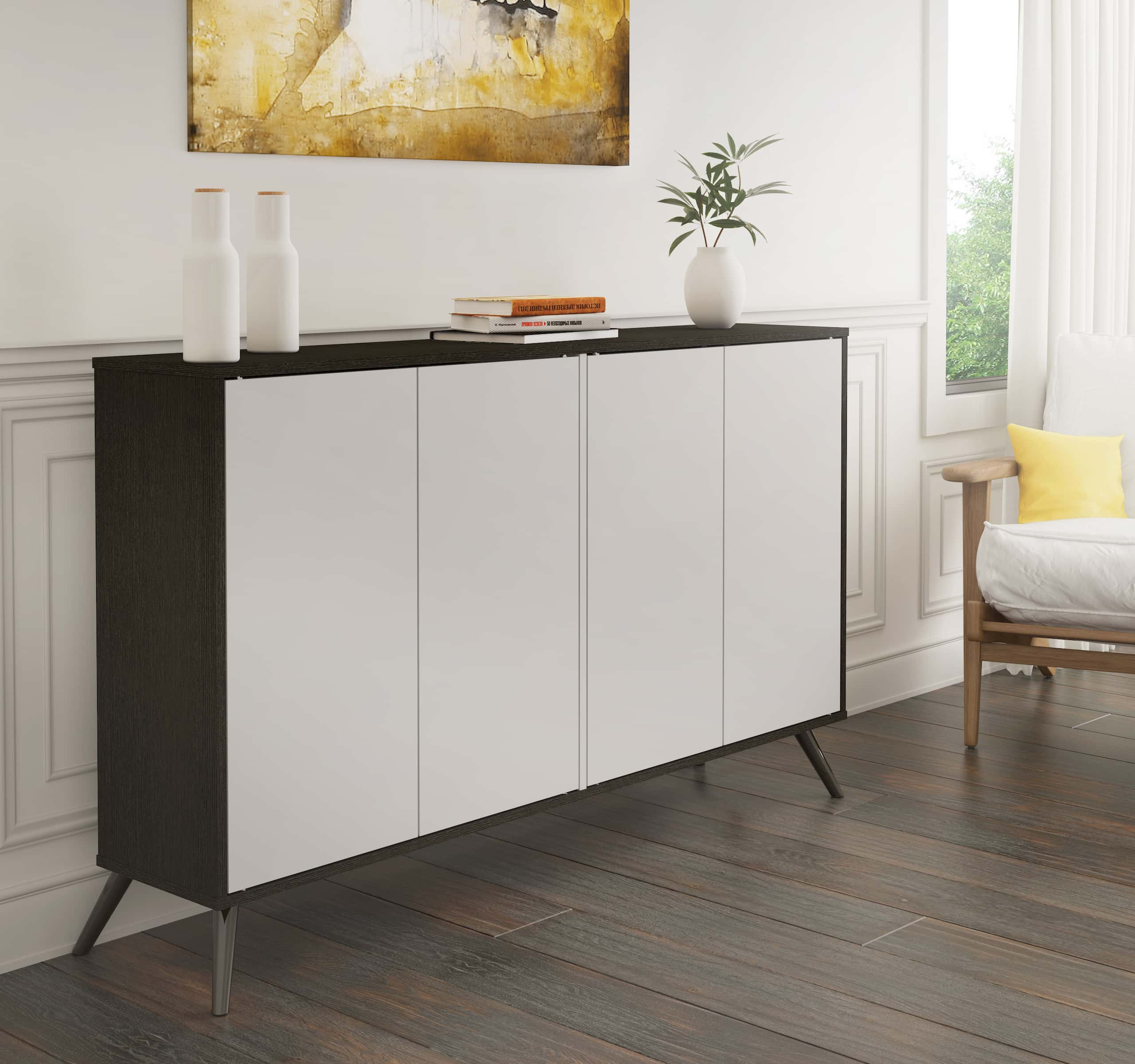 The lobby is the first contact your employees will have with their workday. It's also the first contact your customers will have with your business.
The lobby of your business will determine a first and lasting impression people have in your offices. For both the sake of your employees and that of your clientele, it's essential you get it right!
Simplicity and minimalism are key. Certainly, you want to incorporate elements to support and define your brand, such as thoughtfully chosen or customized items of decor or a design style (i.e., contemporary, rustic, etc.), but keep clutter and tchotchkes to a minimum.
If you need to incorporate storage in your lobby space consider an attractive unit that integrates seamlessly into your decor. The Bestar Storage Cabinet with metal legs is a versatile unit that keeps documents and other items organized and out of sight.
Your lobby should be tidy, inviting, and provide comfortable seating to provide a pleasing first impression for your business. Clients should have that "wow" feeling when they enter; employees should be eager and proud to work in such an inspiring workplace.
Open Concept Space—Cubicles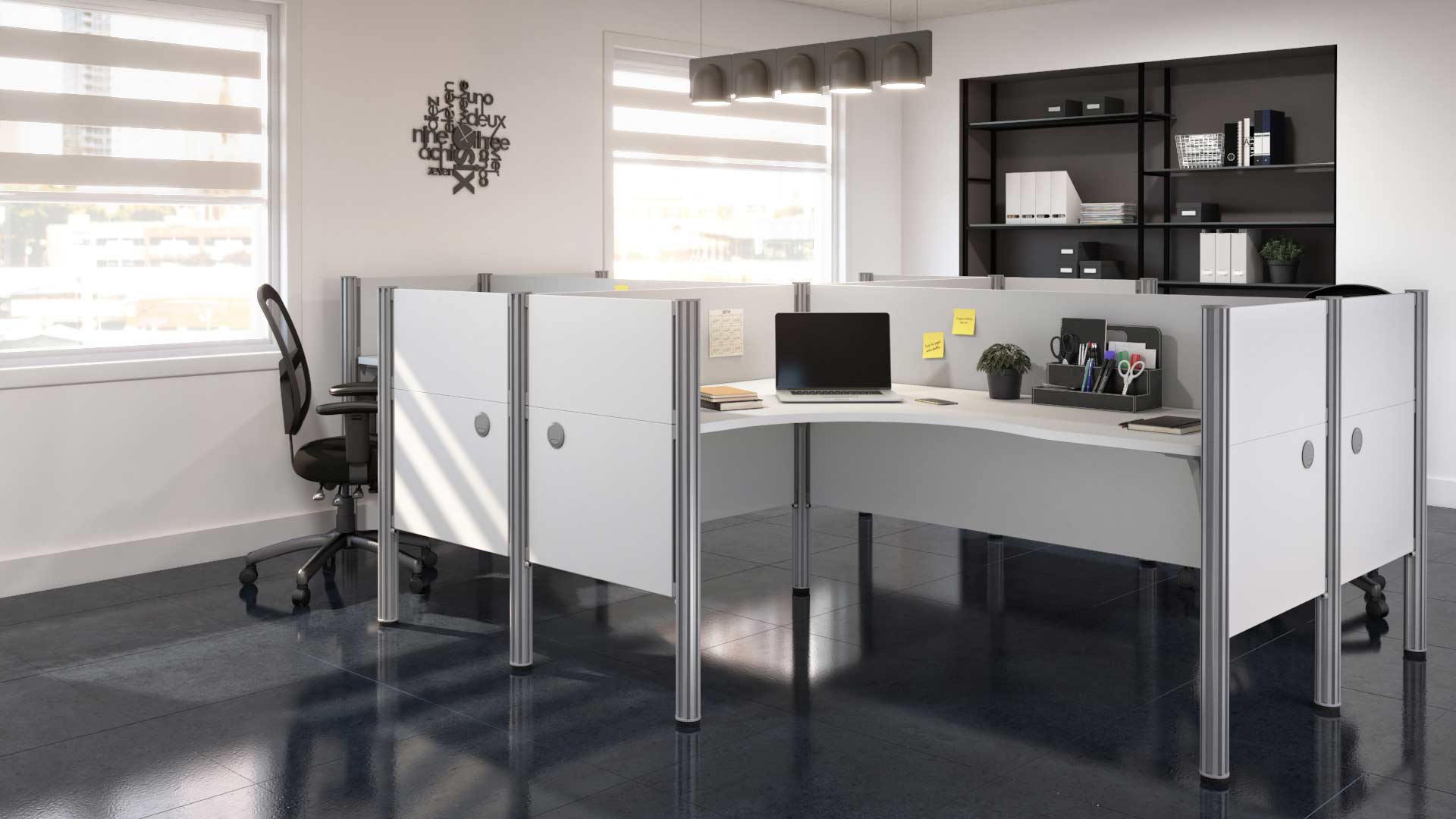 Open concept offices encourage a sense of light but also a spirit of collaboration and teamwork compared to separating all of your staff with walls and doors.
A flexible office design is key to facilitating a company's ability to be agile and adaptable. A business that can adjust for not only the market economy and sector in which they operate, but the economy of employee satisfaction and retention as well, will prioritize flexibility and, ultimately, prosper.
An office needs the ability to be reconfigured to meet the needs of employees, enabling better productivity, functionality, and comfort.
Incorporating cubicles allows workers to enjoy the benefits of an open work area while also enjoying some privacy and personalization of their individual workspace.
A cubicle system, such as the range of fully customizable Bestar Cubicles, ensures that the design can be adapted as required. It can then be changed and reconfigured as office and employee needs change.
Executive Office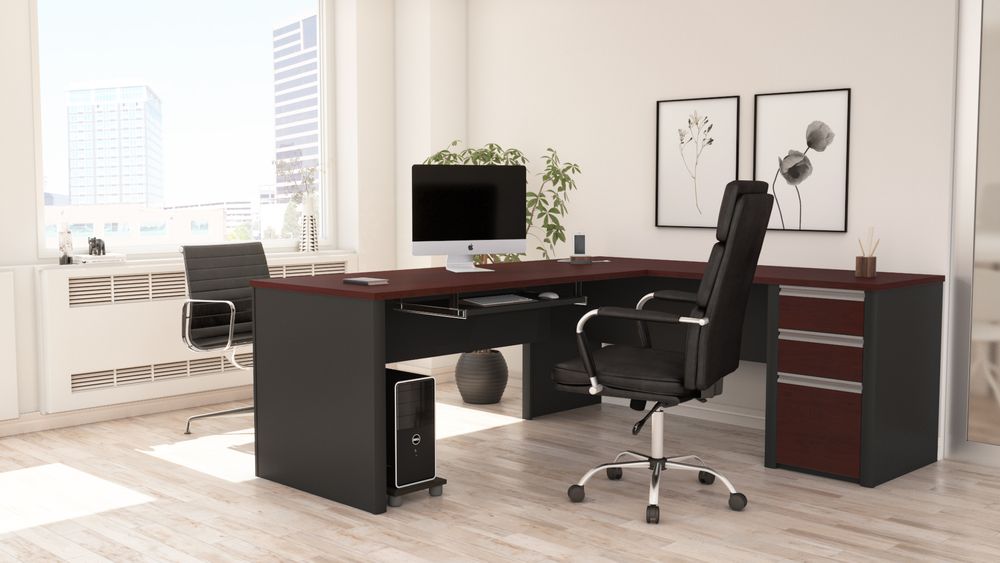 An executive office should be an expression of personality and company culture.
CEOs, Directors, and others at the executive level have significant responsibilities and need a working space specific to their unique roles and obligations.
At Bestar, our line of well-designed, stylish office furniture, including Executive, L-shaped, Corner Desks, and U-shaped desk systems, ensure that your executive office provides for comfort, style, and productivity.
The first step in designing an executive office is to understand the personal preferences and work habits of the company leader. This step is essential in determining the appropriate aesthetic and atmosphere to most effectively facilitate the executive's workflow.
An executive office is often more than just an individual working space. It can also serve as a small meeting room; it can require dedicated electronic equipment; it can even provide for relaxation and rest—a brief break from the demands of decision-making and responsibilities.
As a result, the room will likely need a sofa, meeting table and chairs, ample bookshelves, and secure document storage.
Meeting or Conference room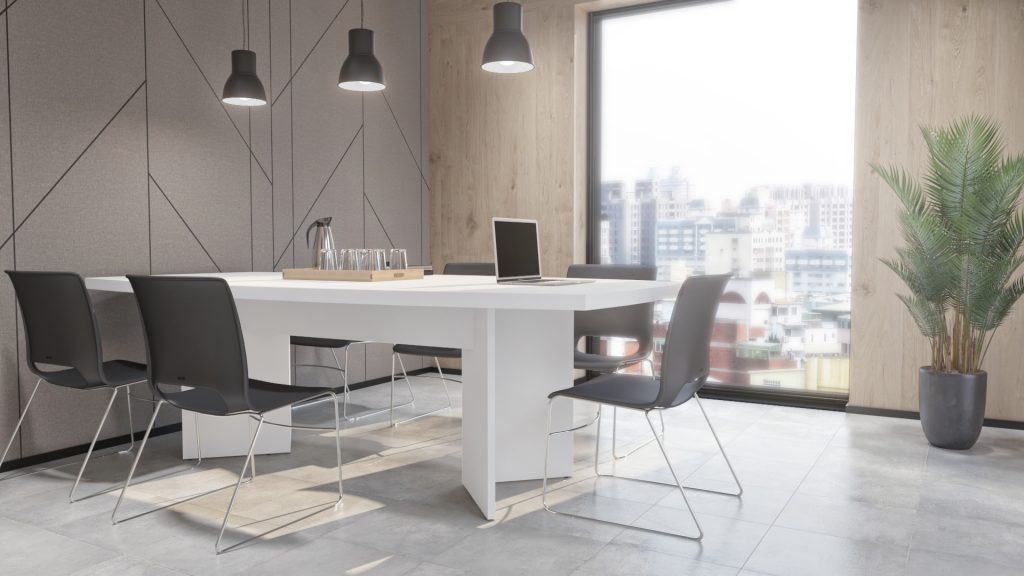 A thoughtfully designed conference room can help your employees be more productive and creative when working as a team.
The ideal conference room needs to utilize good design, comfortable office furniture, and the proper equipment and technology to best facilitate and enhance efficient teamwork and collaboration.
According to DataProjections.com, "A conference room is where the company's operations are formulated, where important decisions are made and progress is analyzed. It is, in short, the nerve center of the office, so it needs to be as functional as possible."
Your conference space needs to look and feel comfortable for those using it. Keep the room clean, tie up loose cords, and provide up-to-date technology and equipment so the room is ready for your employees when they need it.
Common areas
Modern office design places less value on the grind of huddling over a typewriter in dutiful silence and more value on collaboration—encouraging the sharing of new ideas—and increased productivity that comes with interaction within and between teams.
As a result, incorporating well designed, inviting, and comfortable common areas into business spaces is becoming more appealing to business leaders. They understand that common areas will encourage teams to gather, share, and collaborate—great for productivity and, ultimately, a business's bottom line.
Comfortable chairs, sofas, and coffee tables that conveniently double as storage are great for working in comfort individually or as a team. Long tables with comfortable chairs allow for more formal teamwork or tasks, and the ability to spread out.
Utilize a combination of furnishings to help make the common space dynamic, letting employees switch it up according to task or need.
Additionally, designers sometimes include private rooms and nooks in or adjacent to common areas. This philosophy encourages employees who are talking and strike on a potentially valuable idea, to be able to immediately, and privately, hash it out. By the time they've booked a conference room, the magic may have passed.
Office Break or Lunch Room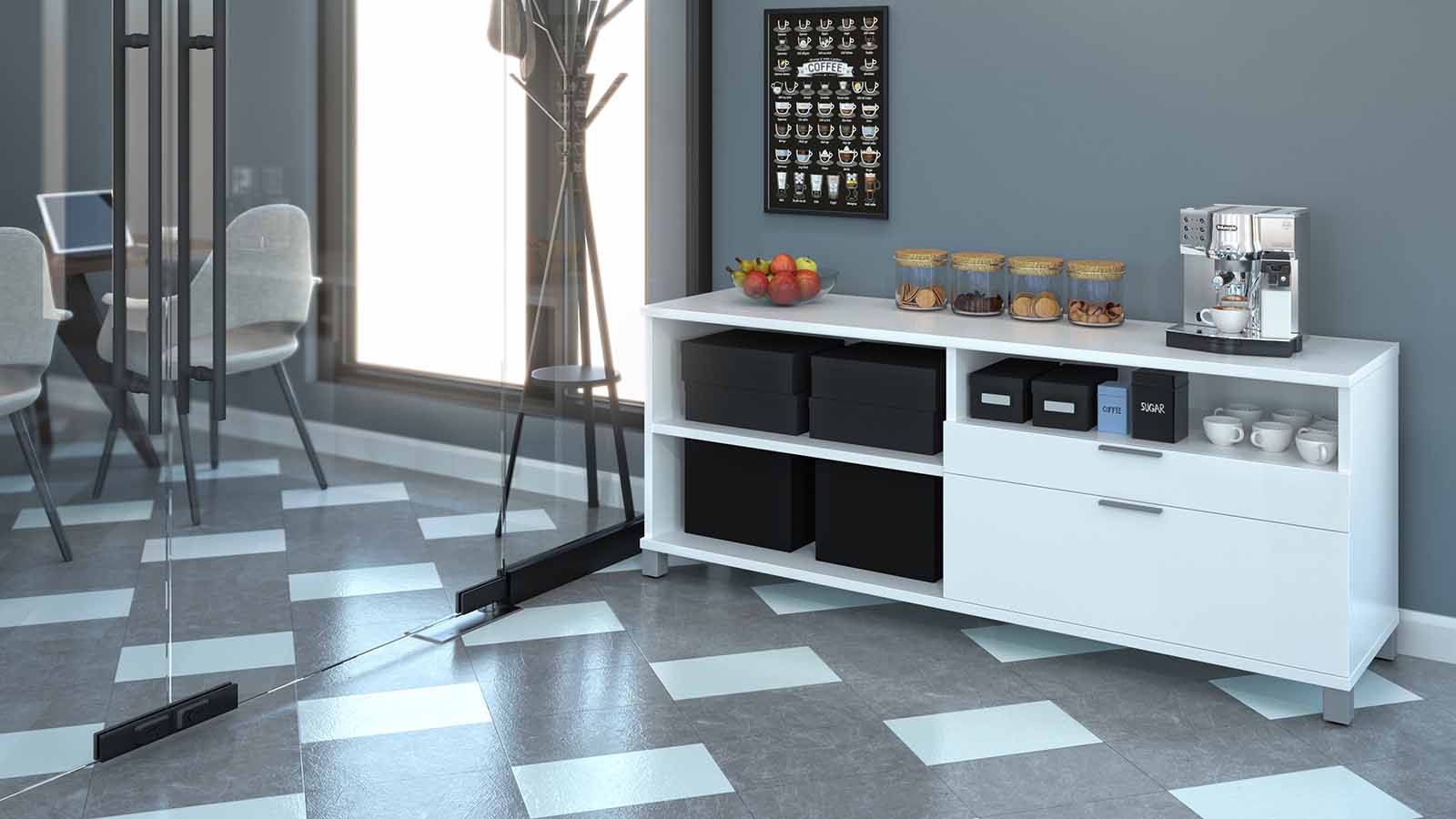 Happy workers are productive workers, which is why the lunchroom is undergoing a much-needed makeover.
With the importance of a healthy company culture making it on to the radar of more CEOs, investing in a space for employees to take a healthy timeout from work has gone more mainstream.
Say goodbye to gloomy, stark, and uninspiring rooms equipped with little more than a water cooler and a coffee pot. Modern break room trends feature thoughtful design, utility, comfort, and even a little color.
As with common areas, providing for worker comfort while taking their lunch break allows valuable rejuvenation time that ultimately makes for a more content, productive employee.
Investing in a thoughtfully planned break—or lunchroom can provide a space that encourages more creative collaboration, inspiration, and teamwork—great for the employee, terrific for the business.
Consider convenience and community. Your office break room should be a comfortable space. Because employees go to the break room to enjoy a quick cup of coffee, lunch, or a snack, it's important to offer plenty of tables and chairs.
You can even add a few workstations for the keeners—or simply ensure that there are easily accessible electric outlets if someone needs to plug in. Perhaps create an inspiration wall—a whiteboard, for example, for employees who have their best ideas when enjoying their soup and sandwich. Allow for a space to encourage personal information like birthday news and baby announcements.
If your space isn't equipped with a kitchen, incorporate an attractive and versatile Bestar credenza to hold all of the break room essentials: coffee, coffee maker, snack storage, and space for cutlery and other accessories.
Be sure the break room offers a relaxing respite from work—comfort is key part in your break room design. Start with a few cozy couches, and add coffee tables topped with current magazines and newspapers.
Categories
Business