You might be surprised – and maybe a little depressed – by the amount of time we spend sitting down each day. Even more so if you've got a job that has you desk-bound.
In fact, a recent study out of Scotland found that middle-aged office workers were, get this, more sedentary than over-75-year-olds!
All this sitting can lead to chronic pain as a result of postural imbalance, repetitive-use injuries, and a sedentary lifestyle – or, 'sitting disease'. It can also shorten lifespan.
In the United States, 7.6 million people list back pain as their reason for filing disability claims. This, along with the research to confirm that slouching and similar seated postures can cause backaches, headaches, fatigue and poor concentration identifies a distinct need for a solution to workplace discomfort.
A Quality Office Chair is a Simple Way to Keep Backs Healthy and Productivity Up!
Studies have shown that comfortable employees are more productive and contribute to a more positive work environment than uncomfortable employees.
A healthy posture – when the spine is properly aligned – promotes increased overall comfort, including improved concentration and, remarkably, endurance to withstand long hours of seated task work.
Ergonomics studies maintain that a supportive office chair promotes back health whilst increasing productivity and efficiency, reducing the number of breaks the employee will need to take due to being uncomfortable.
On the other hand, a bad office chair can lead to back strain, as well as issues such as carpel tunnel and leg problems. As a result of poor ergonomics in office seating, thousands of hours are lost to back and health issues and missed work.
So, rather than losing money to employee absence, perhaps it's money better spent investing in good office chairs to promote back health and keeping employees comfortable and injury free.
The Key to Healthy Sitting is a Well-designed Office Chair
When it comes to maintaining healthy posture when seated, it's really about encouraging good posture through lumbar and pelvic support. When both the lumbar and pelvis are addressed, better posture, better breathing, and less fatigue are achieved.
To best mitigate discomfort and possible injury, spend the time and money to find the best office chair possible. It's a matter of health and safety not to mention your bottom line!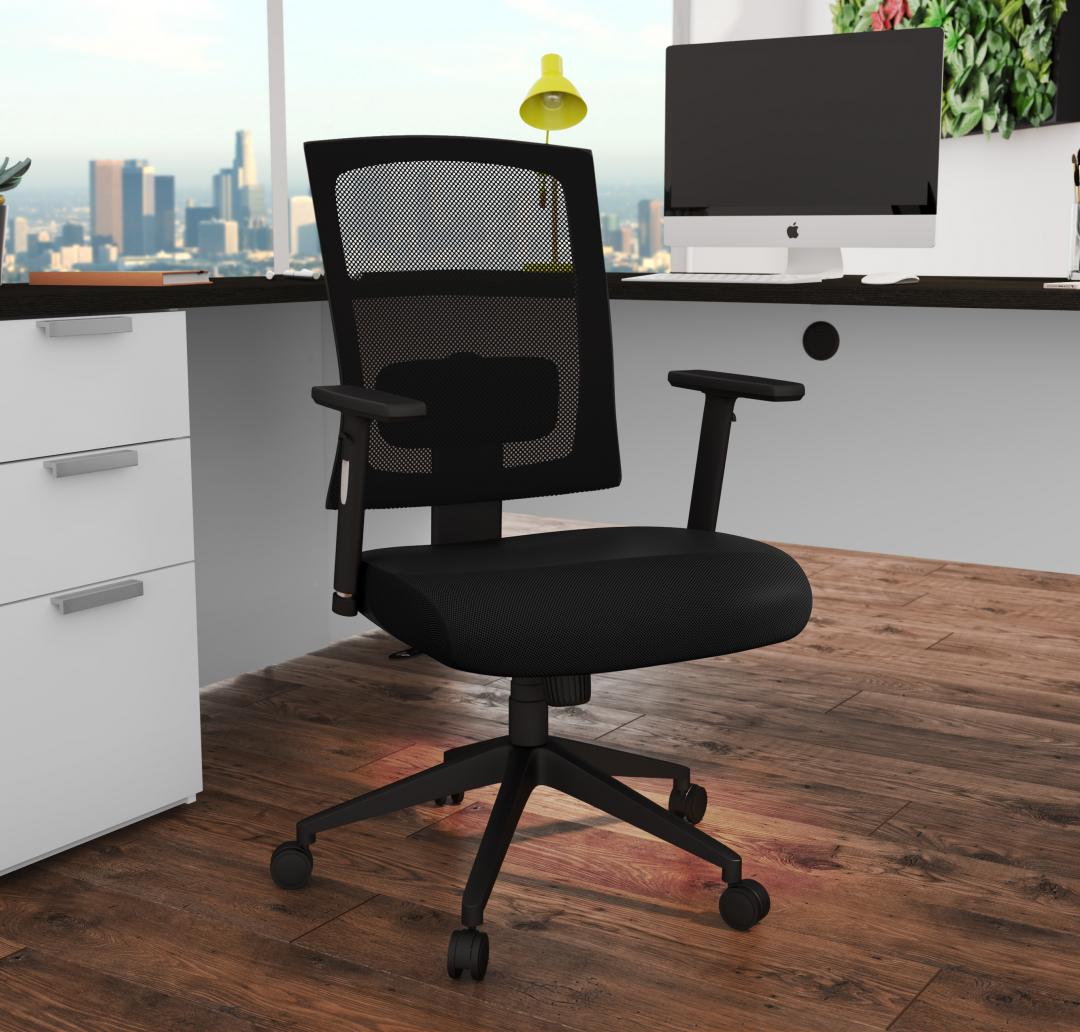 What to Look For in Your Office Chair
Given that an office chair is part of the decor, it's not unusual to prioritize aesthetics.
It's important when shopping, however, to keep in mind that your office chair will be where you, or your colleagues or employees, will spend the better part of their days.
What's more important than aesthetics when choosing a chair is the design and ergonomics – the factors that will contribute to healthy seated posture rather than diminishing it.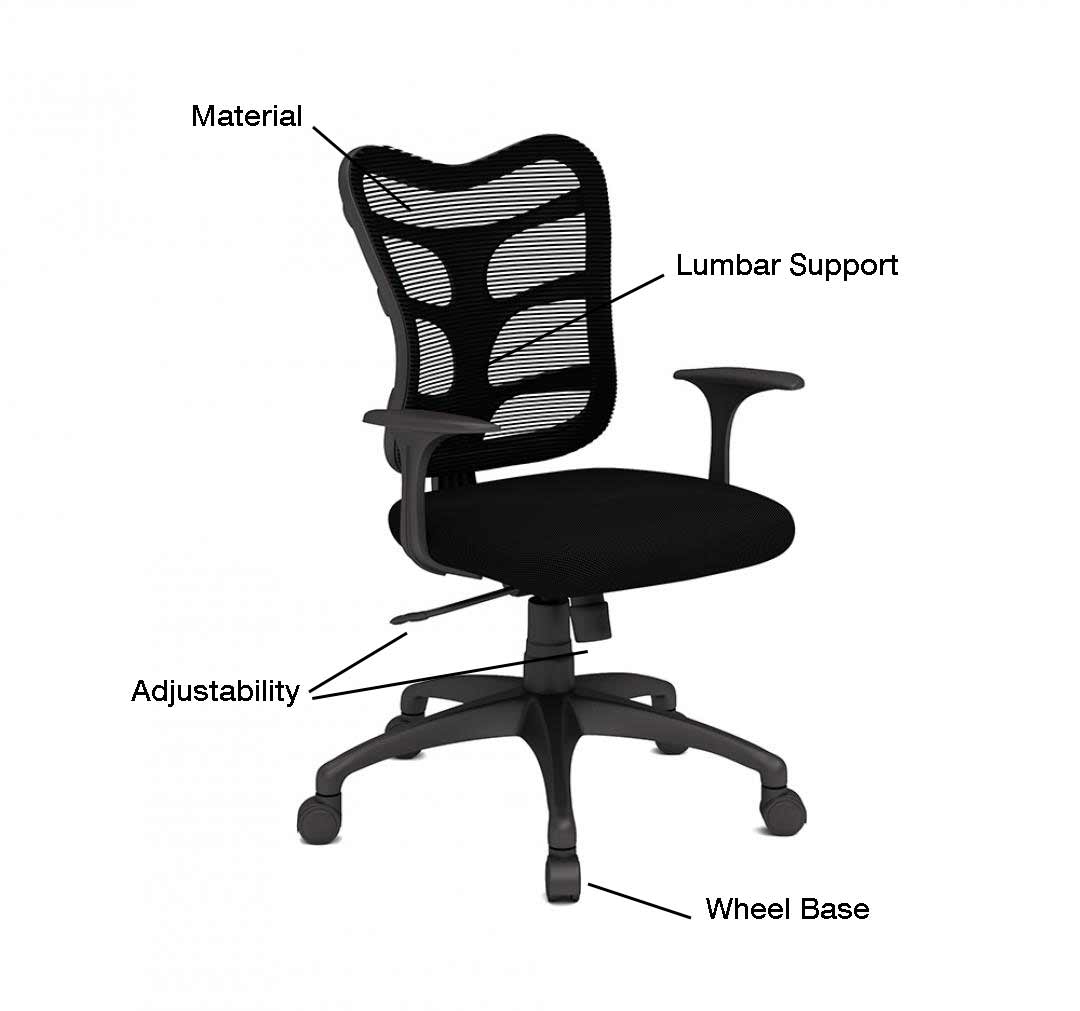 Here's what you should be looking for in a quality office chair:
Lumbar Support
Support for the lower back comes first. Ideally, you will look to a chair that allows for adjustable lumbar support allowing the user to fit the chair more comfortably to the body. Good lumbar support will help prevent back strain or worse, potentially debilitating sciatica.
Adjustability
Many office chairs accommodate arm and height adjustment. While these are good, they're not the most important adjustments to look for when shopping for an office chair. The best chairs should have the ability to adjust lumbar support, arm width and height, seat back width and height, seat and back angle, and tension control.
Wheel Base
Most office chairs have a wheelbase. However, if the area is carpeted, it may be necessary to have a chair with wheels specifically made for carpet or rugs. Rolling is important to prevent potential strain due to extending or stretching across a desk to retrieve items that are out of reach.
Swivel Base
Any office chair should swivel freely to allow for easy access to various parts of the desk. If it doesn't swivel freely, arm fatigue can result from over extending to reach various items.
Fabric or Material
The fabric or material used for the back and seat of the chair should be breathable to prevent heat from getting trapped after hours of use. It should also provide significant cushioning to prevent any feeling or pressure of the base of the chair through the cushion.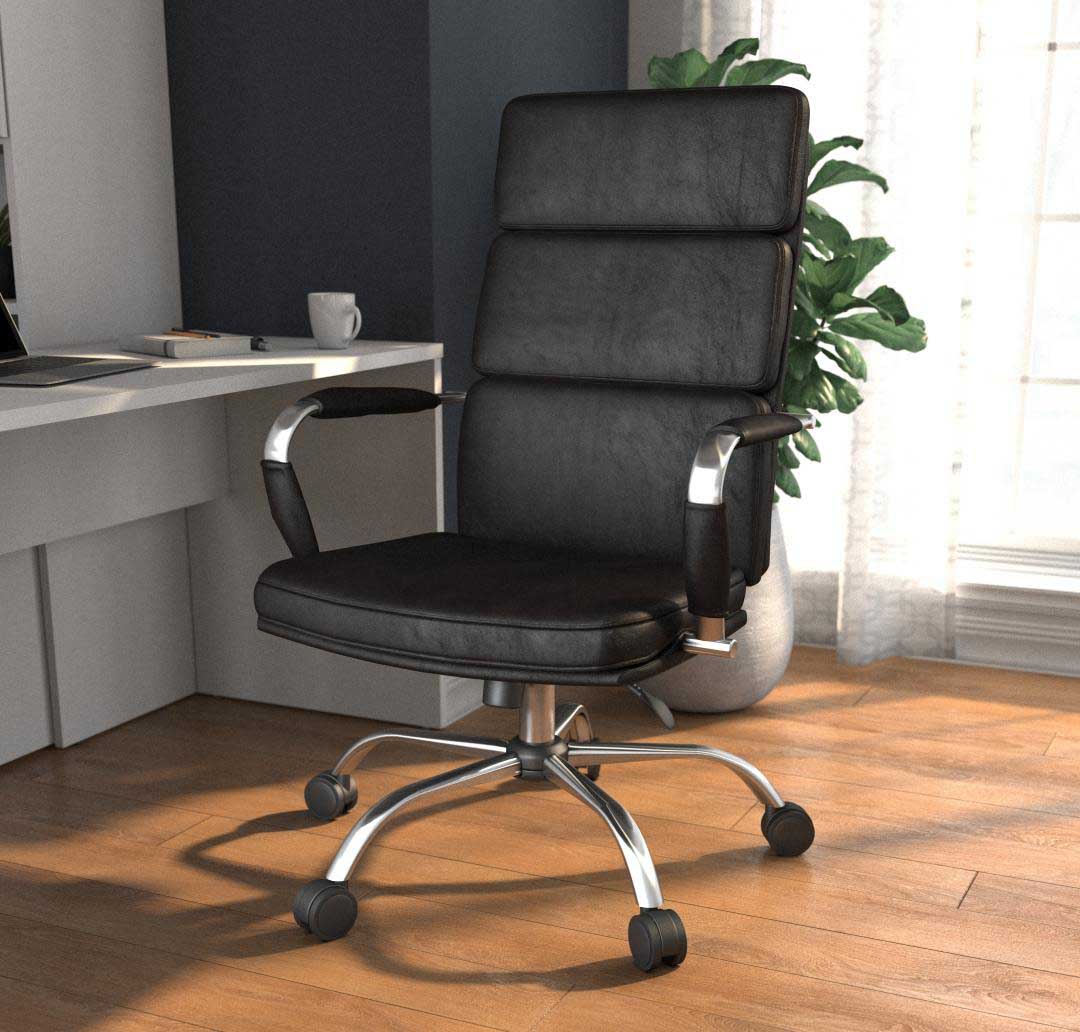 Give It a Try! Finding a Chair That's a Good Fit
A great fit is so important. Whenever possible, the best way to choose the right office chair is to allow the user to sit in a variety of chairs to find the best fit and greatest comfort.
You should look for these things when trying on a new chair:
The backrest should be adjustable, following the shape of the spine, supporting the curve in the lower back.
Feet should rest flat on the floor comfortably.
Arm rests should be close the body, allowing for relaxed shoulders.
Chair arm height should be adjustable, matching the height of the desk, preventing shoulder strain.
The center of the computer screen should be what is seen while in seated position.
For good support, it's ideal if the back of the chair comes to above the shoulders, but also good if it comes to the middle of the shoulder blades.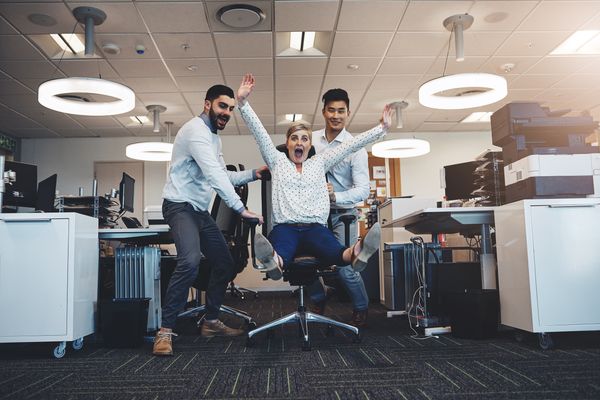 Promoting comfort and health should be of utmost priority in your choice of office chair.
The cost of making the right choice will be easily recouped simply by reducing the number of days, weeks or months your employees might take off due to strain or injury from hours of uncomfortable deskwork.
You may also like:
Ideas to Inspire the Perfect Dream Office in Your Kitchen
Categories
Business
,
Home Office