From vintage to contemporary, shabby chic to minimalist, there's a TV stand that's functional, stylish and perfect for your space.
Even with the advent of smartphones and tablets, people are still watching a lot of television—with screens bigger than ever!
But where to keep it, that's attractive and functional, and integrated into your decor?
Choose the right entertainment center, and the expansive emptiness of the matte black screen will no longer compromise the aesthetic you've carefully and thoughtfully created in your room.
So long man cave! Here are some smart and stylish ideas to help inspire your entertainment space.
Go Retro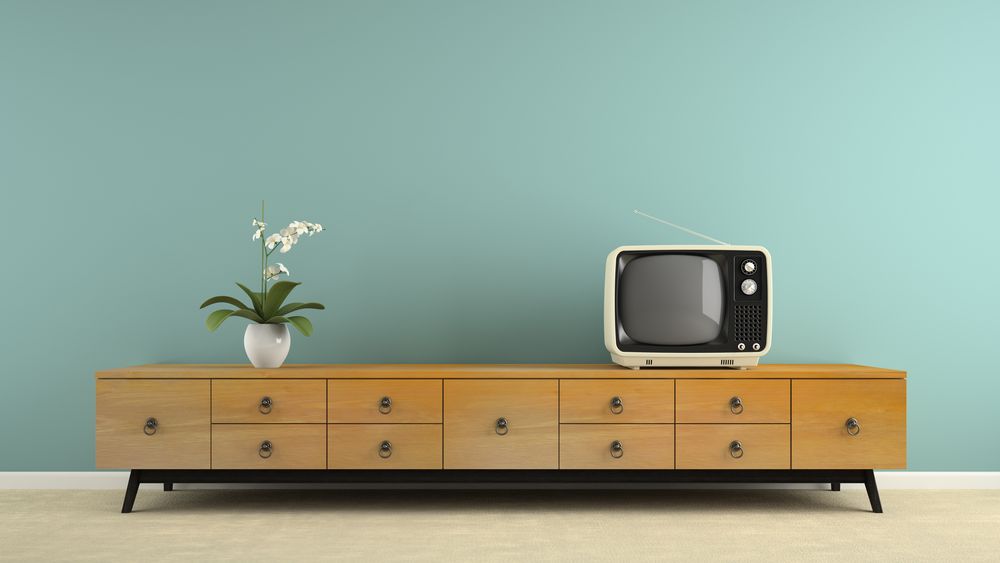 Mid-century modern style is experiencing quite the renaissance though many would argue it's always enduringly popular. Lighter woods and a low-slung, minimalist profile all add up to a welcome trend promoting simplicity and tidiness without compromising functionality.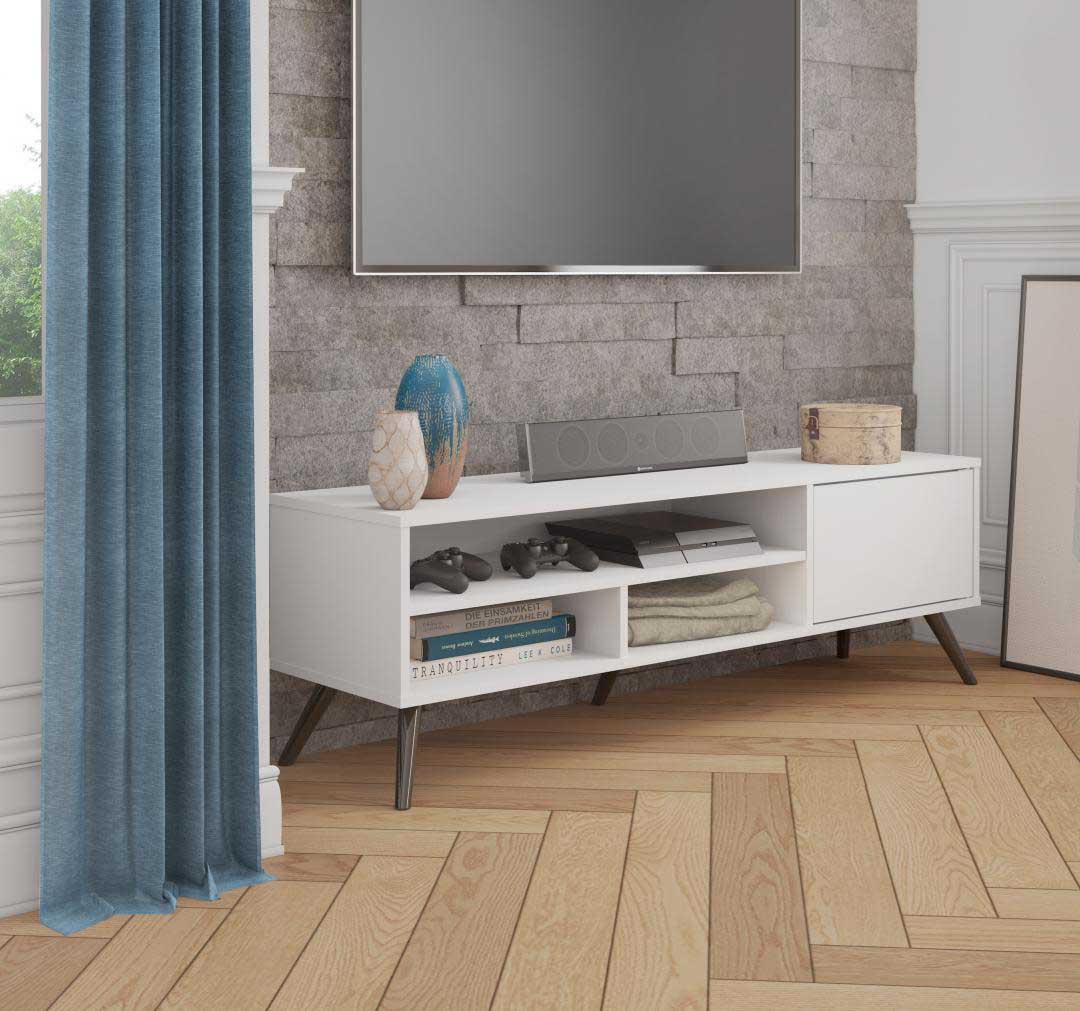 Tapered and hairpin legs help to characterize the era, conserving the uncluttered and spare aesthetic. There's plenty of surface and storage space to keep a large TV and other electronics, accessories and more. The drawers and doors are typically understated, and the hardware is in keeping with the minimalist ornamentation, providing for ease and utility without interrupting the clean lines.
Floating Contemporary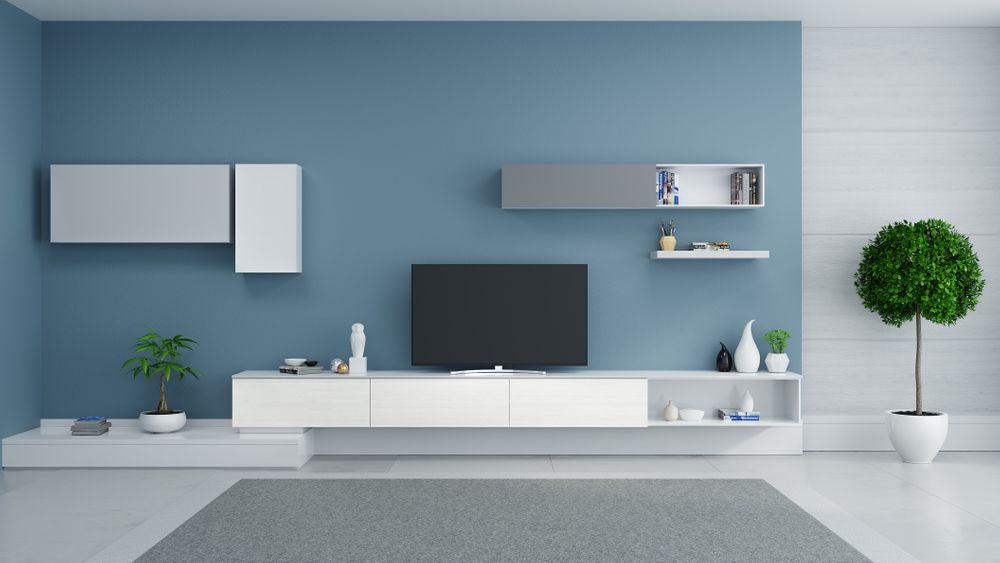 Great for any space, large or small, floating shelves and cabinetry take care of all your entertainment needs with polished simplicity.
A floating TV cabinet allows for a modern and sleek style promoting a sense of light and minimalism without abandoning function. Offering plenty of surface area for a set of just about any size, there can also be plenty of storage available for the unsightly accessories that go along with it.
Add a few well-placed floating shelves, and you've got a handsome, coordinated entertainment storage system that integrates beautifully into your decor without letting the TV overwhelm.
Beautiful Built-Ins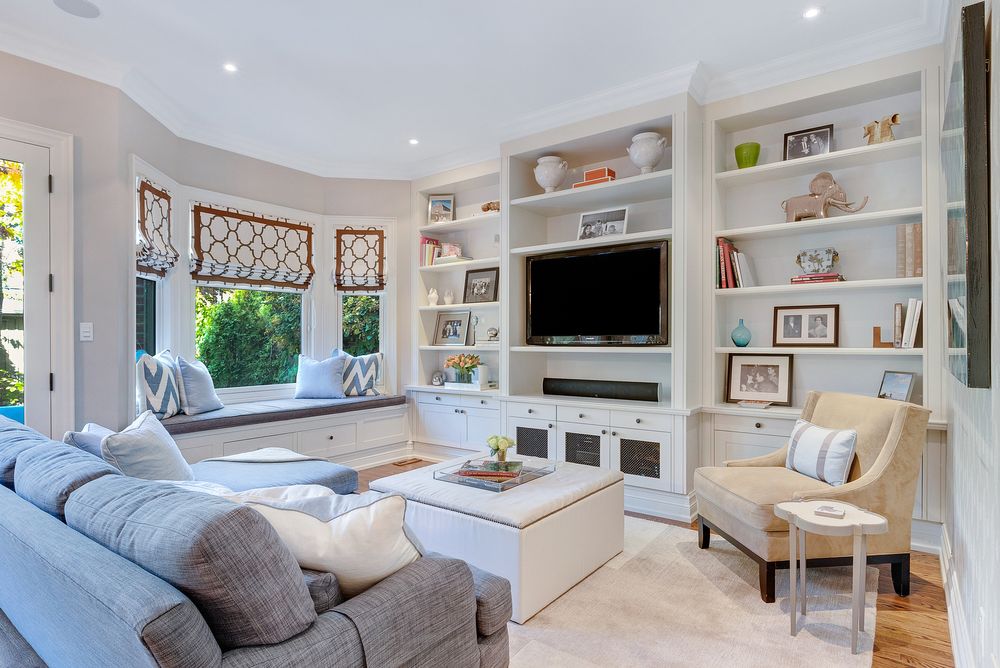 Maximize the wall space of your room with custom-built shelving, integrated entirely into not only the decor of the room but the structure itself.
Include open shelving as well as doors for variety but also to hide your other electronics and corresponding accessories. Highly functional, built-ins can be fully customized to suit your style; and the storage options surrounding the dedicated TV stand are seemingly endless: wall-to-wall and floor-to-ceiling.
Modular Minimalism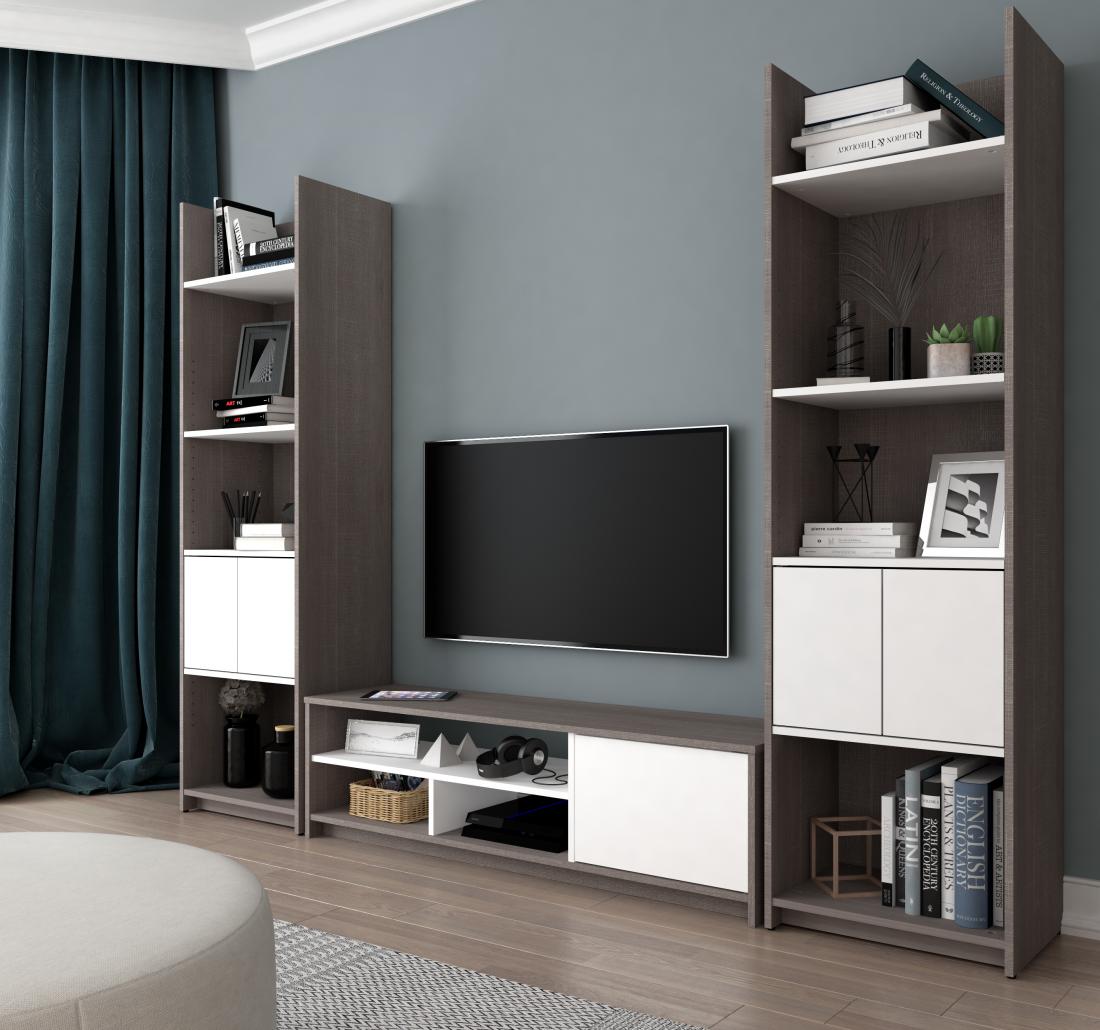 Great in any sized space, but particularly useful for smaller rooms, a modular entertainment unit houses your television and a whole lot of other stuff as well.
With the storage function of built-ins, an attractive and practical modular unit offers open shelving storage as well as the closed cabinets for keeping the entertainment-related clutter out of sight.
The advantage to modular units is that it allows you to arrange the components—TV stand, shelving, door units—in any number of permutations to suit your needs.
Shabby Vintage DIY Chic TV Stand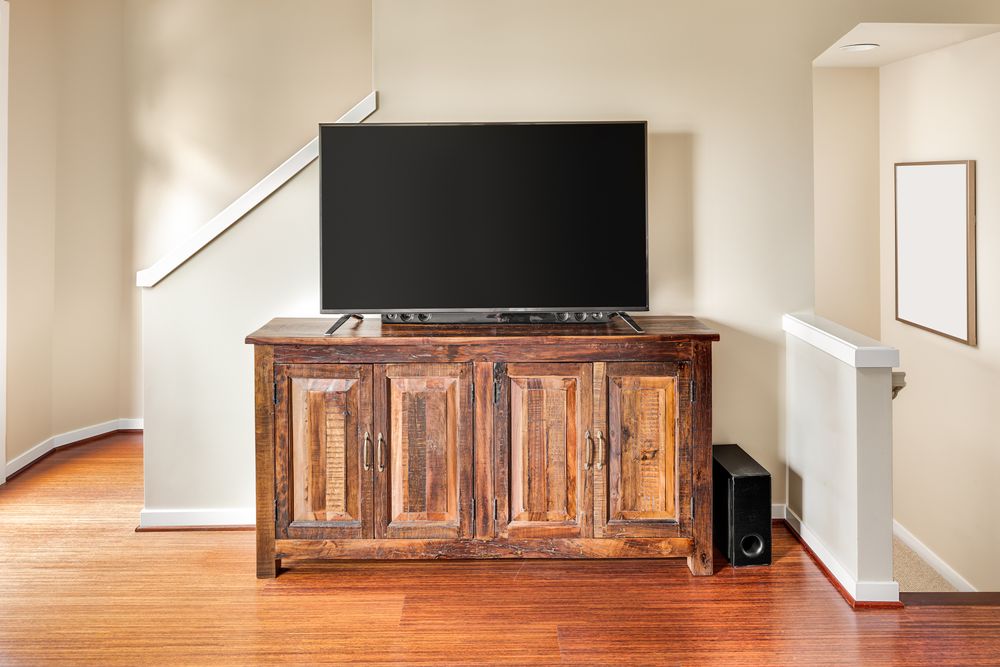 A vintage, shabby chic look can be achieved at just about any price point, depending on your desire to DIY.
Get out to a local yard or garage sale, visit a flea market, or stop in at your local thrift shop and you're sure to find a cabinet that speaks to you. Depending on the condition, with a little elbow grease—or a lot!—you can successfully transform your piece into an entertainment unit perfect for your style and decor.
Rough it up, refinish it, and paint it. Remove doors or add them. The options are endless!
Keep in mind, the piece doesn't have to be specific to a living room. Transform a chest of drawers, an armoire, or an antique bookcase to suit your entertainment needs and individual taste.
Bank Account Friendly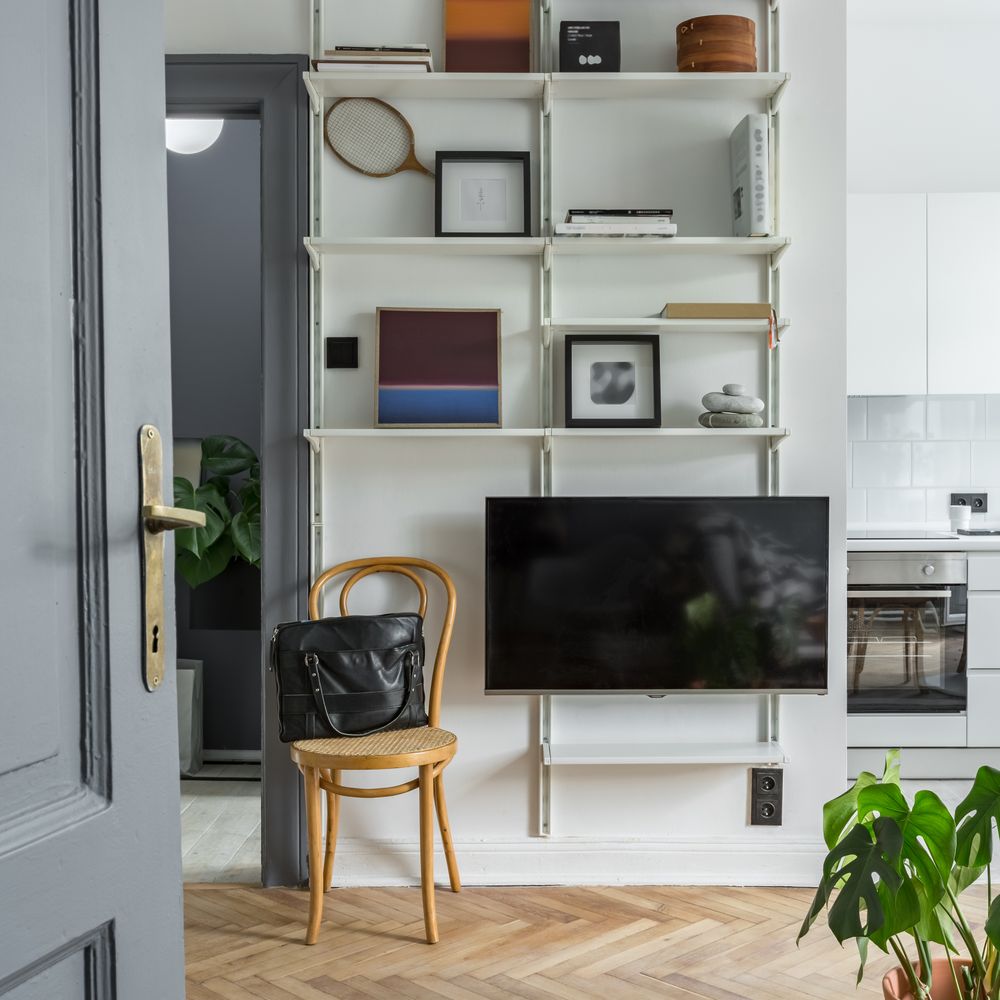 With a little ingenuity and a quality shelving kit from your local hardware supply store, you can create a very functional and attractive DIY temporary built-in that will cost you next to nothing.
Perfect for creating a dedicated home for your TV, the shelves also provide abundant space for keepsakes, books, and other decorative bits and pieces. Keep items you want within easy reach, but out of view, in decorative boxes, baskets, or bins.
A terrific entertainment center solution for apartments and condos or other small spaces!
Categories
Home