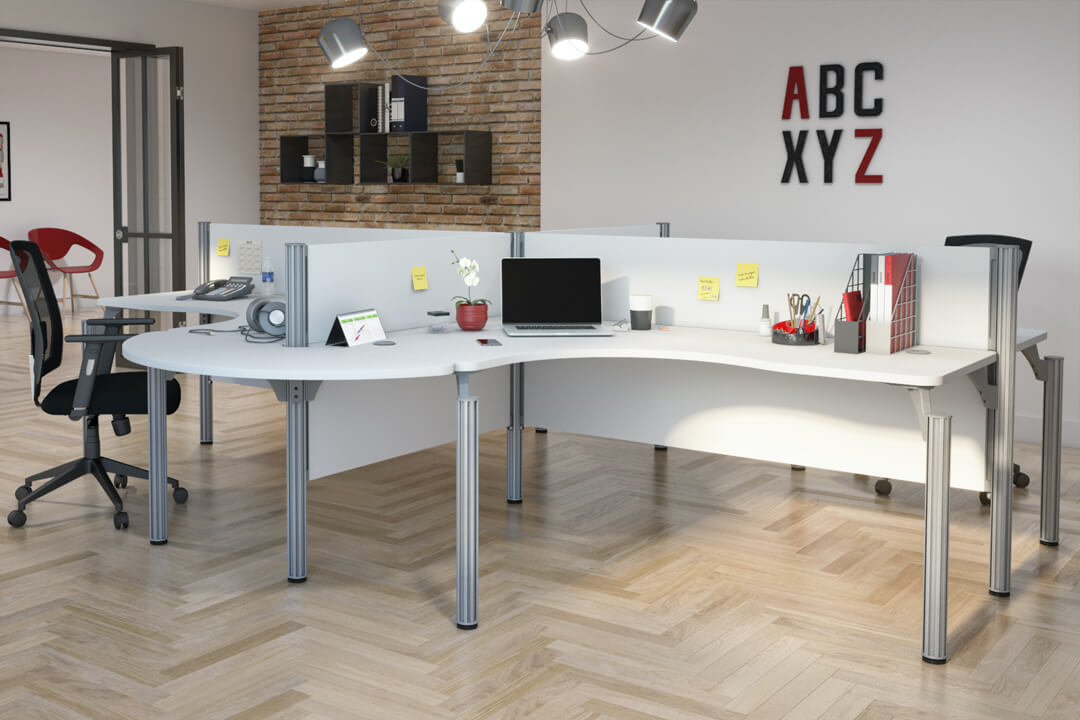 Office lighting is an essential element of design when it comes to office morale, comfort, and productivity. Good lighting is a vital component to an ergonomic and healthy workplace, but it can often be underestimated or even completely overlooked in favor of style.
As you consider the lighting in your office and at your desk, it's important to understand that lighting does much more than merely provide illumination for tasks. Light has the power to inspire and motivate; it sets a mood in your space and enables creativity, communication, and collaboration.
The amount and quality of light in your office space also communicates your brand, your values, and the identity of your business.
Additionally, inadequate or dim office lighting can cause eye strain, headaches, and fatigue, which all compromise productivity. It can also result in a lack of focus and even drowsiness at work. Harsh lighting can be similarly harmful, bringing on the same symptoms.
According to startup entrepreneur and co-founder of Buffer, Leo Widrich, "Our cortisol levels drop significantly under artificial or poor lighting conditions. That means that we'll be more stressed and have less ability to stabilize our energy levels."
Offices with an abundance of natural window light can easily provide the illumination needed for a healthy, positive, and inspiring work environment. If your office space has no windows or available natural light, how do you achieve the same benefits, but through artificial means?
Fortunately, there are a variety of options to bring a sense of light to a windowless office.
Wall colors: an easy first step to brighten the office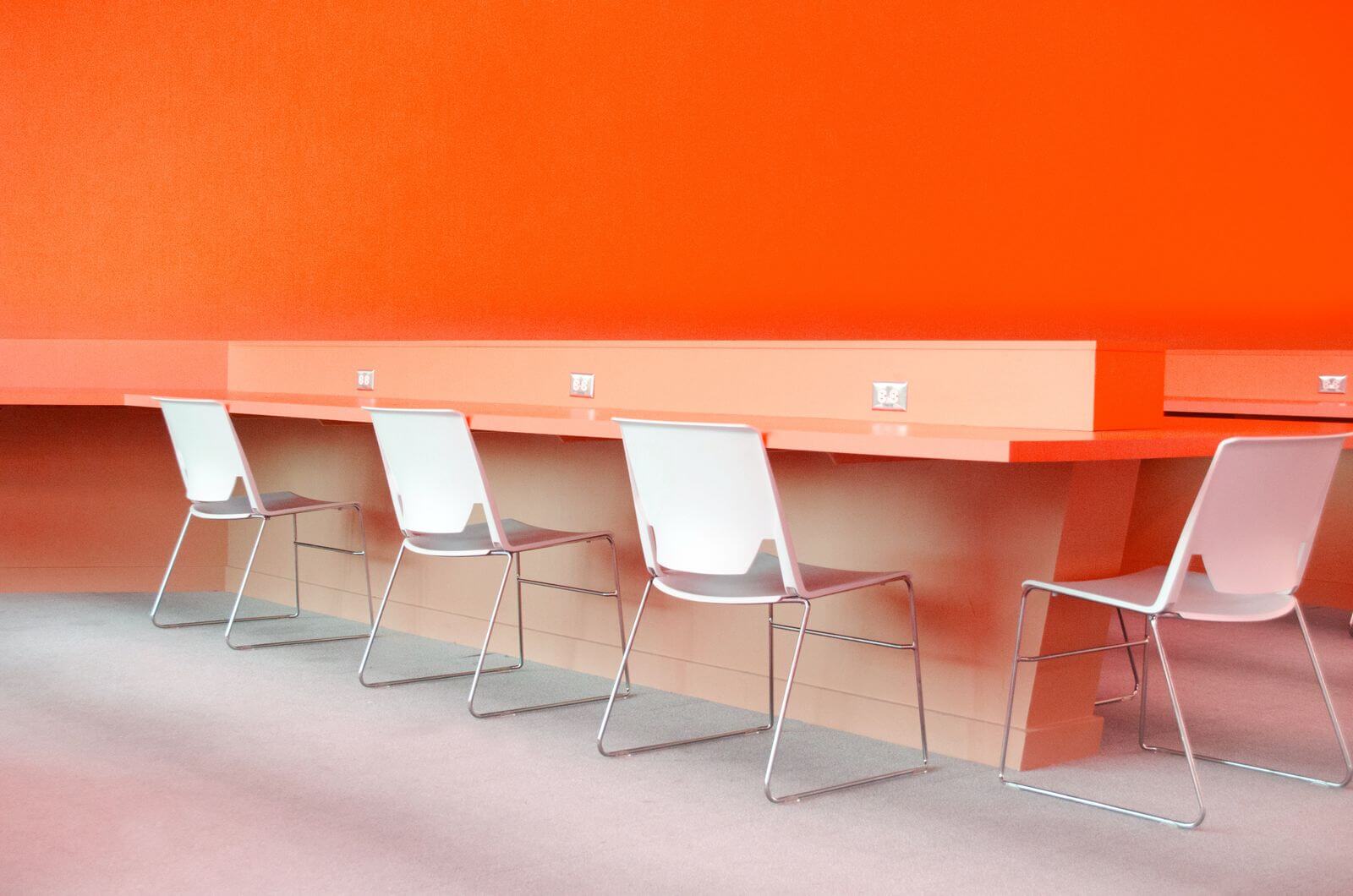 The first, and easiest, way to lighten and brighten your office is to repaint — choose light paint colors and bright wallpaper designs to help elevate the mood and productivity of your colleagues and employees.
You can create the illusion of natural window lighting with light paint colors such as white, cream, light baby blue, or light lime green. Pastels provide freshness — a bright environment that effectively reflects any light source around the office. Want to inspire positivity and energy? Bright yellow illuminates the entire space — an effective substitute for natural sunlight.
The science of color therapy can help inform your decision when it comes to office paint colors — amp up employee morale as your business enjoys increased workplace productivity.
While they perhaps involve more effort and commitment, bright wallpapers can be similarly effective. Incorporate light and bright colors or natural building materials such as brick or wood to enliven your space and bring character to a windowless office.
The right office lighting solutions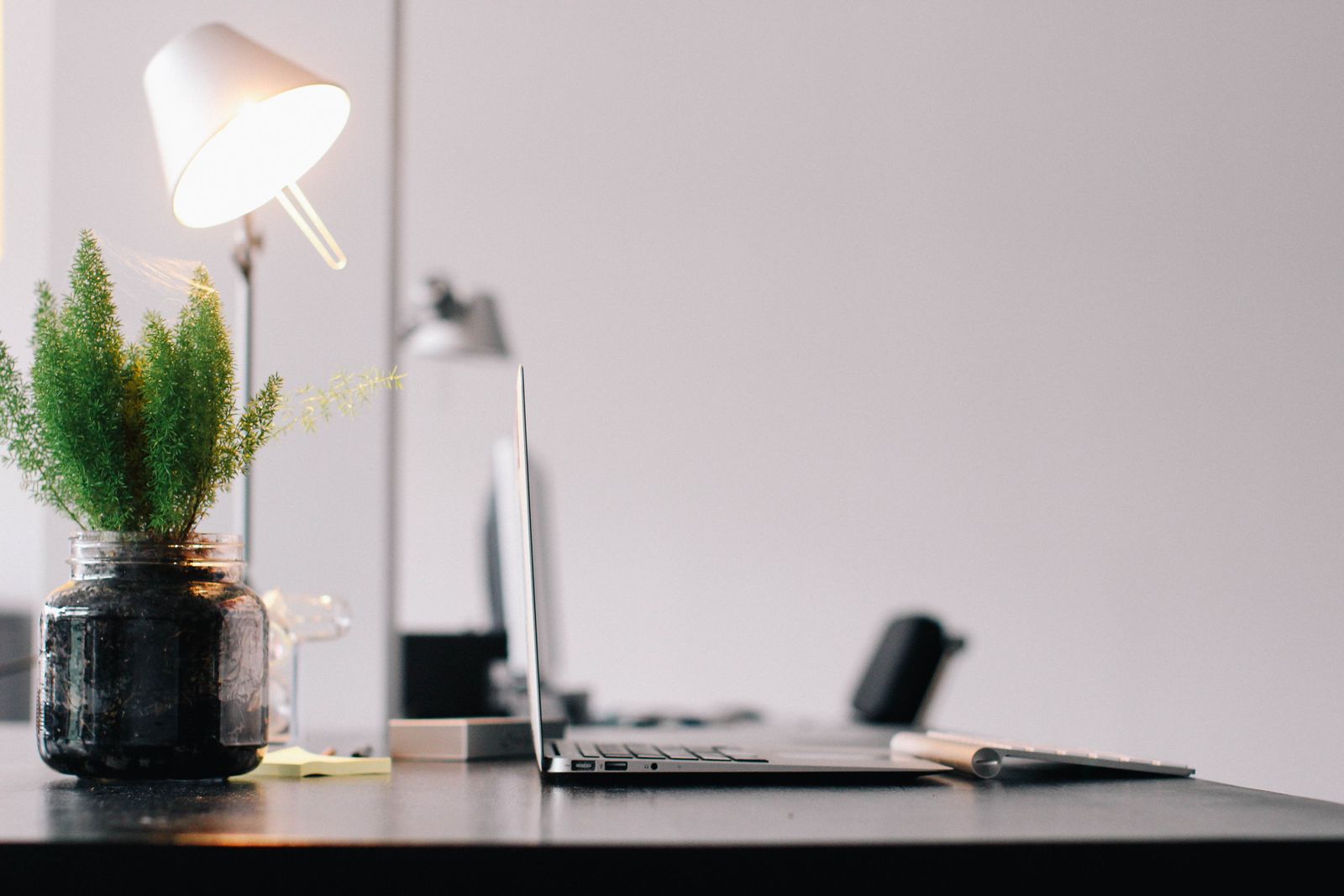 When choosing your office lighting solutions, it is important to consider your employees and not just their tasks. Office lighting is seldom a priority and often comes second to decor and furnishings.
Given the importance of light in regards to our well-being, bringing ample light into the office is essential. Below are a variety of lighting options that are not only beneficial in a windowless space but that also allow you to switch up light sources depending on the tasks at hand.
Cove lights: provide one of the most effective lighting solutions in an office without windows. Cove lights hide the fixture, giving a feeling that the light is natural. A type of indirect lighting built into ledges, recesses, or beams, cove lights are direct up towards the ceiling or against an adjacent wall to project light throughout the space. They tend to minimize the visual disturbances of direct light, making it an ideal choice for an office environment.
Hidden lights: have a similar effect to cove lights, but are easier to install and are more cost-effective. Installing hidden lights is as easy as tucking small lamps onto shelves, behind furniture, or in other discreet areas to provide more light. The fixtures are largely unseen and provide a sense of natural light by mimicking window light.

Fluorescent light filters: If you already have fluorescent lights, you know how gloomy and dull the effects can be. One way to help your fluorescent lighting appear more like natural sunshine is to invest in fluorescent light filters. Filters allow for nearly full-spectrum natural light, even if you have no windows. Safe and affordable filters can provide the healthy, natural light your office needs to enhance the morale, health, and well-being of your team.
Lamps: Effective office lighting may not always mean overhead lights. If you've got inadequate overhead lighting, don't bother turning them on. Instead, rely on the warmth of lamp light. Lamps can be individually controlled to provide direct or indirect lighting as workers need. They also help reduce glare, and the use of daylight bulbs can mimic natural light. Lamps, or task lights, also help reduce your energy consumption — promote sustainable design through energy efficiency.
By upgrading your office environment and moving away from fluorescent lights, you enhance the experience of your workforce and promote health and comfort. Adequate lighting also improves focus and concentration by preventing eye strain, headaches, and other sight-related issues.
Choose reflective accessories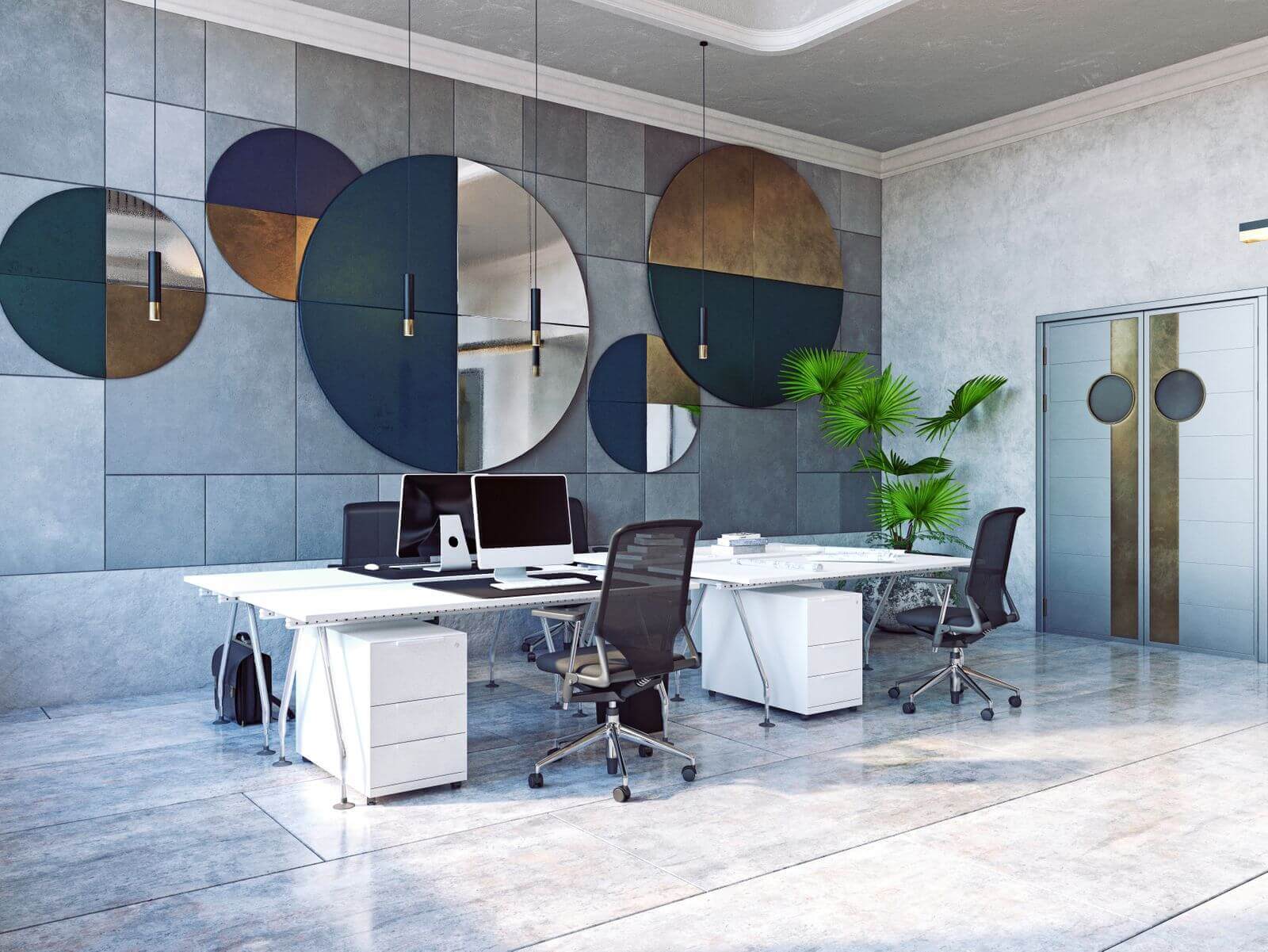 A strategically placed mirror can not only make a small space appear larger by expanding the room visually, but it can also mimic a window. Mirrors can help light up any office space as they reflect even dim light and amplify its illumination. Aside from lighting, mirrors are one of the most effective solutions for brightening a windowless space.
Choose a floor-to-ceiling mirror to enhance your office design, and include well-placed mirrors that will best reflect sources of light for added brightness.
A touch of nature goes a long way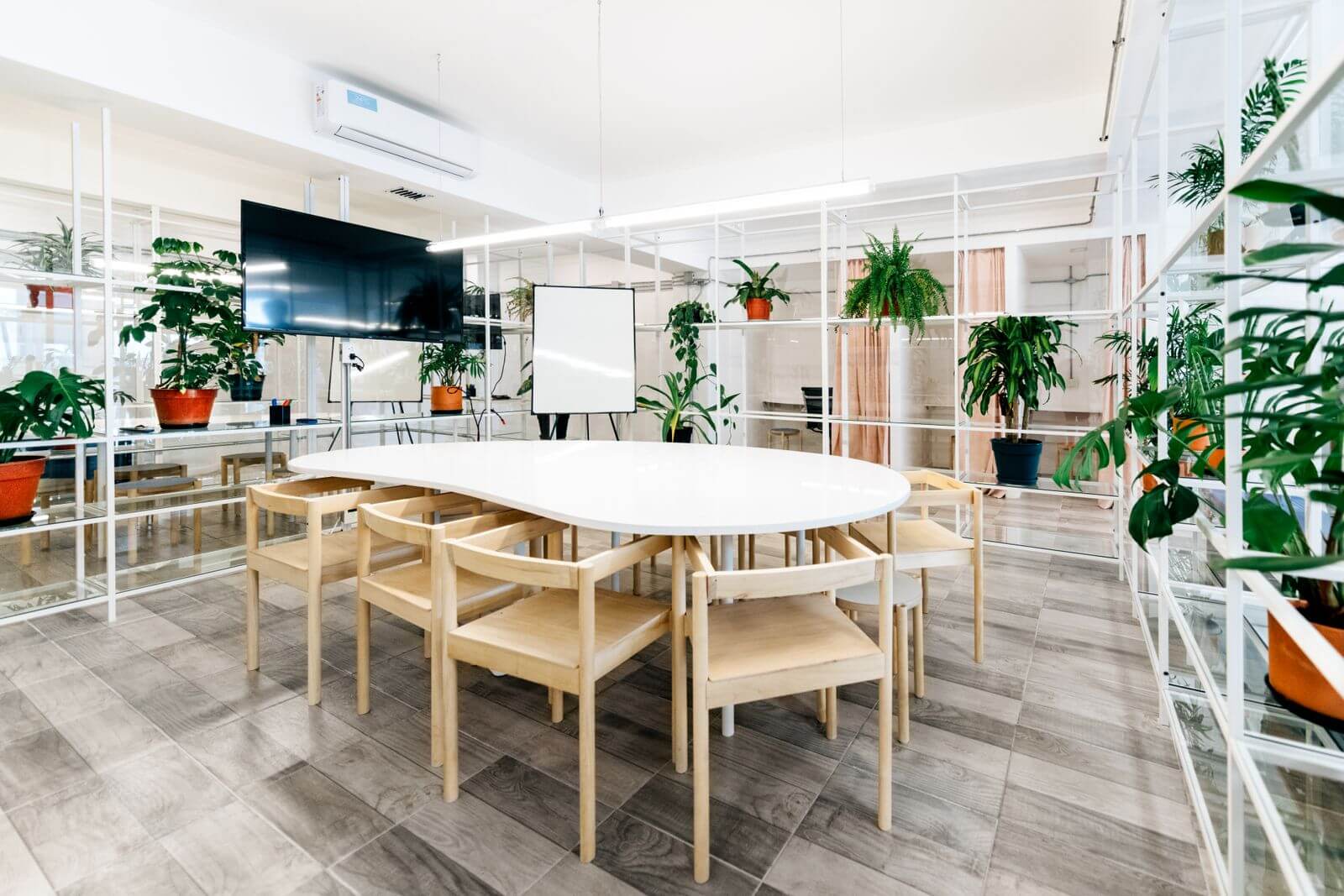 Bring the outdoors in! Regardless of the space, plants can have a huge impact on the spirit and health of a room. Include living greens in your decor and help your workplace feel larger and brighter. It's essential, however, to choose varieties that thrive in low light — peace lilies, snake plants, philodendrons, and some varieties of palms and ferns, to name a few.
Bonus: incorporating green plants in your office adds not only to the beauty of the space, but they'll help keep your office air pure and healthy as well, providing your staff with a steady supply of fresh oxygen.
A sense of illusion
If your office space is windowless, don't be afraid to fake it! You can give the impression that your office has windows by adding some light, airy, floor-to-ceiling drapery. This technique really adds impact when you use an entire wall; it gives the appearance and feeling that there's more space than there really is.
Indoor windows, french doors, and transom windows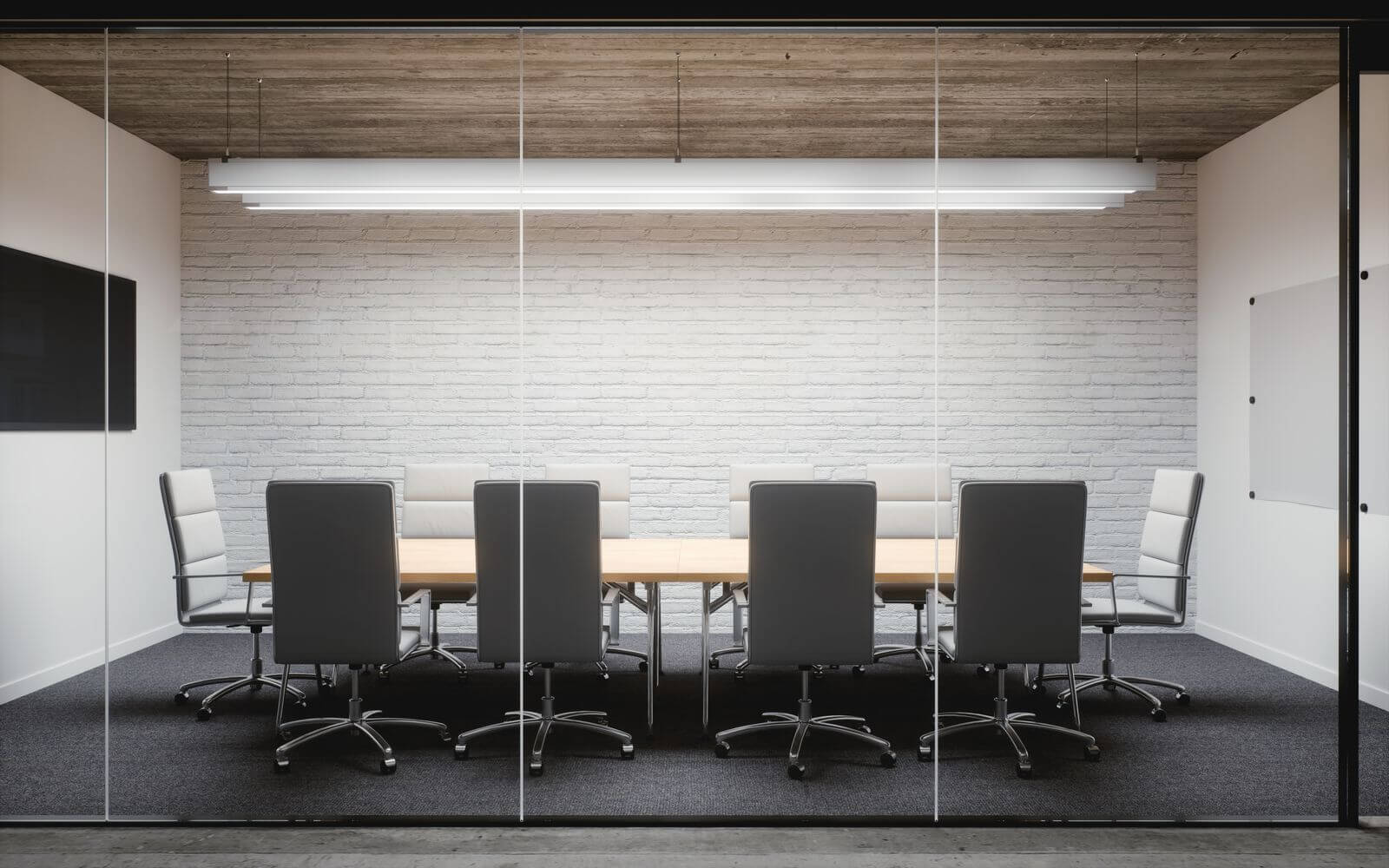 For the spaces in your office where absolute privacy isn't of great concern, such as a conference room, you may want to convert a doorway to french doors, or add frosted glass windows between rooms to help give a feeling of light and space.
If you don't want to compromise privacy, you can still bring light from one room to another with the add-on of a unique feature such as a transom window above office doors.
Each of these options will allow light from other rooms to move through the glass separations, giving a window-like effect and the illusion of natural daylight. If you're concerned with privacy, you can add light draperies and close them when necessary.
Hang large artwork, wall murals, and photography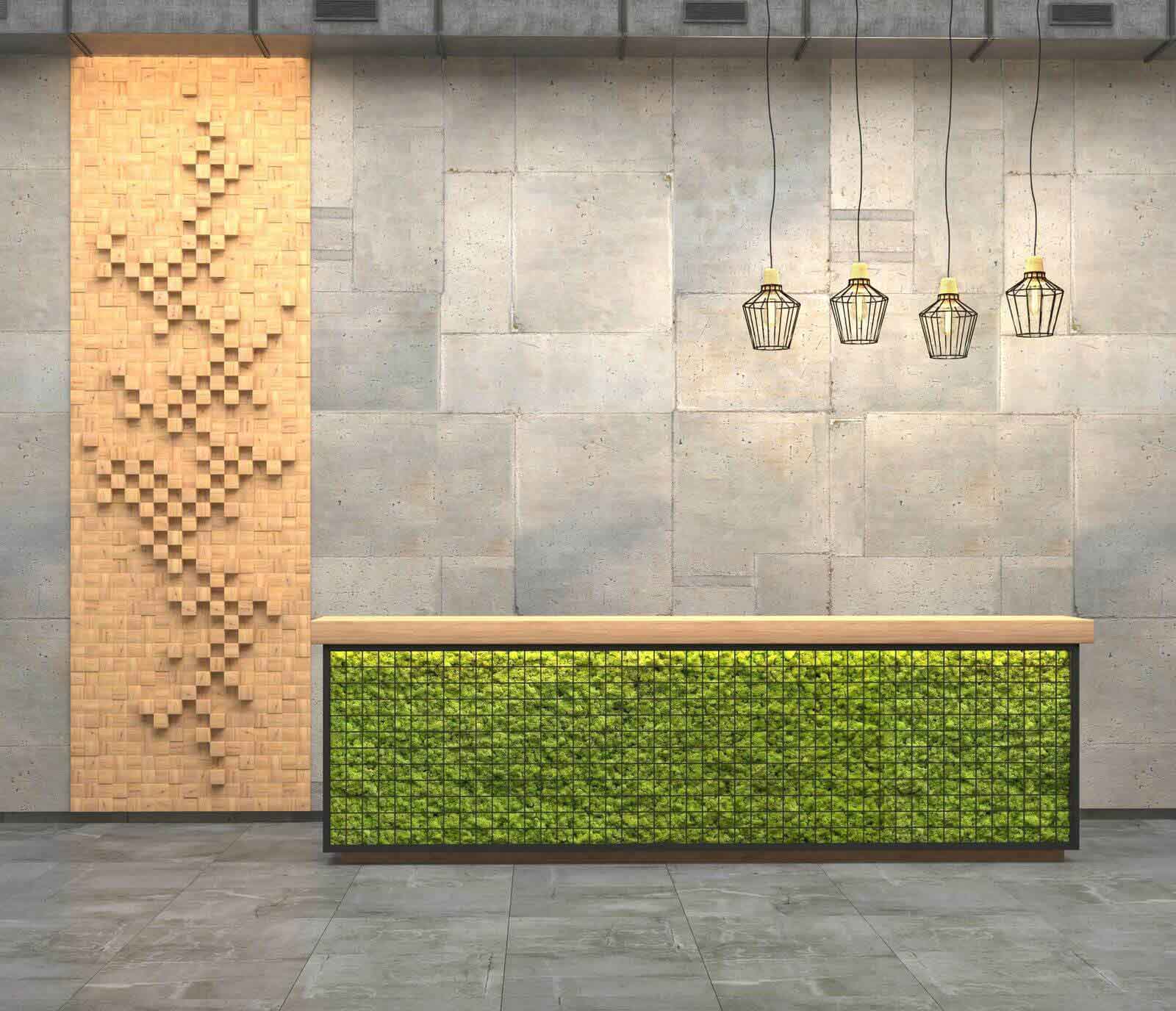 Artwork has an innately inspiring quality and is great to include in any office decor. However, when you're trying to lighten and brighten an office with no windows, beautiful artwork becomes even more necessary.
Choose oversized art and photography or commission a mural that depicts scenes from nature to mimic the view from a window. Images of the sky, trees, or water allow for a simulated view of the outdoors. Simply a visual image of nature (an ocean, beach, a mountain stream, etc.) can trigger pleasant memories and feelings, generating positive emotions as well as the corresponding positive physiological effects.
If you haven't yet thought about how your office environment is impacting your business, consider the overall condition of your office, particularly if you have an office with little or no natural light. Observe how your team interacts and produces in this space and consider whether it could be improved through some simple changes in your office decor, particularly with regards to lighting.
Investing a little extra time and money to make some improvements in your office will likely enhance not only your employees' experience at work — their creativity, productivity, and mood — but will also help reinforce and define your company values and brand identity.
Categories
Business