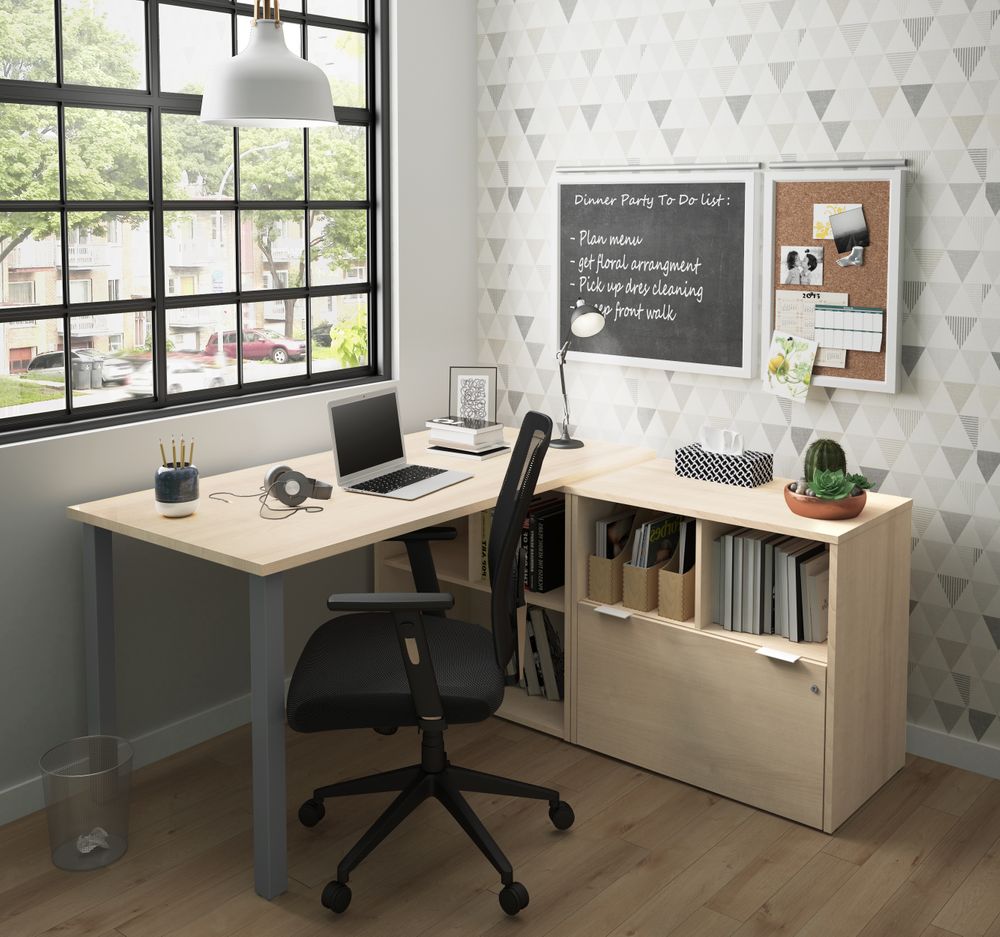 Comfort is vital when it comes to productivity working for hours at a desk. Fortunately, Bestar offers a selection of comfortable, stylish office chairs – eye-catching in any office environment.
The office chair has arguably the most significant influence on worker's productivity when doing desk work. If they're uncomfortable, struggling with seated posture and the resulting aches and pains, it can severely impact their productivity.
This Information Age has increased the amount of seated, knowledge, desk work dramatically over the last two decades. Days spent sitting, hours upon hours in the same position have wreaked havoc on the bodies of millions of workers.
More and more, there are complaints of chronic pain as a result of postural imbalance, repetitive-use injuries, and a sedentary lifestyle – or, 'sitting disease.'
Not to mention the fact that it can shrink our lifespan. A recent study out of Scotland found that middle-aged office workers were more sedentary than people over the age of 75.
In the United States, 7.6 million people list back pain as their reason for filing disability claims.
This, along with the research to confirm that slouching and similar seated postures can cause backaches, headaches, fatigue, and poor concentration identifies a clear need for a solution to workplace discomfort.
Increasing complaints of physical discomfort and injury due to desk work have spurred an interest in the ergonomics of desks and office chairs to not only help solve the issues of profound physical discomfort but the negative impact its had on office productivity that result.
Which Office Chair is right for your office?
Indeed, the seemingly endless options for office chairs can be overwhelming.
Bestar simplifies the decision-making. We offer an exceptional choice of comfortable and ergonomic office chairs to promote back health while increasing productivity and efficiency.
Each of our chairs helps you and your employees maintain a healthy posture when seated.
Bestar office chairs encourage good posture through lumbar and pelvic support and the ability to customize chair settings to maximize comfort.

Urban Office Chair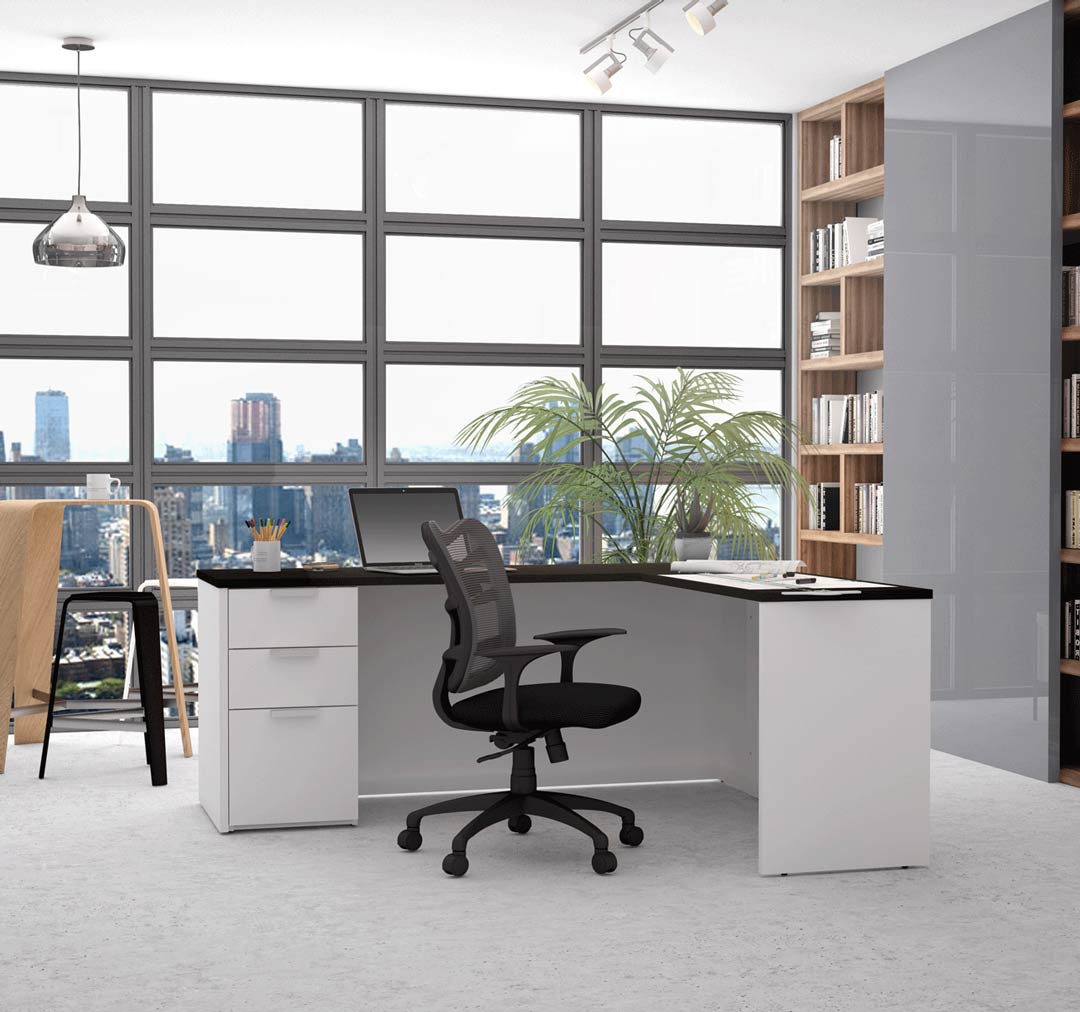 With the unique mesh back to provide comfort and breathability, the Bestar Urban Mesh Chair is an ideal choice for any office.
Offering the necessary support to ensure comfort throughout the day, its advanced styling is an eye-catching element to any work environment.
To ensure comfort for hours on end at a desk, this chair provides a user-friendly pneumatic height adjustment as well as an effective tilt/lock mechanism for customized use.
Casters allow for ease of mobility at your desk as you reach and move between tasks.
The breathable mesh fabric back and molded foam fabric seat keep you feeling fully supported but with an airy freshness throughout the workday and the comfortable polyurethane armrests provide for an excellent seated posture at the computer.

Taskmaster Office Chair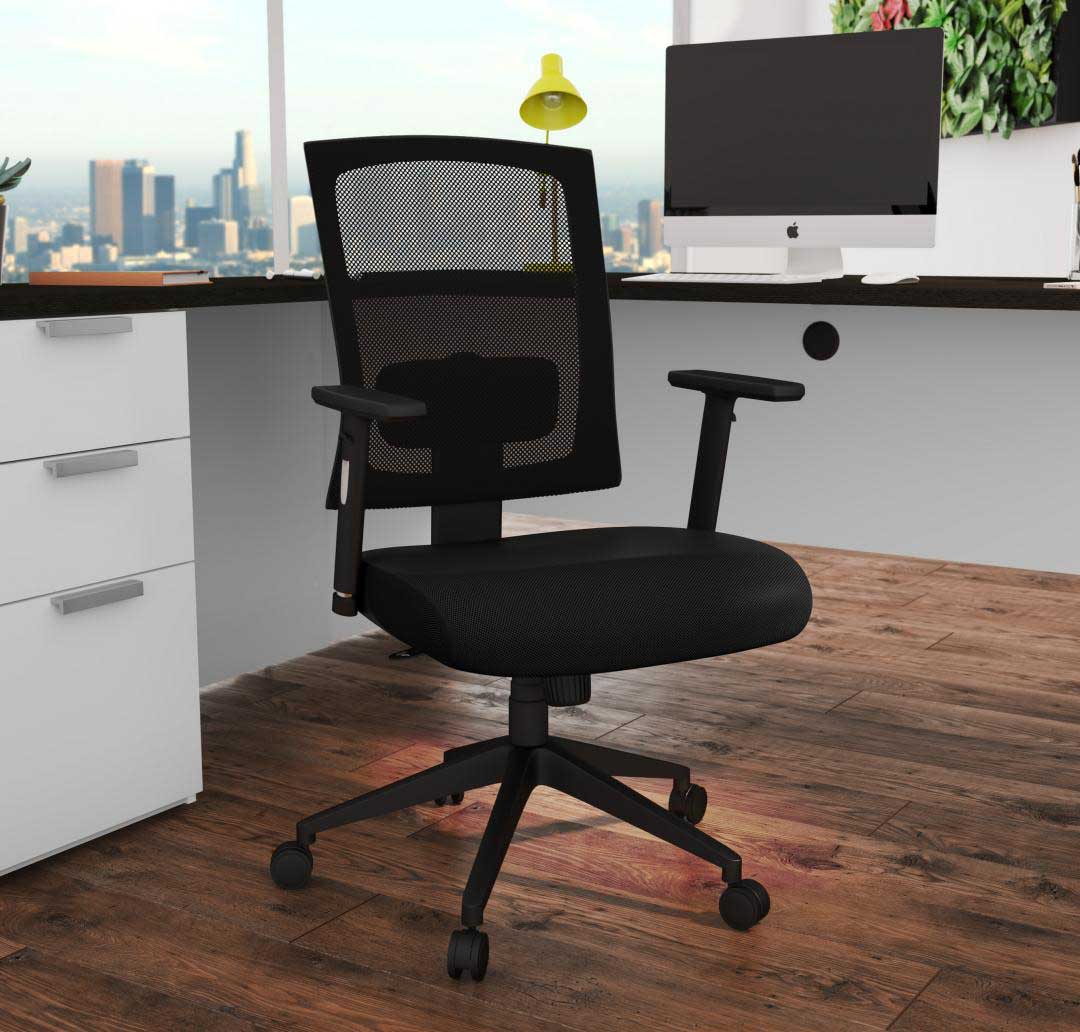 The Taskmaster Series delivers outstanding ergonomics and a next-generation design. Its contour and shape are specifically created to support you completely as you perform the tasks of your workday at a desk.
Customizable adjustments help provide support for just about any body. Height adjustable arm-rests offer unparalleled support and comfort at your desk, particularly when at a computer or laptop.
The pneumatic height adjustment, height adjustable ratchet back, and adjustable lumbar support ensure the best posture, minimizing discomfort and chances for sitting related injury.
The synchro-tilt mechanism follows your movements, and the breathable mesh back provides superior support.

Clasica Office Chair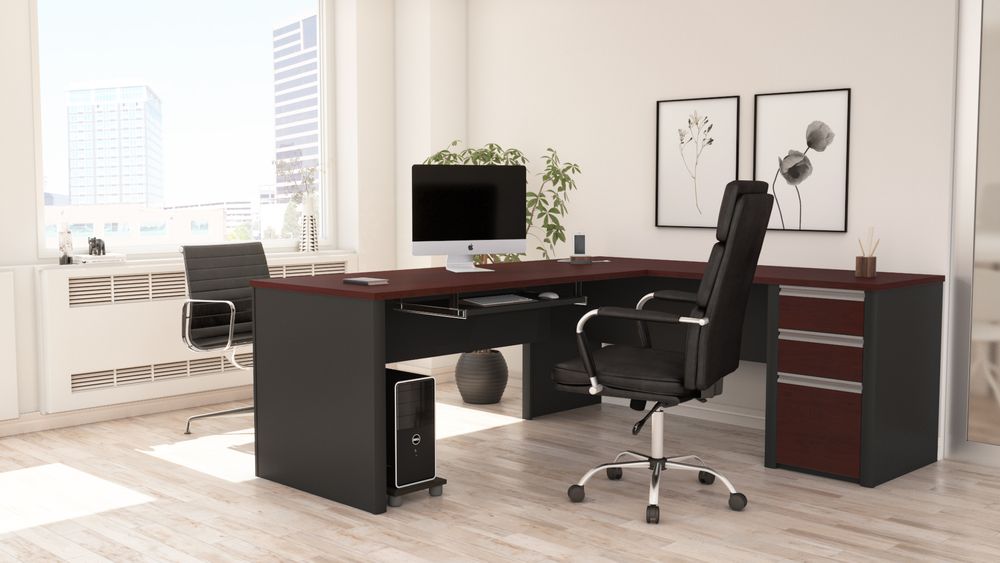 The Clasica High Back chair by Bestar offers a modern yet classic style, perfect for an executive or conference setting.
The contoured back with a luxurious and generously upholstered seat combine to give effective ergonomic support and plush comfort. The black leather air fabric upholstery, chrome armrests with upholstered pads, and fashionable chrome base with durable dual wheel casters give this chair a highly executive look and feel.
Practically, the 360-degree swivel mechanism, pneumatic height adjustment, and tilt lock and tilt tension control provide for the customized adjustment required for individual and exacting comfort control and support.

Aero-Pro Office Chair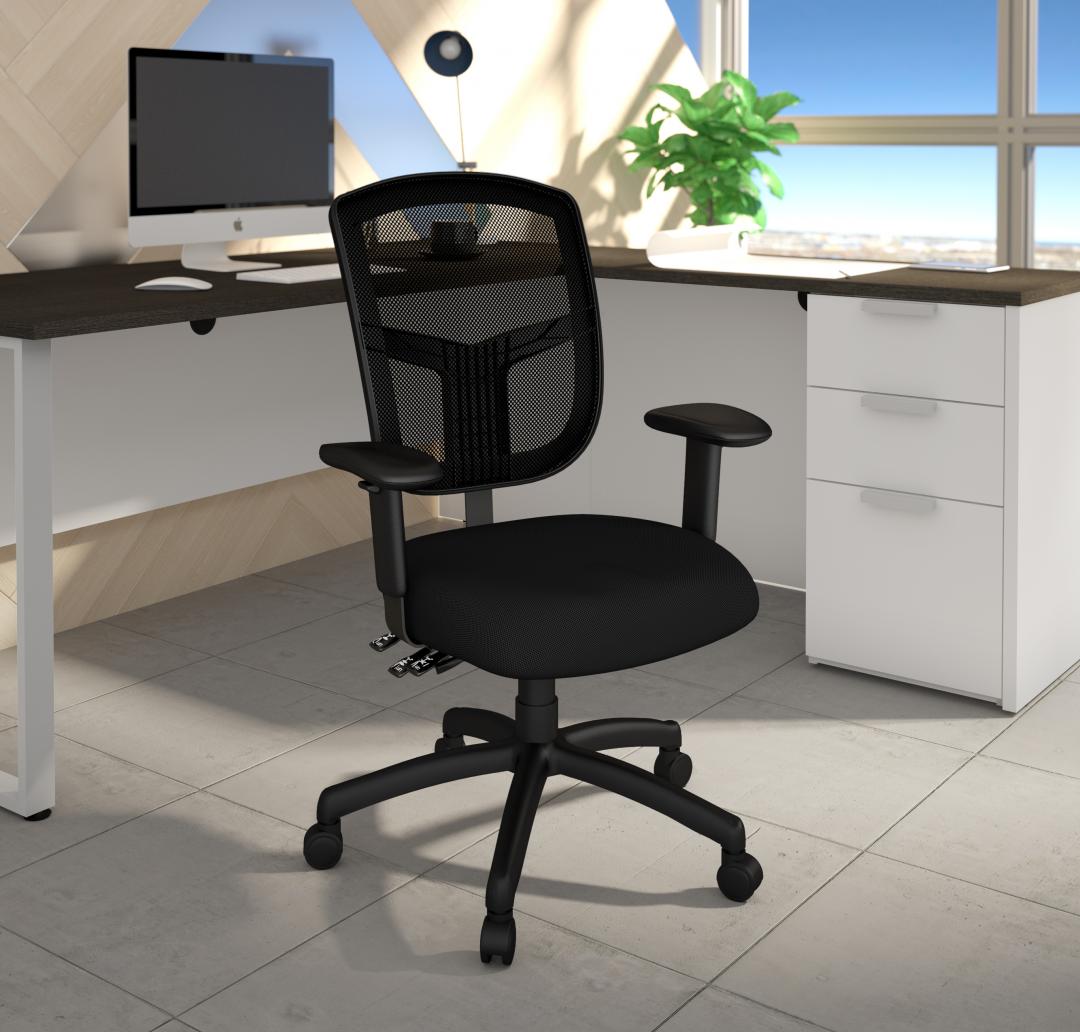 If your work demands alternating frequently between tasks throughout the workday, our Aero-Pro Series is the perfect solution for you!
Bestar's Aero Pro's easy flow design, wide range of adjustments, and outstanding support form to address all of your support and comfort needs.
This chair is designed for comfort and efficiency all day long. The black mesh back and molded foam seat have been designed for added comfort and durability.
Built for fully individualized customizations, the multi-tilt mechanism includes back angle adjustment, 360-degree swivel tilt mechanism with lock, tilt tension control, pneumatic height adjustment and forward seat tilt control.
For additional comfort, particularly when working at a computer, the arms are height and width adjustable. It's also equipped with the benefit of a seat slider to adjust the depth of the seat for the ultimate in customized comfort throughout the day.

Flek Nesting Chairs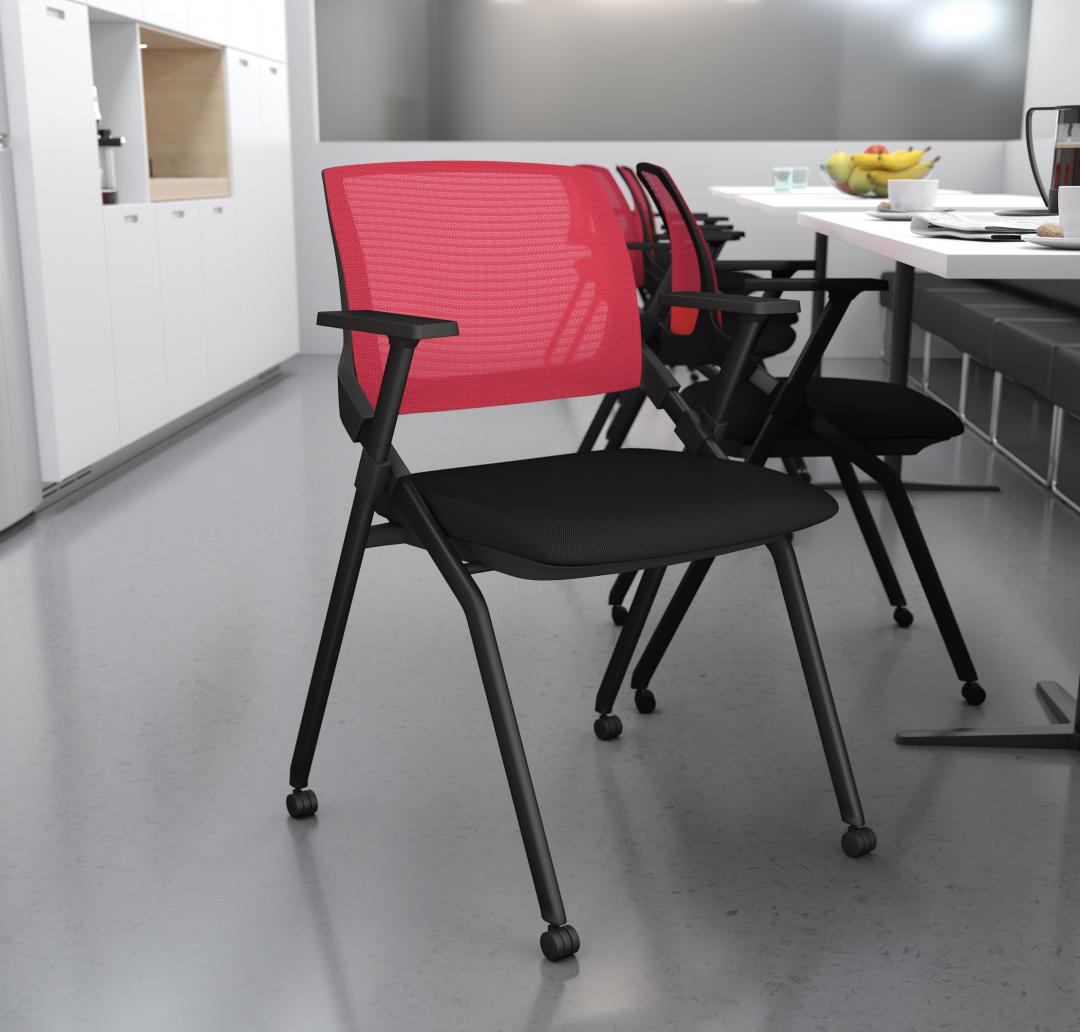 The Flek Nesting Chair is a stylish and highly functional chair ideal for meeting spaces and training rooms.
This lightweight chair has a seat that flips up, allowing for compact storage. Its casters make for easy mobility while allowing for easy workspace set up.
The Flex features a breathable mesh back with comfortable polypropylene armrests and padded seat – perfect for hours in training or conference.
Categories
Business