Design the perfect garage layout: wall mounts for tools and equipment, a workbench, cubby for golf clubs, and room for the car!
The list is often quite extensive when it comes to not only the storage demands of a well-designed garage, but how it will also effectively accommodate your activities, hobbies, and other projects.
There is a lot to consider and doing your research is the best place to start. Consider exactly what kinds of demands will be on the space.
How many cars will it need to accommodate? What activities will you pursue in the garage? Is it primarily for storage, or will it be used as a workshop? Compile a list of the ideal features you'd like to see in your perfect garage.
The beauty is you can make this big space exactly what you want it to be—the garage is your oyster!
Declutter and Organize Your Garage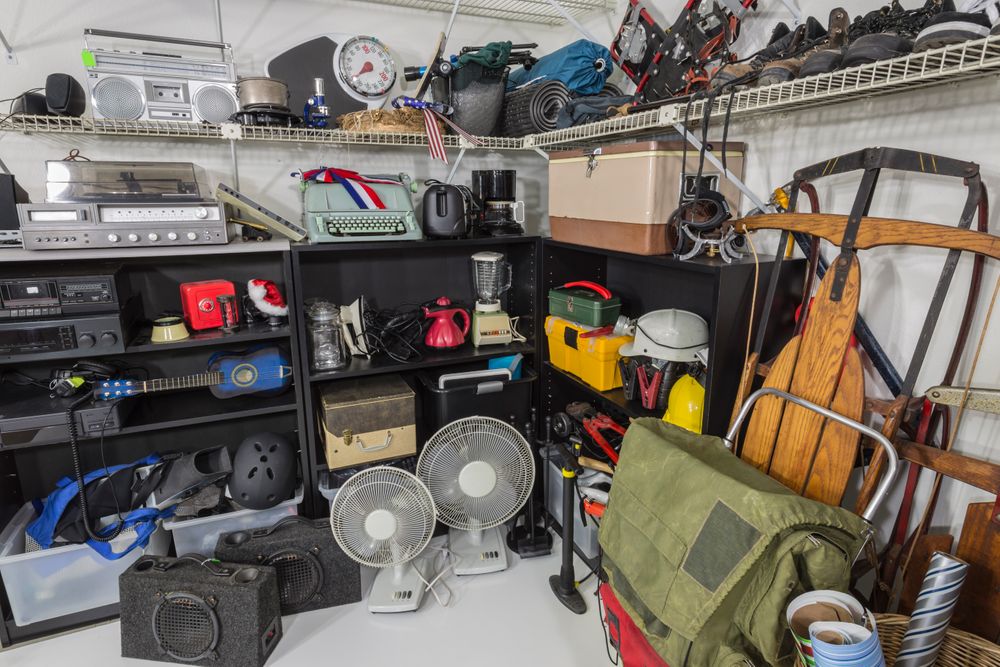 As with any home organization project, the first step is always the most difficult: sorting, culling, organizing, and the rest. It's also incredibly satisfying!
A garage can easily end up a dumping zone for everything from sporting equipment to tools to old furniture and a whole lot more, so until you go through and remove all the stuff that's cluttering up the space it's hard to move forward.
A couple of tips:
– Organize before you buy! It's common to make the mistake of buying a stack of bins without any idea yet as to what will fill them or where they'll be stored. Fill 'em and forget 'em is what typically happens. Before you start spending money on storage containers, take thorough stock of what you have.
– Take everything out. Pick a section of your garage and begin by pulling everything out onto the driveway for sorting. This will allow you to see clearly the space you have to work with and what types of storage might work best when it's time to organize the items you're keeping.
– Decide what goes (donate, sell, pitch) and what stays. The stay pile will help determine some of your storage strategies.
– Deep clean. It's exhilarating and inspiring to begin with a clean slate!
How Many Cars?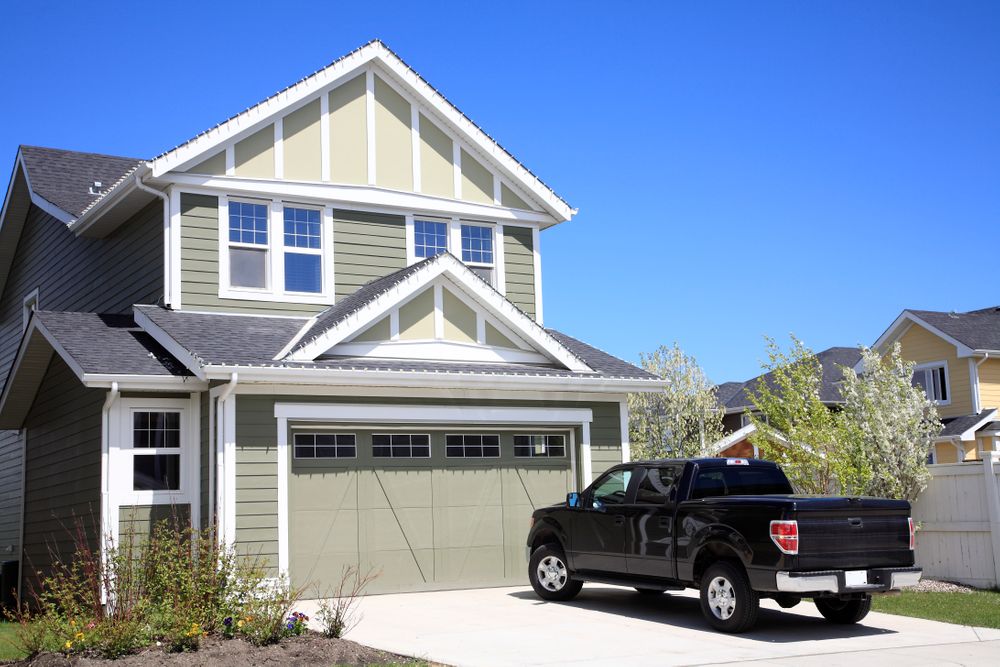 Certainly, the most important question as you start thinking about the new layout of your garage is how many cars are planning to park inside?
Single bay or double, extra for toys? Will you keep a car parked in the driveway to allow for more space inside? The answers will help guide your decision-making as you plan for the other uses of the space.
Workshop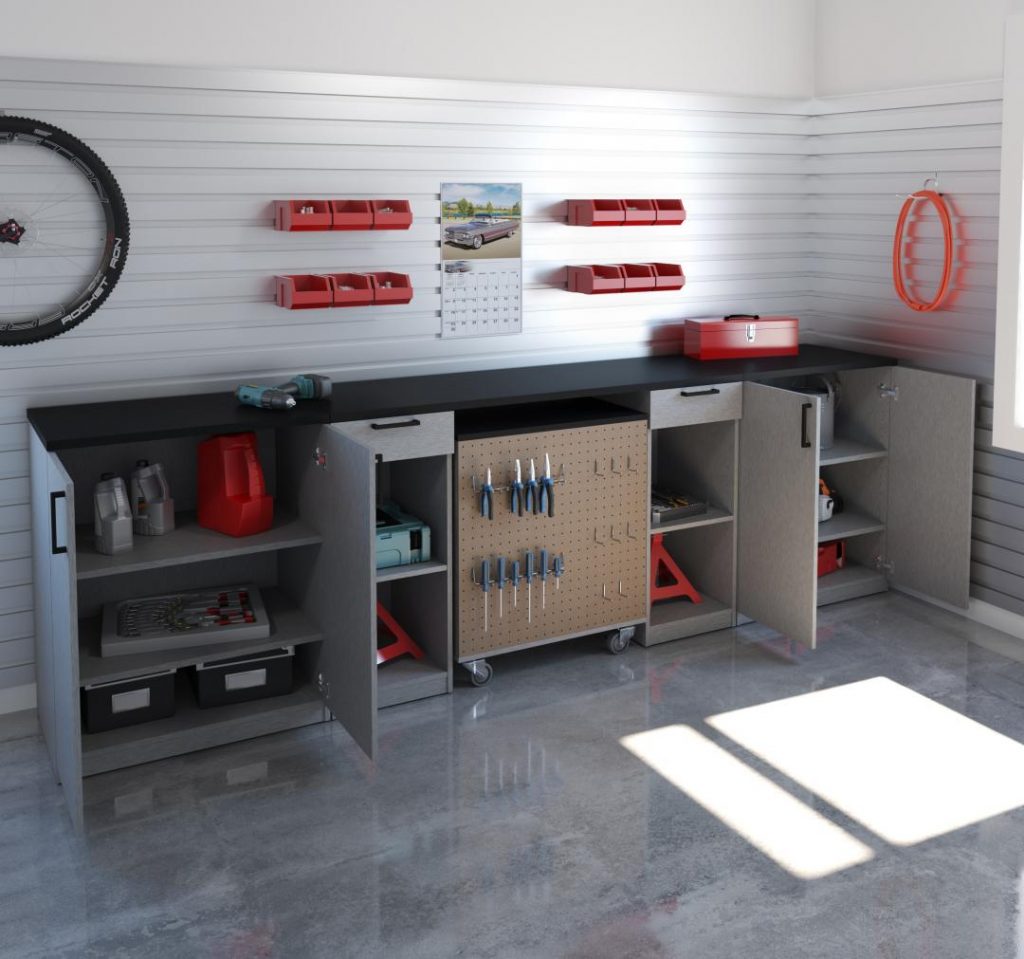 Garage space is most commonly used to set up a convenient workshop. With all of your garage belongings sorted it's important to know exactly the space available and how you'll want to best use it, considering, of course, the most important aspect of any garage: where you'll be parking your vehicle, or perhaps vehicles. See above!
Once you've identified the exact space you'll have for a workshop, you'll need a workbench.
You'll want it to include ample storage as well as surface area upon which to work. Storage cubbies, tool chests and drawers, wall mounts for tools, vices, power tool storage – you'll need all possible bells and whistles in, on, and around your workbench.
Tools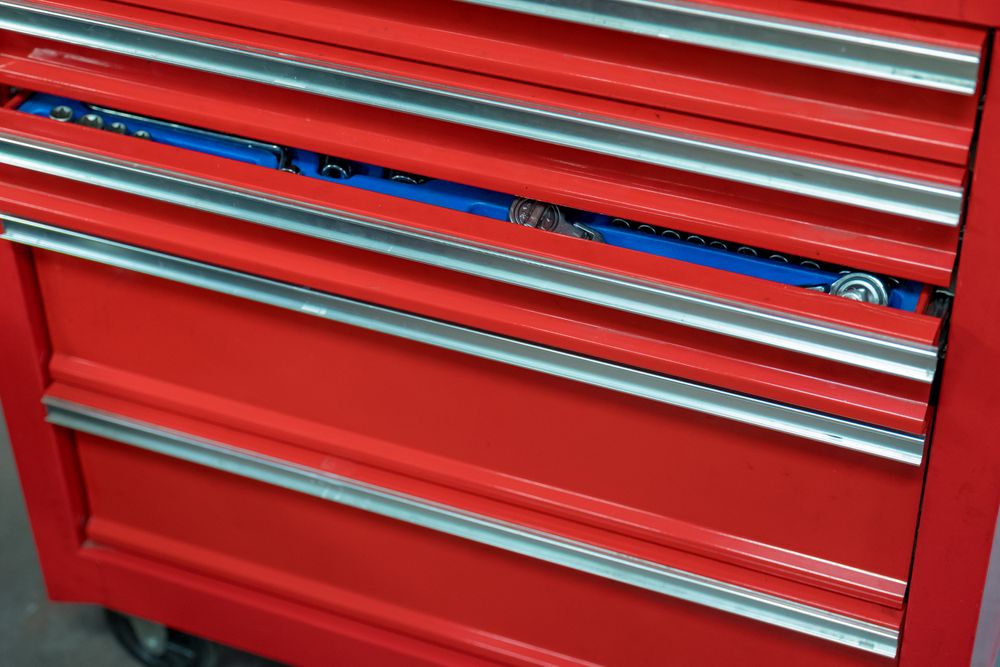 One of the most significant investments of any garage workshop is going to be the tools.
Protect your investment with a high quality tool chest that will keep your tools well organized and (if needed) lockable. Look for smooth rolling ball-bearing drawers, and if you're buying used, beware of rust and dirt that could corrode your tools.
To keep your tools from sliding around inside the tool chest, install drawer mats to help keep them in place. They also provide a protective soft cushion upon which they can rest.
Install a Pegboard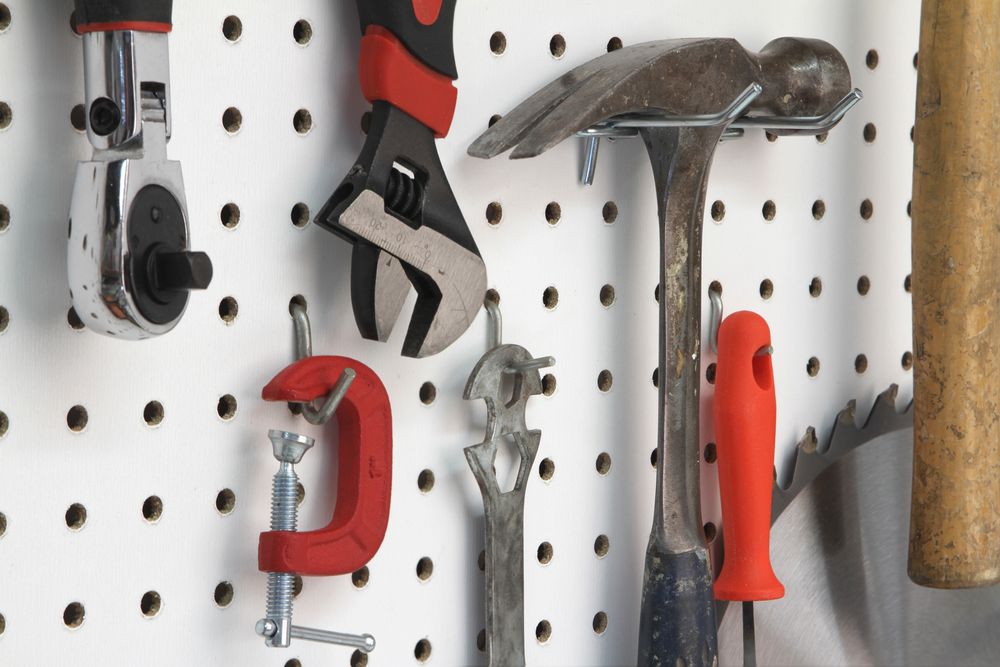 Pegboards are essential in a well-organized garage.
Pegboards installed along the length of the wall space behind your workbench are perfect to organize your wall space and store the tools that require quick access. It's designed to maximize the available space while at the same time reduce annoying clutter.
The only question is what type of material to use. Pegboard is available in several materials including solid wood, wood-based fiberboard, metal, and acrylic.
The material you choose will depend on the amount of weight you plan on hanging from the pegboard and the support structure behind it. Durability over time and cost are two other considerations you should be aware of.
Account for Your Electrical Needs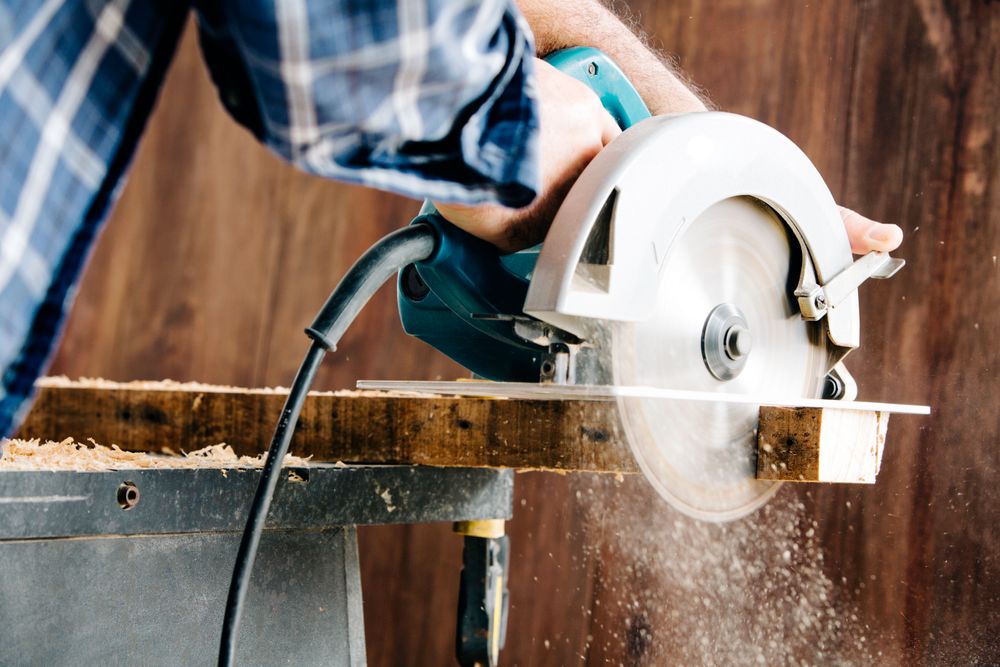 Make sure that your workshop is equipped with enough power outlets to charge and power your tools without dragging extension cords across your garage floor. Install outlets where you can conveniently charge your tool batteries.
Don't make your drill press and band saw shouldn't compete for outlets and you shouldn't risk tripping over a cable that's laid across your garage floor.
Outlets are also needed for lighting, heaters, AC units, radios, televisions, CNC machines, 3D printers, and computers—all of which are common in many 21st century workshops.
You simply can never have too many outlets, and it's safer to have too many than not enough. This isn't a DIY project—bring in a professional electrician to ensure it's done right and that you're properly set up with 220v power if needed for larger shop tools.
Install Adequate Task Lighting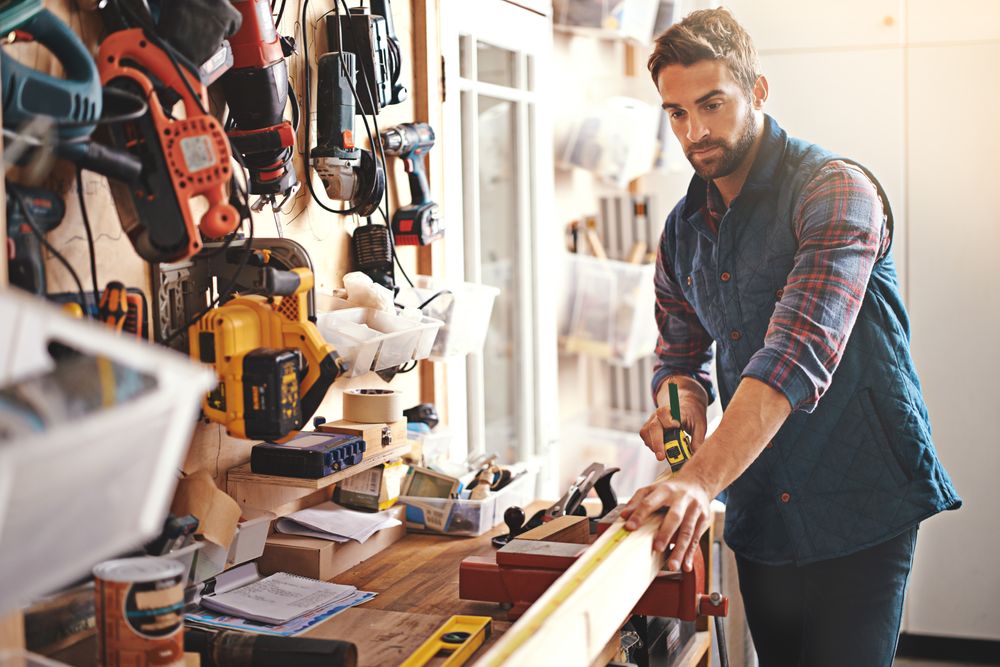 Garages can be dark and cavernous, with limited lighting and not installed to be convenient for uses other than parking your car.
Setting up good, strategic lighting for a productive workshop space is essential. Track lighting is an easy option to install and gives you some directional overhead lighting, but it can cast shadows (especially if the light source is behind you while you work) and you may need another lighting source for tasks and overall room illumination.
A simple, adjustable work lamp is helpful for bright focused lighting when you're doing activities such as soldering.
For overall room light, overhead fluorescent lights are your best bet—economical and bright.
Choose Durable, Easy-Clean Flooring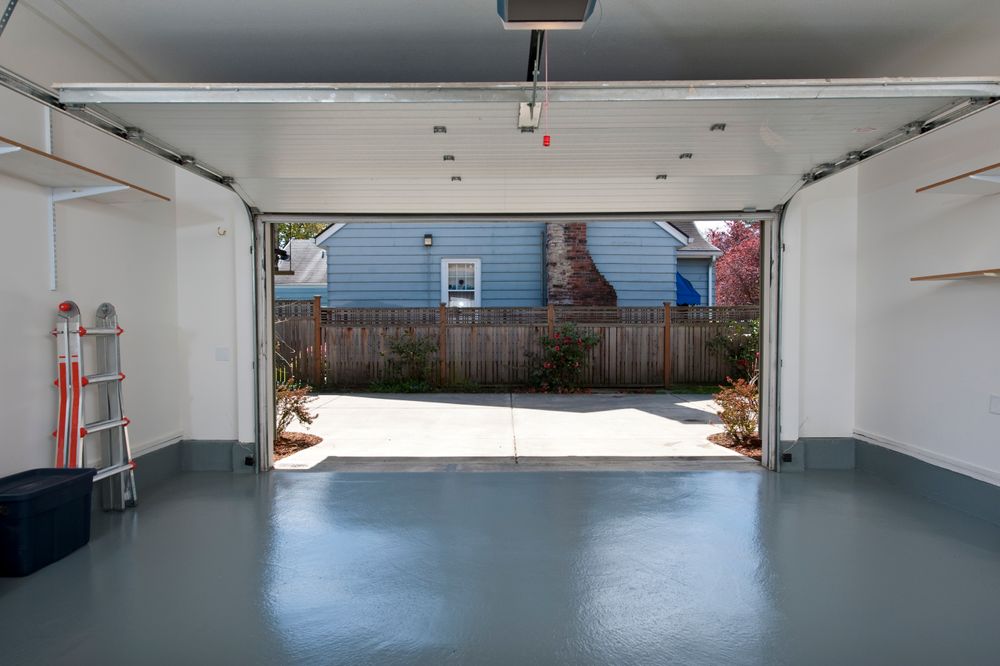 Concrete garage floors aren't bad for a workshop floor surface, but can be prone to stains not to mention the dust and dirt that can be tracked from the garage into the home. To help, an epoxy floor finish is easier to clean and can also provide extra grip.
Concrete can also be uncomfortable for long periods of time standing. For a softer surface that makes it gentler on joints when standing for long periods of time, there are restaurants grade rubber floor mats or durable flooring options such as garage floor tile.
Don't Forget the Entertainment!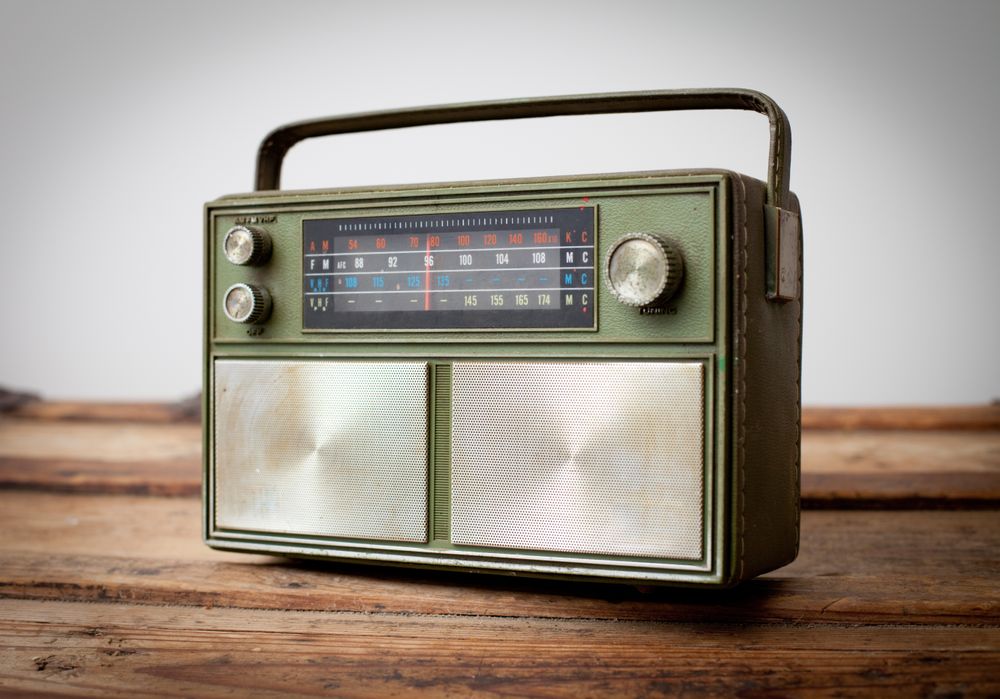 Your typical portable Bluetooth speakers can certainly provide enough sound in your garage, but they can be fragile and sensitive to dust.
If enjoy music, podcasts, or radio while you work, Jobsite radios from Milwaukee and DEWALT provide great sound, are durable, and can even charge cordless batteries.
They are also Bluetooth compatible, so you can connect them to your phone for streaming your favorite music.
Mount a flat-panel TV or computer monitor to any wall to watch sports or stream movies and music.
Other Ways to Use Your Garage
Depending on how you've used the space in your home, or the space available, you may have to look to your garage to accommodate other activities:

Gym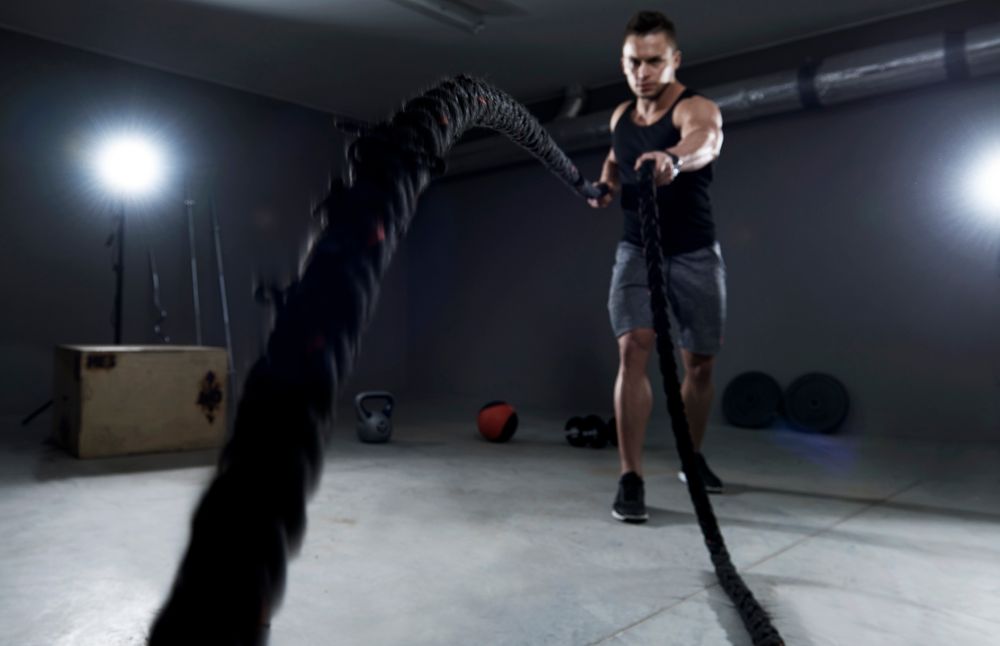 After a workshop, the garage is a popular choice to set up a well-equipped home gym.
With lots of space and apart from the daily goings-on in the home, you can easily assemble a gym space in your garage for working out.
Weights, benches, squat racks, cardio equipment, and yoga equipment are all things you could accommodate for.

Office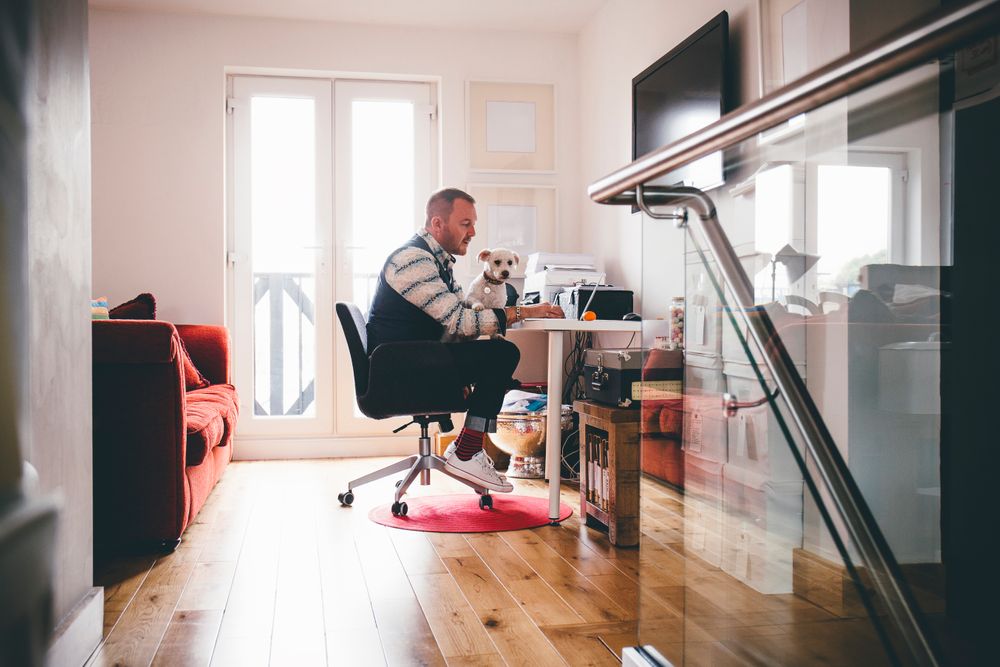 If there isn't adequate space in your home for a full office, you might look to your garage to provide the space you need. Consider building a small room, even enhancing the space by adding a window or French doors to the backyard.
For a simple office design, you won't need much more than a desk, chair and possibly a bookcase or filing cabinet. Locating your office in the garage rather than in your home can have the added benefit of helping you maintain your work-life balance by adding just that much more distance between home and office.
Categories
Organization