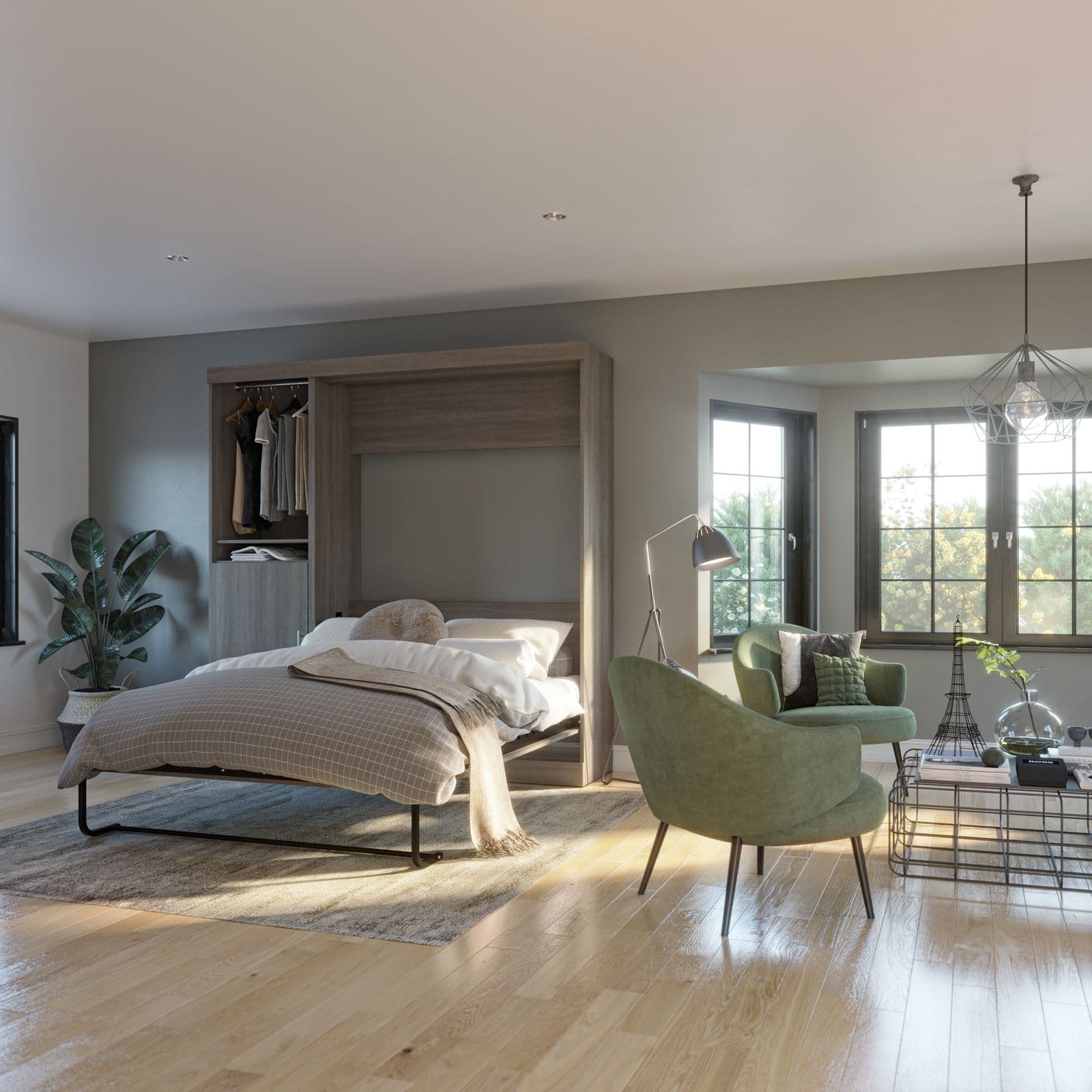 Our lives have been turned upside down due to the COVID-19 pandemic. Since March, we've had to adjust our spaces to accommodate our needs, whether it's to work from home or entertain our kids. That's why it's crucial to find furniture that not only meets your needs but also maximizes your space. If you're looking for the right piece of furniture to add to your home, then look no further than a Murphy bed.
From the living room to the spare room to even an apartment, you can fit a Murphy bed practically anywhere in your home. Murphy beds are safe and easy to use and transform from a cabinet into a bed at a moment's notice. Curious to find out how a Murphy bed is a practical furniture option for your home? Keep reading!
Productivity Will Thrive in Your Home Office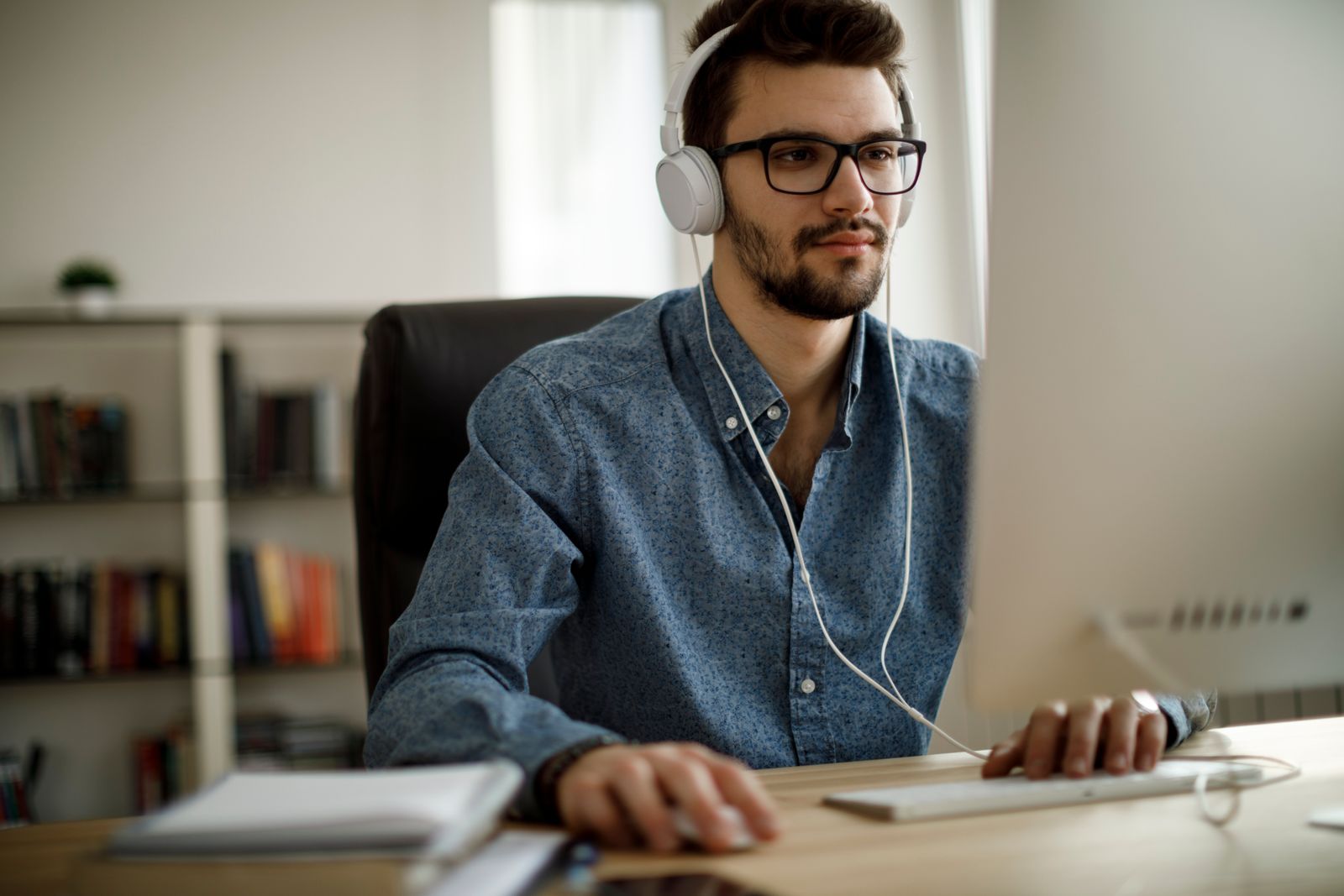 Since the start of the COVID-19 pandemic, many of us have found ourselves working mainly from home. Throughout this process, we've had to find a workspace that fosters creativity and efficiency, while working with our available space. You need a setup that maximizes your space and drives your productivity. One way to do so is to opt for a Murphy bed with a desk specifically to create a work-from-home space.
This ingenious Murphy bed model will save space and boost productivity. The desk is the ideal size for your laptop and work supplies, such as your notepad, calculator, and so on. Some models have storage options that can be added such as a filing cabinet or credenza for storing supplies. When your workday is over, all you have to do is clear the desk and put away your supplies in the compartments. No need to shuffle back and forth to get what you need; your supplies will be at your fingertips. The room will be free for other activities, and your supplies will be stored away until you're ready to come back to work.
When you opt for a Murphy bed with a desk, you can create a unique, clutter-free workspace. You can use the desk to work during the day, and the bed to sleep at night. It's a win-win situation!
Multipurpose Will Always Be in Style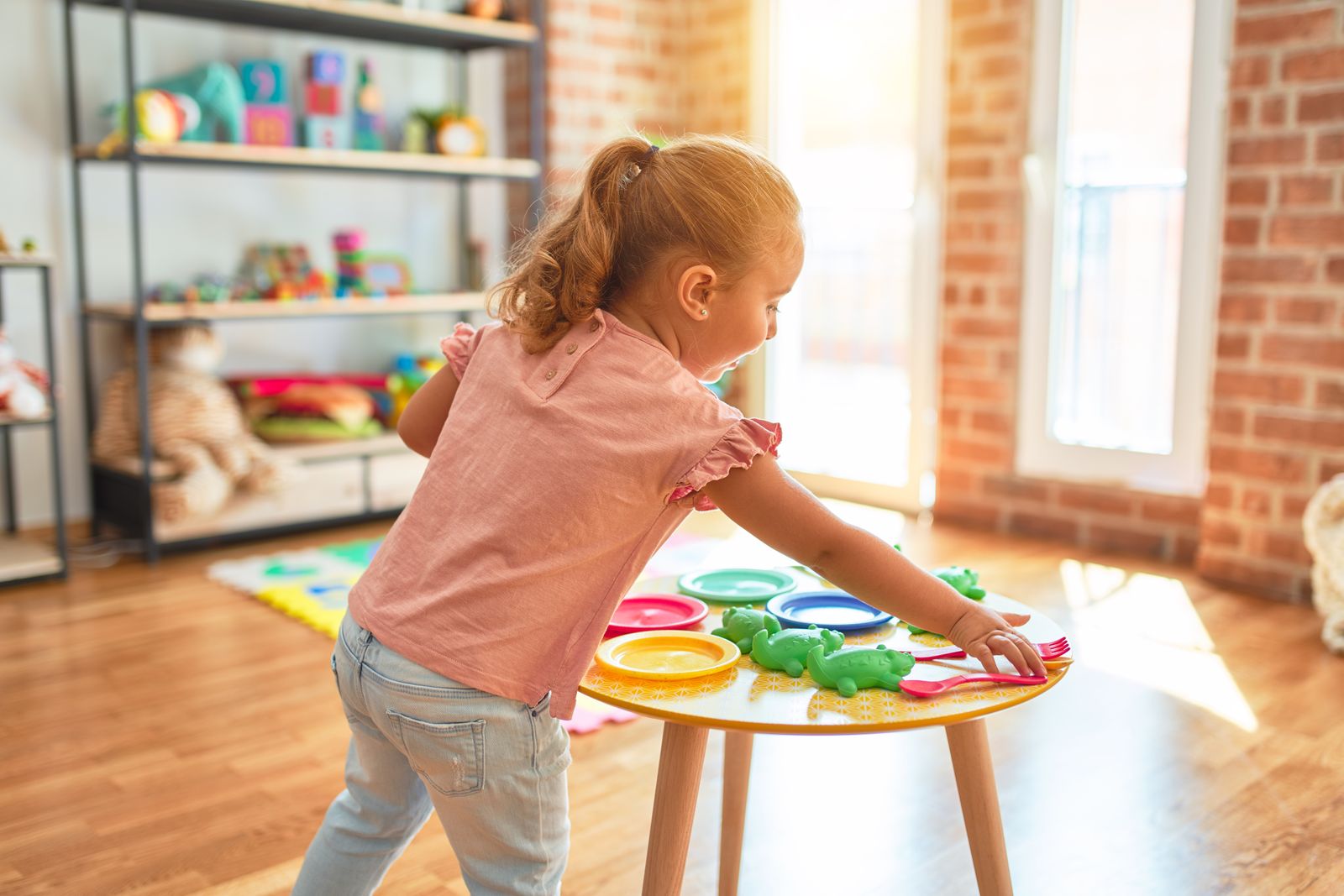 Now that we're spending more time at home, it might be a good idea to create a versatile space. Have you thought about rearranging a spare room or basement into a playroom for your kids? A guest room? Or maybe even a home gym? Thankfully, you don't have to choose. The possibilities are endless!
Adding a Murphy bed is great if you want to create a multipurpose space in your home. When the bed is not in use, your floor space is clear for doing yoga, playing dress-up, and so on. When you want to use the bed, simply clear the floor, pull down the bed frame and you're done. The dual-piston system makes it easy to fold the bed up and down so you can switch from activity to activity seamlessly.
Do you have an extensive movie or book collection that you would like to organize? Or do you have equipment such as weights or yoga blocks that need to be put away when not in use? You can keep what you need in the storage compartments of your Murphy bed. You'll be sure everything is tucked away safely and neatly for your next workout session!
In addition, you can also add modular components to go with your Murphy bed, such as a storage cabinet or a shelving unit, that will help you maximize space. The Murphy bed's crisp lines fit nicely with other furniture pieces so you can keep doing the things you love in a shared space.
Elegance and Comfort Will Reign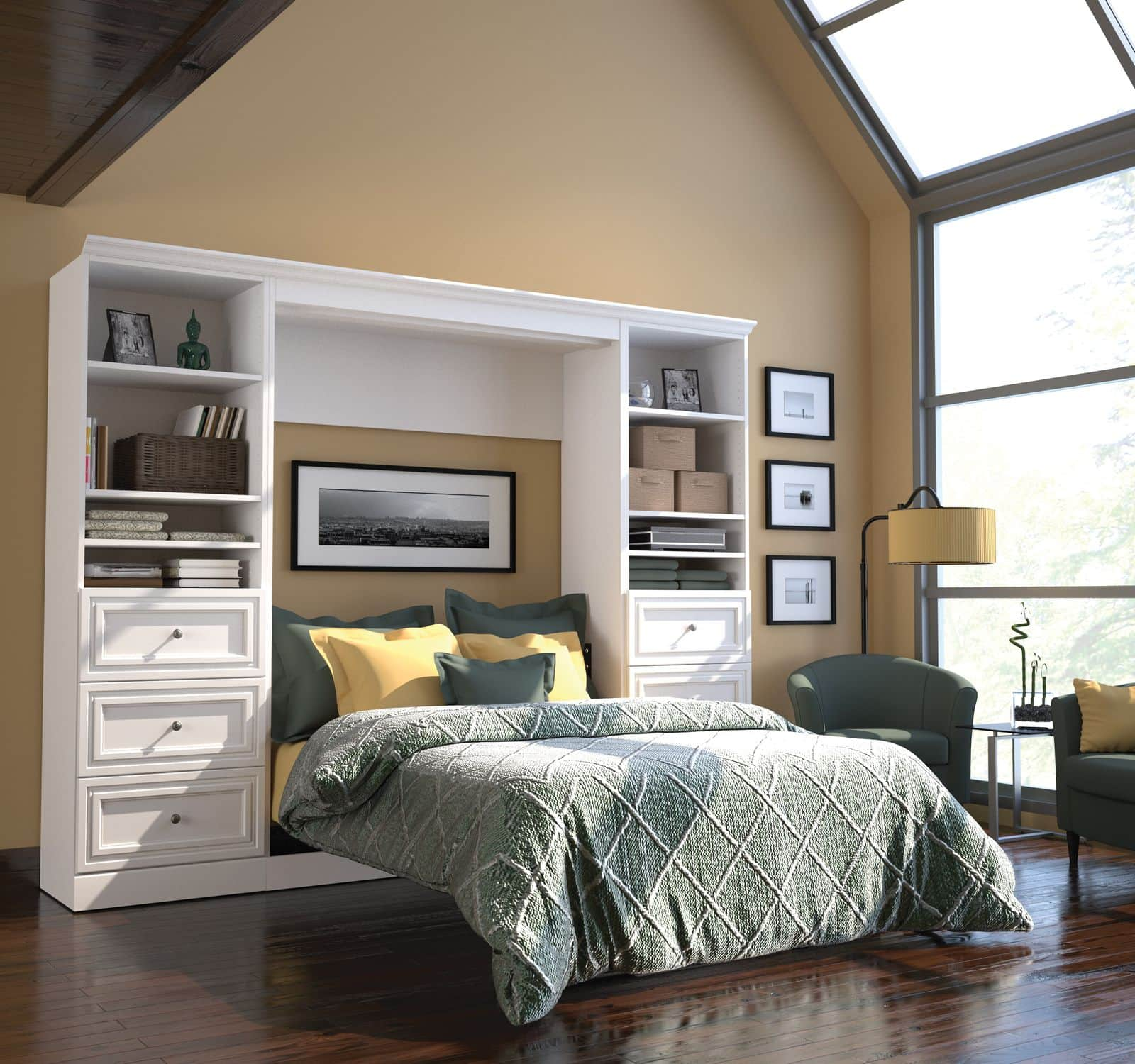 It's important to have a space that's as stylish as it is comfortable. The same goes for your furniture. You need something that's comfy, yet attractive. Well, what about opting for furniture that can do both? Yes! No matter what your style is, you can find a Murphy bed design that works with your space. When the bed is folded down, you have a beautiful, cozy bed that's ready to welcome overnight guests. When you decide to fold the bed up, it becomes a stunning cabinet.
The modern lines and elegant finishes will give your space an added flare of style and elegance. If you want to give your space a more extensive refresh, look through design blogs and magazines to get inspired about decorating small spaces. You can give additional charm and personality to your space—without reducing the space you have.
Murphy beds are not only stylish but also comfortable. Typically, there are two Murphy bed sizes to choose from: Full or Queen. Whichever size you choose, you'll have plenty of room to move around and sleep comfortably. In addition, some Murphy beds have Euroslat mattress support systems, which provide optimum comfort for the sleeper. You can rest easy knowing you and your guests will have a good night's sleep!
Small Spaces Will Be Redefined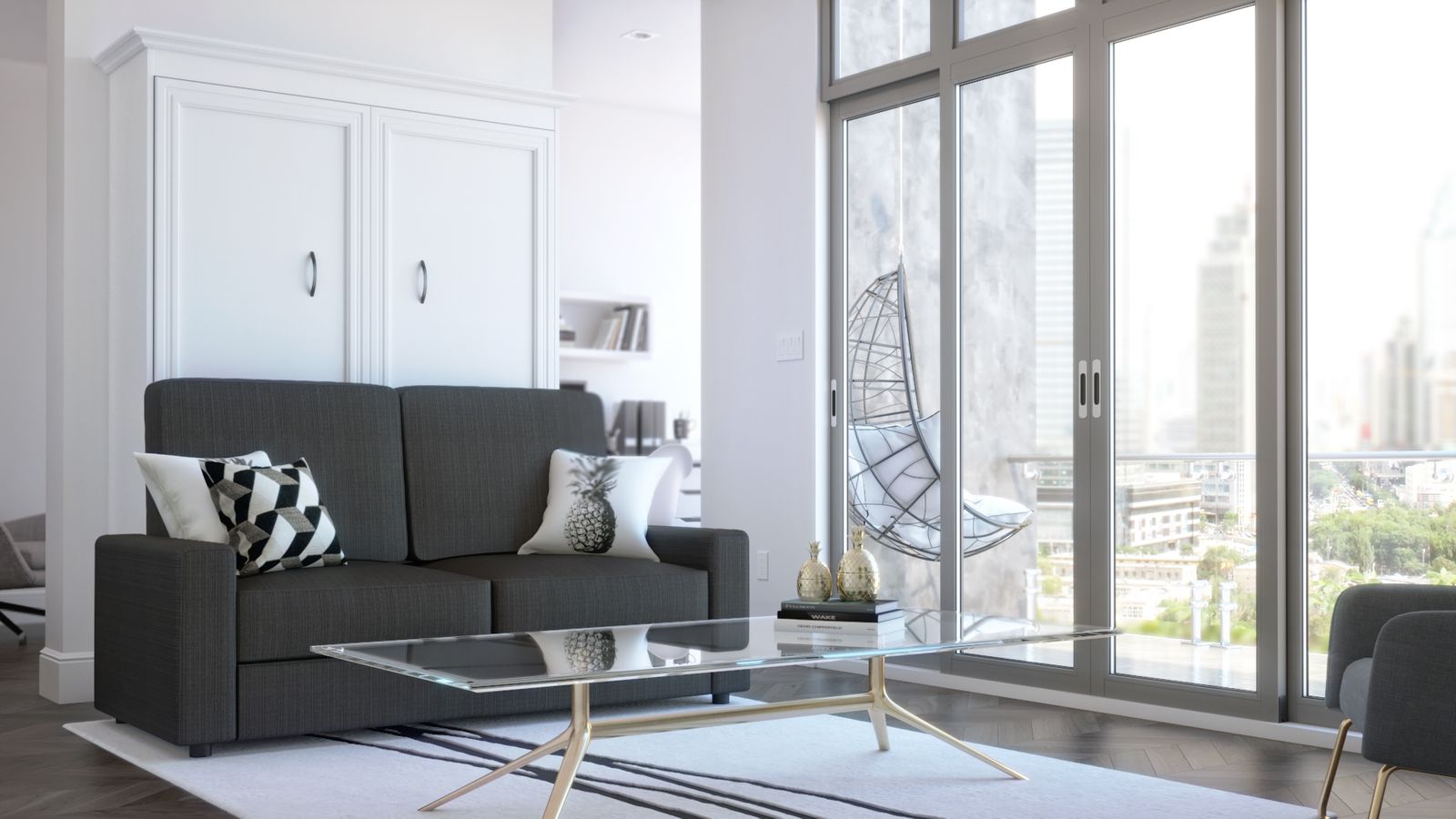 Worried your space is too small for a Murphy bed? No need to worry! Murphy beds are designed to fit into most spaces, even if you're in an apartment or a condo. Whether you're looking to add a Murphy bed to your living room, spare bedroom or basement, you can find a design that's right for you.
The compact designs of Murphy beds make it possible to add one to practically any home. The cabinet is fastened to the wall, which takes up little floor space when the bed is folded away. When you're done using the bed, fold it away in the cabinet, and immediately the room is ready for other activities.
There are also different types of Murphy beds designed specifically for small spaces, such as a sofa Murphy bed. With this type of Murphy bed, you can have a place to sit, watch TV, and relax after a long day. What if you want to use the bed? It's easy! Just remove the cushions from the couch and pull the bed down. The bed frame will rest on the couch as a support. A unique, efficient two-in-one solution to save space!
As the coronavirus pandemic continues, we're finding ways to adapt our lives—and our homes. Opting for a Murphy bed is an excellent way to accommodate all your activities in a single space. You can add a Murphy bed almost anywhere in your home, without losing space. Whether you're finding yourself working from home or spending more time doing activities at home, you can find a practical solution that works for you.
Categories
Home