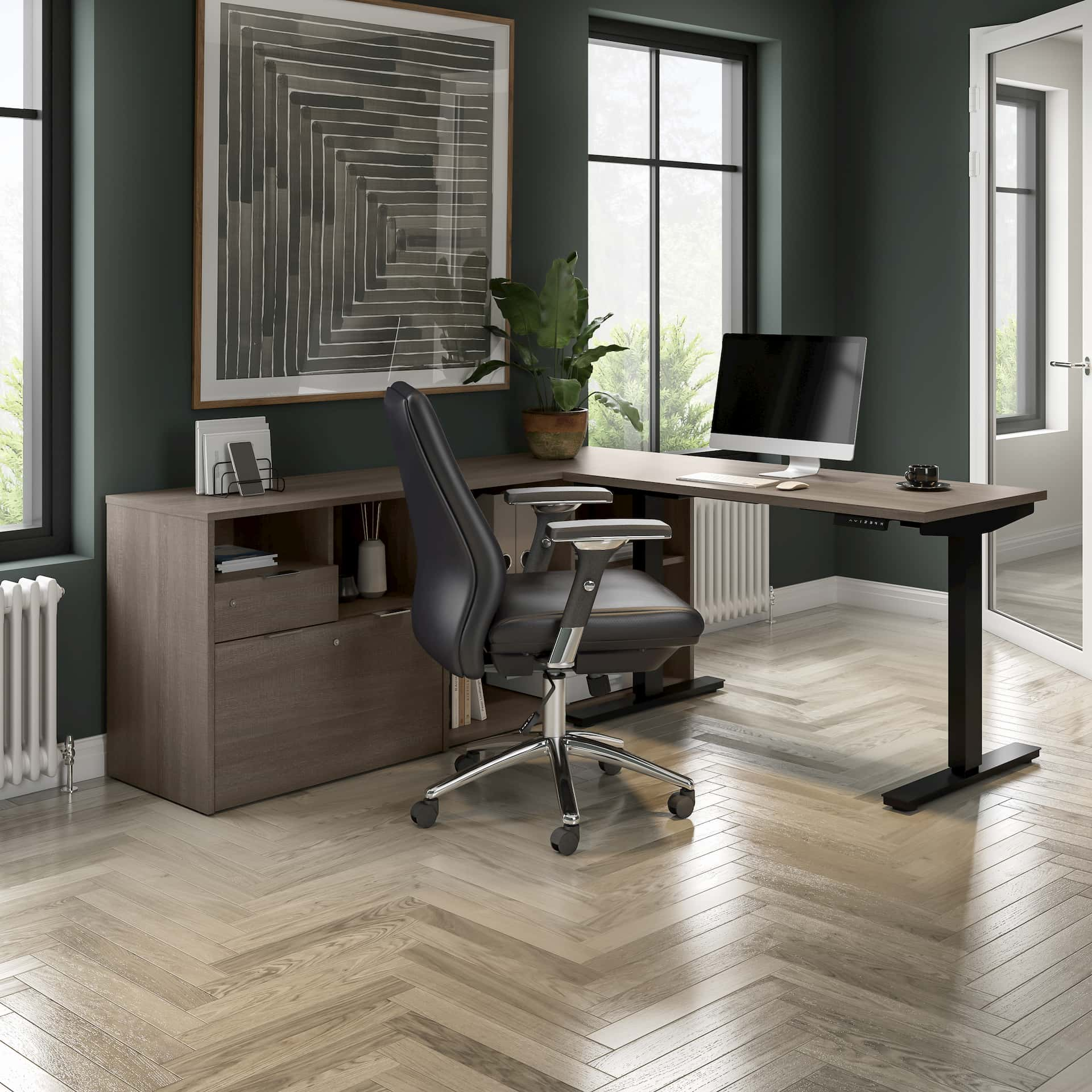 Look beyond standard desk height for a comfortable office – it's about the height of the desk that's right for you!
Comfort at work is essential to productivity. When you work at a desk and tend to sit for extended periods, if your workspace doesn't accommodate your physical and comfort needs, you increase your risk for neck, shoulder, and back pain and strain.
At best, your discomfort will be a distraction from your tasks at hand, impacting your productivity and efficiency. At worst, you could endure issues of chronic pain or even injury that leaves you unable to work.
Proper office ergonomics, however, can help keep you safe and comfortable while at work. An ergonomic workspace includes a high-quality chair that supports good seated posture, comfortable chair height, a standard desk height that works for your proportions, and properly positioned computer components and accessories.
When your desk is a thoughtfully designed, inviting, and, most importantly, comfortable space to spend time, you will experience greater comfort, increased efficiency, and enhanced productivity throughout the workday.
How can you design your workspace to help you work at your best? Read on for ways to transform your experience at your desk:
Desk Height Can Make or Break Productivity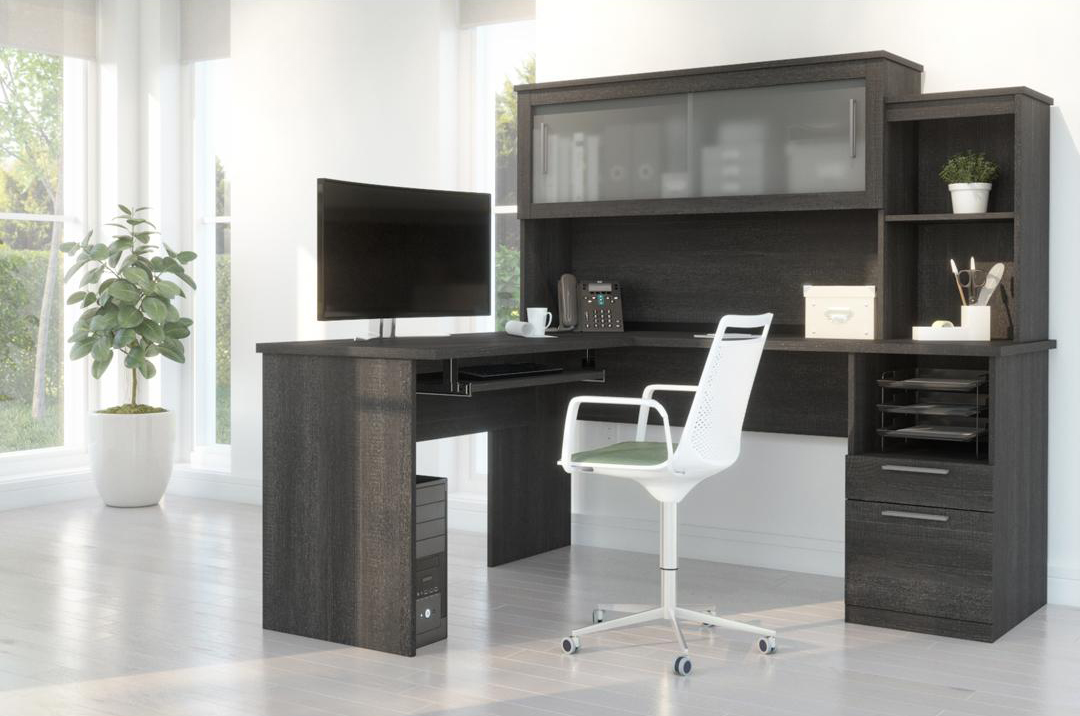 Proper desk height can impact your energy level, productivity, and the quality of work you produce. Do not overlook or underestimate the height of your desk, particularly in proportion to your size, to help you maintain proper posture and comfort at work.
A desk that is the right height will help you avoid discomfort, pain, and even injury.
Standard desk height is typically between 28 and 30 inches tall – ideal for workers who stand 5'8" to 5'10". Are you shorter or taller than that range? To achieve the most comfortable and healthiest desk height, look for a desk that is adjustable to accommodate your unique ergonomics, ideally a desk that can adjust from 22 inches up to 33 inches high.
How do you identify the right desk height? Considering our many individual differences, even if we're the same height – unique torso length, neck length, arm (forearm and upper arm) length, etc. – standard desk height will likely not work universally.
Examine your elbow position. The best way to identify the proper desk height for you is to ensure that your desk's work surface, with your keyboard, is at elbow level when you sit at your desk (including at a standing desk or counter, if that's where you work).
When the work surface is at elbow level, you can comfortably use your desk, and keyboard with relaxed shoulders and forearms bent at or near an optimum right angle.
Additionally, you can use risers to better position your laptop or desktop computer monitor at a height approximately 2 to 3 inches below your line of sight to avoid painful eye strain and neck strain. You can also affix a keyboard tray to your desk to provide more customized adjustments to achieve the best working position – relaxed shoulders with forearms parallel to the floor.
Electric Standing Desk for Ergonomic Movement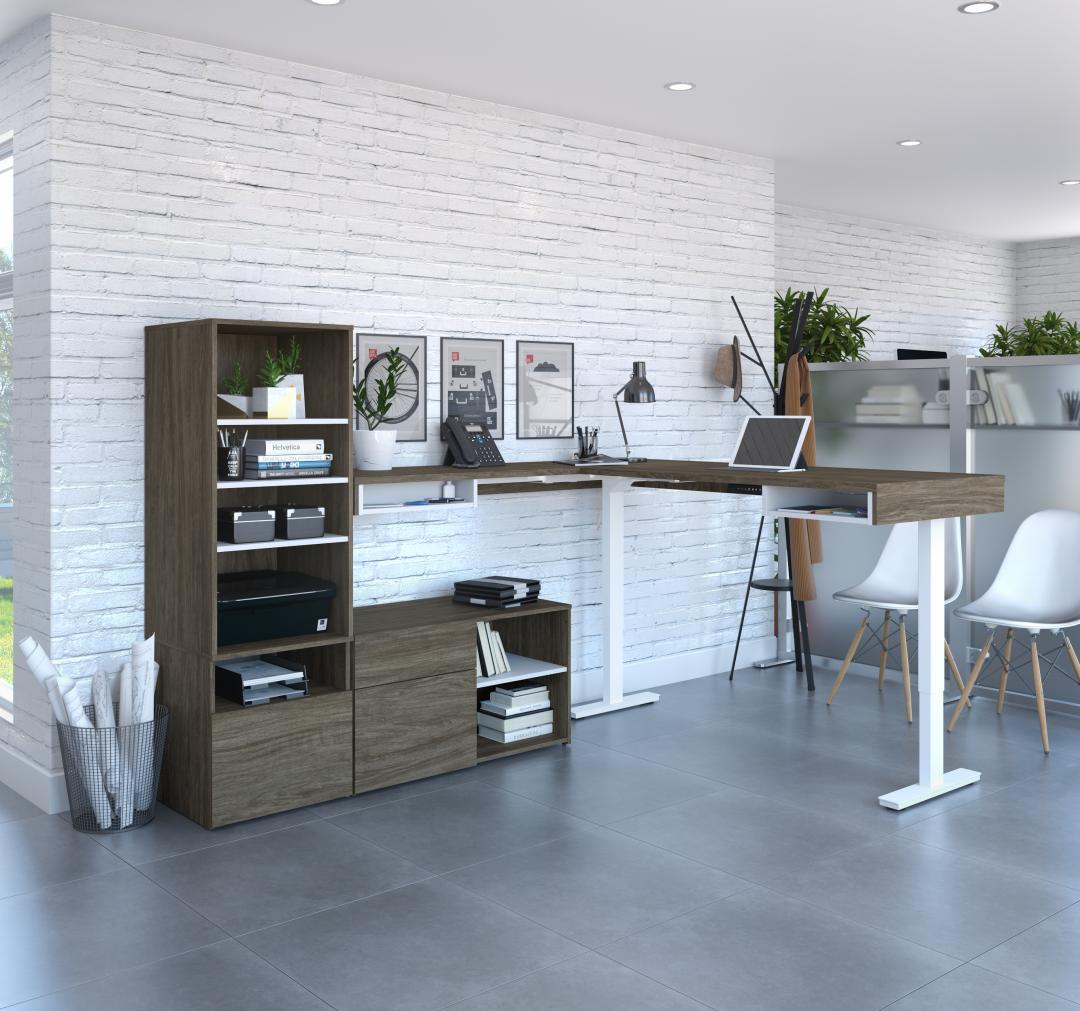 If you're looking for a way to experience more energy, greater focus and concentration, and increased productivity at work, standing and movement may be essential.
A standard desk height works for many of us when used with an ergonomic office chair. For others, a standing desk or height-adjustable desk might offer the versatility and movement you need to be comfortable and productive throughout the day.
Sitting in one position all day long (even an ergonomic one) can negatively affect your physical and mental health at work, not to mention the quality of your work.
Changing position and moving – ideally, alternating between sitting and standing – is recommended to help you avoid circulation problems and other health issues. Change positions here and there to avoid creating pressure or strain points on any one part of your body.
A standing or height-adjustable desk can help. A stand-up desk lets you change position quickly and easily, from sitting to standing, whenever you feel the need. Changing your work position benefits your concentration, focus, and energy levels while preventing potential pain or injury as a result of constant sitting.
An Ergonomic Office Chair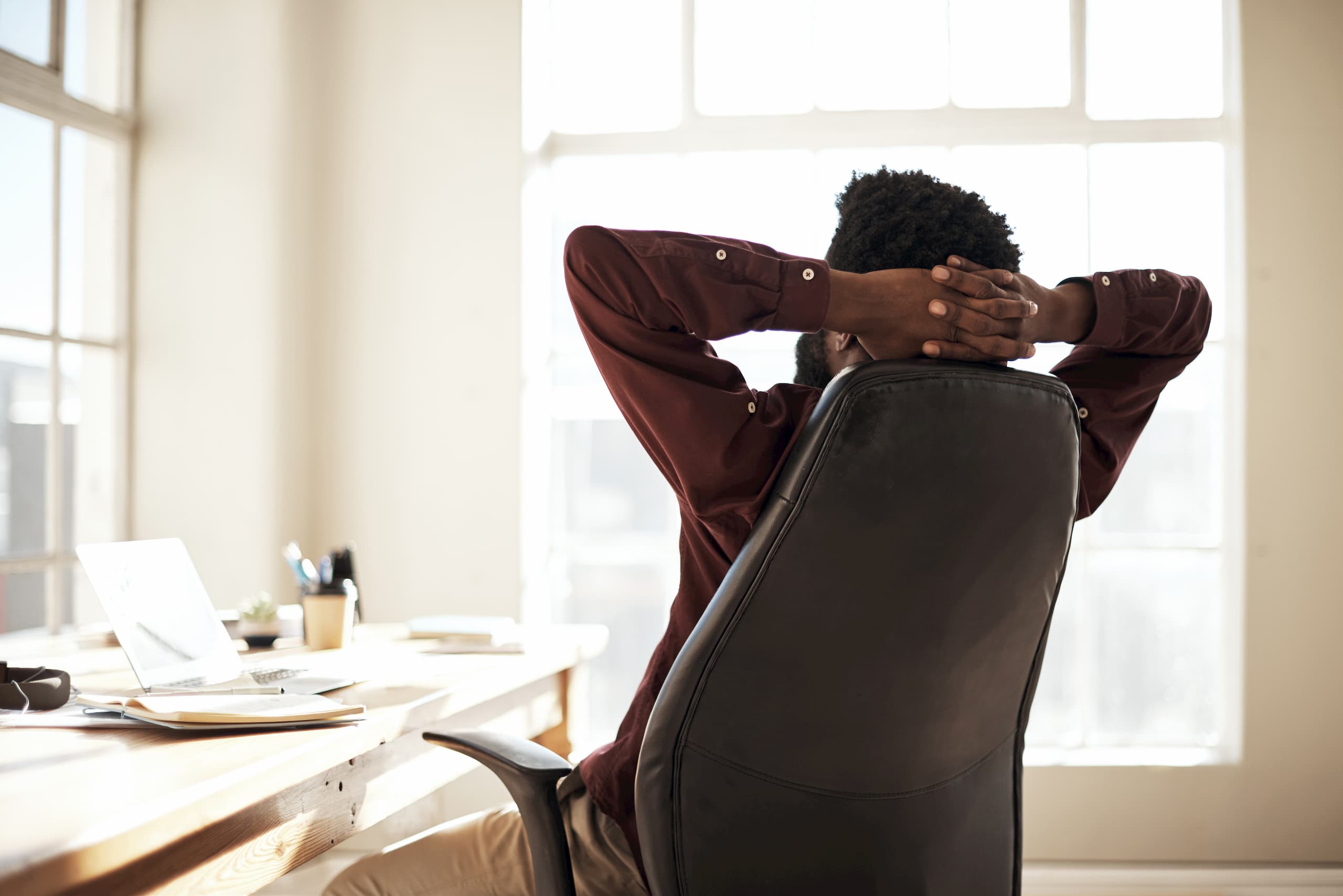 If you talk about the pros and cons of standard desk height, you also have to consider that the type of chair you choose is just as critical to a positive and comfortable workday.
A high-quality, well-designed, ergonomic office chair should be a priority as you reconfigure your workstation. When you choose an ergonomic desk chair, be sure that the seat height is easy to adjust. The seat should range from 16 to 21 inches from the floor. If not, then be sure your feet can rest flat, with thighs parallel to the floor, and arms parallel to your desk surface. 
If an office chair is ergonomic, it should offer lumbar adjustment (height and depth), so you can support the curve of your lower back. Look for a backrest that is 12 to 19 inches wide and adjustable in angle and height – again to best support your lumbar spine. The material on both the back and seat should be comfortably padded and made with breathable fabric to allow extended use.
Comfort tip: when you're setting up your workstation, be sure that there is sufficient clearance under your work surface to allow free movement, without banging your knees.
Categories
Home Office