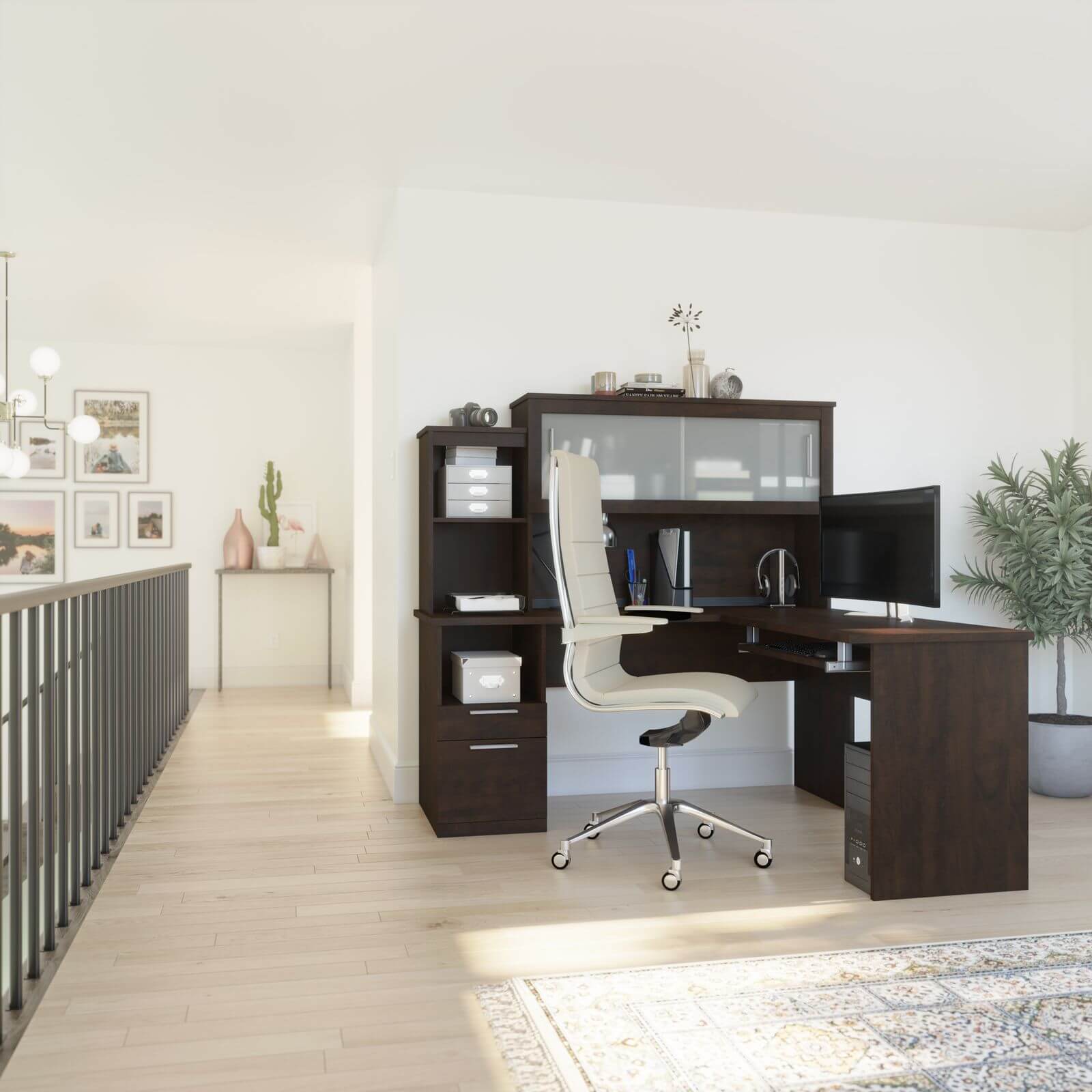 If working from home is your new normal, ensure your home office supports you. Consider a good L shaped desk as an essential.
It has probably been many months since you transitioned from working in your business office to your home. You might have expected it to be temporary – but that doesn't seem to be the case. At least, not yet. Depending on your employer and how they've adapted to remote working, perhaps not ever.
If you've put off creating a proper home office in anticipation of heading back to the office, then the time has probably come to set up a proper workstation in your home. With no end to work at home in sight, you need a home office that supports you to do your best work.
It's time to eke out a dedicated space in your home where you can work uninterrupted and with fewer distractions. You need a space that promotes efficiency, organization and productivity.
That will mean having a desk that supports all that you do in a day, even helping the kids with homework when they get home from school. An L shaped desk is the perfect anchor for any office, home or otherwise. Spacious and ergonomic by design, an L shaped desk provides ample surface space, storage options, and comfort to transform your workday at home into a great day at the office.
1. A Large Desktop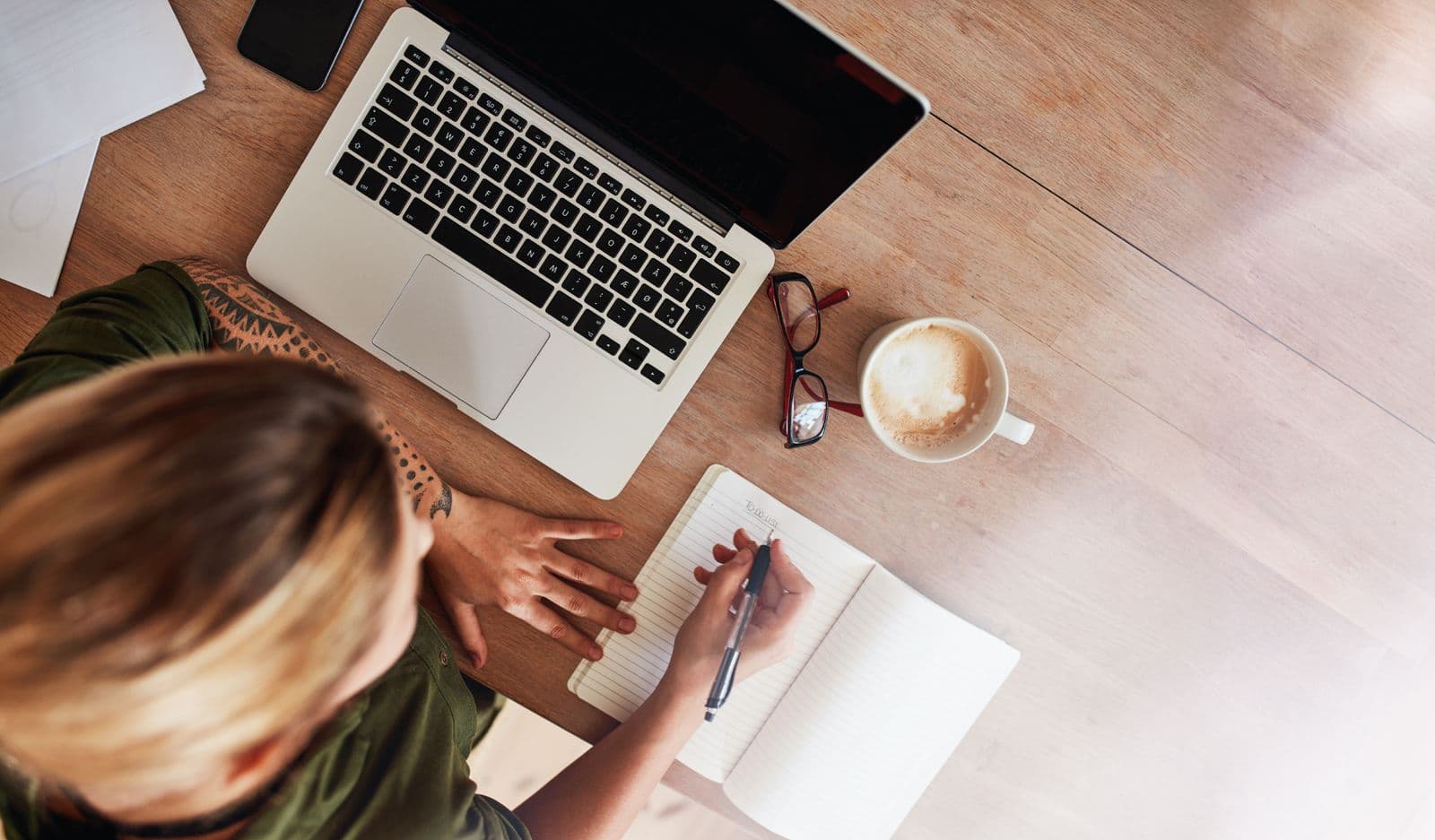 With two large desktop sections, an L shaped desk provides a generous work surface. No matter if you work on a desktop computer or laptop, handle paperwork and files, or spread out with oversized documents – or all of the above! – you'll have all the space you need and then some.
L shaped desks offer plenty of space so you can multitask. Keep papers, invoices, books, ledgers, or even a second computer monitor on your desktop.
Choose to keep your stacks and piles of essentials on one arm of the 'L' and conduct computer work on the other. The L shape offers versatility and plenty of room to take care of your workday tasks without feeling overwhelmed with clutter.
You can share space with a work-at-home spouse or meet a colleague in person. Two sides mean, virtually, two work areas. Excellent for meetings and collaboration, an L shaped desk can handle just about anything your workday demands.
When you have the space to multitask comfortably and effectively, you're sure to be more productive.
2. A Desk with Plenty of Storage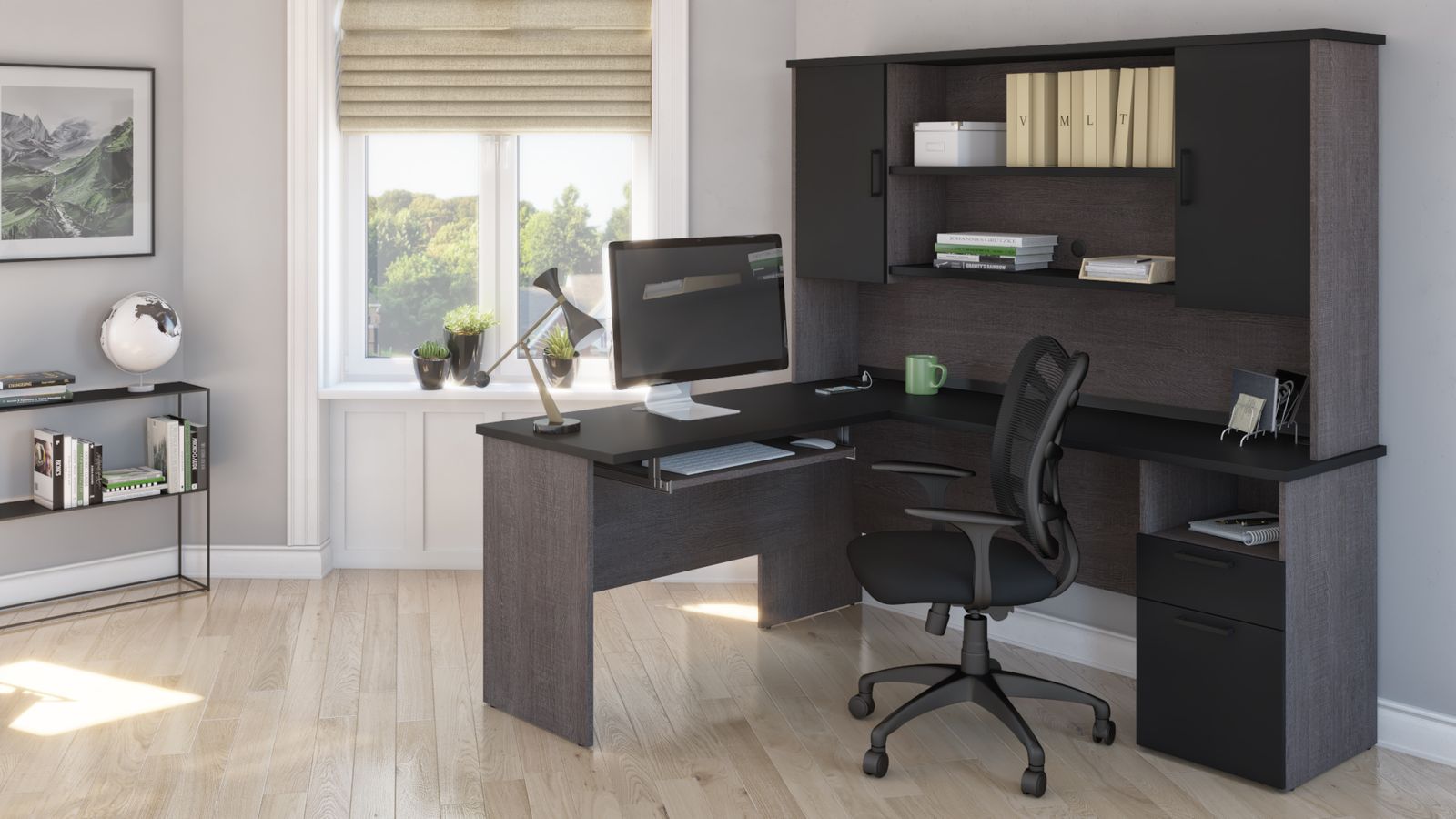 The best high-quality L shaped desks will not only help keep you neat and tidy but organized as well.
Keep your work surface clear and consider the variety of options available for your L shaped desk: drawers, cable management, and cabinets with doors for privacy and security.
Utilize the area beneath the desk for convenient rolling storage units without compromising leg and foot room. Consider extra storage solutions like cubbies to store your CPU tower off the ground and keyboard trays – some large enough to hold a graphics tablet, too.
3. A Space-Saving and Efficient Option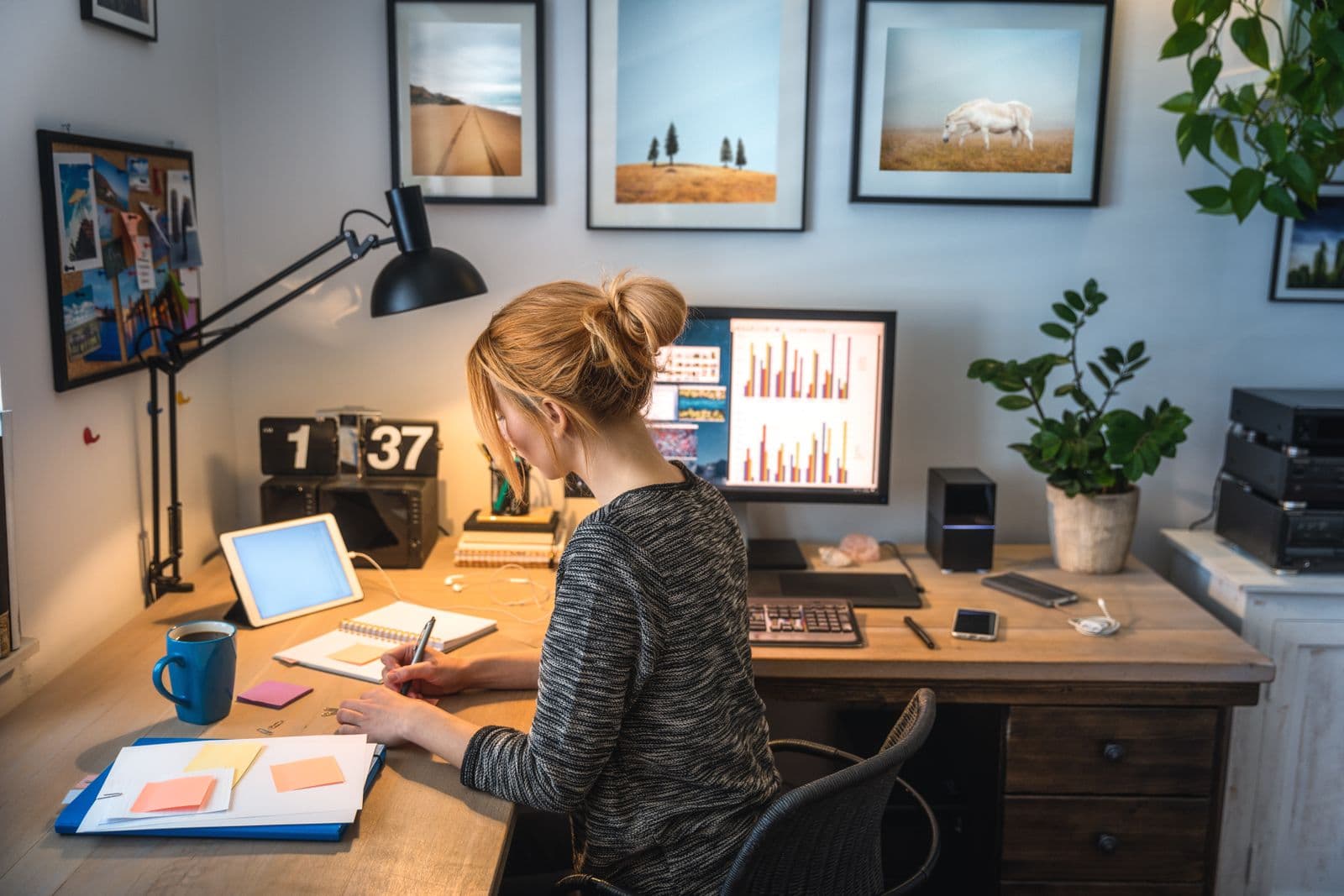 For most of us, home office space is limited. But did you know that an L shaped desk doesn't take up much more space than your standard desk? In fact, an L shaped desk is worth the floor space it takes up because it gives you a lot more space for your laptop, files, and other essentials all at once.
Coordinate a hutch with your L shaped desk, and you'll enjoy convenient storage for just about everything from office supplies to decor.
L shaped desks are a great way to make the most of an underutilized corner, and they can sit left or right depending on your needs or preference. They're also a great way to create a cubicle where you don't have any walls.
4. An L Shaped Desk for Ergonomics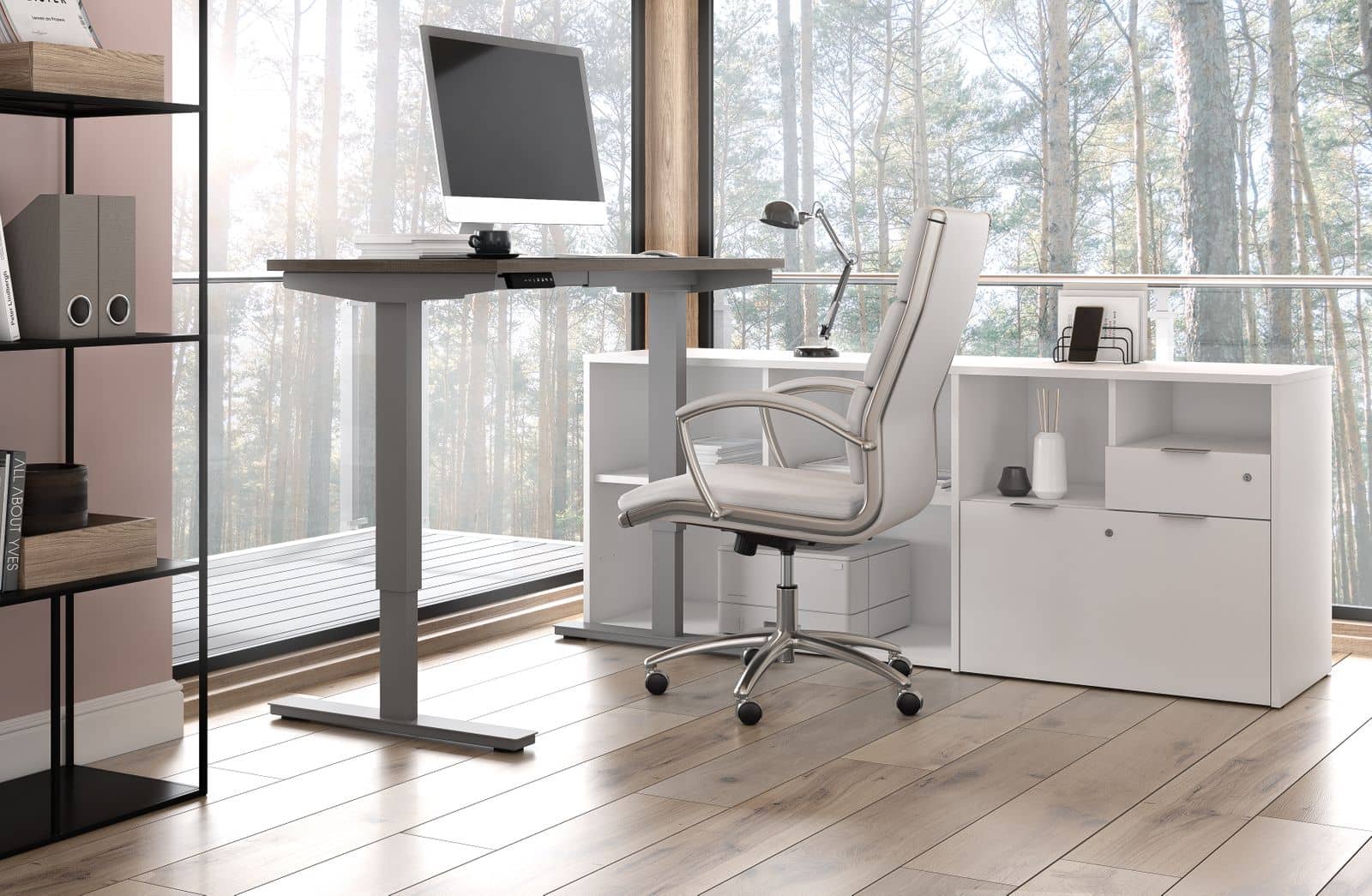 Your dining room table may offer a surface to work and spread out, but it's not exactly the most comfortable space to work. In fact, an ad hoc home work environment may be doing more harm to your health than you know. An ergonomically designed desk allows you to easily access everything you need to meet the demands of your workday.
Specialists in ergonomic desk design often refer to a zone of reach: the neutral, or optimal, reach zone. An L shaped desk allows for a sizable neutral reach zone. With the easy roll of your ergonomically designed chair, you can reach everything comfortably and conveniently without overextending your forearm. At the same time, your upper arm rests naturally at your side.
With office essentials in that neutral reach zone, it takes less effort to access them. As a result, shoulder and back strain caused by stretching and reaching uncomfortably over your desk hour after hour is minimized, if not almost entirely eliminated.
Take your ergonomics one step further and consider a height-adjustable L shaped desk. Enjoy the benefits of a more physically dynamic workday by simply alternating between sitting and standing as you need.
5. A Cost-Effective Alternative
You might be surprised how economical an L shaped desk can be. Compared to other standard rectangular desk options, the efficiency, comfort, and space they provide make it well worth the little extra you might spend.
Not only does an L shaped desk maximize your home office and corner space – vertically and horizontally – it offers remarkable long-term versatility and durability. An L shaped desk is an investment that will pay off for years to come!
It's the most bang for your buck as you create a more permanent and productive home office.
6. A Professional Presentation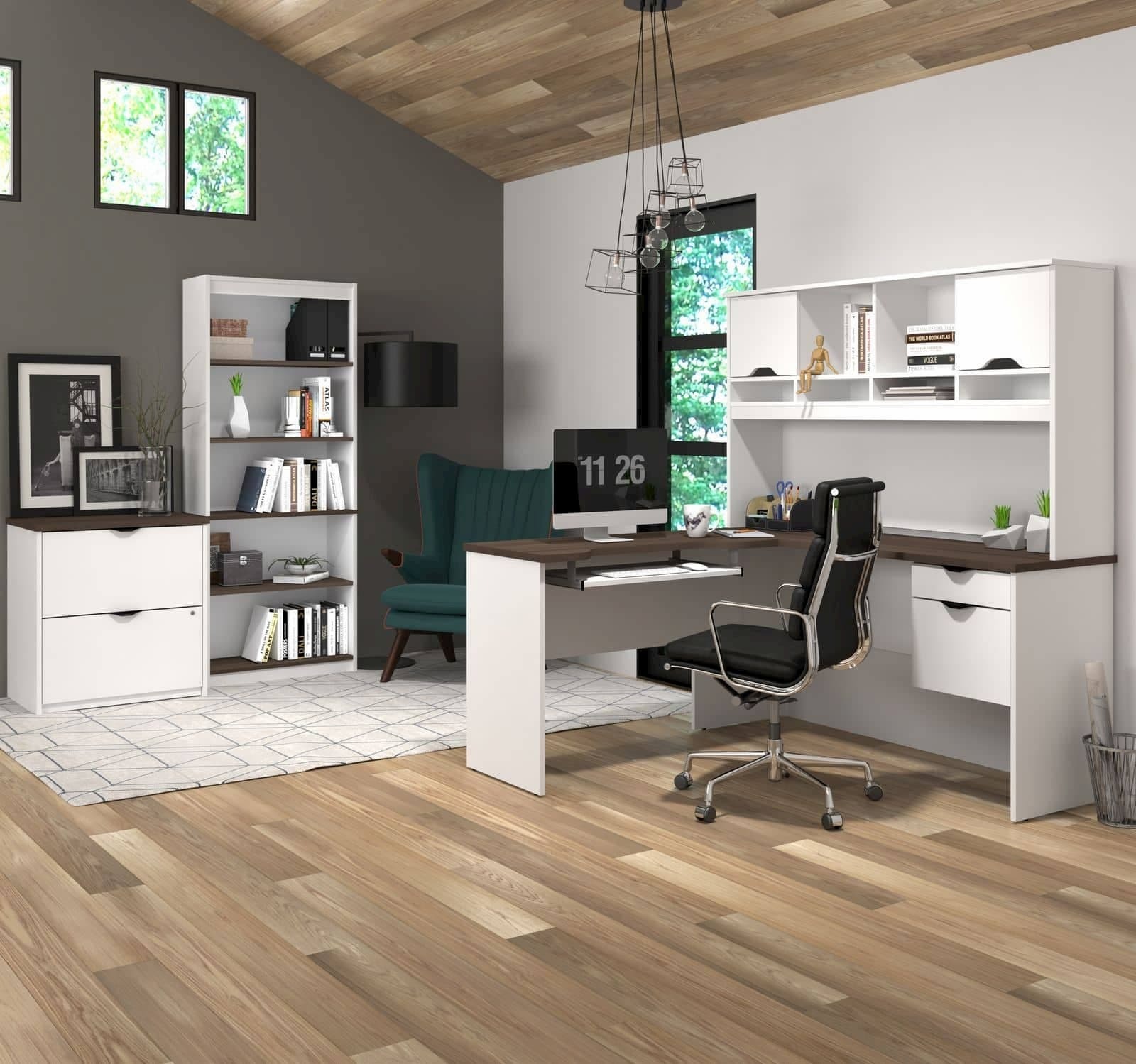 Chances are, even when working from home, you may find yourself meeting with clients or colleagues in person. Tidier and more organized than smaller desk options, an L shaped desk offers a professional presentation while allowing plenty of space for some physical distancing.
Are you conducting Zoom or other remote video meetings? Enjoy a clutter-free video presentation from the tidy side of your desk.
When you look and feel professional, it's reflected in the work you do. Maintaining a sense of professionalism, even when at home, is critical for your efficiency, productivity, and confidence on the job.
Be at your most professional and work your best. An L shaped desk, with its ample space, versatility, and organization, will support you.
Categories
Home Office