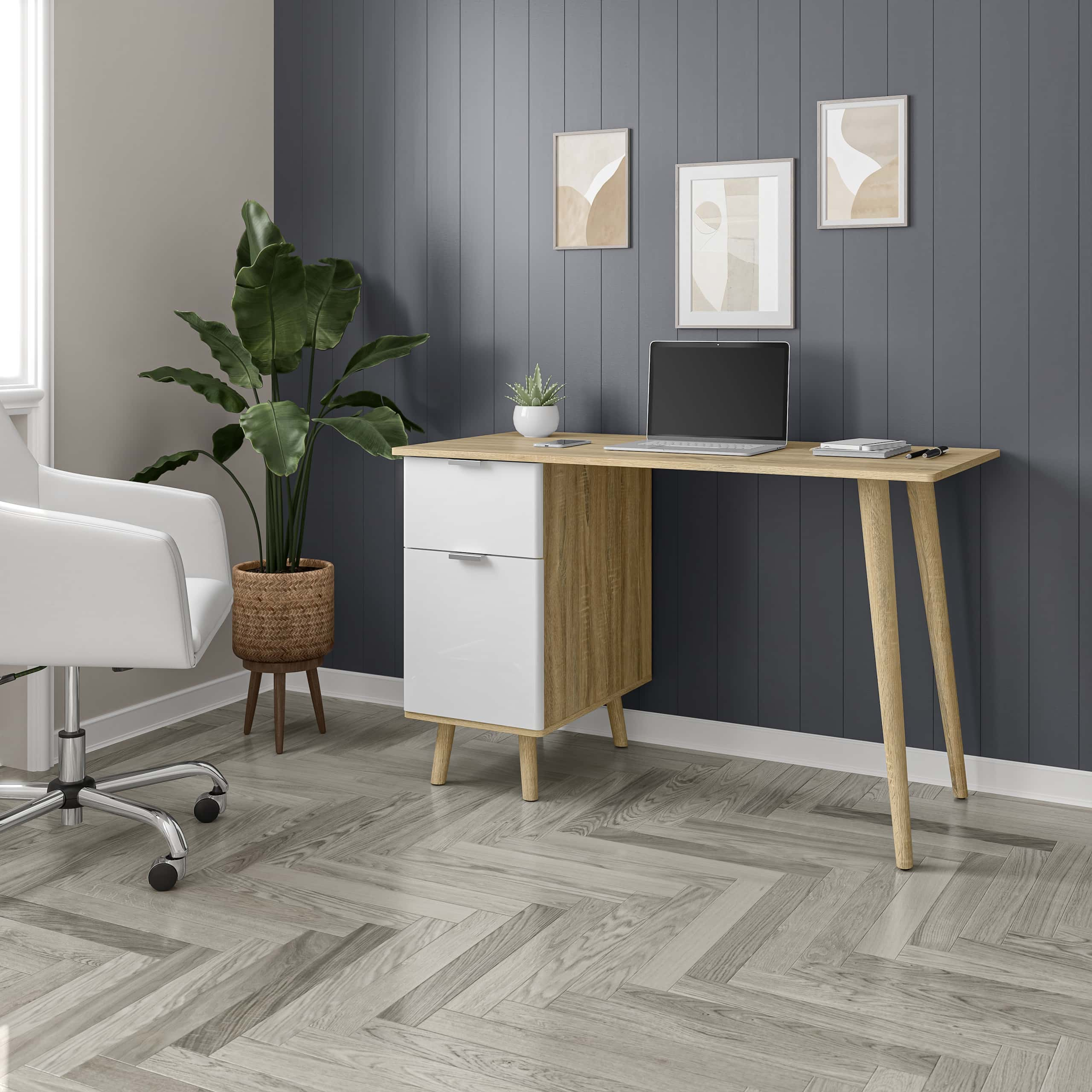 We're now entering the third year of extended remote work, and most people have already shifted to hybrid or full work-from-home schedules. However, for those who don't have a lot of space to play with, creating a home office might seem an arduous task. Do not worry! Setting up a small home office is easier than you think with the right furniture.
Let's look into some small home office ideas for your house, condo, or small apartment, and answer some questions you may have on how to set up a nice small home office.
How to Create a Home Office in a Small Space?
Having a lot of space at home is definitely not a fundamental prerequisite to set up a small home office. There are so many ways to maximize space and fit in anything you need to comfortably work from home, and we're here to show you some options and desk ideas to make that happen.
Both large and small desks are a great option for a small home office. While a big corner desk or an office set might seem a better option for a large room, these solutions can fit even in the smallest spaces when placed strategically.
Instead of placing your desk in the middle of the room, use one of the corners to set up your workstation. You'll instantly save space in the middle of the room, and your work area will conveniently be organized neatly in the corner.
Don't you just hate it when you have clutter all over your home office? This happens even to the best of us, as working at home means spending most of the time within the same environment. Clutter accumulates as work weeks go by, and it's important to keep our small home office neatly organized. Setting up your workstation in the corner of the room will allow you to have your work area conveniently separated from the rest of the room, making it easier to organize your work materials and files neatly without creating unnecessary and annoying clutter everywhere.
Opting for a corner desk or placing your writing desk in the corner will allow you to save space and declutter, creating a perfect small home office wherever you are.
How to Arrange a Small Office?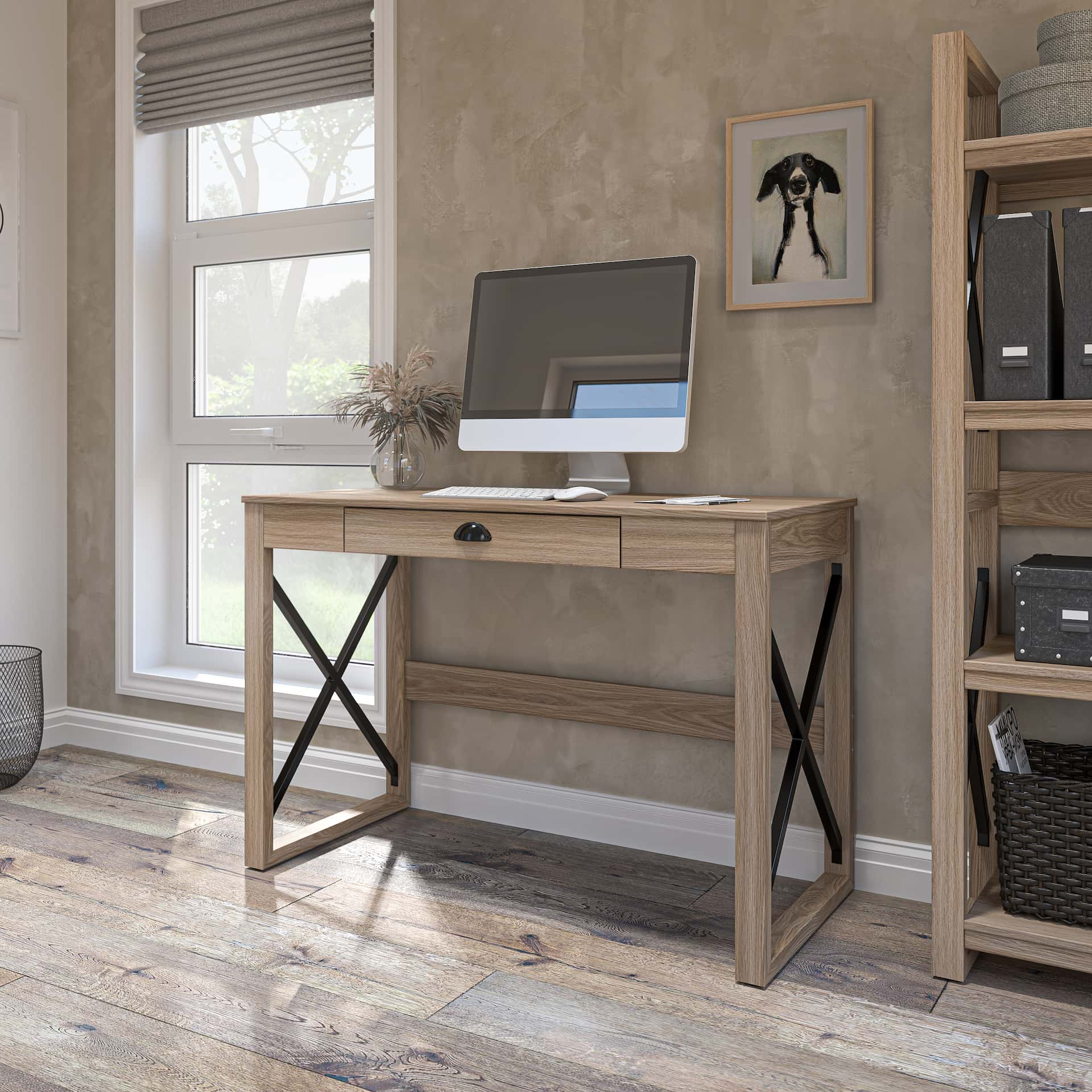 The main priority in arranging a small home office should be space optimization. Unless you are a total minimalist and tend to work with as few materials and supplies as possible, it's likely that you will need some space for storage.
Some desks come with built-in storage, like a small desk with file storage or a corner desk with drawers. If you're looking to add a matching storage solution to your desk, such as a bookcase, lateral file cabinet, small storage cabinet, or narrow storage cabinet, you can do so by placing it either adjacent to your desk, or in a different corner of the room to maximize space to the fullest.
Make sure to have good lighting in your small home office. Whenever possible, using all available natural light is a fantastic idea to both brighten up your space and make the room look bigger. Of course, a little bit of shade is also important to work undisturbed on your laptop, but natural light is essential for people as it is naturally energizing and invigorating.
Try placing your desk close to a window, in a way that would not cause excessive light to be bothersome. Another great option is investing in blackout curtains, so you can work undisturbed during the hottest and brightest hours of the day.
How to Set Up a Small Office with No Windows?
Of course, not everyone has the option of natural light in their home office. Some homes come with a separate room with no windows, which most people transform into a small home office, as rooms without windows cannot be considered bedrooms.
What should you do if that is the case in your home? Well, there are several options here. Artificial lighting has come a long way, and there are many amazing options to choose from if you want to maximize light in your small home office.
You could invest in a floor lamp that would both brighten up your space and add a touch of decor to the room. Another great option could be a natural light lamp or sunlight lamp. Sun lamps greatly impact your body's regulation of melatonin, a hormone which helps with your sleep-wake cycle, as well as serotonin, which works in helping regulate your mood by relaying different signals in your brain. One study reports that bright-light therapy has now become the first line of treatment for SAD (seasonal affective disorder).
How to Organize a Small Office Desk?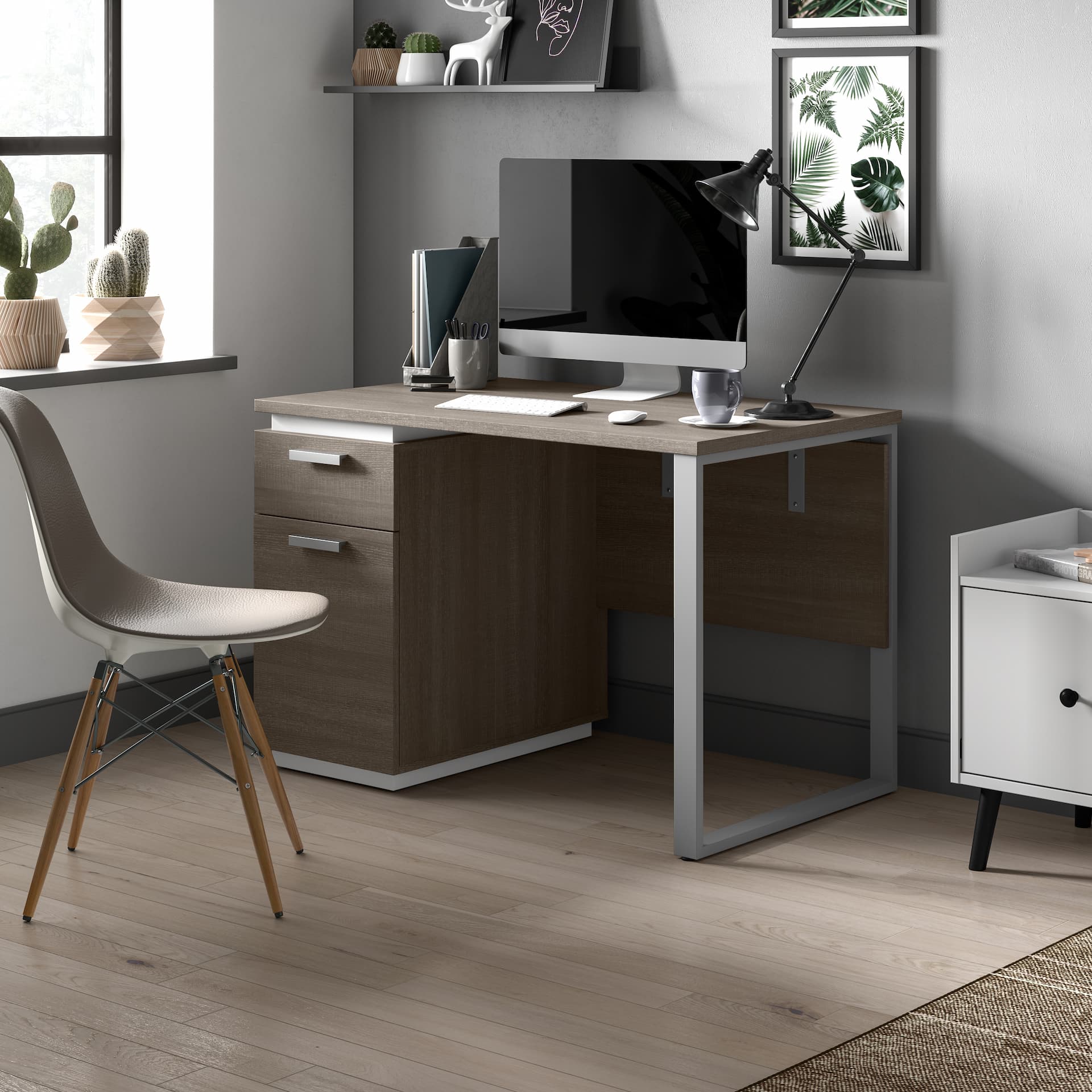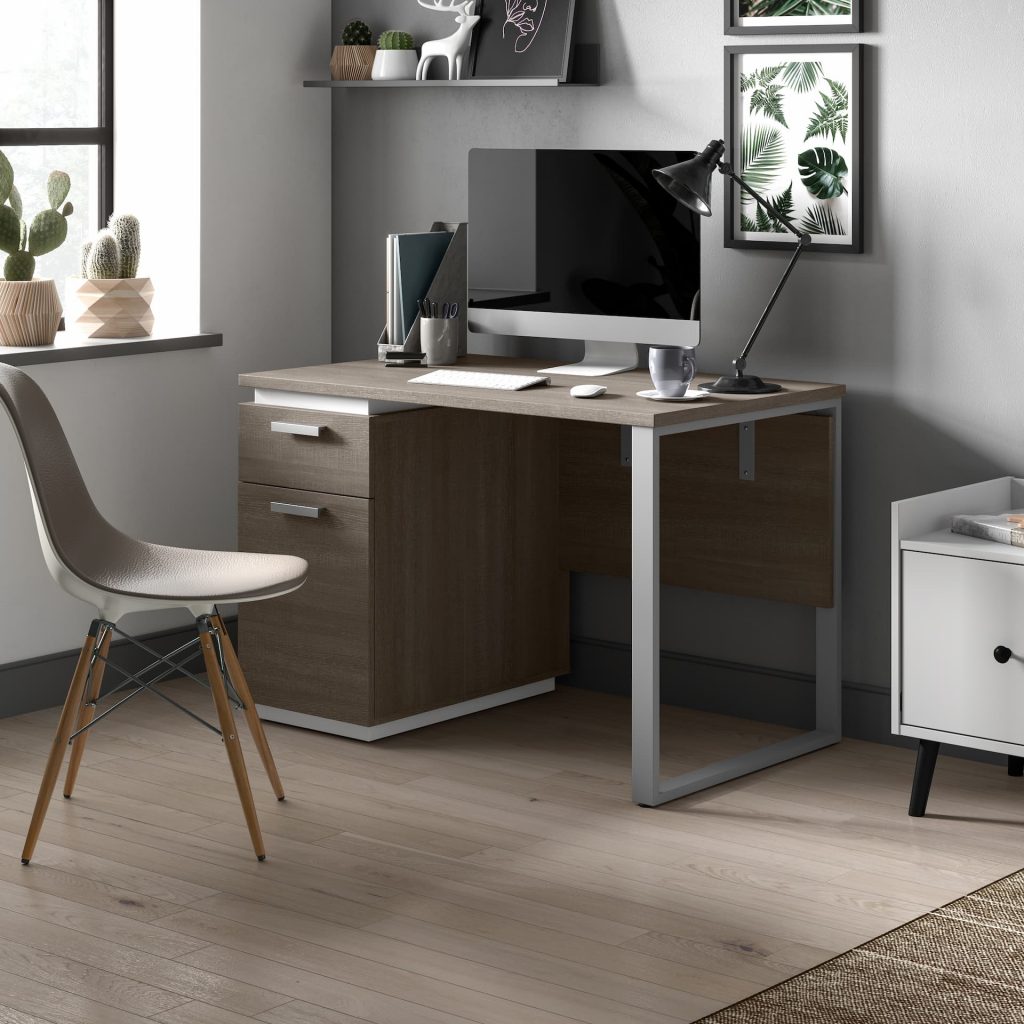 A small home office might seem hard to organize because of the sheer lack of available free space. However, with the right desk and planning, you can easily create an office space that works for you!
To make space in your small home office, try placing your desk adjacent to the wall or corner. This way, more space in the center of the room will remain available, and you'll be using the often-forgotten space in the corner of the room. We offer several desks designed with small spaces in mind. One of our newest desks is a fold-out desk, designed to be able to disappear at night but fold out again in the morning when you start your work day. Choosing transforming for foldable furniture for your office is a great way to save space. Our fold out desk is even designed to coordinate with the Murphy beds from our Orion Collection, to help you create a multipurpose home office and guest room.
When it comes to storing your files, a great way to maximize space is by choosing a desk with built-in storage. While a storage cabinet that conveniently rolls under your desk is also a great option, a desk with drawers is practical in that you won't have to choose any additional storage cabinet to store your files and small office supplies.
How to Build a Small Office in Your Bedroom?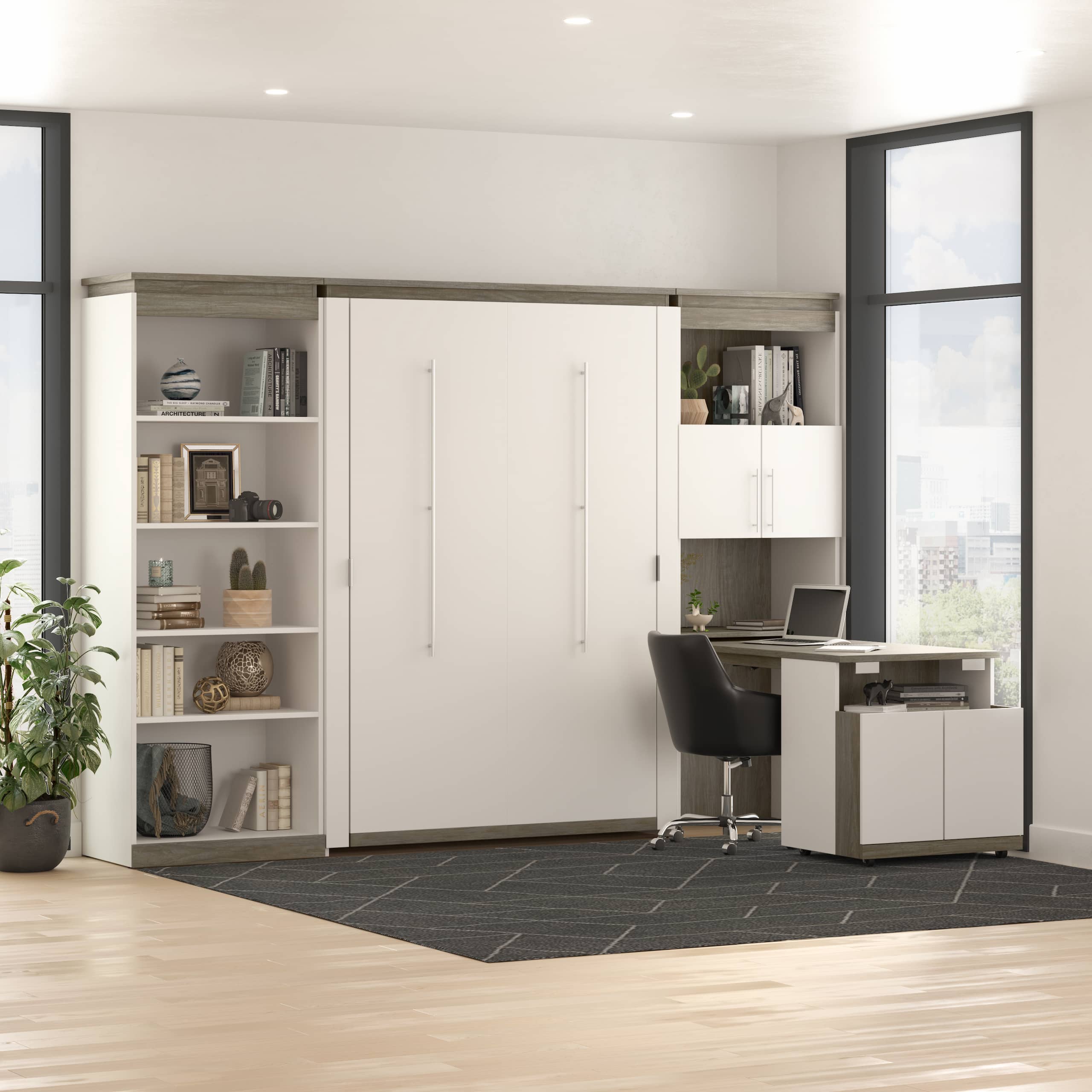 A home office in a bedroom isn't unheard of these days, as more and more people are working remotely. Creating a small home office in your bedroom isn't hard, especially if you opt for a functional desk and additional storage solutions. The right furniture will complement your small home office while giving you a chance to store other personal belongings and decorate the space.
Evidently, the fold-out desk mentioned earlier is a wonderful option for a bedroom office, especially when paired with a wall bed. Murphy beds are fantastic for people who live in smaller spaces, and they work beautifully for guest rooms too. Instead of giving up precious square footage for a full-size bed, a Murphy bed can be conveniently tucked in when not in use and become a big and comfortable bed whenever friends and family need to stay over.
We offer more than one Murphy bed with desk option, allowing you to easily set up your home office in your bedroom. This is a great solution for those who live in lofts and hybrid spaces where the division between rooms isn't as evident. It also works great for small apartments where it's essential to merge functionalities and needs in one space. You can also choose to pair your Murphy bed with any one of our compact computer desks, since the wall bed will already be saving a lot of square footage in your space when folded away.
With a Murphy bed with desk, you gain a great bed and a storage solution at once, making this option great for anyone who'd like to set up their home office in their bedroom or have a bed that can be neatly tucked away when not in use.
How to Decorate a Small Office?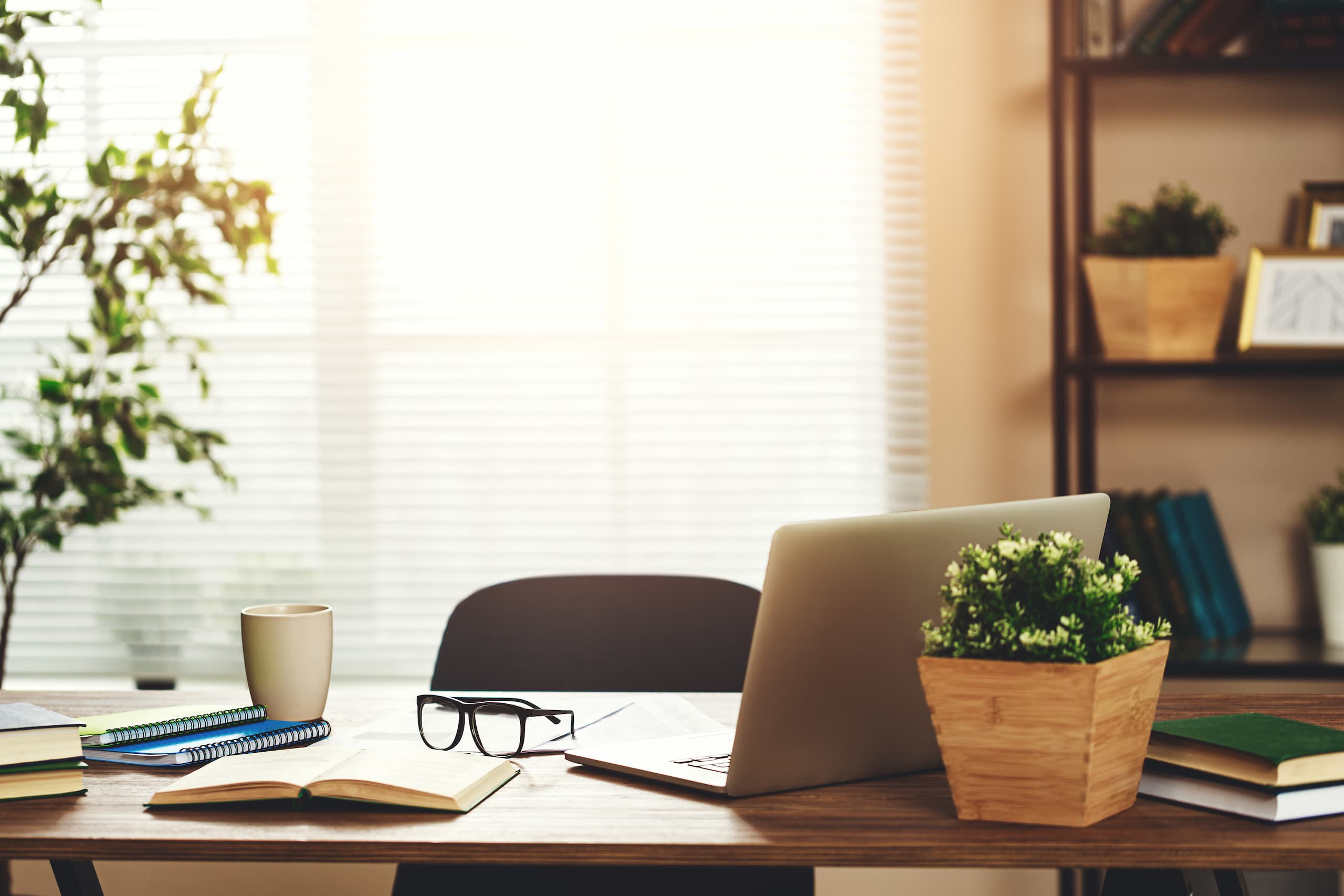 When it comes to small office decor, there are so many options! Of course, your desk is the primary element in your office, and it can help you decorate your space efficiently.
An L shaped desk or a desk with hutch have more surfaces than a regular desk, so consider using any space not dedicated to files and supplies for small office decor. For example, small objects and decorative pens already add so much to a desk. Or, you could look into tiny plants, real or artificial, to add some small office decor to your cubbies and surfaces.
A bookcase or a storage cabinet is also a great ally when it comes to small office decor. You can use the ample shelves of your bookcase or the sturdy surface of your storage cabinet to accommodate a vase with flowers, books, a decorative lamp, or any other type of small office decor.
As for plants, another great idea is investing in colorful or unique pots for them. Depending on your style, you can either complement the materials and textures of your desk with a similar pot for your plants or add a colorful one that will add an accent color to the room.
Lastly, pictures and frames are another beautiful touch that would make any small home office feel more personal and welcoming.
Categories
Home Office
,
Small Spaces