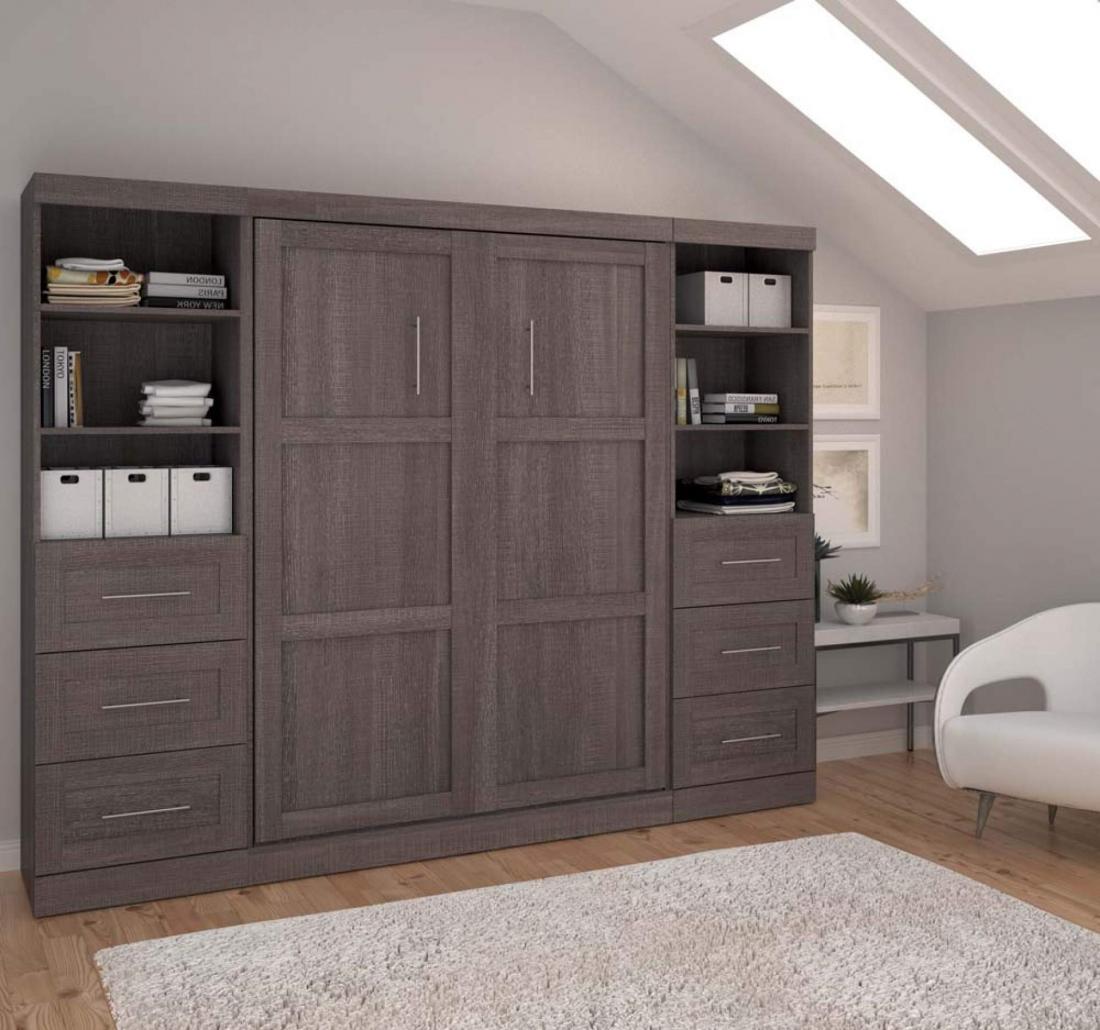 Looking for the perfect space-saving solution to make room for guests, work, hobbies, and the other demands of everyday living? A convenient and comfortable wall bed may be the answer.
Whatever the reason—a preference for minimalism, financial reasons, limited availability of affordable housing—many of us are creating lives in smaller and smaller living spaces.
Consequently, you need to save space without sacrificing functionality.
Of all home furnishings, beds are probably the biggest consumers of square footage. Without the encumbering presence of a bed, our space could be utilized much more efficiently.
In answer to the need of a bed in limited available living space, a wall bed or fold-down bed, also known as a Murphy bed, could be the practical, space-saving solution to meet your needs.
A wall bed is hinged at one end to be stored vertically against the wall or inside a closet or cabinet. Wall beds are ideal not only for guest rooms, but for small studios and one-bedroom suites as well.
But where to find the Murphy Bed that's right for you? Here are a few quality retailers offering a wide selection of versatile wall bed options combining convenience and practicality without compromising attractive style and design.
Want more of a DIY space-saving approach? We've got you covered there, too—read on!
Bestar Wall Beds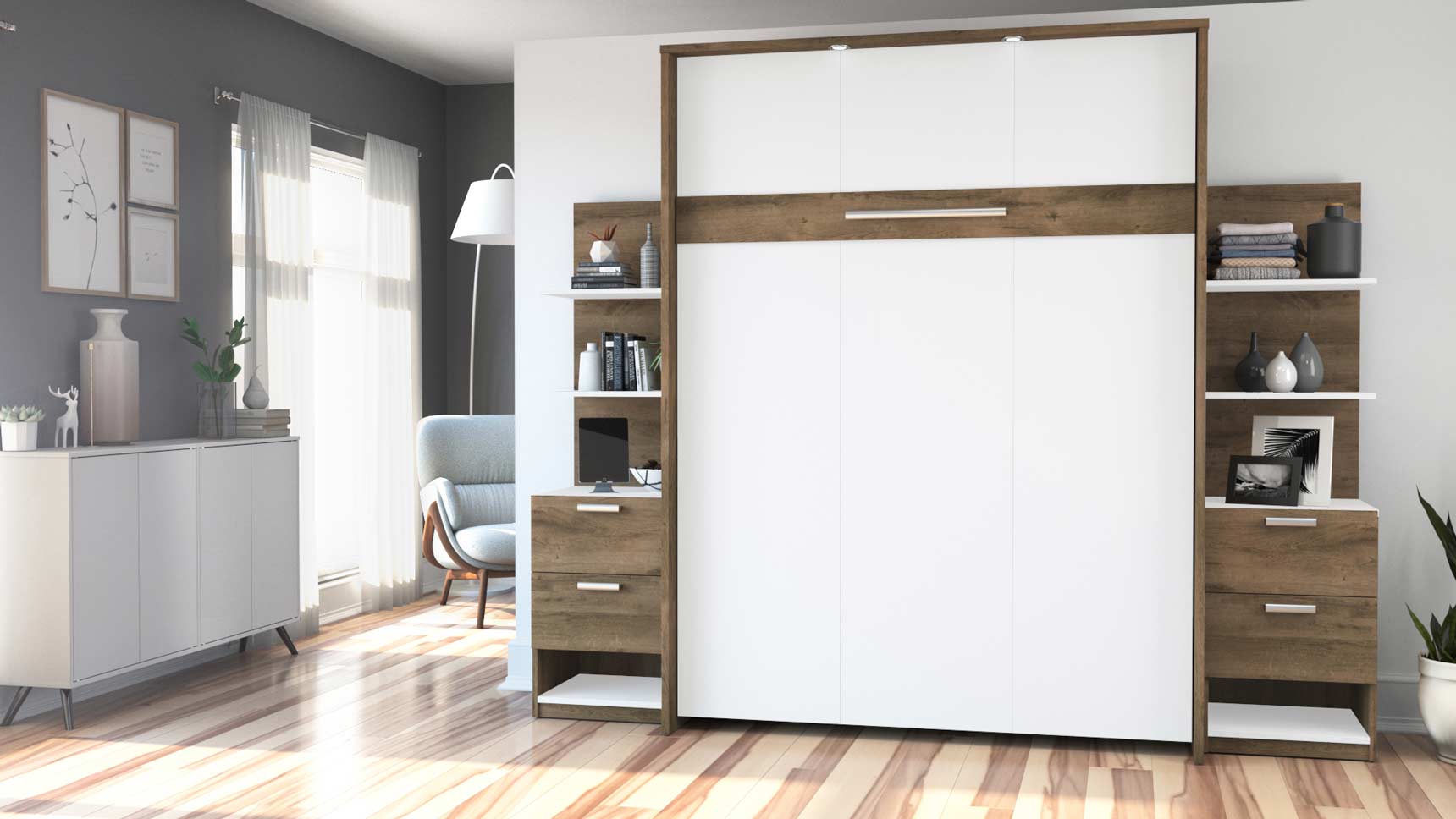 A bed, storage, and an attractive cabinet—the perfect, practical combination!
The cabinet unit seamlessly stores the bed away when not in use. Simply lift! That's how easy it is to clear your space.
Bestar wall beds fold into a large cabinet with sturdy metal handles and decorative trim. The cabinet is firmly anchored to the wall with sturdy screws, and the bed is easily unfolded through their well-designed dual-piston system that is calibrated to keep the mattress open.
The beds fold up and down in mere seconds, safely, without heavy lifting. Remove the pillows and fold up the bed with bedding in place—ready to fold back down and get cozy in an instant.
Your mattress is integral to a comfortable night's sleep and is a very personal thing. All Bestar wall beds are designed to accommodate most standard mattresses so you can choose what's right for you.
Murphy Wall Beds


Established in 1975 and specializing in panel bed hardware, Murphy Wall Beds has grown and expanded over the years, into a fully integrated, wall-bed supply company. They offer both residential and commercial customers an extensive range of versatile, space-saving wall bed solutions.
Murphy lets you design your wall bed to suit your individual needs and space. You can start from scratch or customize one of their recommended builds. Add side cabinets, lights, doors, and other accessories to make it truly yours.
Your entire kit is delivered right to your door.
Wall Beds USA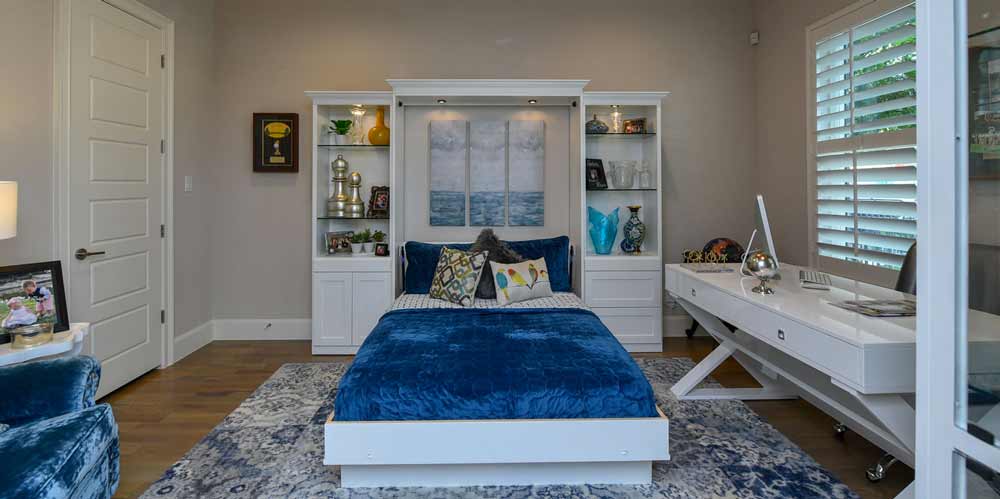 Wall Beds USA is a custom Murphy bed manufacturer and makes beautiful hardwood furniture.
The company considers themselves wall bed specialists and guide you through every step of the process of purchasing to ensure you choose a bed that best suits your needs.
Using high-quality materials and combining modern technology with modern styling, Wall Beds USA products are built to stand the test of time and last for generations.
The company will build your new wall bed, from your specs.
Wall beds at Costco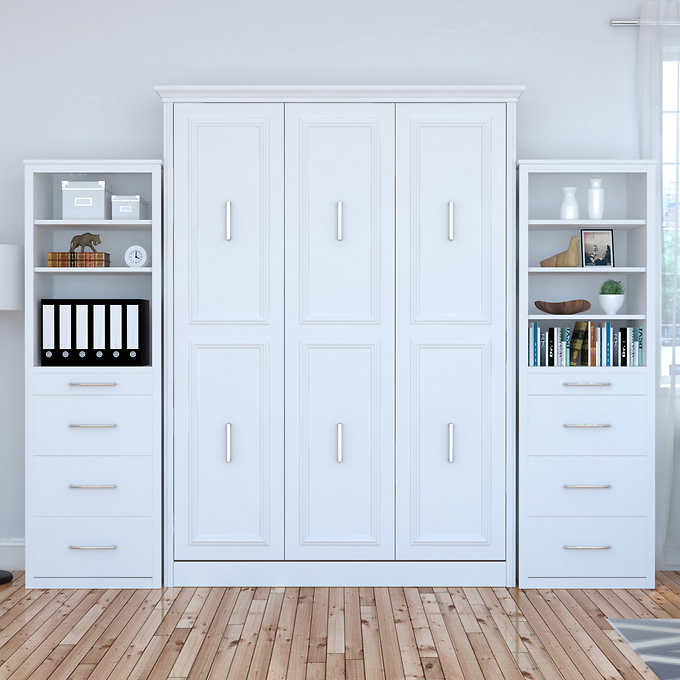 Retailer juggernaut, Costco Wholesale, isn't just about bulk toilet paper, pickles, and cleaning supplies! They've easily realized that their buying power extended well beyond only the staple consumer products.
The lines of home furnishings they carry have consistently expanded, and that includes offering quality wall beds at a reasonable price.
Details such as solid wood moldings and accent trim create a luxurious style and feel. Fitted with curved euro slats—doing the work of a standard box spring in a fraction of the space—their wall beds deliver maximum comfort.
The accompanying storage and shelving units offer adjustable shelves and a clothing bar if you need to use the space to hang clothing. There is a convenient pull out shelf included, which can become the perfect nightstand. The three drawers provide additional hidden storage.
Do It Yourself Wall Bed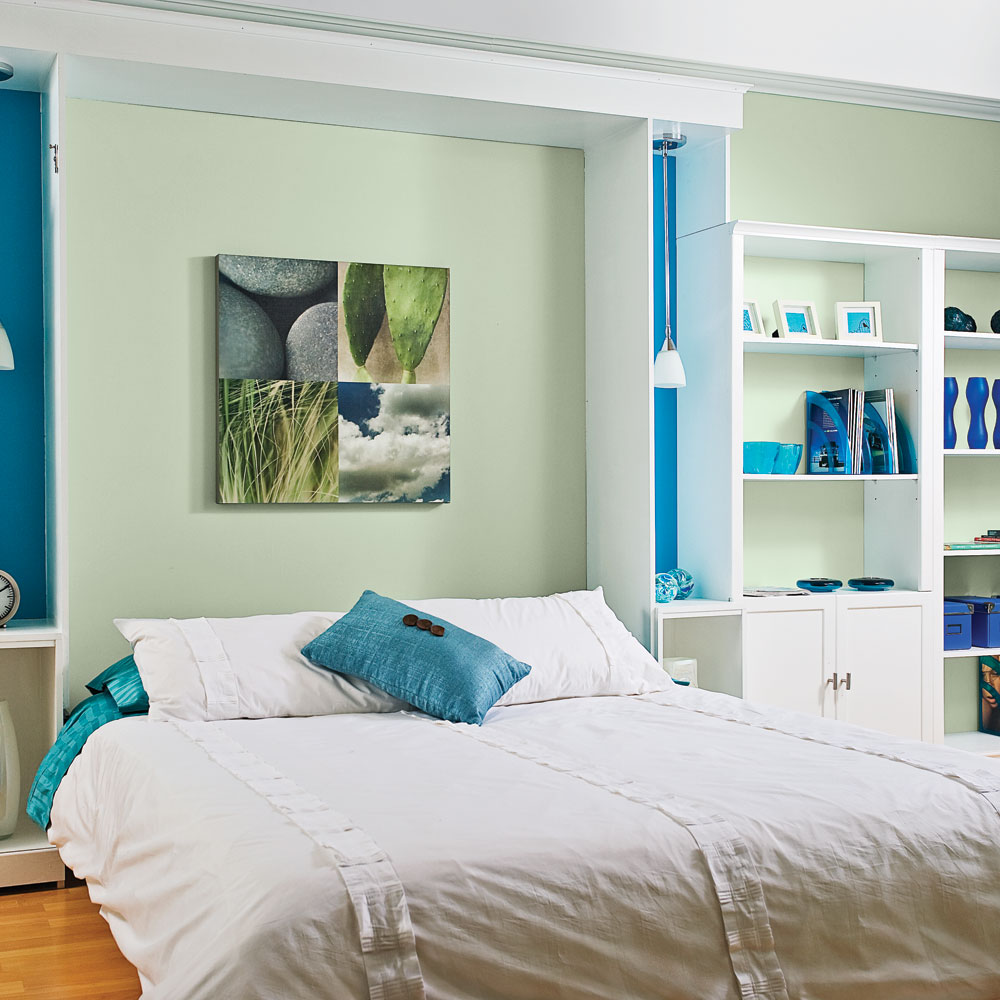 (Source: Je décore)
If you're more budget-minded and can find your way around a toolbox, perhaps DIY is the way to go!
Integrate your home-made wall bed fully into your decor or choose a design that stands out. Either way, building it yourself will ensure that you get exactly what you need and save you a lot of money.
Some projects use ordinary building materials available at any home center. Others feature mechanical hardware or other materials purchased from specialty retailers to use in specific ways to create a more innovative and high-end DIY Murphy bed.
Keep in mind that it's essential to know you've got a quality mattress with an exact fit BEFORE you start building!
Categories
Home