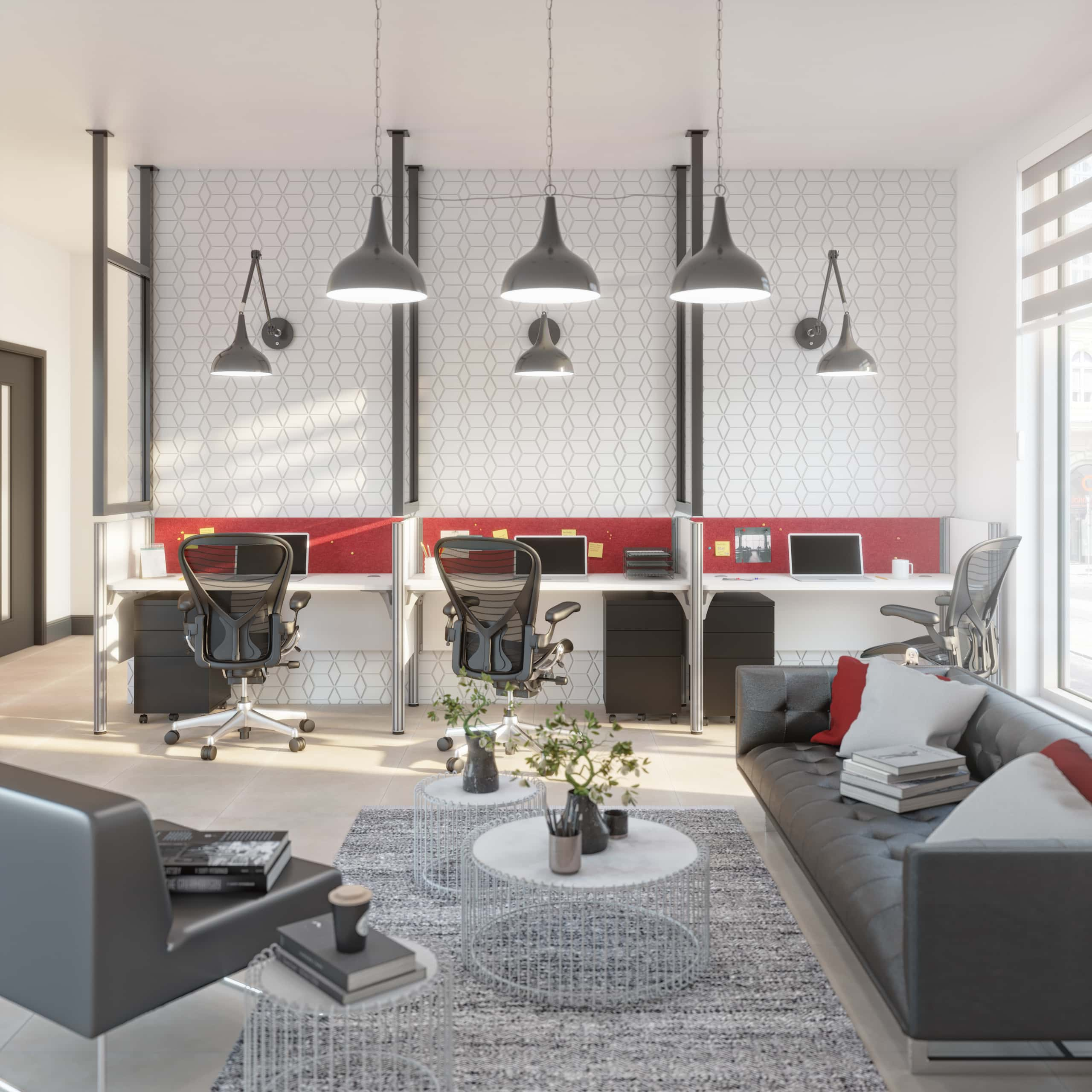 Creating a productive, comfortable, and efficient office space is the key to a successful work environment. It's equally important to opt for an office layout that meets the needs of your employees and your company, without compromising comfort or productivity. No matter the size of your company or office space, you and your employees can benefit from a well-thought-out, ergonomic office layout!
Do you need a layout that can grow with your company? Or maybe you need a solution that offers employees flexibility and adaptability? No matter what you're looking for, your office layout needs to accommodate your staff's specific needs, all while promoting productivity. Keep reading to learn more about the different types of office layouts!
Cubicle Office Layout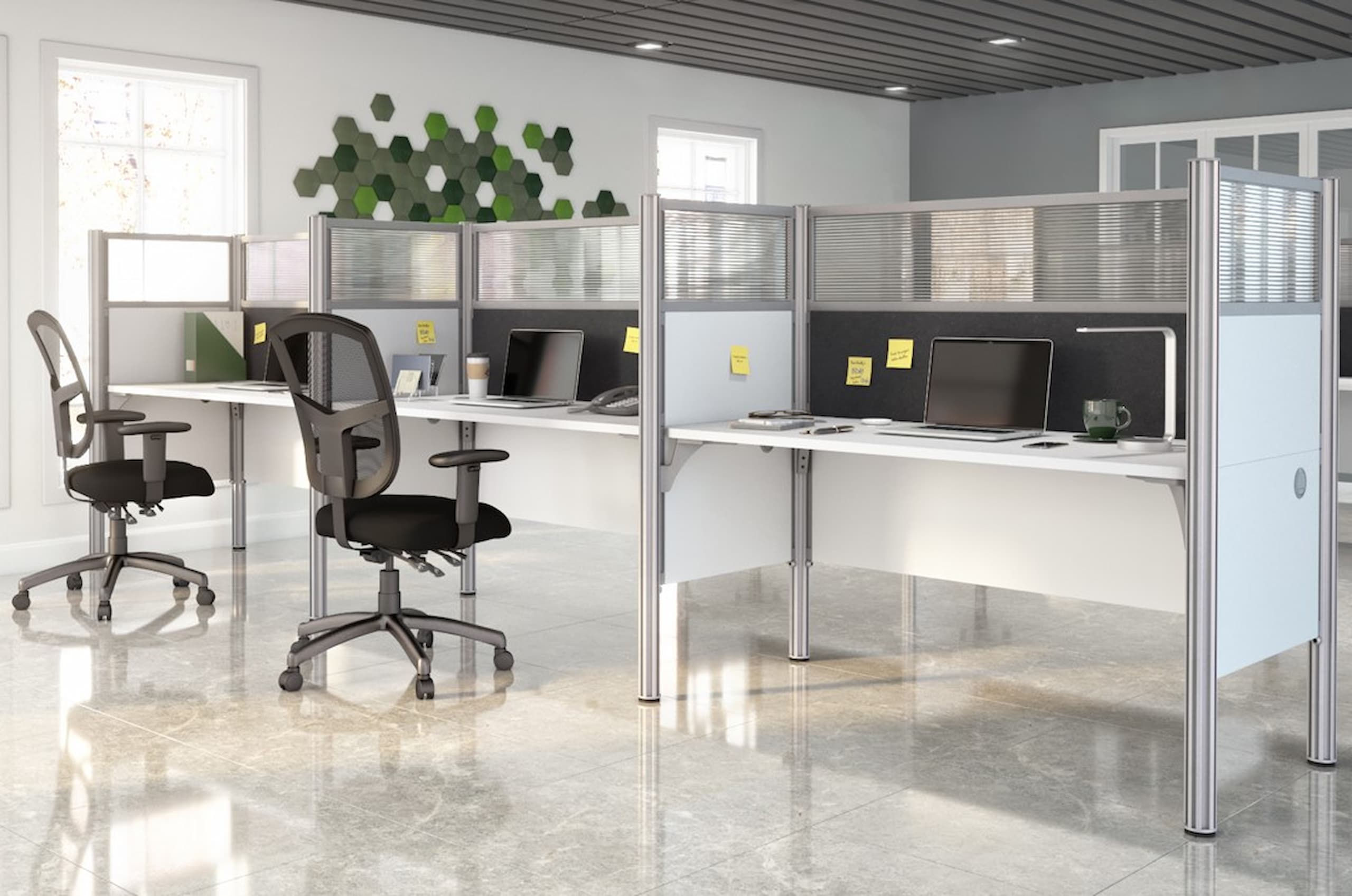 Looking for an office layout that gives your employees the privacy and tools they need to work productively? Why not consider opting for office cubicles for your workspace. With the variety of modern office cubicle options out there, you're sure to find the right fit for your company's needs.
Privacy for Your Staff
Bestar cubicles come with different sized privacy panels to give your employees a bit of privacy while working at their desk. You can opt for a model with a high or low privacy panel, all depending on your employee's needs. These panels create an element of privacy while working, but still allows your employees to work collaboratively when needed. For instance, do your employees need to take phone calls from time to time? No problem! These privacy panels can help reduce noise between cubicles, which helps employees stay focused on the task at hand and keeps distractions to a minimum.
Moreover, each employee will have their own workspace that they can customize to their liking. They can add photos, notes, a small desk lamp, or even a beautiful plant to their desktop. Each Bestar cubicle also comes with a grommet to manage wires, so no need to worry about computer wires getting tangled or cluttering the workstation.
Practical Cubicle Office Furniture
If you're a small company but need business furniture solutions that can accommodate your growing needs, then Bestar has exactly what you're looking for. Bestar office cubicles are entirely customizable, making it easy to adapt your workspace to your needs. All depending on how many employees you have, you can opt for single cubicles or six-person workstations. If you onboard more employees, no worries! You can easily add more cubicles when needed. What's more, Bestar cubicles come in different styles and colors, so you can pick the best model for your office space.
Open Concept Office Space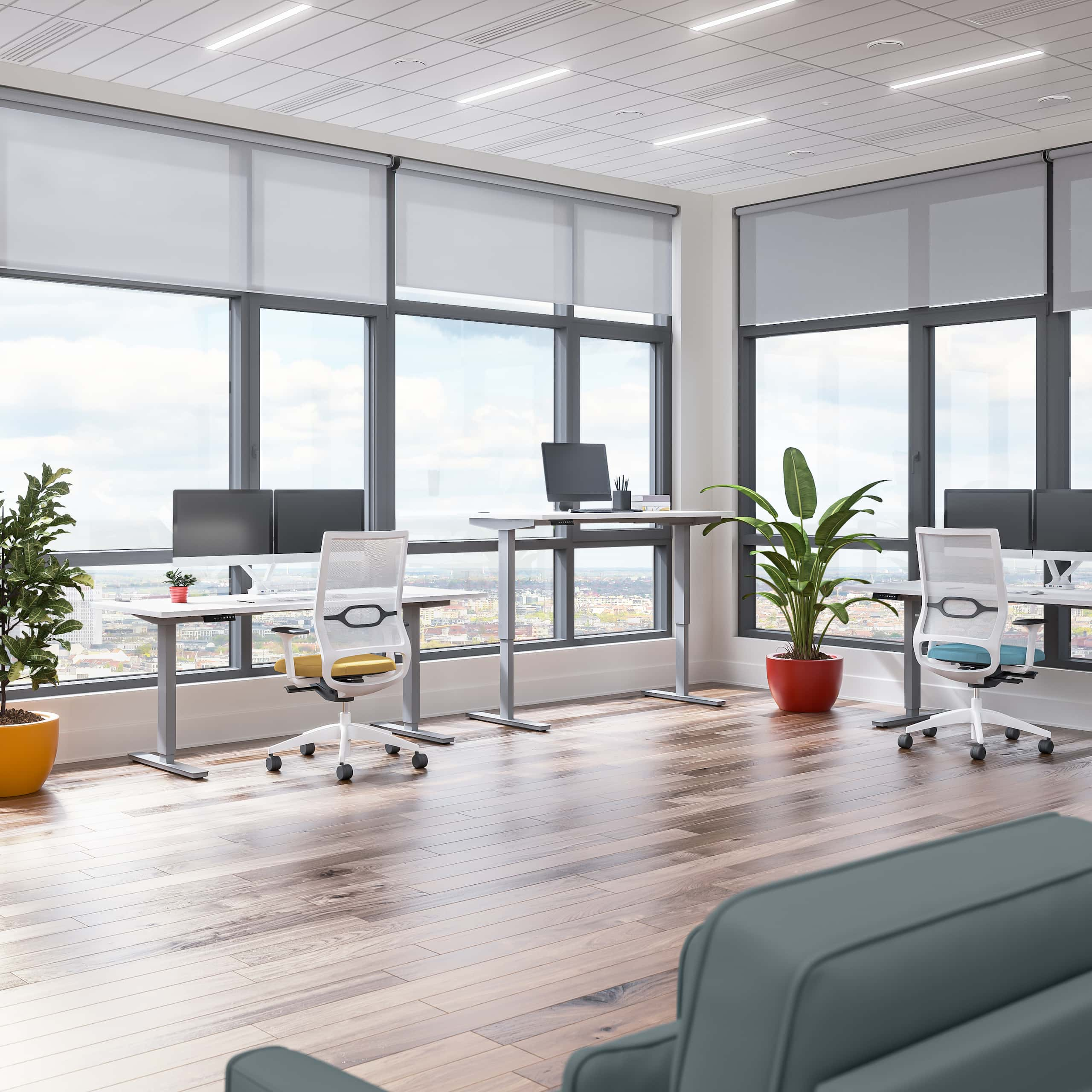 When designing an office layout for your company, there are many aspects to consider. For instance, does your team often work together? Is there a way we can maximize floorspace? What will increase comfort and productivity? With an open concept office, you can check off all these boxes!
Open concept office layouts are very popular in today's world. One advantage is the openness of the space, which facilitates communication and encourages teamwork. Employees have the chance to collaborate with their peers and work efficiently at the same time. Open concept office layouts offer an array of possibilities for you and your staff, and there are many ways to divide your shared office layout!
Fully Open Office Layout
For instance, all depending on your company's needs, opting for a fully open concept office would maximize floor space and allow your staff to communicate easily. You can add specific workstations where employees have the freedom to choose where they want to work within the space. What's more, they'll be working alongside their peers, making it easy to discuss a project or brainstorm ideas. By opting for a fully open concept design, you're promoting a collaborative office space that facilitates communication, all while boosting productivity.
Team-Cluster Spaces
Another great option is to create specific areas for teamwork and meetings. These spaces can take shape in different forms, such as conference rooms or grouped workstations separated by office partitions for additional privacy. Each area is designated for employees working on a common project to communicate and brainstorm more effectively. What's more, employees can work together productively on a project, without disrupting their peers.
Lounge Areas
Giving your staff a place to lounge, take their coffee breaks, and recharge before heading back to work is a great way to boost productivity. The more rested and comfortable they are, the more efficient and focused they'll be! For that reason, you should consider arranging a lounge area within your open floor space. It's a good idea to equip the space with a comfy sofa, ergonomic chairs, plants, a bookcase (filled with great reading material), or even a coffee station! Employees will have the chance to socialize, sit comfortably, enjoy their meal, and get well rested to continue their day!
Executive Office Spaces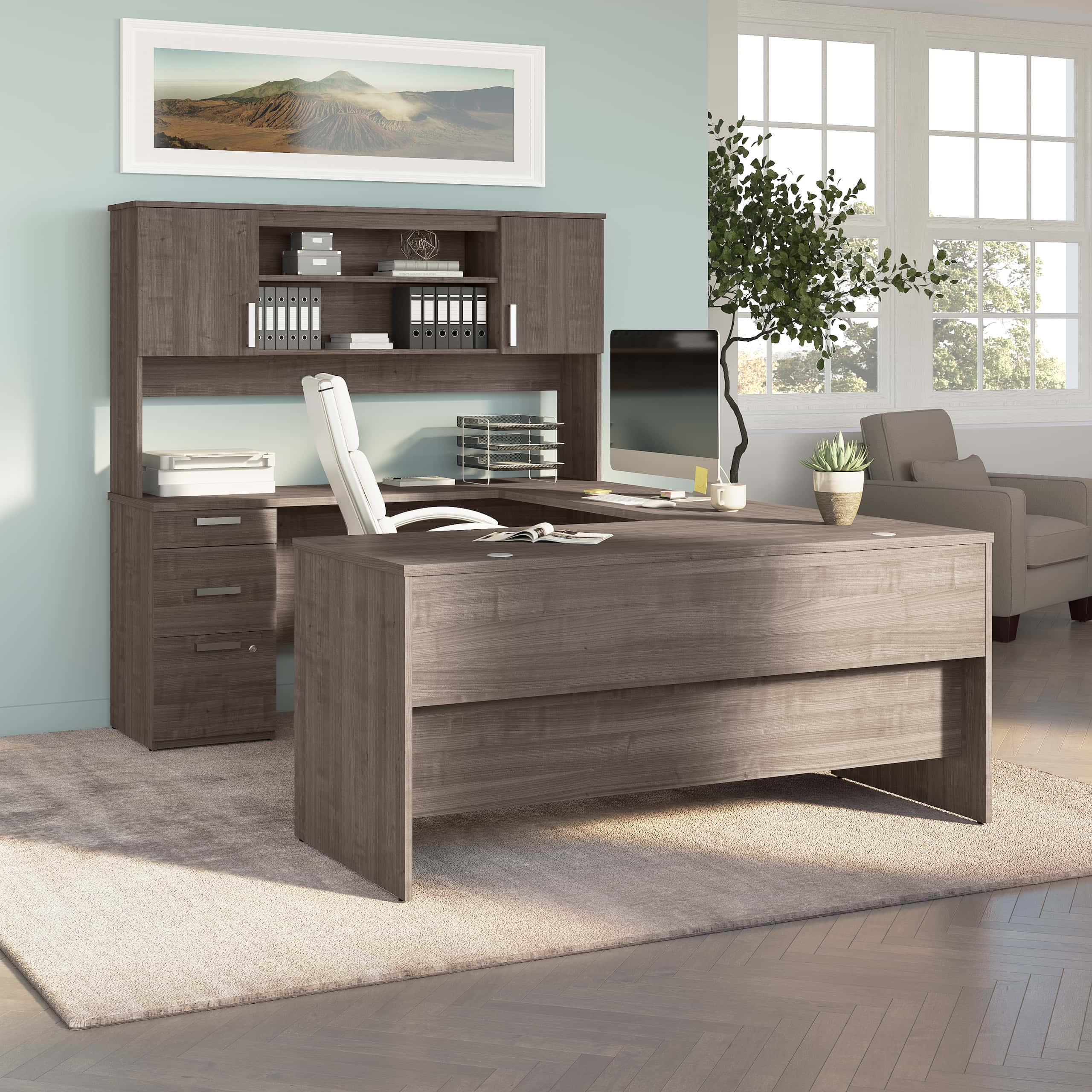 Do you often have in-person meetings that require a private place to discuss business without distractions? Do you need a space that caters to all your work needs, both in terms of comfort and professionalism? Why not consider opting for a modern executive office layout!
Finding the Best Desk Layout for Productivity
The main furniture item in any executive office is an ergonomic desk. It's crucial that your desk can accommodate all your work needs and can provide optimum comfort and productivity through the workday. Luckily, Bestar offers an array of U shaped desks and L shaped desks that are ideal for executive office layouts! L shaped or U shaped desk layouts can hold multiple monitors and equipment, such as a printer, on the desktop. What's more, the large work surface is great for holding meetings with clients or colleagues. Add chairs in front of the desk and you're ready for appointments!
In addition, most L shaped and U shaped desks come with storage options, so you can neatly organize all your supplies. For example, some models have a file cabinet or a hutch, both of which are great options for keeping important documents and office supplies out of sight and stored away.
Choosing the Right Setup
Once you've chosen a desk, it's time to arrange your office layout. If your office has windows, you might consider placing your desk near the window or directly in front of it to soak up as much natural light as possible. Another option is to place your desk in the middle of the room to make your desk the focal point of the space, if you so choose!
Next, you can choose storage options that match your desk to create a cohesive and organized space. Go with a bookcase or storage cabinet for your supplies (or to keep your favorite snacks!) Everything will be within reach, but neatly stored away.
Since executive offices can also be used as meeting spaces and rest areas for colleagues and clients alike, it might be a good idea to consider adding other furniture to your space. For instance, you can opt for a small sofa to relax on between meetings and a table desk for brainstorming sessions with colleagues. By adding additional pieces to your executive office, you'll create an inviting space for your peers, all while ensuring productivity and comfort remain at the forefront!
Hybrid Working Option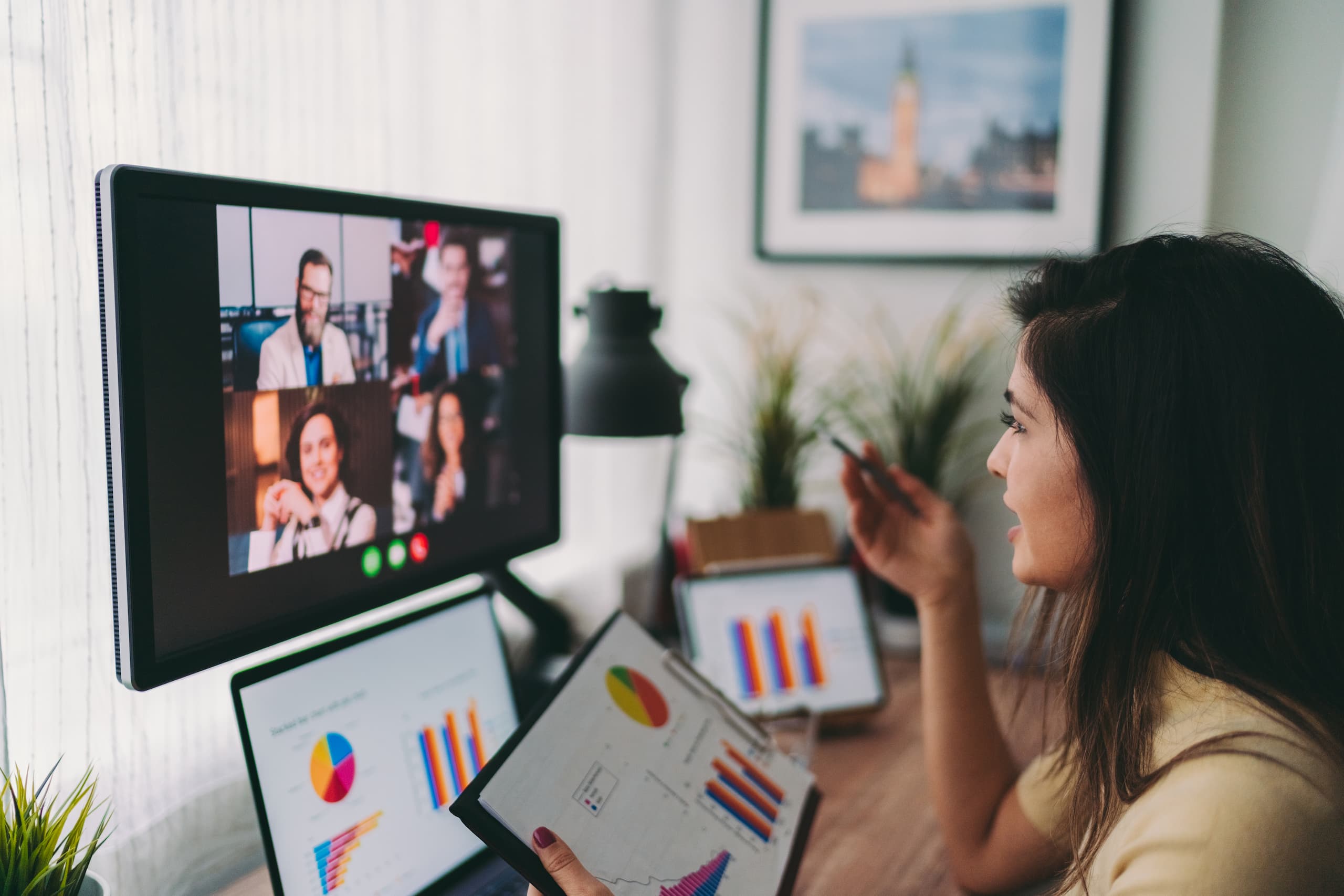 In recent years, hybrid working has become a popular option in many workplaces. The aspect of "hybrid" involves working from the office and from home. With a hybrid office layout, employees can enjoy the flexibility to work independently at home and collaboratively at the office. It's the best of both worlds!
An Efficient Setup at Home and at the Office Is Key
When your employees are at the office, they need an efficient office space to work in. You can opt for an open concept layout with multiple workstations to facilitate communication or a low partition office layout that separates work areas in an open space. No matter what you're looking for, setting up a productive workspace for your employees is key!
When your employees are working from home, they need an ergonomic setup to be as productive and comfortable as possible—just like at the office! For that reason, setting up a comfortable home office space is a must. Since not everyone has a dedicated office space at home, choosing a corner desk is a great space-saving option. These desks can be placed in a corner to create a secluded work area that breathes productivity and efficiency. Some Bestar corner desks come with an integrated monitor stand, a keyboard tray and storage areas, all depending on the model you choose.
What's more, when your employees are working from home, they can still work productively thanks to the many online resources, such as Google Teams, Slack, Zoom and much more. Meet with your team virtually on Zoom or chat with your coworkers about a project over Slack, all while sitting at your ergonomic desk.
Finding the right office layout for your company can be a challenge. There are a multitude of office layout ideas out there, which can make it difficult to choose the right option for your needs. It's important to choose a layout that checks all the boxes on your list, all while ensuring complete productivity for you and your staff.
Categories
Business