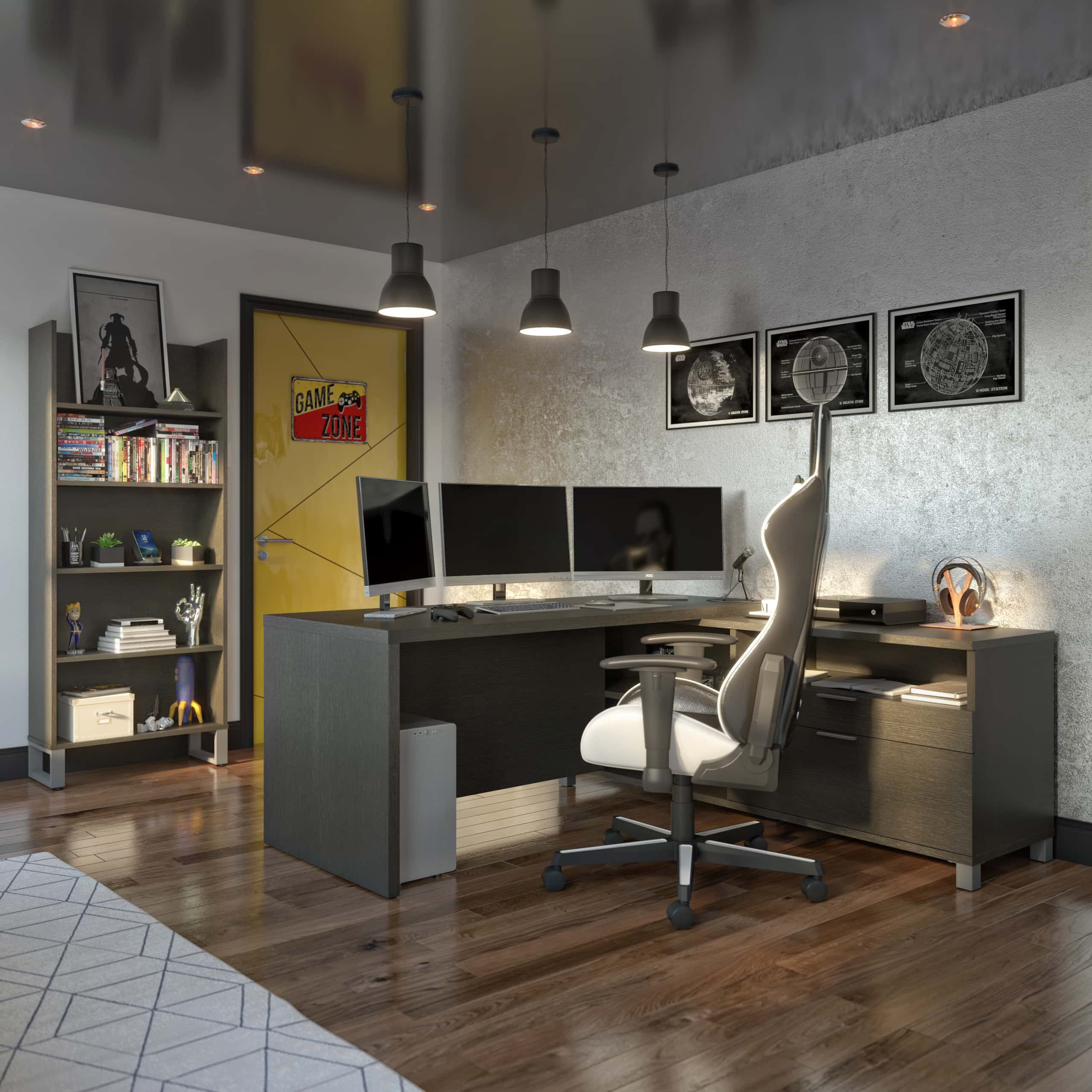 If you're an avid gamer, a teleworker or both, you know that finding an ergonomic desk that offers comfort and productivity is crucial. But what if you need to find a desk that's made for working and gaming? Well, you're in luck! Bestar has an array of gaming desk options that will meet your needs for both work and play.
Before starting to think about arranging a home office gaming setup, you need to find the right office desk. You might be asking yourself: What size desk do I need? What storage options are important for my space? Or even what configuration works best for me? Luckily, Bestar has a selection of gaming desks that will fit nicely in an ergonomic workspace. You can choose from an array of different styles, designs, and sizes that will certainly work with your needs and space. Still not sure where to start? Don't worry! Keep reading to learn more about our four tips for finding the perfect desk for working and gaming.
Configuration is Key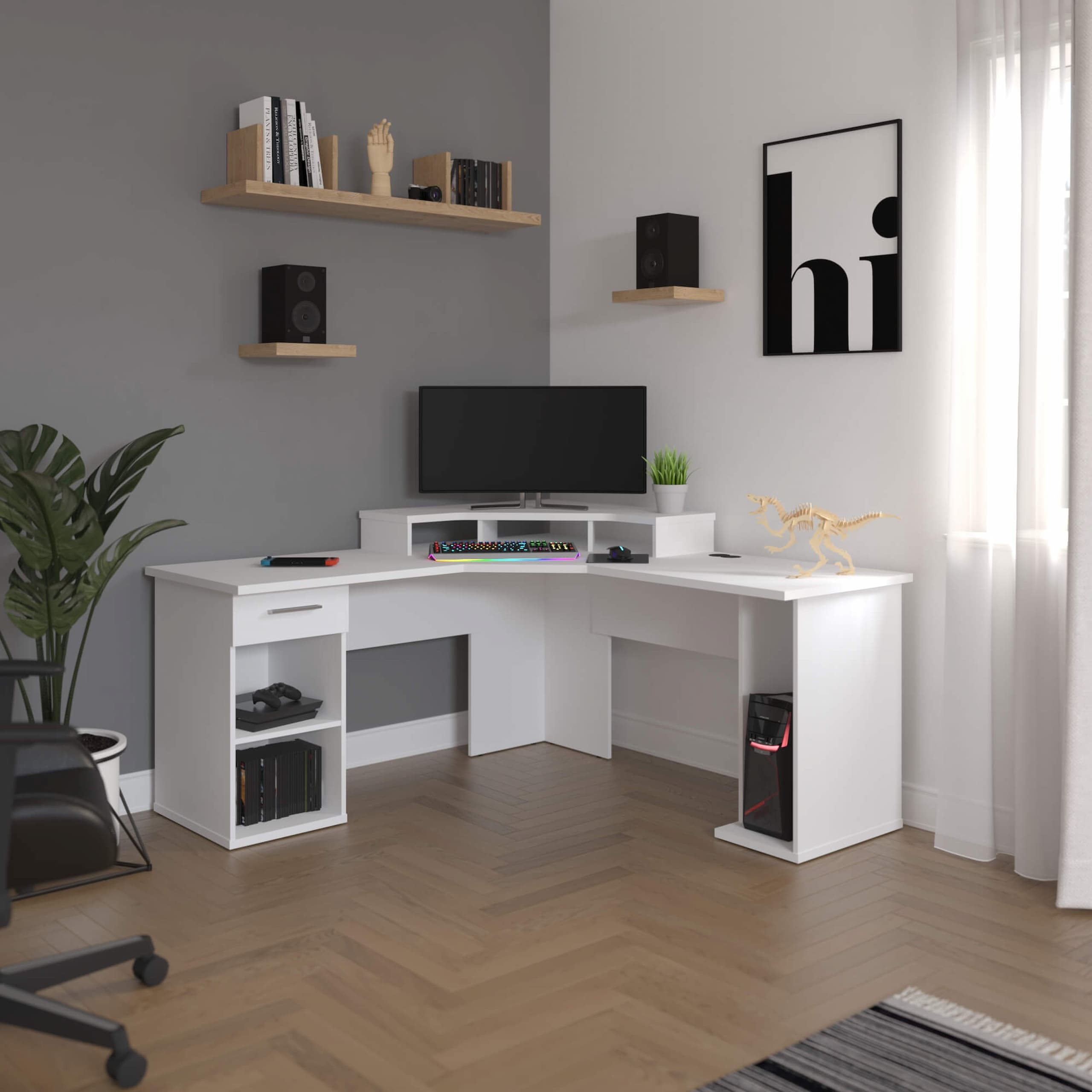 A key factor to consider when looking for an office and gaming desk is configuration. The first step is to decide where you'll be creating this gaming and working space. Once you've decided on a location, you can start looking for an office/gaming desk to create a unique setup that works for you.
Whether you have a shared living space or an entire area for a home office/gaming room, you might want to consider a corner desk. Each gaming desk from the Hampton Collection has three open storage areas under the monitor stand, so you can store items such as a cellphone or headphones. You'll also have ample storage space with a pedestal or storage compartments, all depending on which corner desk model you choose. Bestar corner desks take up minimal floor space, which makes it easy to set up your home office/gaming area in a shared space or in a smaller room.
Moreover, Bestar L shaped desks are ideal for creating a secluded area. Do you have intense gaming sessions that require your undivided attention? What about Zoom meetings on a regular basis with work colleagues? If you do, then a corner gaming desk can give you the privacy and space you need to work (and play) efficiently. You'll have ample space on the desktop for your activities, all the while staying focused on the task at hand. Creating your very own gaming space and work-from-home nook has never been easier!
Desk Size Makes All the Difference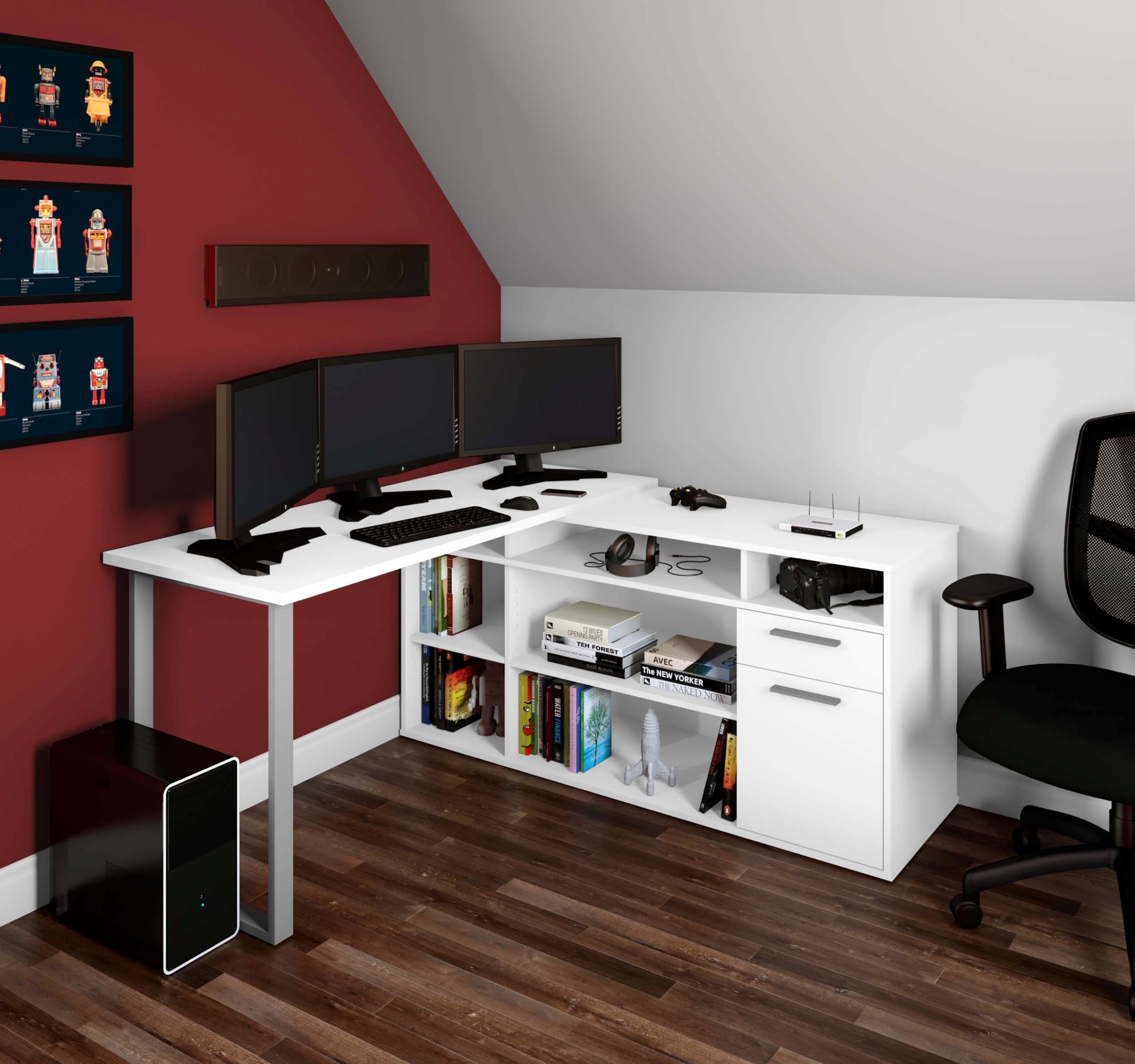 It goes without saying that you need to know what size desk will work for your needs and space. Since most gaming desks should be approximately 60 inches wide, you can choose a wider desk model for your space. Will you need a work surface that can accommodate multiple monitors for gaming and working? Will you have office supplies and gaming accessories on the desktop? What desk will fit in your space? These are all valid questions to ask yourself when looking for a gaming desk for your space!
First and foremost, you need an office desk that can accommodate both your working and gaming activities without feeling cluttered. All depending on the space you have, you might opt for an L shaped desk, which virtually has two office desks in one! You'll have ample space on your desktop for multiple monitors, a keyboard, a mouse, and other supplies. With the large work surface, you can avoid creating clutter on your desk. What's more, many Bestar gaming and office desks have a durable 1-inch-thick surface that's resistant to scratches, stains, and wear. That means you can have all your supplies on your office desk (even your gaming tower!) and not have to worry about everyday wear and tear.
Not sure if an L shaped desk will fit in your home office gaming setup? That's no problem because you can opt for a simple table desk. You'll still have a large work surface, in a more compact design. No matter which desk you choose, make sure it works with your space and your needs!
Versatile Setup for Work & Play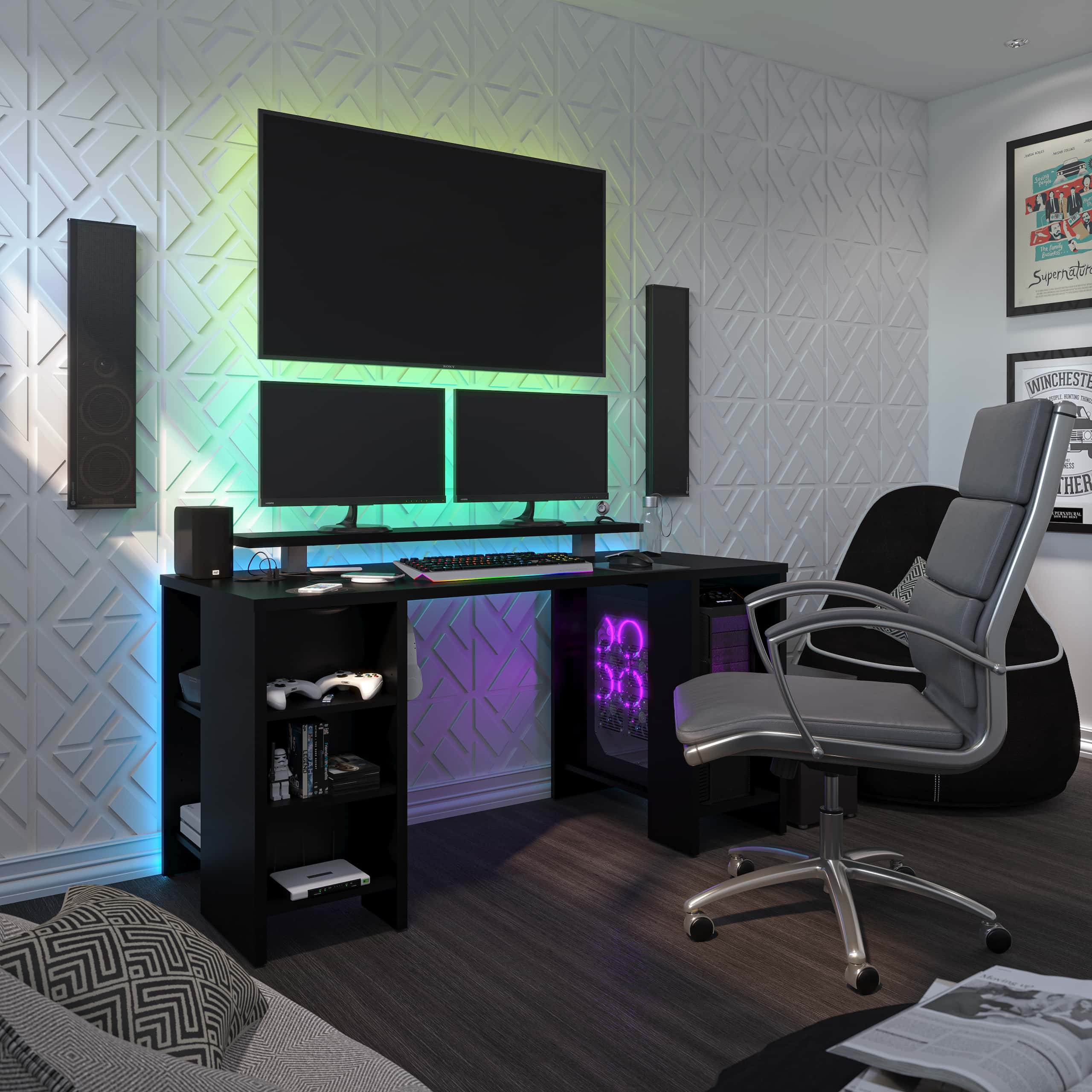 Whether you're working or gaming, it's important to have plenty of space for your belongings. Thankfully, Bestar gaming desks help keep your desk organized when you're tackling a big work assignment or moving up a level in your game. Finding an organization system that works for you will be a game-changer!
Do you have multiple monitors that require a great deal of space on your desktop? If you do, then you might consider a gaming desk from the Electra Collection. Each desk comes with a built-in steel monitor stand that can accommodate multiple monitors (up to 25 lb). You'll have a space on your desk dedicated exclusively for your monitors. In addition, the gaming desks from the Electra collection come with a built-in USB/power outlet, so you can plug in your devices easily, such as your phone, tablet, wireless headphones, gaming remotes, and so on. There are also durable shelves on the side and front of the desk, so you can store your accessories and work supplies neatly. That's not all! Electra gaming desks also come equipped with a built-in cup holder—perfect for staying hydrated between levels (or meetings!)
Need additional storage?
Do you have tons of games or consoles, but nowhere to put them all? What about invoices and client folders pilling up on your desk? If you need additional storage options for your space, Bestar has just what you need! All depending on the space you have, you can opt for a credenza to hold all your gaming accessories and work supplies. All your belongings will be neatly stored in their place and within arms' reach when you're ready to use them. If you want to divide your items, you can even use coloured baskets to keep your work and gaming supplies separate (not to mention give your space some colour!) If you need inspiration for arranging your space, go online and check out some clever gaming office ideas.
All-Day Comfort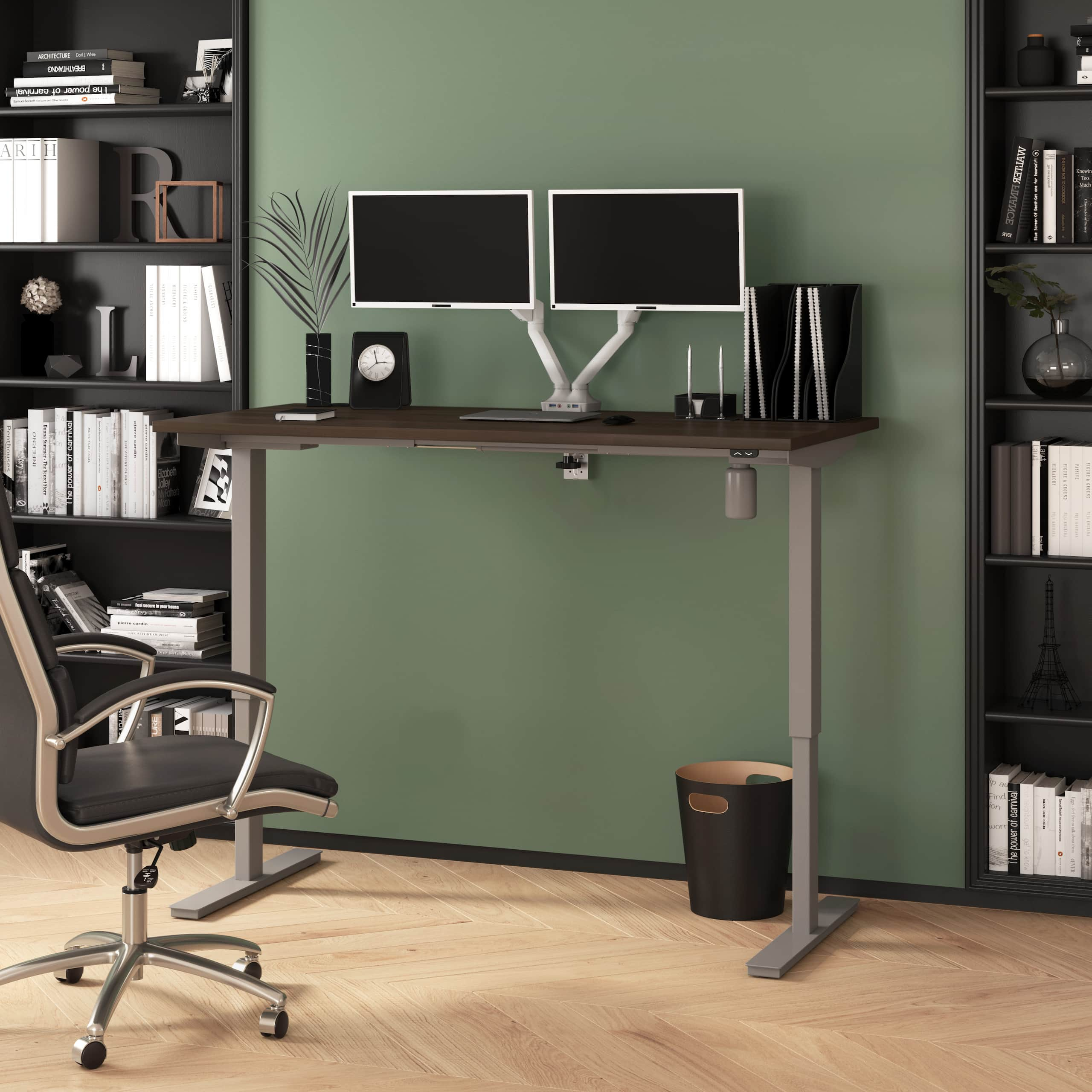 Lastly, comfort is one of the most important factors to consider when looking for a gaming desk. You'll be at your desk for hours at a time, no matter if you're working or gaming. That's why finding a setup that allows you to be as comfortable and productive as possible is a must!
If you're looking for gaming and office desk that provides all-day comfort (and adaptability!), you should certainly consider a standing desk. Bestar height adjustable gaming desks can be raised from 28 to 45 inches with a simple push of a button. Instantly lower or raise the desktop to a comfortable height and continue on with your day. What's more, you can choose a desk position that works with your specific height—providing additional comfort. Some standing desks have a digital display switch that allows you to program up to four height options. You'll be able to save your favourite positions for gaming sessions, work meetings, and so on.
You might also be wondering: What if I have two monitors? Will there be enough space on the desktop? Great question! Some Bestar standing desk models come with a dual monitor arm that can accommodate two monitors at once. You can adjust the position of the screens easily with the arm's flexible rotation. This will free up much-needed space on your work surface and avoid cluttering your desk. That being said, you can easily add a Bestar credenza beside your desk to create an L shaped standing desk setup. This will allow you to enjoy the adaptability of the standing desk, all the while having storage options. No need to compromise on comfort or efficiency!
Benefits for Your Overall Well-Being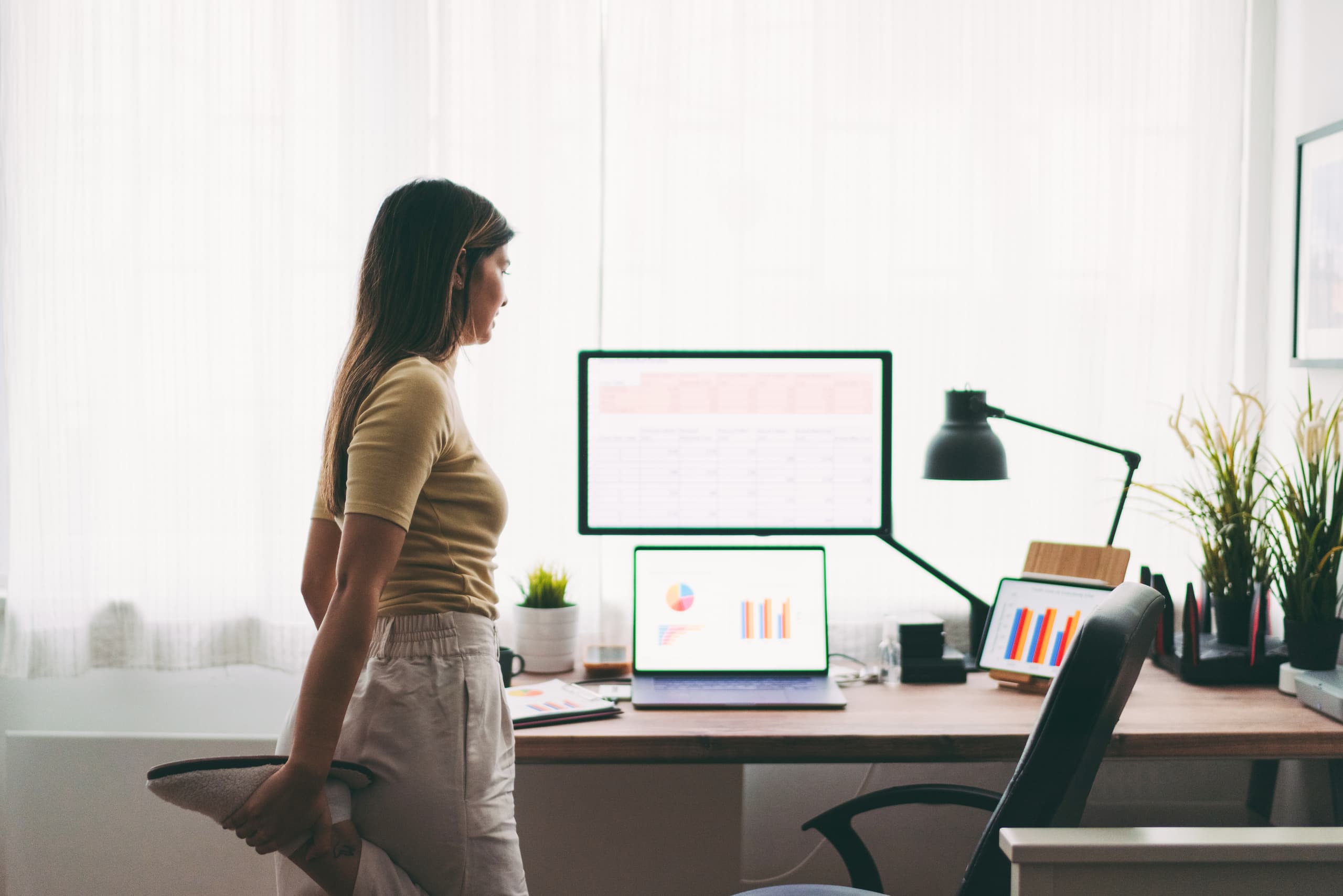 Height adjustable desks are equally great for your overall well-being because you can switch simultaneously between sitting and standing throughout the day. Working or gaming for long hours can be tiring on your body and mind. You can avoid straining your back and neck muscles while at your desk by changing positions when needed. With a height adjustable gaming desk, you can be sure you're in top shape by switching positions, stretching your legs and getting comfortable. By being mindful of your physical well-being, you can focus on the task at hand, whether it's for work or play. You'll be able to be more productive and efficient while at your desk, without having to worry about unnecessary pain or discomfort.
All that to say, the first step to creating an ergonomic setup is to find the best gaming and office desk for your needs. Although it can seem challenging to choose a gaming desk for your space, it's easy to find the right solution when you know what to look for. With Bestar, you can find the best gaming desk to create a work-from-home space and gaming area!
Categories
Home