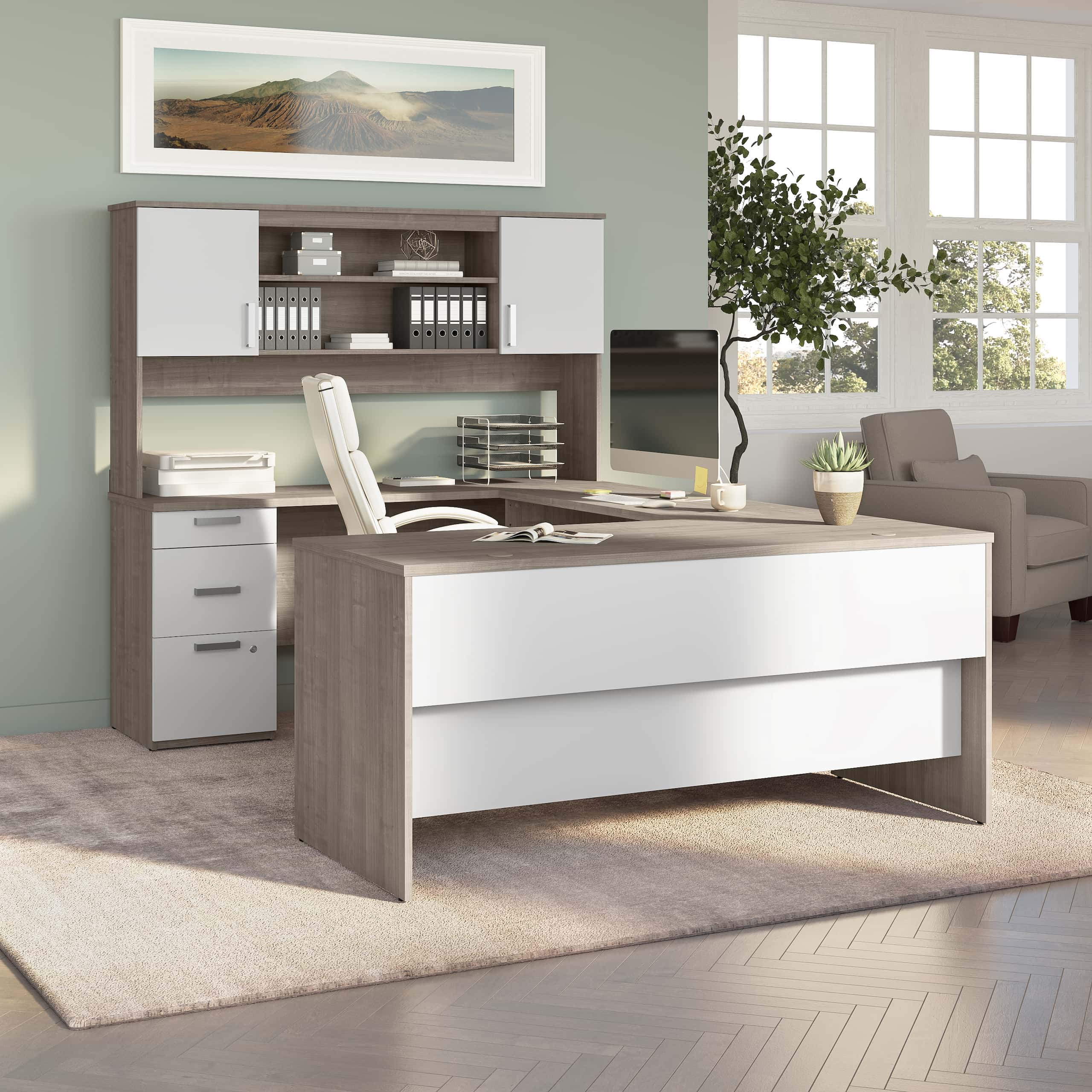 Whether you're working from home or at the office, finding ways to stay on top of your game at work is crucial. You have to manage multiple tasks at once, answer countless emails, meet tight deadlines—the list goes on. While it might feel like a challenge to boost productivity and efficiency at work, it's entirely possible to meet your goals with the right office tips and office furniture.
There are so many things that can get in the way of productivity at work. For instance, do you experience back pain from sitting at your desk all day? Do you often lose track of your office supplies and files? Do you get easily distracted by the noise outside your workspace? The first step is to identify what you need and go from there. Keep reading our top four tips on how to increase productivity at work!
Set Up an Ergonomic Workspace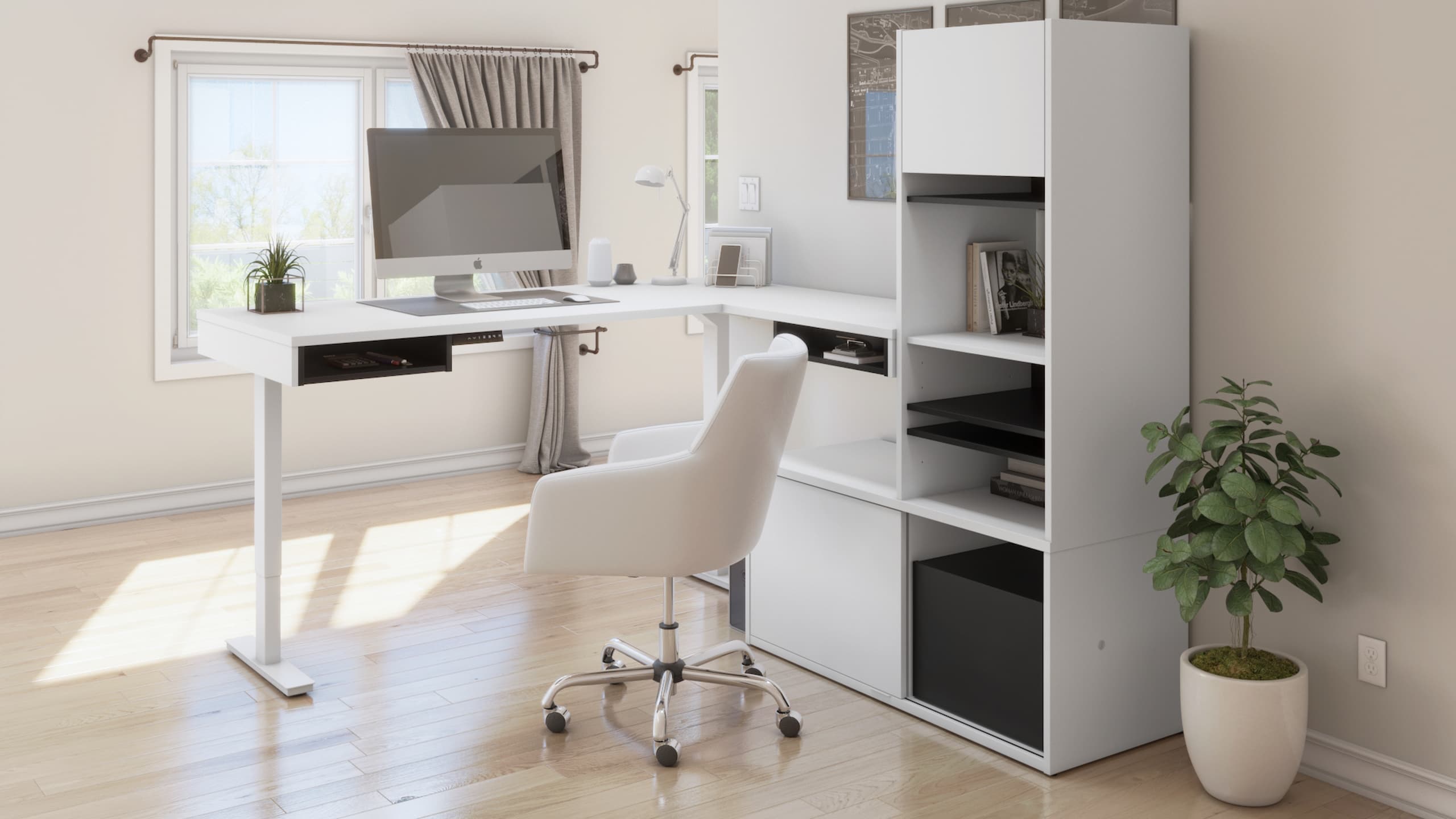 Whether you're at home or at the office, having a dedicated workspace is key to increasing productivity. You need a space that can accommodate all your work needs and keep you focused on the task at hand. When you set up an ergonomic office space, you'll increase productivity at work in no time!
Space-saving desks
Start by choosing an ergonomic office desk. Your desk is truly the pièce de résistance in your workspace. It's where you'll spend most of your time during the day, so it needs to be comfortable and practical.
All depending on the size space you have, you might opt for an L shaped desk, which is perfect for carrying out all your work activities between the two desktops. These desks are especially practical for a home office setup. With an L shaped desk, you can create a secluded work area to stay focused and productive when working from home. What's more, the L configuration makes it easy to place your desk behind the couch, in the den, or in the corner of a room. Most models also come with storage options, such as a file cabinet or hutch, so you'll have ample space to store your work supplies and confidential papers.
Looking for something more compact? No worries! Bestar has small desks that are perfect for any space. Small desks are ideal for work-from-home spaces and corporate offices alike. You can choose from an array of shapes, sizes, and styles for your office space. Some desks come with open or closed storage compartments, so you can store your most essential supplies within reach.
Versatile and professional options
Do you often hold in-person meetings in your office with clients and co-workers? If so, why not try a U shaped desk? You'll have practically three desks in one, so you can perform your day-to-day tasks without cluttering your workspace. The U shape gives you ample room on the desktop for office equipment, including a printer and even multiple monitors. What's more, U shaped desks come in an array of styles and designs, so you can find a model that suits your needs. Go with a modern look or a classic style to give your office a professional, sophisticated vibe. Once you've decided on a style, add two chairs in front of the desk for meetings and voilà! You'll have a professional workspace where you can welcome clients and work efficiently.
Looking for a versatile option that adapts to your specific needs? You should definitely consider a standing desk! Bestar height adjustable desks are great for any workspace. Enjoy the freedom to sit or stand as you please throughout the workday, without disrupting workflow. With the push of a button, you go from sitting to standing in seconds. What's more, standing desks offer optimal comfort since you can adjust your position as needed. Some models even have storage options to keep your space organized and efficient.
An ergonomic office chair
Once you've chosen a desk for your home office or corporate space, you can start thinking about adding an ergonomic office chair. It's a good idea to choose a chair that has a high back, arm rests, and casters for optimal comfort. You'll also want to look for a chair that's height adjustable, so you can sit comfortably at the right height. Creating the best office setup for your work productivity has never been easier!
Organize Your Workspace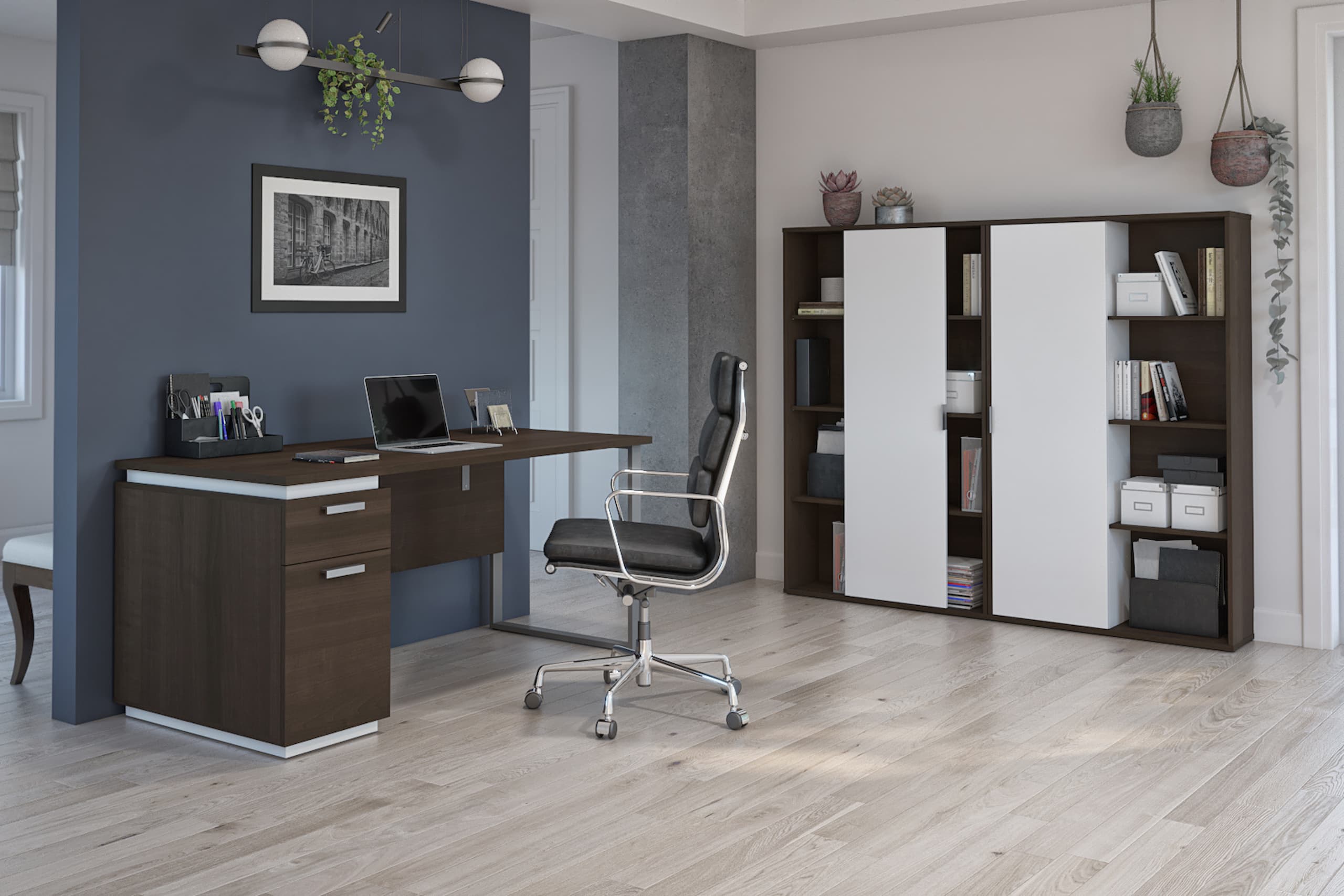 Of course, no workspace would be complete without office storage. No more asking yourself, "Where did I put that report?" With an organized office space, you'll find everything easily and quickly!
Practical office furniture is a must
Choosing the right office furniture for your space is crucial. For instance, a file cabinet is a great option because you can store all your files in an organized fashion, without taking up much-needed floor space. All depending on your filing needs, you can choose a model that has legal/letter filing systems. Some models even have a lock that secures the cabinet drawers, so you can rest easy knowing your confidential documents are safe. If you're looking for even more practicality, Bestar has file cabinets on wheels! You can easily move your cabinet around the room as needed thanks to the sturdy casters under the unit. No matter what model you choose, a file cabinet is a must for any size office space!
Another excellent piece to add to your productive workspace is a bookcase. You'll have ample space to store your office supplies, books, binders, folders, plants, and more. Most models have adjustable shelves, so you customize your unit to your specific needs. Everything will be in its place, ready to be used! Bestar also has an array of styles and designs to choose from, making it easy to pick the right bookcase for your specific space. For instance, you might go with a narrow shelving unit if you have minimal space to work with or a larger bookcase if you need ample storage space. Increasing productivity at work is possible when you're organized.
Equip Your Workspace with Desk Accessories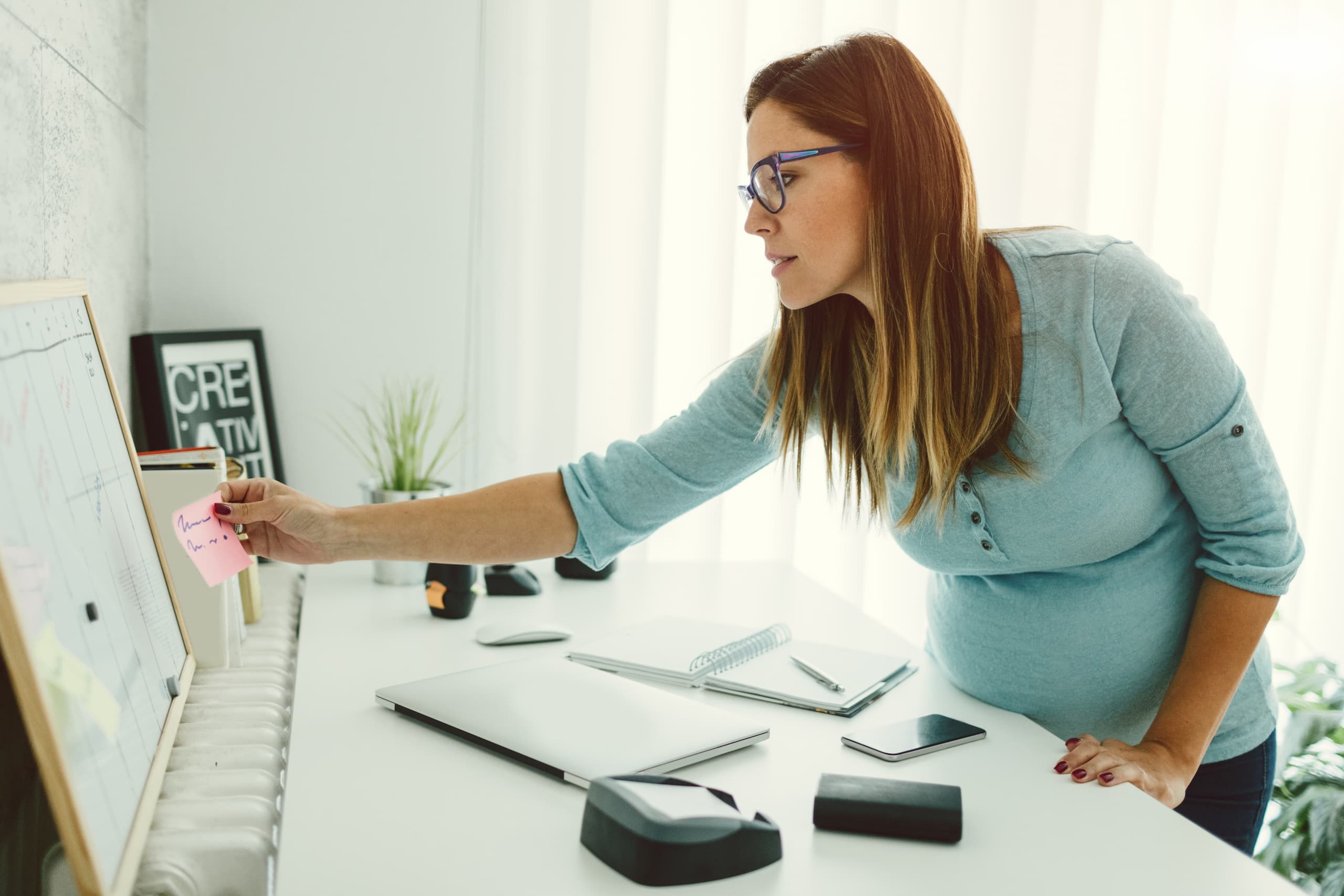 Once your workspace is organized and arranged to your liking, the next step is to add practical desk accessories to your office.
If you despise clutter on your desktop, why not opt for a desk organizer? You can choose a model that has compartments for your pens, highlighters, stapler, paper clips, and more. A desk organizer will help reduce clutter and keep all your supplies close by. You can even get creative and make your own desk organizer. Say goodbye to desk clutter once and for all! 
Next, even if your space has plenty of natural light, it's always good to make sure you have extra lighting. For instance, a desk lamp is a great accessory to have for your office. With proper lighting, you'll be able to reduce eye fatigue and headaches and work more efficiently. A well-lit space can truly make all the difference in your productivity.
You might find yourself struggling to stay focused at work, especially when you're working from home. Do you often hear the neighbor's dog barking midafternoon or your co-workers speaking in the hall right outside your office? If you want to keep distractions at bay, why not consider noise-cancelling headphones? These headphones are great for drowning out background noise. You can put on some music to help you stay focused! Of course, it's a good idea to choose light, instrumental, or calming tunes, so you don't lose focus on the task at hand.
Get Comfortable, Work Better!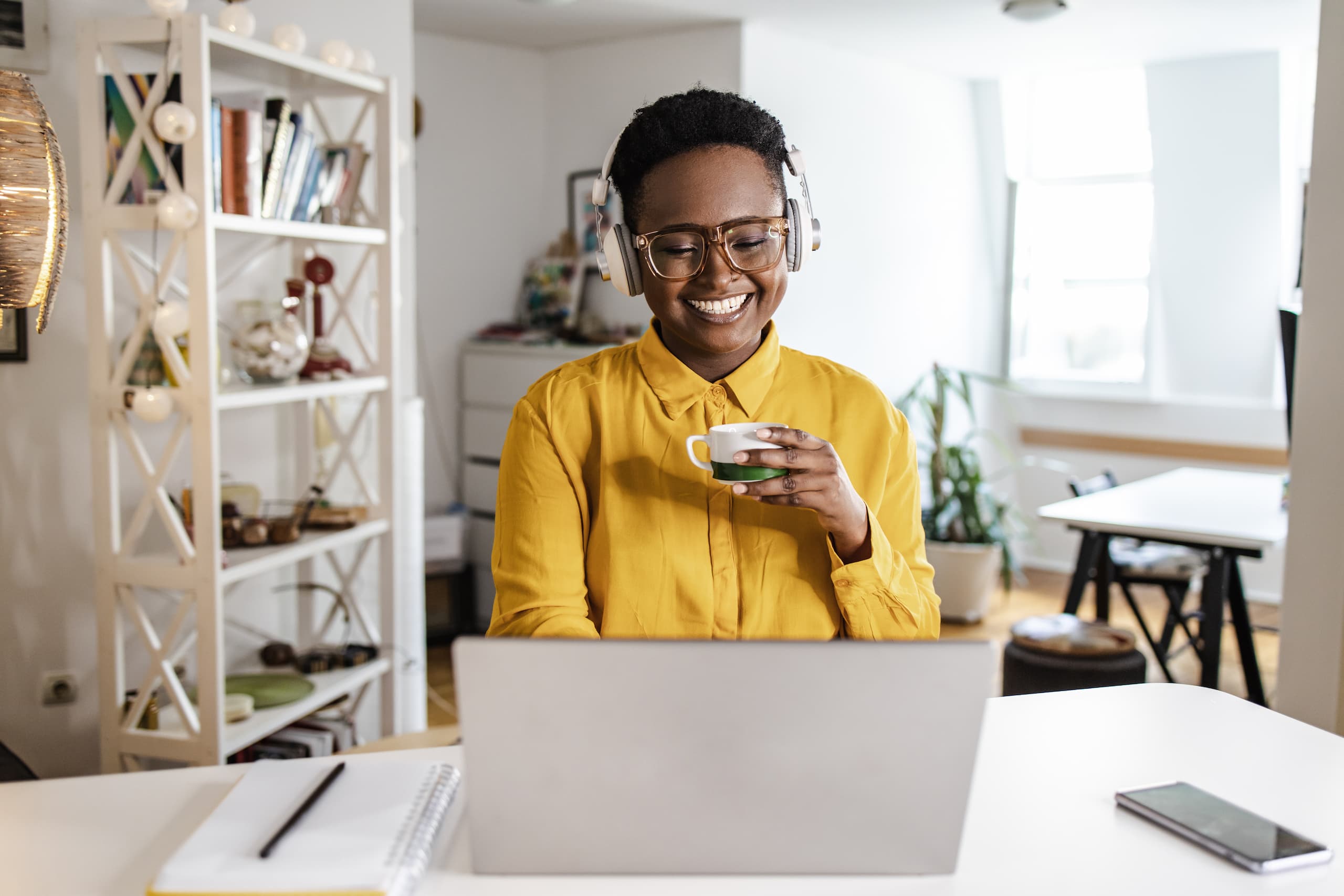 Sitting at your desk for hours on end can be extremely tiring and can even affect your overall mood. For that reason, it's crucial to make sure you're as comfortable as possible while at your desk. Comfort and productivity go hand in hand!
Make time for you
Deadlines are fast approaching, emails are flooding your inbox, invoices continue to pile up on your desk, and so on. Although you're busy at work, it's important to take time for you during the workday. For instance, it's a good idea to step away from your desk (even for five minutes) during your break to grab a coffee, go for a quick walk, listen to a podcast, or chat with co-workers. The same goes for lunch. Although it might be tempting to eat at your desk, it's a good idea to eat elsewhere, such as at the cafeteria, the dining room, the staff room, or even at the restaurant. When your break is over, you'll feel rested and ready to take on the rest of the workday.
Sitting at your desk for eight hours a day can be extremely exhausting—not to mention painful. For that reason, making time to stretch and move your body while at work is vital. Whether you're at home or at the office, there are plenty of stretching techniques you can do right at your desk. For instance, it's a good idea to set aside time every hour to stretch a specific part of your body, such as your back, neck, and shoulders. The more relaxed and comfortable you feel, the more productive you'll be!
With the many distractions around you, it might feel nearly impossible to stay focused and productive. However, there are tons of practical solutions to help keep productivity high, no matter if you're working at home or at the office. Whether it's setting up an ergonomic workspace or making time in your day for stretching, it's entirely possible to get productivity on your side!
Categories
Business
,
Home Office