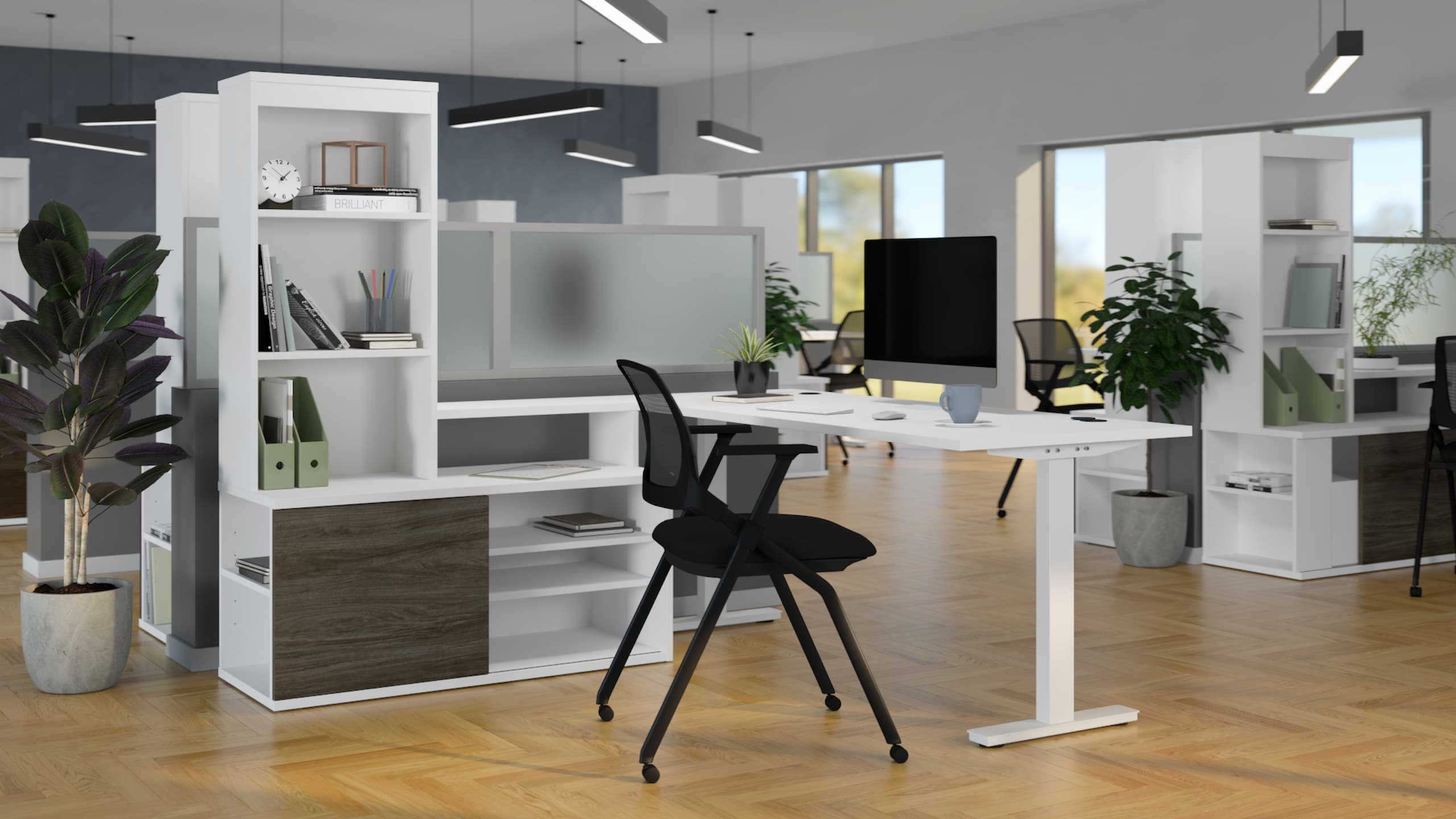 The key to promoting health and wellbeing at work is to provide an ergonomically designed office environment. Start with an L shaped standing desk to support physical comfort, minimize fatigue, and increase productivity.
Put simply, ergonomic design adapts a space to better suit the physical needs, comfort, and activities of the individuals using it. At work, it's no longer about employees working around the office design. More and more, employers are adapting office design to workers' physical needs and comfort. Ergonomic design takes into account both the capabilities and the limitations of the office worker.
Not only does a more human-centric office design promote enhanced comfort and wellbeing while at work, but it encourages better efficiency and productivity too. Through innovation, humans have always strived for easier, more comfortable ways to get more done. So, it should be no surprise that we are still looking for ways to maximize ease as we increase how much we can do. The nice thing about ergonomics is that it does more than simply make work easier and help employees get more done, it encourages healthy and comfortable movements. This greatly helps with easing pain related to long-term sedentariness and encouraging proper posture.
When it comes to modern ergonomic office design, it has to begin with the desk you choose. An L shaped desk or, even more ergonomically sensitive, an L shaped standing desk should anchor any office designed to better address employee comfort and ease.
Why Is an Ergonomic Office Important?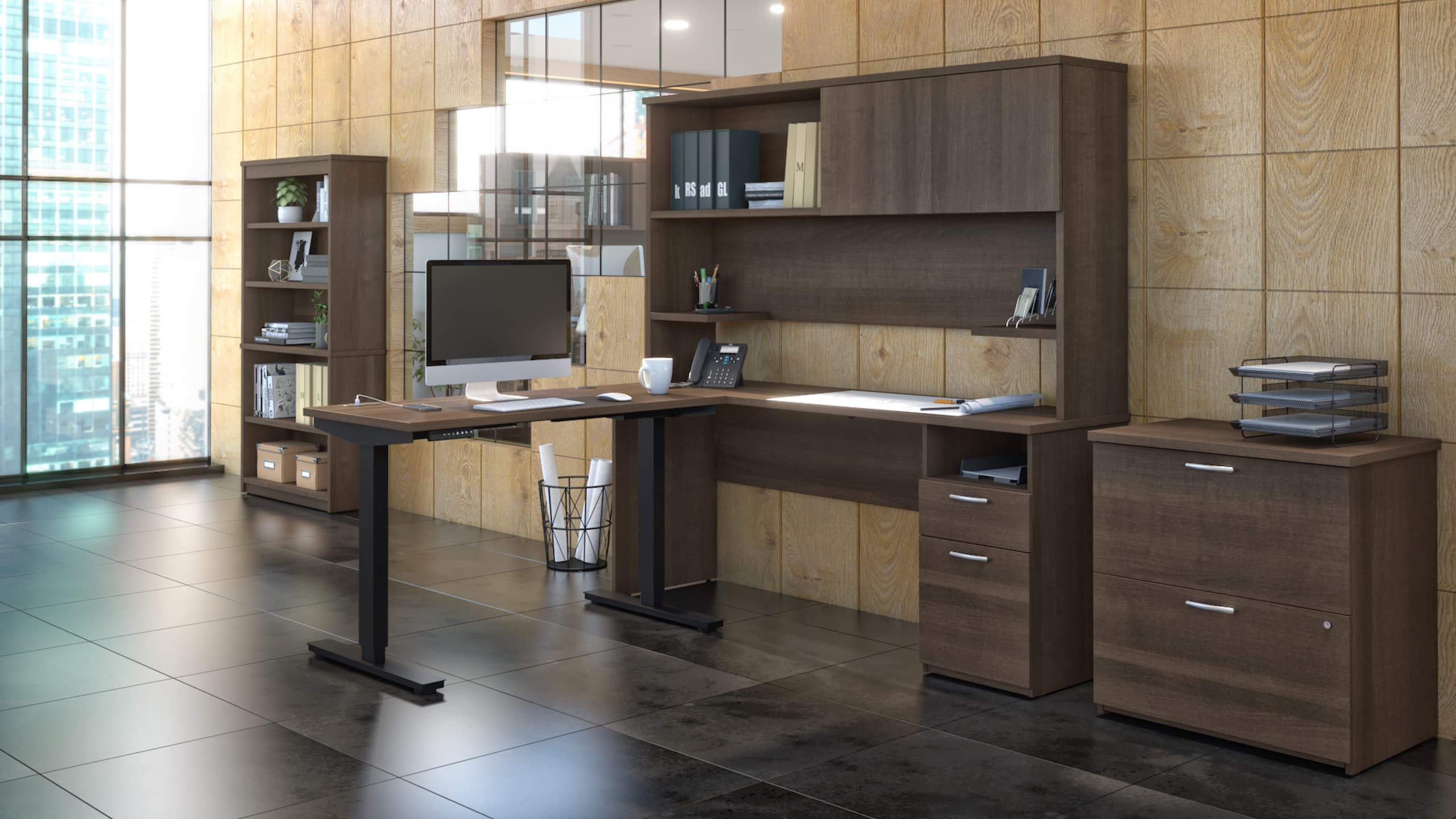 Employ ergonomic alternatives as much as possible. Because, the fact is, the physical wellness of your employees has a significant impact on your office productivity and your company's bottom line.
Similarly, the mental wellbeing of your team impacts behaviors and cognitive abilities such as concentration and focus. Consequently, to ensure that your valuable staff can work at their best, an ergonomically designed office is one of the best things you can strive for. Ergonomics helps improve workplace comfort and safety and, ultimately, efficiency and productivity.
Why Choose an L Shaped Standing Desk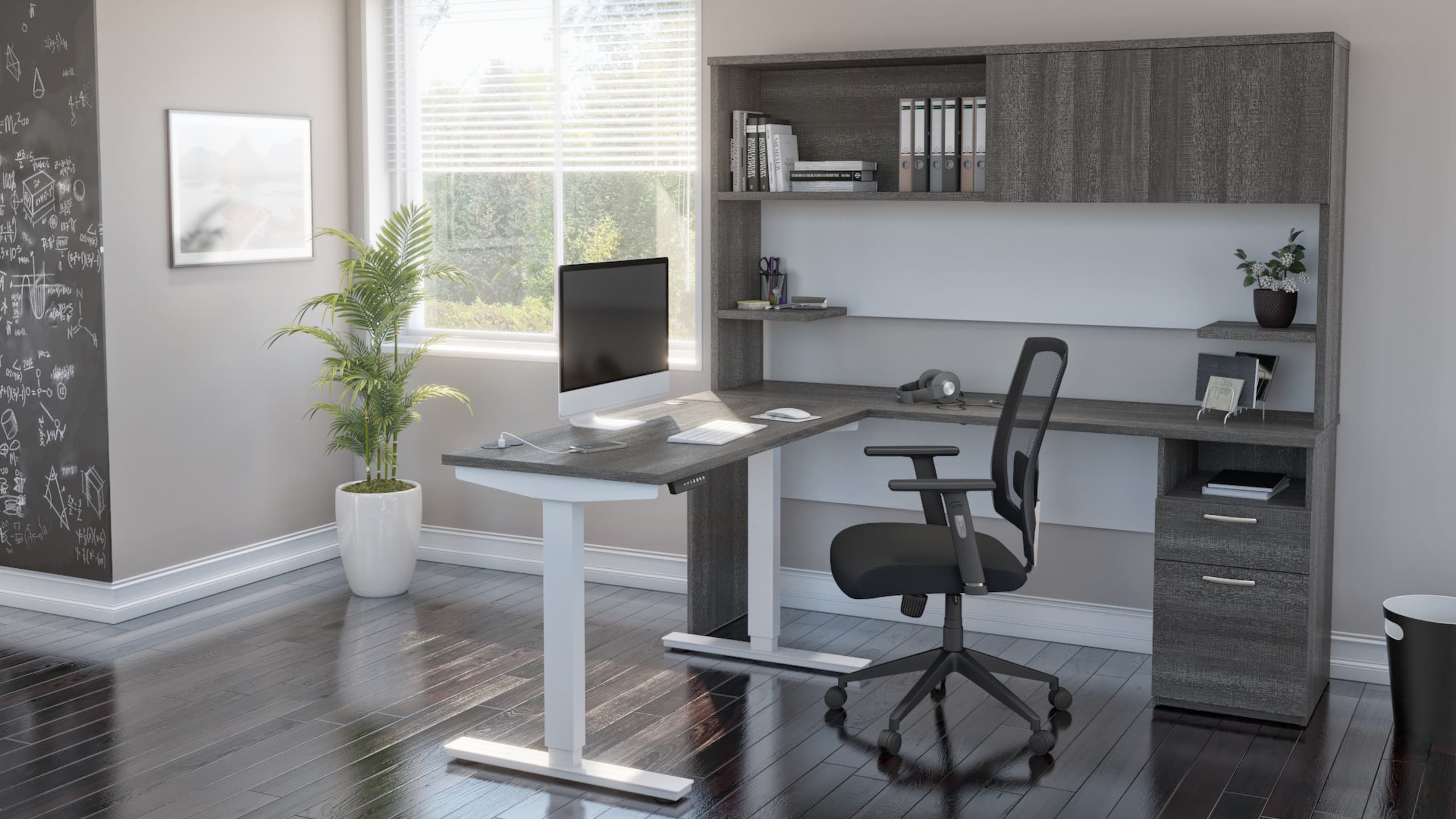 Office workers spend up to 80% of their time at work seated. Sitting for so long impacts not only the comfort of your workers but quite likely their health as well.
Sitting for a prolonged time every day can cause discomfort, pain, and even physical injury. It can affect one's ability to regulate blood pressure and blood sugar and adequately metabolize fat. It can also cause neck, shoulder, and back strains and other injuries. Sitting at a desk all day can even be linked to bone loss and accelerated ageing.
Desk workers, seated all day, can also experience impacts on their mental health. It induces fatigue, affects focus and concentration, and can cause workplace anxiety, melancholy, and even depression.
If you incorporate ergonomically designed, human-centric furnishings such as an L shaped standing desk, you help mitigate many of the problems associated with desk work. An L shaped standing desk allows your employees to alternate between sitting and standing with ease. The convenient L shape allows them to reach everything they need comfortably for a productive workday.
An L shaped desk provides a large surface area upon which to work. It also keeps all workday essentials handy and easy to access without reaching, stretching, or straining.
An ergonomic L shaped standing desk helps keep circulation moving and ensures that focus and concentration are at their best. Experts confirm that a 'sit, stand, walk' workday routine, supported by a standing desk, will help your team feel more energized and, ultimately, more productive.
Proper Adjustments for Effective Ergonomics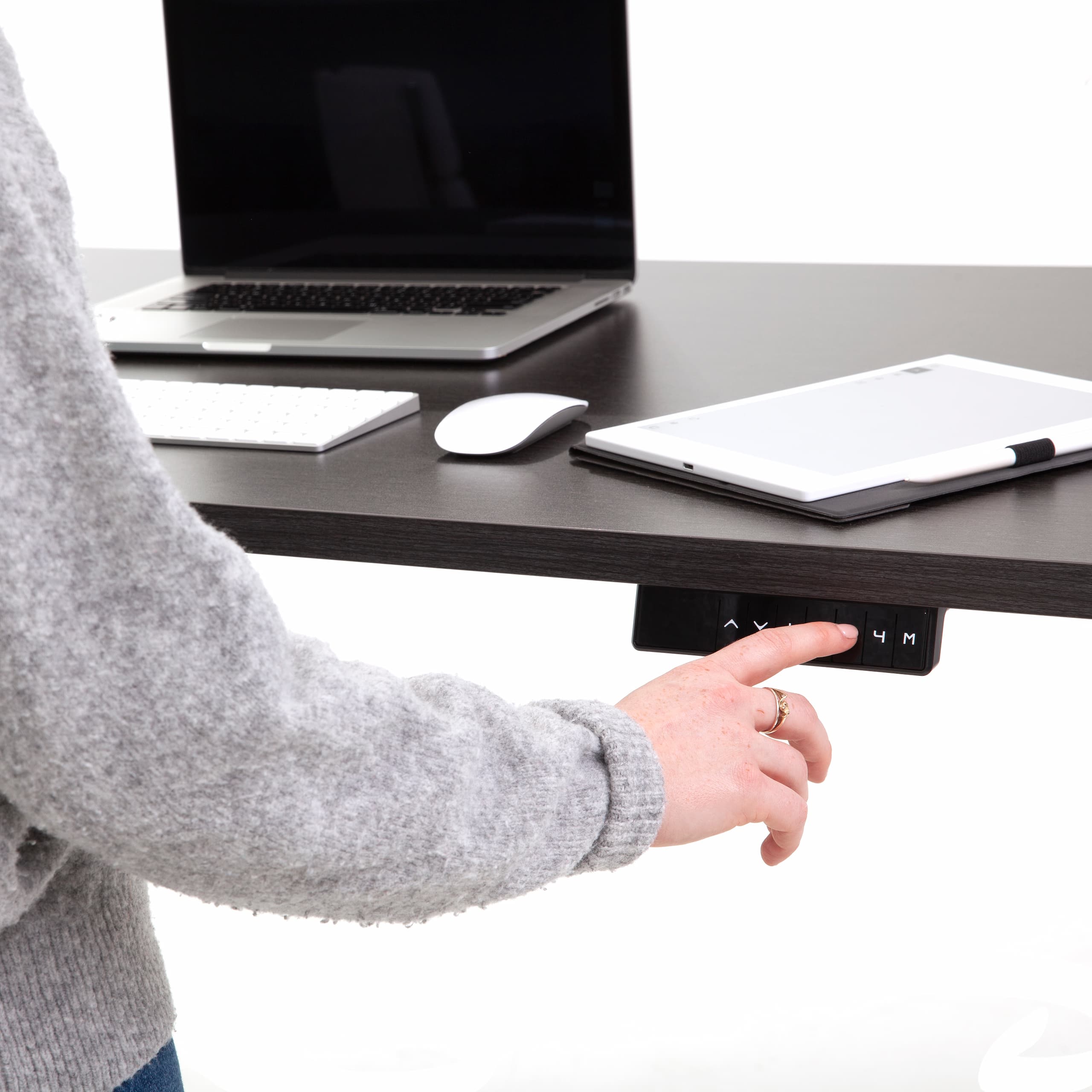 As you consider your office furnishings, particularly your desk, look for pieces that allow ample space for natural, unrestricted movement and support good posture. An L shaped desk is the perfect desk to promote freedom of movement where all of your work is within easy reach – no straining to access your workday necessities. An L shaped standing desk facilitates a dynamic workday rather than a static one.
The great thing about a height-adjustable desk is that it's adjustable — it's in the name afterall. This means, you don't need to worry about an appropriate desk height for your employees because they can adjust it themselves. It is important, however, to teach them proper ergonomic work posture.
First, teach your employees to check their elbow height to determine an appropriate desk height (elbows should be at a 90-degree angle when rested on the desk). They also want to be sure that their feet don't dangle when seated. They should reach the floor comfortably without any pressure on the backs of the legs. With shorter users, be sure to add a footrest or lower the chair or keyboard. Then show your team how to check their sitting eye height to identify the position of their screens and monitors.
Lighting and Height-Adjustable Screens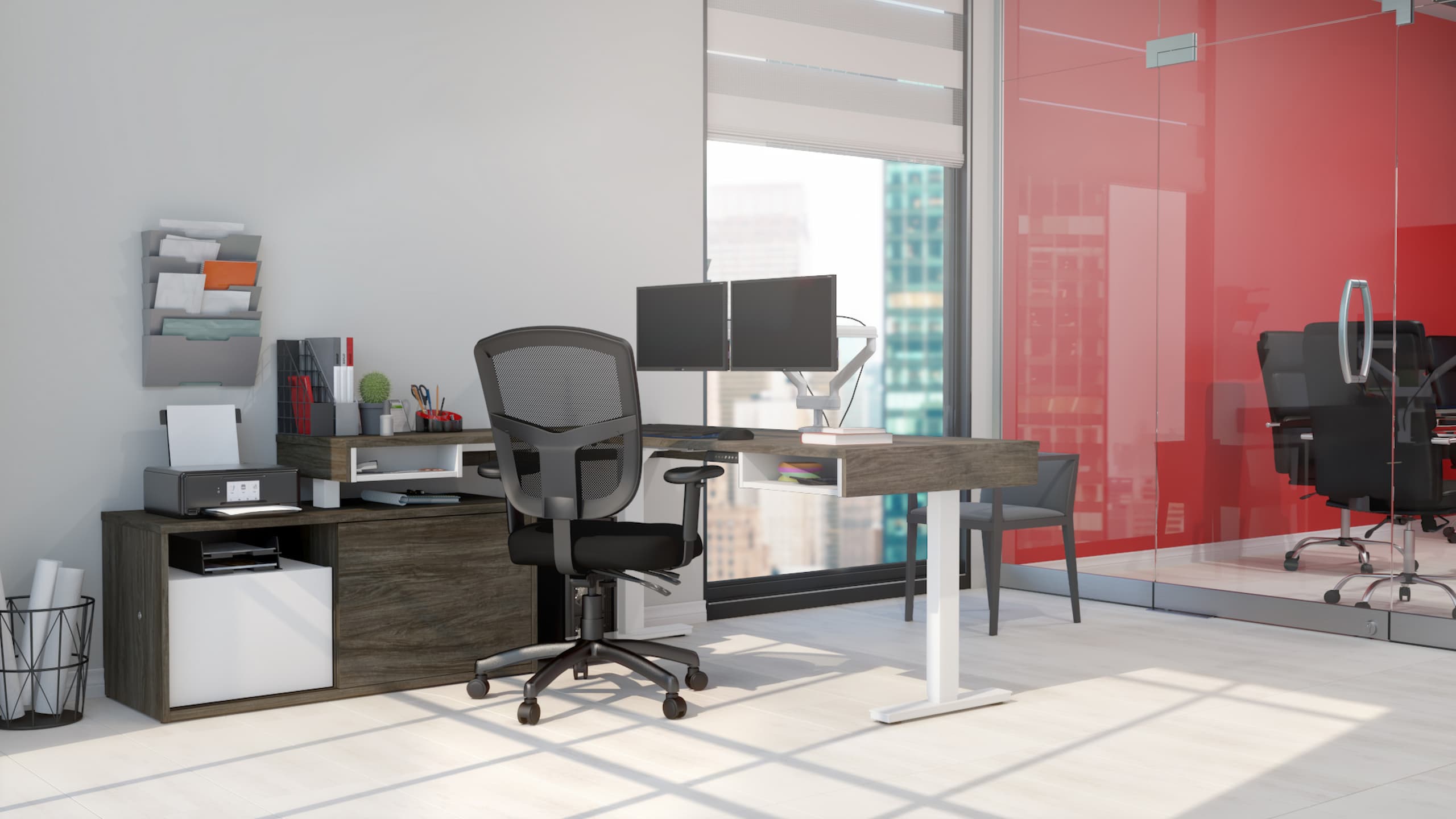 When you design an ergonomic workspace, it isn't just about the furniture. You also need to consider the visual elements and lighting too. The fluorescent lighting of old caused eye strain and would reflect off computer monitor screens. Today, overhead and task light fixtures tend to be softer and more appropriate for what we now understand as our visual sensitivities.
When you choose appropriate lighting and ergonomic monitor arms/mounts to assist with proper screen height adjustment, you improve the comfort and productivity of your team. Additionally, ensure that monitors are not placed in front of a bright background or where they can reflect window light.
Acoustics for Focus and Productivity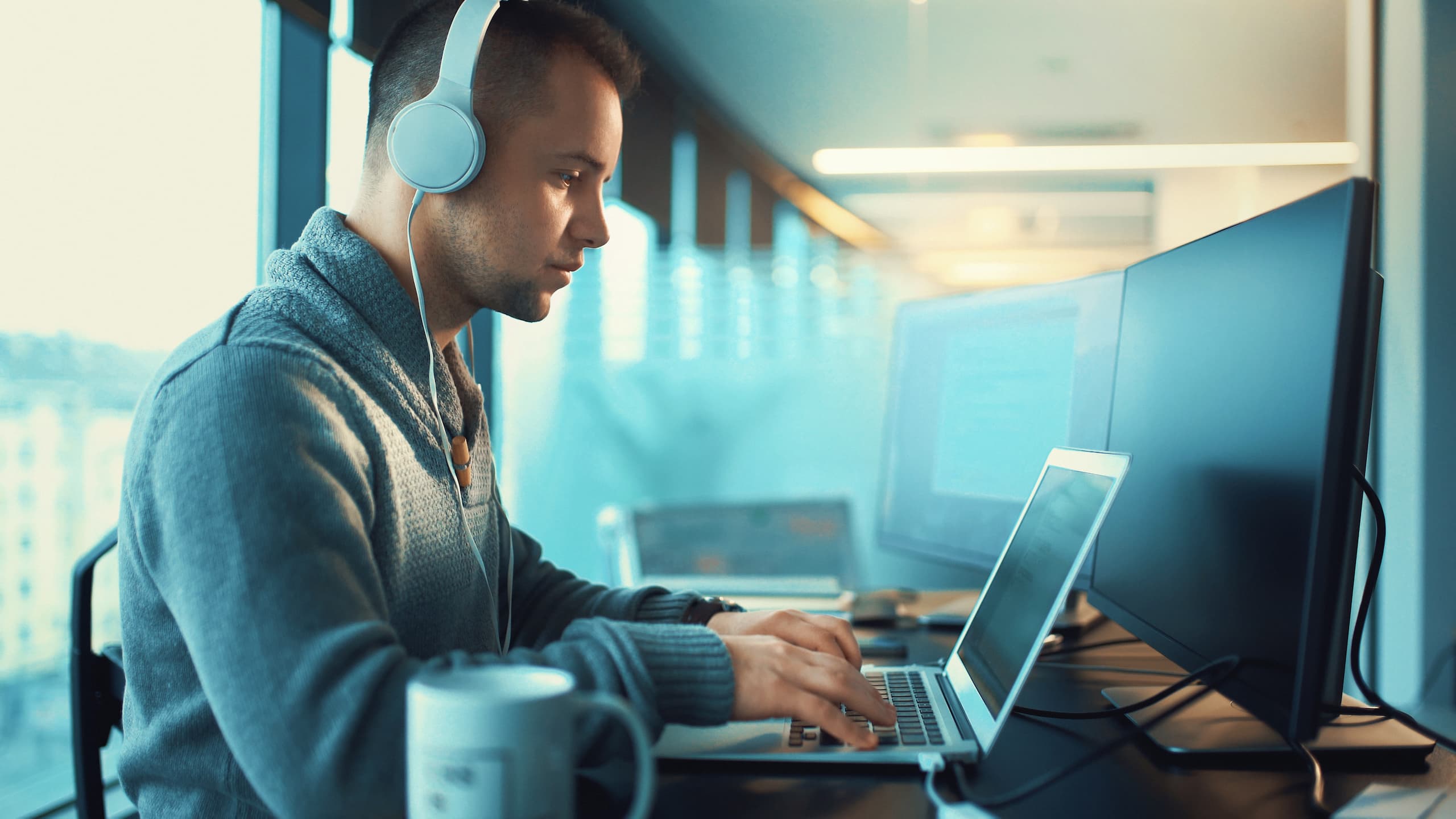 Optimal productivity comes down to a worker's ability to concentrate and focus on the task at hand. Excess noise in the office can be very distracting and disruptive. It can frustrate members of your team and disrupt critical communications within your office. To ensure your office is comfortable and fosters focus, concentration, and creativity, it's vital to prioritize noise management as part of your ergonomic design.
Categories
Business