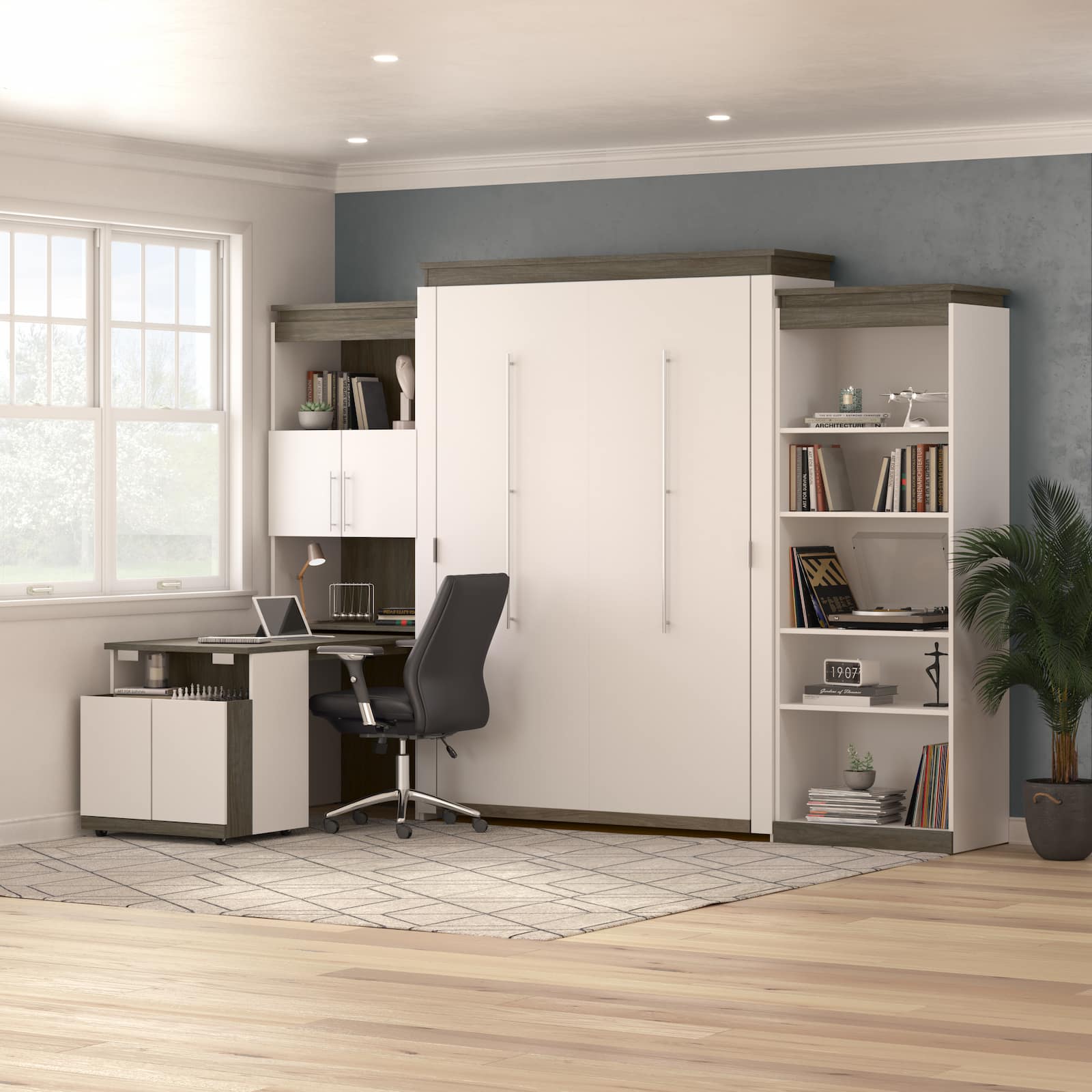 Flex spaces are now a must in many homes, and a versatile Queen Murphy Bed is the perfect, most versatile, flex solution. With so many of us forced to rearrange our lives to accommodate work and school remotely, it has also required us to rearrange our homes. We've looked to our existing rooms to provide flex or multipurpose spaces to meet our increased demands. To transform an underused space or spare room, nothing puts the "multi" in multipurpose better, or with more versatility, than a Queen Murphy bed with a desk.
Since its inception in the early 20th century, the Murphy bed has helped make the most of any room that must serve various purposes. Creative and innovative designers have evolved this space-saving flex space solution that much further – to include a desk!
A foldable solution can maximize any space. The Queen Murphy bed with desk, for example, can transform even the smallest of rooms into a productive office space by day and a cozy and comfortable bed by night.
Do You Have a Room that Needs to Be Flexible?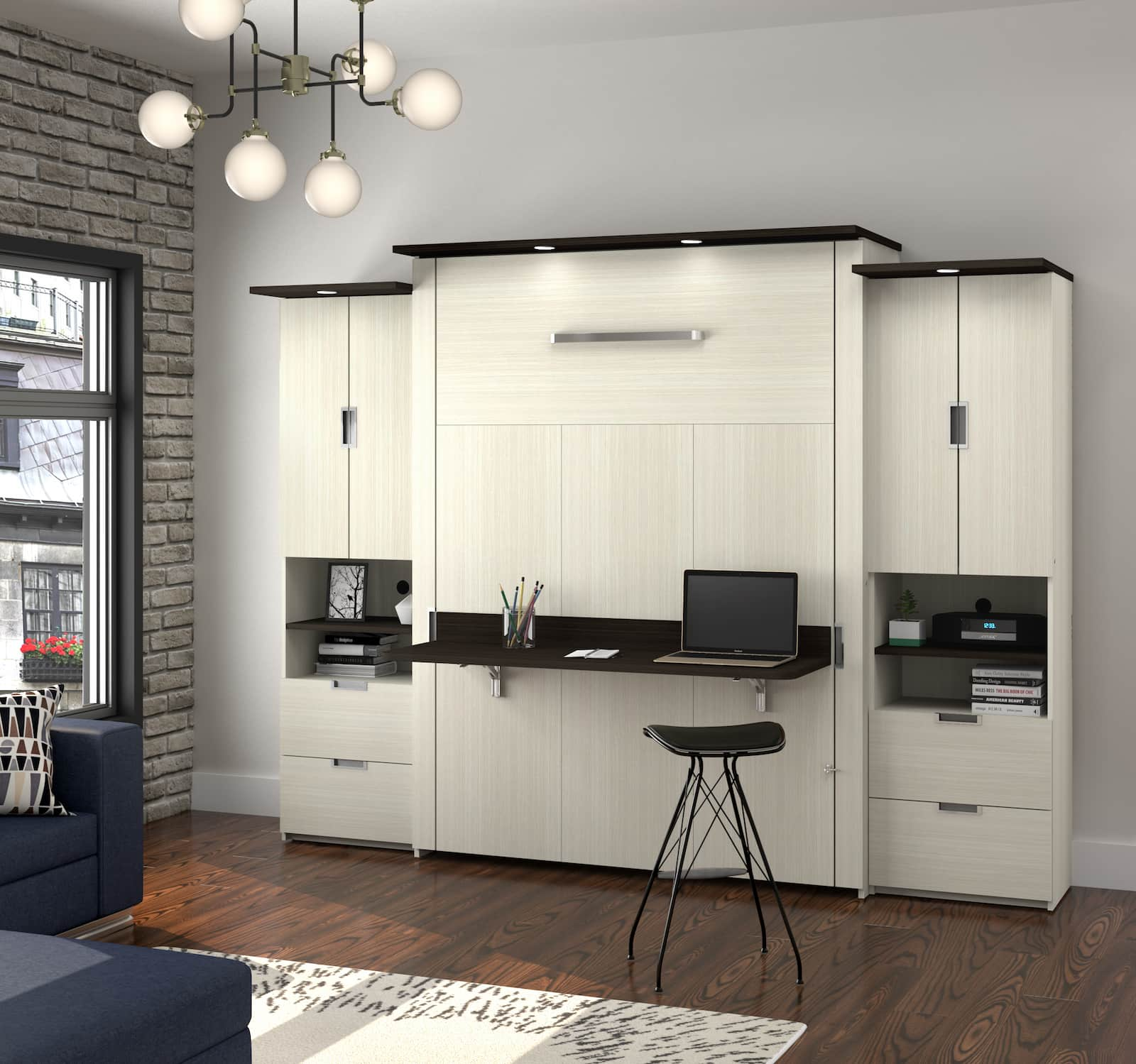 Do you have a room that needs to do double duty as a home office and a guest room? Perhaps you have a room or an extra space that you're not quite sure how to use. If so, then a Murphy bed with a desk is for you.
As lifestyles evolved along with technology late in the last century, homes had to change along with them. As a result, more and more houses include enhancements necessary for modern life, with rooms designed to meet multiple demands. Your basement, for instance, is likely more than just for storage – it could contain a family room, bedrooms, maybe even a home theater. Your kitchen is the hub of family life and nourishment, yes, but perhaps also includes a small corner workstation.
Since the turn of this century, and especially now, it's not unusual for most homes to have a room or space that is forced to serve a variety of purposes. It may be a bonus room, the spare bedroom, a large stairway landing, or that awkward corner of your living or family room.
Making the most of these spaces can be a challenge. To create an organized and practical multipurpose or flex space that utilizes every square inch efficiently is what we want. But how to do it?
With some thoughtful consideration, along with attractive and space-saving furnishings such as a Queen Murphy bed with a desk, that otherwise awkward corner or cluttered multi-use space might just end up a favorite in your home!
How to Maximize a Flex Space?
Before you jump in and begin redesigning any space in your home, whether it's that nook at the top of the stairs or the spare room, take a moment to stop and think.
You want to make the most of the space long-term, and to do so, it takes careful consideration of what you need the room to provide. For example, is this a place that needs to house guests? Will it have to double as your home office? Will the kids spend time there? Do you have hobbies that need space?
That's not to say that the room can't evolve over the years. As you design the ideal flex space, it will be an ongoing process. Your needs may change and you may move into different phases of your life. Yes, it may begin as a guest room and home office combo today, but end up as a cozy library or baby nursery in a year or two.
Consider colors and materials and maximize any natural light the room offers so that the space can serve you well over time. Thoughtful choices will ensure that the investment you make and the furnishings you purchase evolve along with your needs.
Remote Working and More – a Queen Murphy Bed with a Desk is the Perfect Anchor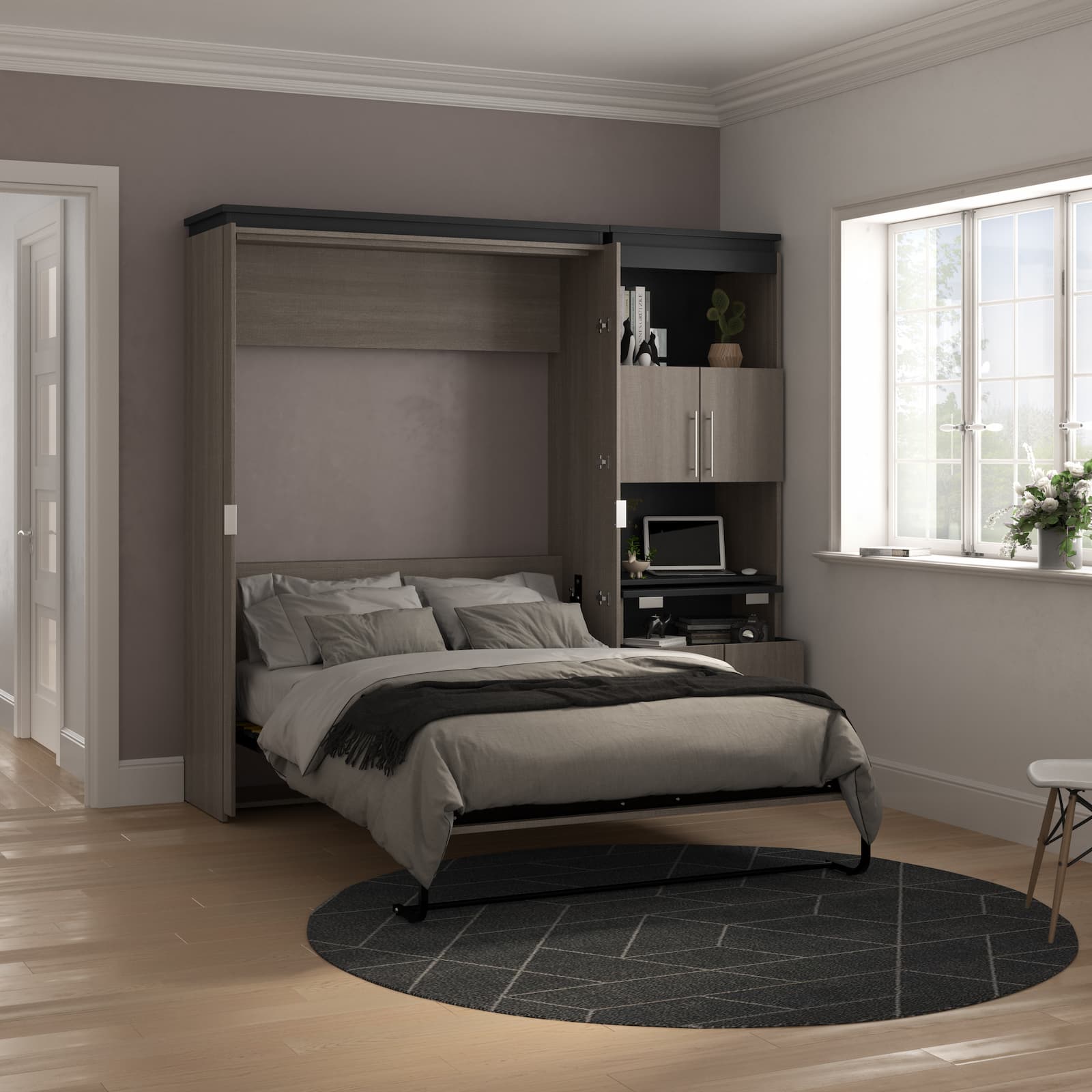 In this work-from-home era, your home office needs to do more than simply provide a desk from which to pay bills, check emails, or surf the internet. Today's home office has to be a place of optimum efficiency and productivity, placing a greater demand on our homes than ever before. For many of us, the room where we now work is also the family room, the dining room, or if we're fortunate enough to have the space, a spare or guest room.
Ideally, we can still maintain some boundary between work and home life, even when it all happens in the same place. But this is best done in a space that is truly versatile and flexible. Fortunately, some furnishings can help us achieve both the productivity we need and some semblance of balance between home and work. Create an attractive and efficient workstation that meets several demands with a Queen Murphy bed with a desk. It's a space-saving, practical, and productive workspace that folds away easily to provide a comfortable sleep for whoever needs it. 
Need storage, too? A Murphy bed with shelves might be the perfect solution for you! Indeed, many Murphy bed designs offer ample built-in shelving and cabinetry to help you manage office supplies and accessories. No matter the space you transform, a Murphy bed with a desk is the ideal anchor to create a beautiful, cozy, and productive home office.
Library or Cozy Reading Nook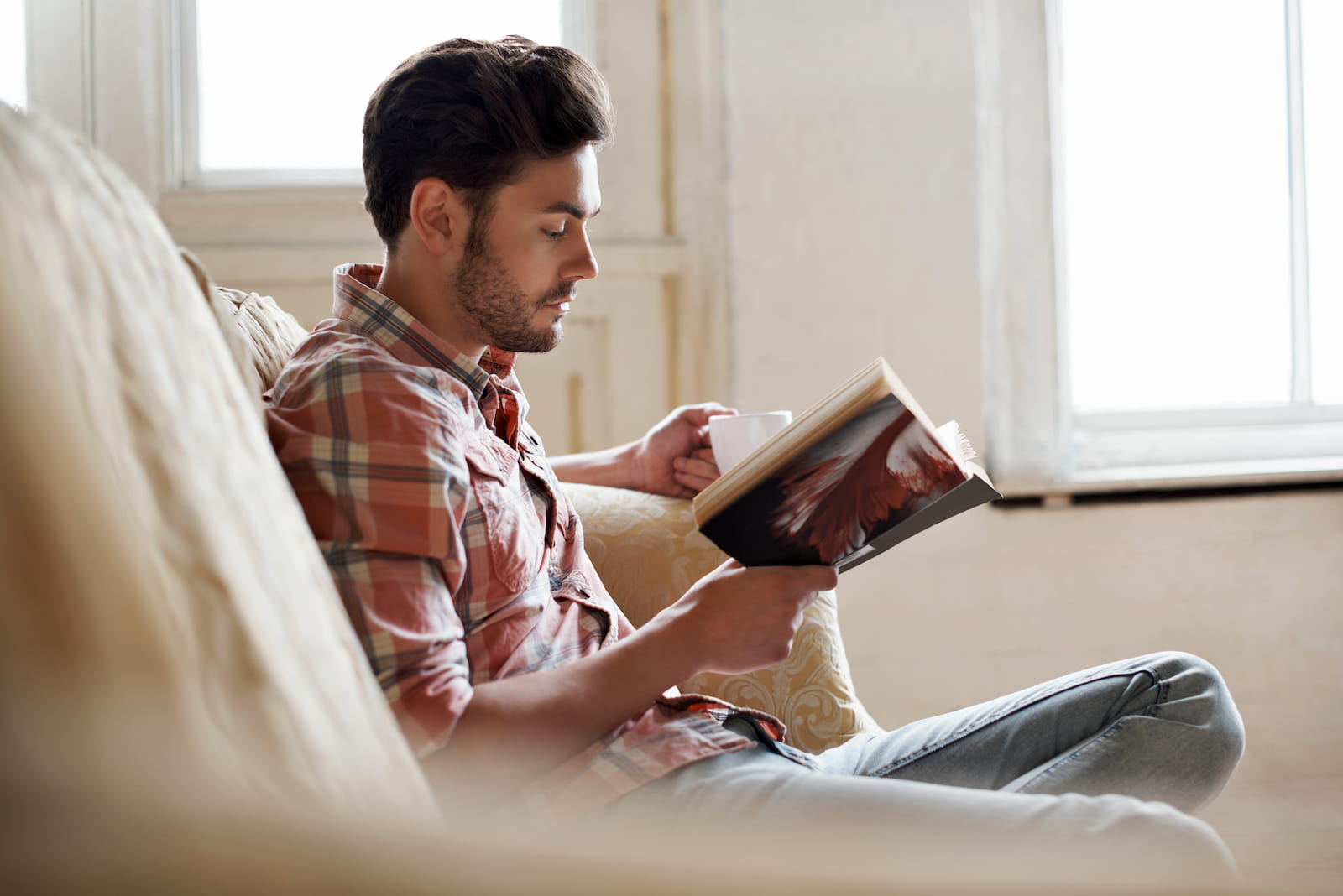 If you're an avid reader, chances are you've yearned for a dedicated space to enjoy your favorite hobby. Easily revamp an awkward corner, a small spare room, or even that space below the stairs into your own personal reading nook. Ideally, that space might even accommodate occasional guests and loved ones who spend the night.
Perfect for a forgotten or unused space, a convenient and comfortable Queen Murphy bed with a desk makes efficient use of the space. Moreover, it provides you with all the shelving you need to keep your precious collection of books. Just make sure you measure the area first to see if the Murphy bed can fit nicely in this space while still allowing room for easy movement around the bed.
Multipurpose Playroom for the Kids… and Parents, too!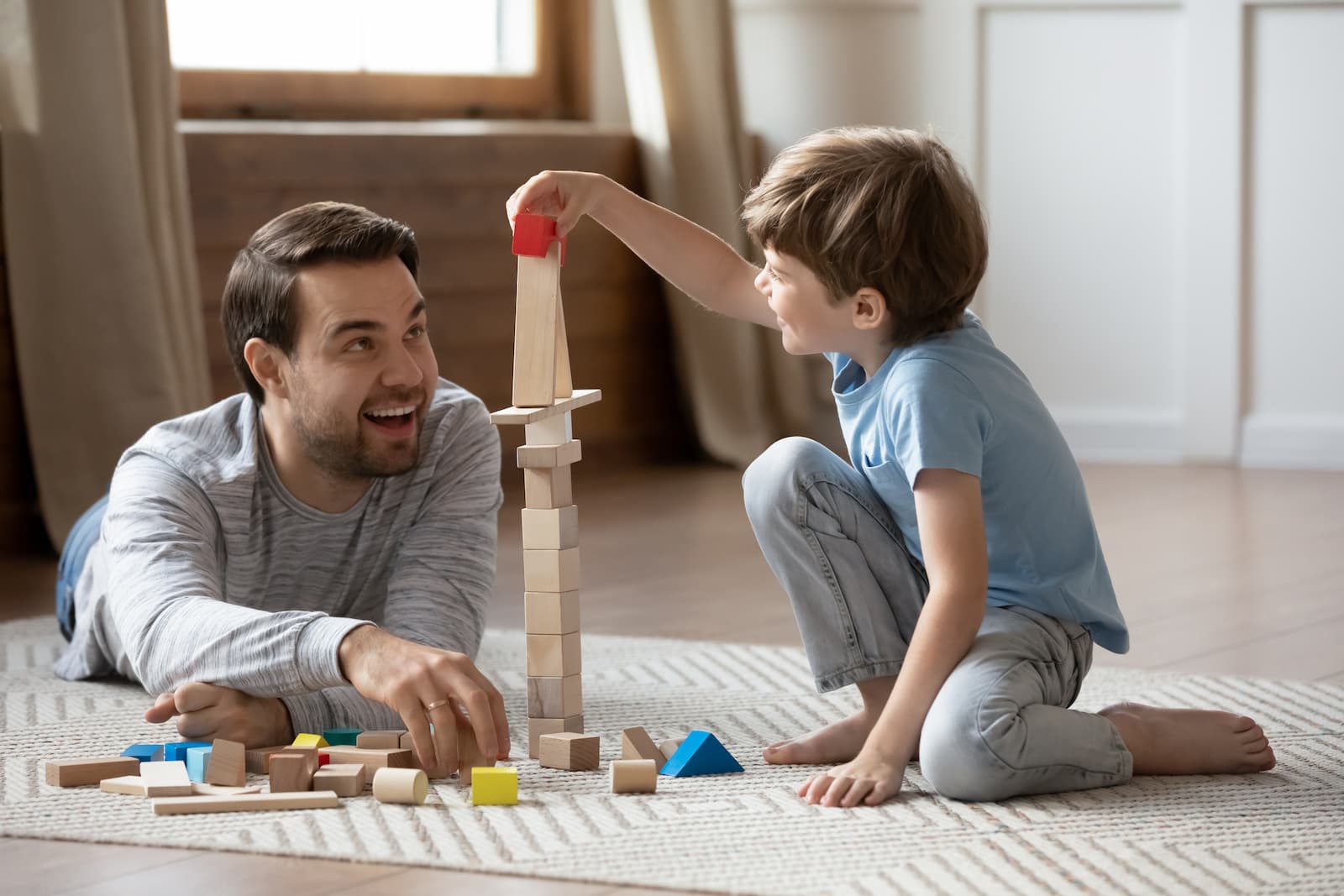 If there's one thing parents know, it's how hard it is to keep all the kids' toys even remotely organized and within easy reach. A flex space that offers both a dedicated playroom that also provides a convenient workstation and a guest room – WOW! – makes the very most of any spare room. The key is in the furnishings. A Queen Murphy bed with a desk makes easy work on all fronts.
Work as your kids play; keep toys stored on the built-in shelving; pull down the bed for sleepovers. A truly all-in-one solution! As the kids get older, the room can double as a cozy and productive study space and a comfy guest room when needed.
What makes a flex space ideal is that it can evolve seamlessly from activity to activity and throughout the changing seasons of your life with the right choice of furnishings. For instance, what might be a home office and guest room today could be a playroom, a home gym, or a library that continues to comfortably accommodate guests tomorrow.
Categories
Home