Dimensions
Width
Height
Depth
Weight
901.7 mm
1673.9 mm
302.3 mm
58.1 kg
Width
Height
Depth
Weight
35.5 in
65.9 in
11.9 in
128 lbs
Description
The modular bookcase has 5 shelves, 3 of which are adjustable.
It features 2 sections that can be used together or apart.
The higher section can be installed on top of lateral file.
Great book shelves, long to assemble, but worth it.
22-04-2021
Lovely but take hours to assemble! once they are done they look good and are very functional.
Shipping was a hassle, but happy with the product.
17-03-2021
After several mixups and wrong boxes being sent, hours spent on hold, and customer support emails, Costco finally made it right by sending out a whole new unit and I ended up with two complete shelving units. They're shorter than I expected, but they're great units.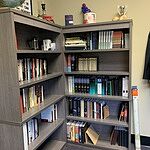 I ordered 6 of these
16-03-2021
I ordered 6 of these for a library.The price was nice and the bookshelves looked good.
I am please with the
16-03-2021
I am please with the Customer Service. They corrected the error in shipment immediately.
Christina R.
Verified Buyer
15-01-2021
Love the colour and the
15-01-2021
Love the colour and the quality
Bookcase is very spacious, sturdy, firm and the wood is high quality. Had some challenges settling it up, so one needs to study the manual very well to be able to set up as directed but it looks beautiful and as advertised.
Tyson Tschauner
Verified Buyer
13-04-2020
Good but issues with fasteners used
13-04-2020
Generally pretty good quality, using nice thick wood & a well thought out design. Is very challenging to put together one person, in fact final steps of attaching top half to bottom half is impossible, feel like the method of attaching through 2 sided tape to not be the best solution. Worst part is the 2 piece fasteners where one piece is a straight metal rod, the other is a bit of a twist clamp, sometimes do not work right, while tightening the twist part it starts to slip outward & break the wood around it. Is very frustrating when that happens, I tried everything to avoid it yet twice it happened assembling this item. I have seen it happen with these fasteners on other products too, not sure who to blame for that. Anyways, just saying because it sucks when you are following instructions and taking your time but despite that, CRACK, the wood breaks a little & now the clamp doesnt tighten fully.
Boxes
Box 1
Width
Height
Length
Weight
330 mm
160 mm
1011 mm
28.58 kg
Width
Height
Length
Weight
13.00 in
6.30 in
39.80 in
63.00 lbs
Box 2
Width
Height
Length
Weight
330 mm
160 mm
1011 mm
29.48 kg
Width
Height
Length
Weight
13.00 in
6.30 in
39.80 in
65.00 lbs
Warranty
5 Year
Our furniture is warranted to the original owner against defects in materials or workmanship. These defects include all the imperfections that can affect the use of the product. As is most often the case, our warranty covers the normal use of the product. To this effect, note that except for the Outdoor collection, our furniture is not intended to be used outdoors.
Our warranty is expressly limited to the replacement of components and furniture for the period specified on the product sheet, and it does not include labor or assembly costs.
For more information, read the complete Warranty policy.
Shipping and Returns
Free Shipping on all orders
Enjoy free shipping on orders to most places in Canada or the contiguous United States, except remote areas.
Once your order has been shipped, you will receive a tracking number by email. We suggest you track the delivery so that you can plan for the arrival of your furniture. The merchandise will be delivered in front of your house or office. If the boxes are large (you can get the dimensions of the boxes online), we suggest you get assistance to move the boxes inside your premises.
Should you decide to return your furniture, you will have 30 days from the day the merchandise was shipped to do so. You must send us the furniture back unassembled and in its original packaging.
The first step in the return process is to complete a return form. Then a member of the Bestar Customer Service Team will contact you to process your request. If your request is approved, you will be refunded for the value of the merchandise minus 20% (plus taxes) to cover shipping costs.
For more information, read the complete Shipping Policy or Refund and Return Policy.
MAXIMIZE YOUR STORAGE SPACE
With a bookcase from Bestar's Collections, you can find a place for each and every item! Choose from a variety of styles, designs, and sizes to find a bookcase perfectly adapted to your needs.Many of our bookcases are customizable to enable you to make the most out of your storage space.
ADD A BOOKCASE TO YOUR LAYOUTS
Combining bookcases and TV stands is the ideal solution for organizing small spaces with multiple purposes. Create your dream layout with matching pieces featuring crisp, modern lines, and plenty of storage!
QUALITY MATERIALS
Our bookcases are made of high-density particle board panels. Because of their density, the panels we use are rigid and unlikely to sag or warp. In addition, the panels are made from recycled wood and they comply with California Air Resources Board (CARB) Phase 2, the highest standards in North America regarding formaldehyde emissions.