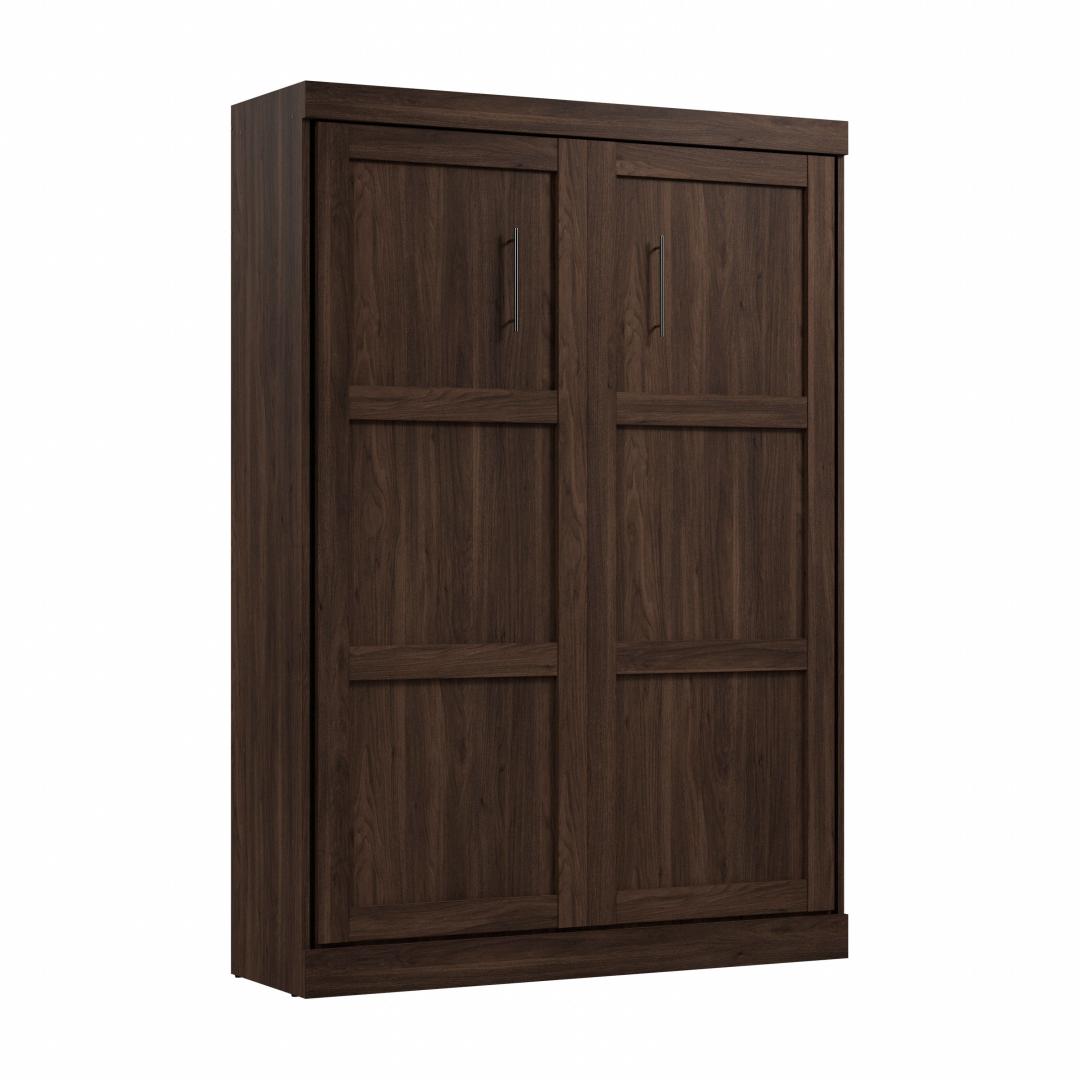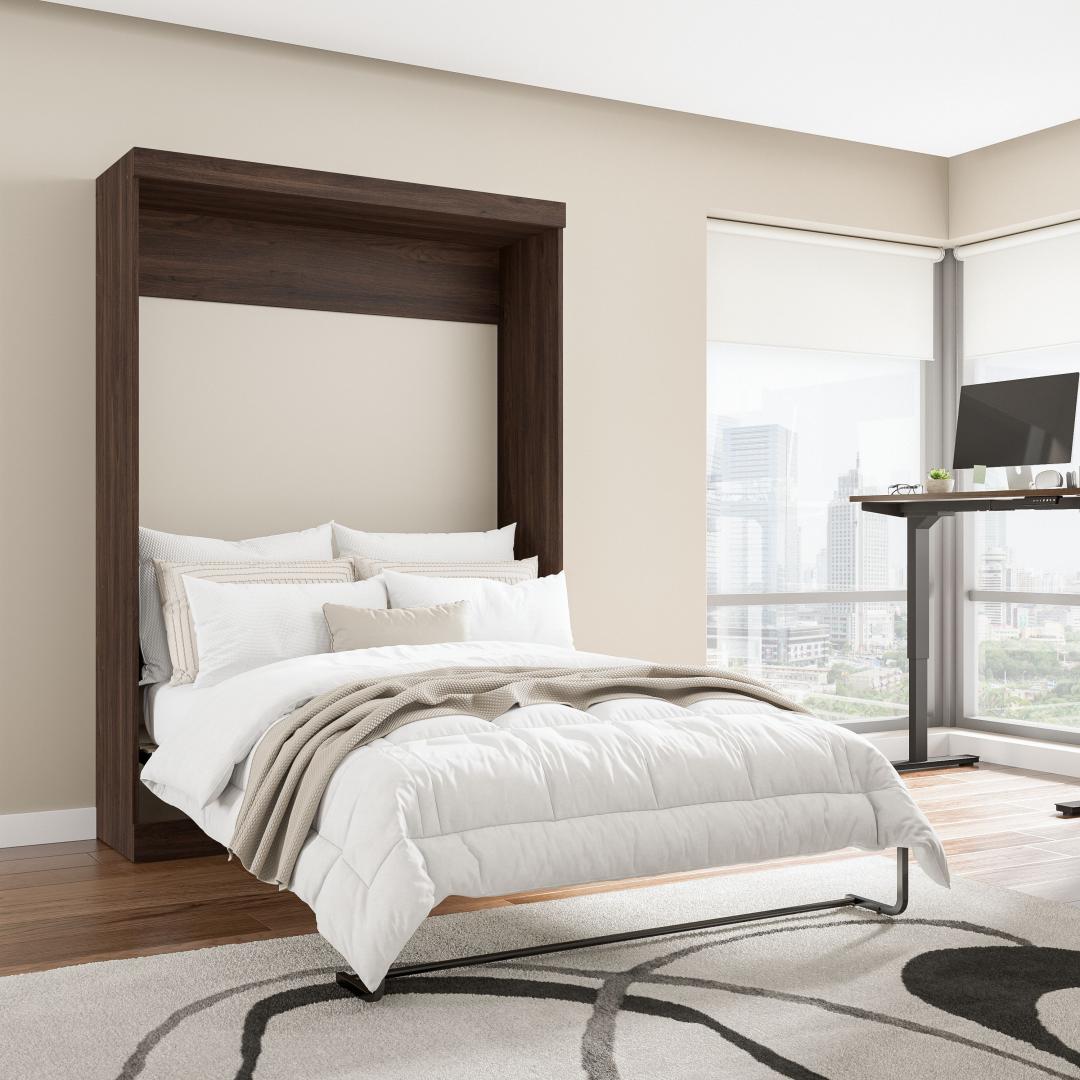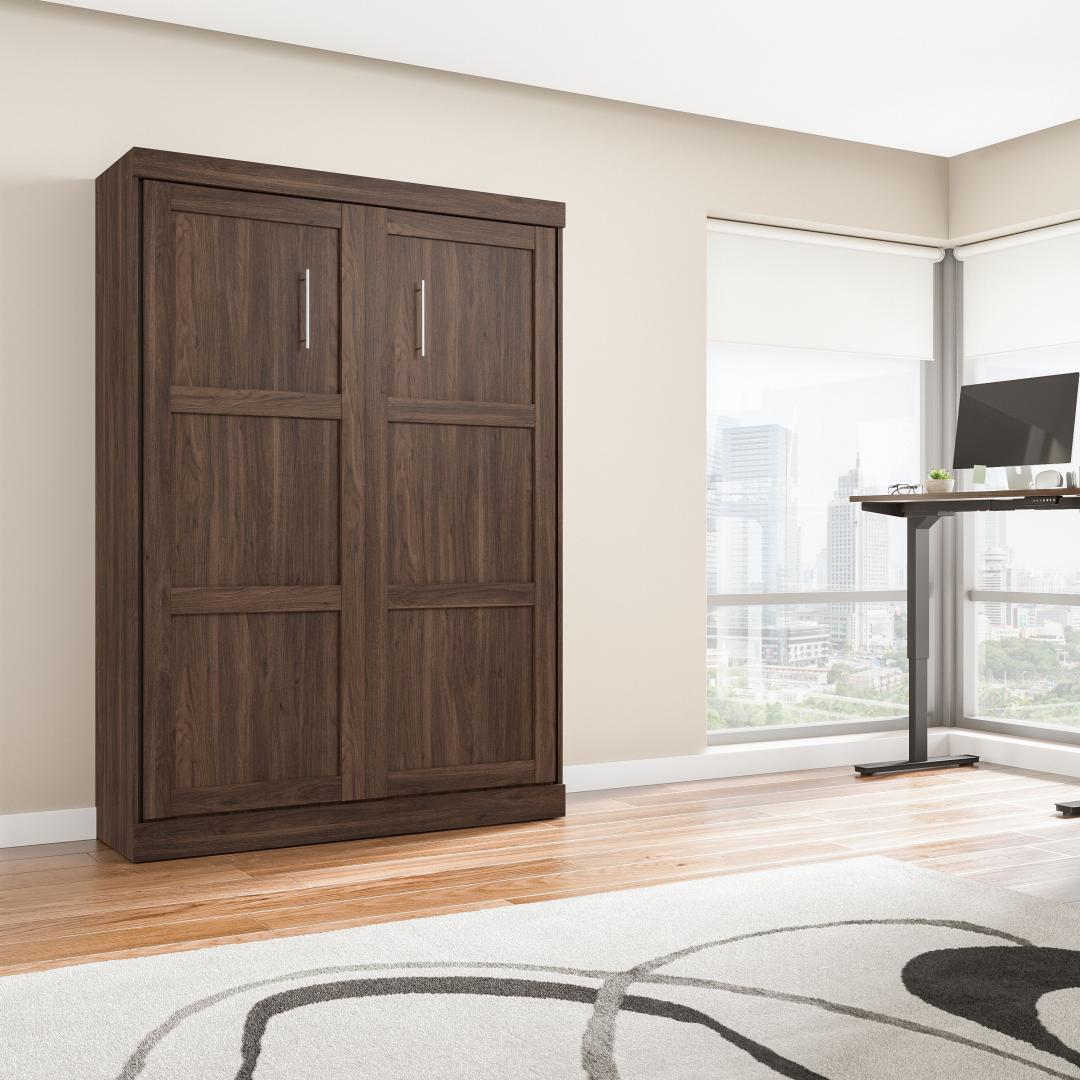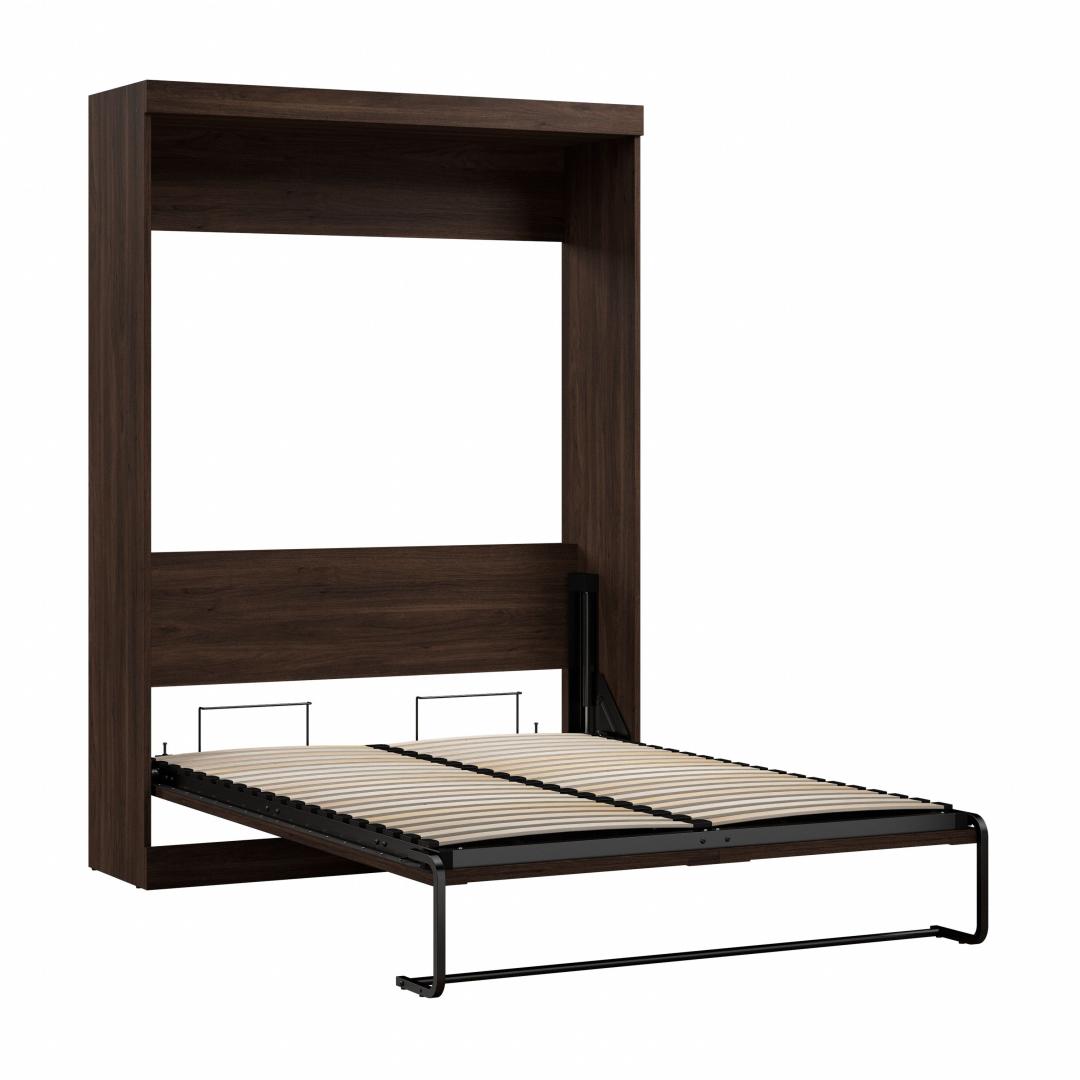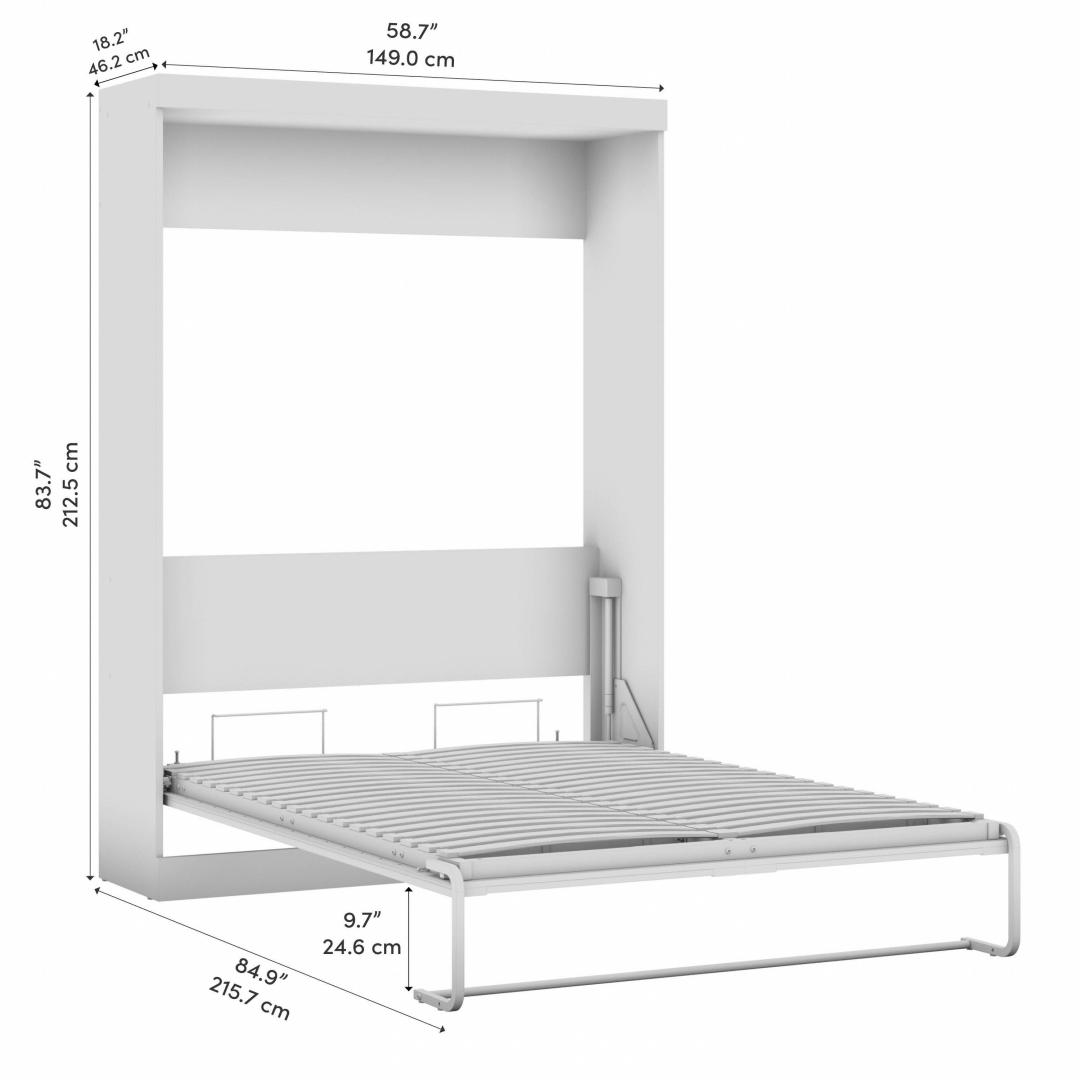 Dimensions
Width
Height
Depth
Weight
1488.4 mm
2126 mm
462.3 mm
156.5 kg
Width
Height
Depth
Weight
58.6 in
83.7 in
18.2 in
345 lbs
Key features
Quality laminated particle board compliant with TSCA Title VI with shaker-inspired trim and metal handles
EuroSlat mattress support system increases sleeper's comfort; box spring not required
Bed folds up and down safely and quickly thanks to the dual piston system
Bed accommodates most standard Full mattresses (8-10 inches thick, 60-90 lb, 54 x 75 inches)
Mattress not included, no futons; assembly required (3 people recommended)
Open bed extends 85.4 inches from the wall
Minimum ceiling height of anchoring wall is 86.4 inches
Maximum weight supported is 1000 lb (including mattress)
Backed by the Bestar 10 Year Manufacturer's Warranty
North American made with local and imported parts
Description
The Bestar Pur Full Murphy Bed (59W) offers a classic look and is the ideal space-saver for a multipurpose room. Easily transform your home gym or office into a guest room. The EuroSlat mattress support system is specifically designed to increase the sleeper's comfort. The bed can be used every night for a good night's sleep. The bed folds up and down safely within seconds thanks to the dual piston system. Choose your own mattress since the bed accommodates most standard Full mattresses (8-10 inches thick, 60-90 lb, 54 x 75 inches) and supports up to 1000 lb (including mattress). The open bed extends 85.4 inches from the wall. The cabinet must be anchored to a wall with a minimum ceiling height of 86.4 inches. Assign a clearance of 30-36 inches around the open bed. The Murphy Bed is backed by the Bestar 10 Year Manufacturer's Warranty. North American made with local and imported parts.
Really nice looking
22-04-2021
Beautiful addition to the room. Solves our problem of having a guest bedroom in a small house
Good except it came early
26-03-2021
Good except it came early and didn't let me know it was being delivered so I wasn't ready to haul it.
Great customer service. Pretty easy to assemble. Very happy. One part came broken and they were very easy to deal with and quickly shipped a replacement part.
Great product!
17-03-2021
Product was a few weeks late arriving, but it wasn't an issue for us. I would assume this was partly due to COVID. A bit of work to assemble it, but it had great instructions, easy to follow. Product works very well, I would buy another if I needed it.
Natasha R.
Verified Buyer
17-03-2021
Great, very happy
17-03-2021
Excellent product, high quality, easy to assemble and built to last. Delivery by Costco left a lot to be desired however. Not your issue but thought I'd mention it.
Exactly as advertised
04-03-2021
Bed was exactly as described. It looks great in the room and allowed us to turn a guest room into a home office with guest room function when needed. Assembly went well and directions were complete and clear. Took about 2 hours for 2 people. Looks great against the wall. We did need a new mattress since the one we had was too thick. Would have been nice to know this in advance
The Murphy bed has been
06-02-2021
The Murphy bed has been used twice with only positive feedback. We highly recommend this product
Decent bed, needs more color choices
01-08-2020
Takes awhile, but not too bad to assemble. I was able to do it by myself. Up tension is a tad too strong. Wants to lift a hair even with matress and blankets on. I suspect that will settle down over time but it would be nice if that were adjustable. My only real complaint is that I could only find it in white or dark brown. A lighter wood color would be nice.
Murphy bed gives us a multipurpose room
27-07-2020
First, fantastic customer service at Bestar. Our murphy bed is well constructed-fairly easy to put together-I did it by myself (Full size version). This piece of furniture is very attractive, especially in the gray color. We got a memory foam mattress on Wayfair that rounded this out. Now we have a multipurpose room that converts easily into a guest room when needed.
It was a LOT of work to put this together, but I am very happy with the final result. Just follow the instructions, it took me all day, but in the end I got it done, and the bed looks great.
Great looking piece. Solid and well designed. Follow instructions and take your time to assemble.
Beautiful and a great price!
08-07-2020
This is really a beautiful piece of furniture! It seems well made and the price was very reasonable. Would definitely recommend to anyone looking to increase their space while not losing a guest room.
Good product, minor issues. Make sure to properly installed against concrete wall or studs. Do not installed against sheetrock; the tension between the bed and headboard/wall box is too strong and it will fall down and hurt someone. I know... only other concern is that one of the door does touch the bottom board which I could not figure out why.
Great bed to a small room
25-06-2020
I bought this wall bed in white 2 years ago and liked it so much I bought a second one a couple months ago. The first one is for my elderly father and has been used every night for nearly 2 years and works great. We got the second one on sale at Costco, but even at full price it's a very good value. Here are some things to know: #1) It comes in 3 different boxes so they are manageable. #2) It takes a long time to put together, but the instructions are good. I paid professionals both times because it is too large and I was afraid of ruining it. It took about 4 hours each time and cost me $400 but it was well worth it to know it was done right. They even cut my base board to secure it to the wall properly. I'm sure it can be put together yourself with a couple strong people with the right tools and a lot of patience. #3) The mattress cannot be thicker than 10" so make sure you are buying a mattress that will fit #4) It is particle board so be careful during assembly #5) It's a bit hard for kids or seniors to pull open, but it gets a little easier over time #6) the bar that you flip down to hold up the foot of the bed can be a real toe-breaker. Get some pipe insulation to put on the 2 corners while it's down to save your guest's toes #7) We hung a very light painting on the new one by placing the wire over the handles. No need to drill and it's so light it doesn't hurt the bed
Stephanie M
Verified Buyer
25-06-2020
Great value for the price
25-06-2020
Happy with my purchase! My husband is a red seal finishing carpenter, and he found this challenging to assemble, so be aware of that issue. Otherwise, the bed looks great!
Excellent Bed Poor Instructions
15-04-2020
I love the wall bed it was exactly what we needed for our space. The only issue was instructions were a little hard to follow. We ended up looking up a You Tube video and following that for the most part. Also, the screws and packaging were not labelled correctly and some screws were missing. Luckily my husband had on hand the screws we needed. Other than those couple of issues I'd definitely give the bed a 5* rating. It's easy to put up and take down. Our grandson loves it.
Great bed! Instructions were pretty good. One panel came cracked, but we called the number and they sent a new one right away. Customer service was awesome.
Counting sheep
14-04-2020
Bestar Full/wall bed is a great space saving product for any room. Ordered from Costco, arrived within 2 weeks. Bed is nicely packed in several boxes. all together it weighs in at about 375lbs. awkward shaped boxes so 2 person carry is needed to not damage the bed. All item inventory is ideal, this way you can see you have all the pieces. If working in tight area open boxes outside. Could use better diagrams difficult to see what goes where when looking at see through diagrams. You tube video from previous customers was more helpful. Bestar pros should make one, probably save them a lot of hassle from people that are not to handy in the instruction portion. Overall very happy with my purchase.
Totally satisfied!
13-04-2020
Great construction, looks awesome. Well packaged, no damage when arrived. Great price compared to other companies. I would highly recommend this to anyone. My brother bought one as well!!
Great add to our room
21-03-2020
This bed looks great and fits our needs perfectly. It is, however, heavy to open and close. We purchased the full size to fit in our room. The Murphy bed is a bit longer than the new full mattress we bought for it, so we had to put some spacers at the head of the bed. And we had to devise our own system to strap down the mattress at the foot of the bed so it would stay in place during opening and closing. The seller should include instructions and some type of system to take care of this issue. We already had a wall full of IKEA cabinets, and we were amazed
Wall beds Rock!
02-03-2020
This is the second Bestar Wall bed that we own - the first one we bought was a Queen. We have not used this one as yet but our first one is 6 years old and we have had no issues with it. Reasonably easy to install and it looks great! Wall beds are the perfect way to go for spare rooms.
Beautiful Murphy Beds
01-03-2020
The service and support received by Bester was excellent. We had a few issues with delivery of the bed but it was resolved to our satisfaction. One suggestion would be that the delivery company they use bring 2 people to assist with the boxes as the boxes are extremely heavy and awkward. We had the help the single guy get them into the house and I had a back issue at the time. Otherwise the service with questions we had we are Taken care of. We love the bed and it was well priced and construction is solid and good quality. Assembly takes a bit but we were able to do this without difficulty.
re-gain your guest room when no one is visiting
28-02-2020
it's great - an excellent way to have a bed in a guest room so that the space can be used when no guests are visiting
Perfect flexibility
Verified Buyer
22-02-2020
Perfect 3rd bedroom/workout solution
22-02-2020
This is our second Bestar wall bed we own. We have a smaller house and need the flexibility for guests and when our daughter comes home for the summers. Great quality, assembly is relatively easy, instructions were easy to follow. The pistons are very smooth both coming down and put away. Dimensions were spot on (which I needed as we made this a sort of built in. Great product.
Looks Good Once Assembled
26-02-2018
The bed looks good and works well. The instructions are not easy to follow and they are not always clear. In fact, the instructions that came with our bed did not exactly match all the pieces that came with the bed even though it was the same model number on the instruction sheet. We found a video on-line that helped us figure out what was lacking in the instructions. A couple of hardware pieces were also missing, but they were generic enough (bolts for the handles) that we were able to get them from the hardware store.
Love this bed.
11-05-2017
My husband and I put it together, It took a few hours but we did not kill each other in the process. It is solid, works smoothly, nice looking piece. I could not be happier with it.
Attractive and Comfortable
11-05-2017
Reasonably easy to put together - directions are clear and detailed. Just be sure to look at the illustrations carefully! When closed, the finished bed is an attractive piece of furniture in our spare room - and with a good mattress, it makes a great additional guest bed when the family comes to visit. Couldn't be happier!
Fantastic Murphy Bed
02-05-2017
This bed was a perfect fit for my room. It is of high quality for the price and was excatly as represented.
Great bed for elderly parents
01-05-2017
I purchased this bed for my elderly parents who can no longer manage going upstairs to bed. It has been great and easy to lower and put away. Keeps their main living space from looking like a bedroom and appears to be just a wall cabinet during the day. An ideal solution for those choosing to age at home.
Saves so much space. Awesome for when you have guests.
I bought this bed 6 months ago for my teenage son. It arrived on a pallet and was so unbelievably heavy that I had to bring the pieces one by one into the house. Ithe took 3 people to put the bed together. I (mom) and 2 strong teenage boys. I read the directions and organized the parts and they assembled it. It took 2 days about 5 hours in total. It was a great buy if you are good at assembling things. Otherwise, call a store that specializes in wall beds. It has held up very well after extreme abuse.
Works well! Easy to build.
29-04-2017
Works well! Easy to build.Works well! Easy to build.Works well! Easy to build.
Easy to assemble even for one person. Also very good price
greats fetuares
26-04-2017
i am very happy it very good look and confort for m'y friends
Just what we needed
19-04-2017
Some reviews I read said it was hard to put together but the video on the website made it very easy. It looks great in our basement and will serve our married kids who come home for holidays. I added an overhead track from b&h photo and it gives privacy when it's needed.
Convenient and looks great!
10-04-2017
Purchased the double and a narrow bookshelf to stand beside it. It looks far better than I thought it would for the price, and with a good mattress on it is very comfortable.
Boxes
Box 1
Width
Height
Length
Weight
749 mm
122 mm
2002 mm
47.63 kg
Width
Height
Length
Weight
29.50 in
4.80 in
78.80 in
105.00 lbs
Box 2
Width
Height
Length
Weight
481 mm
78 mm
2229 mm
48.53 kg
Width
Height
Length
Weight
18.94 in
3.06 in
87.75 in
107.00 lbs
Box 3
Width
Height
Length
Weight
759 mm
140 mm
2078 mm
57.15 kg
Width
Height
Length
Weight
29.90 in
5.50 in
81.80 in
126.00 lbs
Warranty
10-year warranty
Our furniture is warranted to the original owner against defects in materials or workmanship. These defects include all the imperfections that can affect the use of the product. As is most often the case, our warranty covers the normal use of the product. To this effect, note that except for the Outdoor collection, our furniture is not intended to be used outdoors.
Our warranty is expressly limited to the replacement of components and furniture for the period specified on the product sheet, and it does not include labor or assembly costs.
For more information, read the complete Warranty policy.
Shipping and Returns
Free Shipping on all orders
Enjoy free shipping on orders to most places in Canada or the contiguous United States, except remote areas.
Once your order has been shipped, you will receive a tracking number by email. We suggest you track the delivery so that you can plan for the arrival of your furniture. The merchandise will be delivered in front of your house or office. If the boxes are large (you can get the dimensions of the boxes online), we suggest you get assistance to move the boxes inside your premises.
Should you decide to return your furniture, you will have 30 days from the day the merchandise was shipped to do so. You must send us the furniture back unassembled and in its original packaging.
The first step in the return process is to complete a return form. Then a member of the Bestar Customer Service Team will contact you to process your request. If your request is approved, you will be refunded for the value of the merchandise minus 20% (plus taxes) to cover shipping costs.
For more information, read the complete Shipping Policy or Refund and Return Policy.
Opt for a Two-in-One Solution
Easily turn your space from a home office to a guest bedroom. You can have a productive workspace by day and a cozy room by night. When your guests arrive, simply pull down the bed and you're done!
A Comfortable and Efficient Must-Have
Our Murphy beds are designed for everyday use and offer slatted bed bases to ensure your comfort. Moreover, our beds accept most standard mattresses, allowing you to choose the most comfortable option for you.
A Perfect Bed for Any Decor
Our Murphy beds' stylish designs will suit any space! The various designs give you options to choose from and allow you to pick the one you like best. They also look great folded up or down! What is there not to like?