Dimensions
Width
Height
Depth
Weight
1658.6 mm
2181.9 mm
596.9 mm
180.5 kg
Width
Height
Depth
Weight
65.3 in
85.9 in
23.5 in
398 lbs
Key features
Quality laminated particle board compliant with CARB phase 2 for a long-lasting finish
Dual piston system allows you to fold the bed up and down safely and quickly
Decorative brushed nickel handle and 2 CSA-approved LED lights (120 V) for a modern look
Bed accommodates most standard Queen mattresses (8-12 inches thick, 60-90 lb, 60 x 80 inches, no futons) to let you choose the most comfortable option (mattress not included)
Open bed extends 93.1 inches from the wall; minimum ceiling height of anchoring wall is 88.9 inches
Maximum weight supported is 1000 lb (including mattress); box spring not required
Assembly required (3 people recommended)
Backed by the Bestar 10 Year Manufacturer's Warranty
North American made with local and imported parts
Description
An ideal space saver for any multipurpose room, this sturdy and comfortable Queen Murphy Bed can be slept on every night. The bed folds up and down safely thanks to the dual piston system. The built-in LED lights create a nice and relaxing ambience. The wall bed accommodates most standard Queen mattresses (8-12 inches thick, 60-90 lb, 60 x 80 inches) and supports up to 1000 lb (including mattress). The open bed extends 93.1 inches from the wall. It is best to assign a clearance of 30 to 36 inches around the open bed for easy movement. The cabinet must be anchored to a wall with a minimum ceiling height of 88.9 inches. This Full Murphy Bed is backed by the Bestar 10 Year Manufacturer's Warranty. North American made with local and imported parts.
Very nice bed, looks great!
19-04-2021
Very nice bed, looks great!
Pallet/packaging was proper and sufficient to protect the parts. Assembly instructions were very good. Finished bed looks very good and works as described. Thank you!
The bed does what it is designed to do, but there are some problems: Curbside delivery is just that. I offered the driver $40 to help me move the large and heavy boxes into my garage - 1 minute of work. He said that wouldn't pay his chiropractor's fee. He got nothing and I needed a furniture dolly and muscle to move it. The materials are REALLY heavy; some of the larger pieces are 1" MDF which is heavier than lead. Be prepared to make many trips to the room where you'll assemble the bed. While the instructions are reasonably good, assembly takes a long time - in my case, about two days. There are steps for which two persons are needed, and others when two are desirable. The design leaves something to be desired. I put in a mattress that was just under the stated maximum thickness. The folding bar at the foot of the bed is supposed to hold the mattress in place when the bed is closed. It doesn't. Thinking the problem was the puny holding bar at the head of the mattress, I modified the frame to keep the mattress from sliding down. That didn't work. I ended up calling the company who were aware of the issue, and they shipped out a hook/loop strap that was an easy fix. They should be shipping that strap with each order, unless they've modified the foot-bar. The bed has no headboard, and, when open, leaves about 12" between the head of the mattress and the wall. So pillows, etc., will fall down in the space, an you'll need more than pillows to sit up in bed. Finally, the thing is not feather-light for opening. While the kit does include pneumatic, spring-loaded aids for opening an closing, pulling the bed down from the closed position requires more than a little force. Apart from those issues, the bed looks good, is well-made, and parts line up. The lights are a nice touch, and, if you need a Murphy bed, this can be the ticket.
It took a while to
16-03-2021
It took a while to get is assembled and to adjust our wall for mounting . We had a couple pieces that were damaged during shipping and it took 8 weeks to get replacements sent. The company was very responsive with in getting the damaged pieces replaced but would have been nice to get an update that the replacement delay was due to the pieces being out of stock. Overall very happy.with the product.
Nice for Guest Room
16-03-2021
Putting this together was a BIG project. We hired a handyman and with all the pieces and steps to follow it took about 10 hours to do. It looks quite nice and works well in our guest room/grandkids playroom. It was the best option for a shared use room.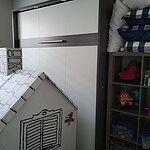 Created more space
16-03-2021
This bed is just the thing for our basement bedroom, which now doubles as my home office.
Great Bed. Requires pro assembly.
25-06-2020
Very good model. I own a handyman business in Vancouver and have installed many Murphy beds from various brands. This one by Bestar is by far my favourite. Built well with no manufacturers defects unlike other brands. So I bought one for myself in the new rustic colour for my guest room.
Great value and very sturdy
07-04-2020
This wall bed is very sturdy, was fairly easy to put together and looks great in the room. I had wanted a wall bed for a long time, and I am really happy I got this one and all of my floor space back! It is easy to pull down the bed. It fits my pillow top mattress and the lights are also really helpful. I also really like that they sit outside the door when the bed is closed, so they can be used whether the bed is open or closed. This is pressboard furniture, but it is very heavy duty and the coating is also sturdy and looks nice. I'm going to get a little nitpicky here, but there are a couple things that would make this just perfect. First, I had to use a bungee cord to keep the foot of the mattress against the door as I stow it away and then pull it down. It would be nicer to have something built in, but bungee works just fine. Also, in the spirit of space saving, I was hoping to store the pillows on top of the unit in a basket. But the wires from the lights are just sitting on top of the unit. I will probably tape them down or something so I can still do this. And the instructions were pretty good, but could be better at times. The booklet said 3 people were required, but I didn't see any individual steps requiring 3. Most of the bed I put together myself, and there were some steps that required another person helping. There were also a couple steps that seemed out of order - it would have been much easier to do one thing before another. But overall, decent instructions. When I finished and went to apply the screw covers, some of them didn't fit well or stuck out a couple mm away from the side of the furniture. Again, these are pretty small details, but the things that keep this wall bed just shy of perfect. When it was delivered, the delivery could only take it to the end of my driveway, and it was raining, so I had to bring it in the house right away - by myself. It was packed in 3 very large, very heavy boxes. Even with a hand truck, it was very difficult to get in the house. I would recommend having 2 people there to receive the package and move it inside. On a bonus note, since this attaches to the wall, it prompted us to pull up the old carpet and refinish the hardwood floors before installing, so buying this product also got me beautiful floors as a bonus!
Well-made product, instruction needed update.
07-04-2020
Excelence wall bed, product is well make and should last for a good while. Instruction needed updated. I was setting up the bed and since my bed is flushed again the wall on both back and right sides so the piece that used to hold the bed flush again the back wall needed to be install ontop, not inside. And the top inside panel needed to be install first.
High quality comes with great price
01-03-2020
Very very good quality of wood and easy to install
Barb Sentes
Verified Buyer
22-02-2020
I love this bed. Good quality. Took me a couple of days to put together but instructions were really good
Final product looks good and operates well.
12-06-2019
Parts supplied were very exact but did the job. The instructions were a little confusing at times.
We are happy with the bed, it is far away from the wall when down, that is my only drawback. Still married after assembly.
Perfect wall bed
16-03-2019
Good quality, one bracket was missing for installation and company overnighted it to me. The installation will require at least 2 people, and someone who knows how to properly anchor to wall (can be anchored to studs or concrete wall such as in a basement) and takes a lot of patience and time (a few hours) but all pieces are clearly marked. A few of the picture instructions could use some words as well that might be helpful there were a couple confusing parts :) we get tons of compliments, especially on the included lighting. It is very sturdy, good value for money in my opinion
senior citizen
02-03-2019
very well built
02-03-2019
My wife and I assembled the bed over a span of two days. The instructions were very detailed and easy to follow, with one exception. There were no instructions covering the handle assembly, and no proper bolts were supplied. As a result the handle became detached after about three uses. Three people are definitely required for the later stages of assembly, but over all it in an excellent product.
very great product and easy to install
19-12-2018
I bought it two months ago and everybody who came find it very well done.
Very good value and functional
16-12-2018
Very impressed overall... Not too difficult to install and very sturdy /functional. It looks good in the room with a modern feel. The built in lights are a nice touch although wire routing could be better planned. The biggest issue I have is a gap behind the head of the bed where pillows can fall off into while sleeping.. More of an issue for tall sleepers, I'm 6 foot 4. Shorter people don't seem to care, and if it's annoying enough you can always put a big body pillow or something in the gap. This is certainly not a deal breaker and overall I'm very pleased with the product, excellent value that is hard to beat and many guests have already enjoyed it.
Exactly as hoped for
31-08-2018
Assembly needed a lot of attention to detail (so many bits to put together), but it came together well. The only snaffu was that I had installed it in the corner of the room, and some later steps included screwing things in from the outside after the earlier steps have you mount the frame where you want the bed in the room. Thank goodness for small screw drivers, and floorboards making it sit out and not flush to the wall. It works great, looks as good as the pictures, too.
Assembly complete
09-06-2018
We haven't put the mattress on yet but everything else is done. The directions are O.K. and some miror redrilling needed to be done, as mentioned in earlier reviews. I definitly needed a helper in the later stages, but I did most of the assembly myself. It's sturdy and the quality is good. I would recommend it to anyone looking for a Murphy bed.
Bed. Wall unit is great and looks good, exactly what we were looking for.
It looks great, just like the picture.
12-02-2018
We love this bed! It was a bit of a challenge putting it together, but once my husband got it done, we're happy with it.
Be PATIENT - but Well Worth It!
03-02-2018
Read the instructions twice; watched the You-tube videos three times, and MERGING both we were able to put the bed together. Some things were missing from the manual; some things were missing from the videos. They used to have all 28 or 35 videos in one HTML location on their web site - in SEQUENCE . then some idiot posted them onto the You Tube web site and there was no order as to which one came next Give that idiot a raise!!!. In the long run when it was all over, we were EXTREMELY PLEASED with the FINAL RESULTS!
Bed arrived in 5 days! Very happy with the product!
Everything we wanted in a wallbed
02-11-2017
We purchased 3 weeks ago. It arrived early ?. The instructions were easy to follow & all parts were present & easy to identify. Holes lined up & all worked well when it was fonr. Takes time & 2 people to build. We un oxed in the garage & carried pieces to house as it was heavy.
Good products, but hard to install , I spent 200bucks to hire someone to install it.
not a bad item, I did receive it with scratches on it, went together well
The bed came in 3 separate boxes that were very heavy, it took my husband and I a furniture dolly to get it inside. When we went to assemble it, a bag of parts was missing. I called the supplier and they sent a replacement pack which arrived quickly. Assembly was easy and mid process we found videos on the website that helped explain a few things that weren't clear in the instructions. Towards the end, there were a few steps that didn't seem relevant to our model as there were no predrilled holes. Overall, very satisfied with the product and quality. It saved us lots of space and fit our pillow top mattress which I think our guests will find comfortable.
Boxes
Box 1
Width
Height
Length
Weight
820 mm
130 mm
2131 mm
51.71 kg
Width
Height
Length
Weight
32.30 in
5.10 in
83.90 in
114.00 lbs
Box 2
Width
Height
Length
Weight
625 mm
79 mm
2258 mm
65.77 kg
Width
Height
Length
Weight
24.60 in
3.10 in
88.90 in
145.00 lbs
Box 3
Width
Height
Length
Weight
561 mm
114 mm
2217 mm
69.85 kg
Width
Height
Length
Weight
22.10 in
4.50 in
87.30 in
154.00 lbs
Warranty
10-year warranty
Our furniture is warranted to the original owner against defects in materials or workmanship. These defects include all the imperfections that can affect the use of the product. As is most often the case, our warranty covers the normal use of the product. To this effect, note that except for the Outdoor collection, our furniture is not intended to be used outdoors.
Our warranty is expressly limited to the replacement of components and furniture for the period specified on the product sheet, and it does not include labor or assembly costs.
For more information, read the complete Warranty policy.
Shipping and Returns
Free Shipping on all orders
Enjoy free shipping on orders to most places in Canada or the contiguous United States, except remote areas.
Once your order has been shipped, you will receive a tracking number by email. We suggest you track the delivery so that you can plan for the arrival of your furniture. The merchandise will be delivered in front of your house or office. If the boxes are large (you can get the dimensions of the boxes online), we suggest you get assistance to move the boxes inside your premises.
Should you decide to return your furniture, you will have 30 days from the day the merchandise was shipped to do so. You must send us the furniture back unassembled and in its original packaging.
The first step in the return process is to complete a return form. Then a member of the Bestar Customer Service Team will contact you to process your request. If your request is approved, you will be refunded for the value of the merchandise minus 20% (plus taxes) to cover shipping costs.
For more information, read the complete Shipping Policy or Refund and Return Policy.
Opt for a Two-in-One Solution
Easily turn your space from a home office to a guest bedroom. You can have a productive workspace by day and a cozy room by night. When your guests arrive, simply pull down the bed and you're done!
A Comfortable and Efficient Must-Have
Our Murphy beds are designed for everyday use and offer slatted bed bases to ensure your comfort. Moreover, our beds accept most standard mattresses, allowing you to choose the most comfortable option for you.
A Perfect Bed for Any Decor
Our Murphy beds' stylish designs will suit any space! The various designs give you options to choose from and allow you to pick the one you like best. They also look great folded up or down! What is there not to like?